KEF's R Series Speakers Gets A Complete Refresh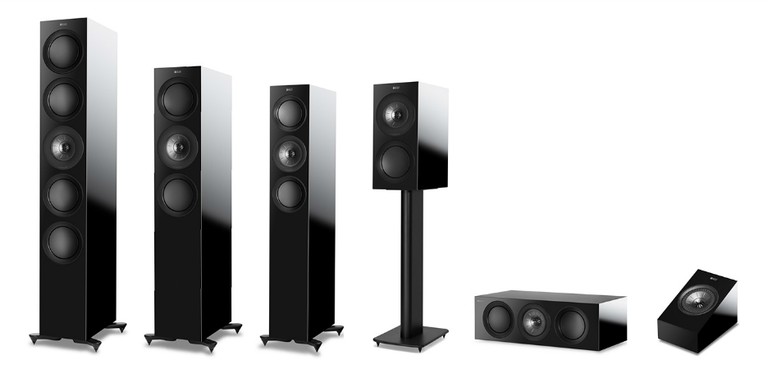 Kef R Series Speakers
Summary
KEF R3 stand-mounted speaker
Frequency response (±3dB): 52Hz - 28kHz
Nominal Impedance: 8Ω (min.3.2Ω)
Sensitivity: 87dB
Dimensions (H x W x D): 16.6 x 7.9 x 13.2 inches
Weight: 29.8 lbs
KEF R5 floor-standing speaker
Frequency response (±3dB): 58Hz - 28kHz
Nominal Impedance: 8Ω (min.3.2Ω)
Sensitivity: 87dB
Dimensions with plinth (H x W x D): 42.2 x 10.7 x 13.5 inches
Weight: 60.2 lbs
KEF R7 floor-standing speaker
Frequency response (±3dB): 48Hz - 28kHz
Nominal Impedance: 8Ω (min.3.2Ω)
Sensitivity: 88dB
Dimensions with plinth (H x W x D): 43.7 x 12.2 x 15.1 inches
Weight: 69.2 lbs
KEF R11 floor-standing speaker
Frequency response (±3dB): 46Hz - 28kHz
Nominal Impedance: 8Ω (min.3.2Ω)
Sensitivity: 90dB
Dimensions with plinth (H x W x D): 51 x 12.2 x 15.1 inches
Weight: 83.1 lbs
KEF R2c center-channel speaker
Frequency response (±3dB): 74Hz - 28kHz
Nominal Impedance: 8Ω (min.3.2Ω)
Sensitivity: 87dB
Dimensions (H x W x D): 6.9 x 21.7 x 12.1 inches
Weight: 37.3 lbs
KEF R8a surround/Atmos speaker
Frequency response (±3dB): 105Hz - 18.5kHz
Nominal Impedance: 8Ω (min.4.2Ω)
Sensitivity: 86dB
Dimensions (H x W x D): 6.8 x 6.9 x 10.2 inches
Weight: 9.8 lbs
Executive Overview
British loudspeaker specialist KEF has completely refreshed its mid-range R Series with the release of six new speakers that have been re-engineered from the ground up. The previous generation of the R Series was released back in 2011, before KEF had completed work on its highly successful LS50 stand-mounted design. The new R Series takes advantage of many technologies and engineering developments made during the creation of both the LS50 and KEF's high-end Reference line. In fact, KEF claims that the new R Series speakers boast over 1,000 individual improvements over their predecessors, starting with a new 12th-generation version of the company's signature Uni-Q point-source driver system.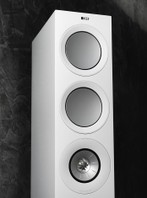 The Uni-Q places a 1-inch aluminum dome tweeter within a 5-inch midrange driver in a concentric configuration. The 12th-generation Uni-Q features a tapered tweeter vent, and a new absorption material located behind the tweeter to reduce resonance in the tiny air gaps created by the excursion of the midrange driver. According to KEF, controlling these resonances leads to reduced sonic coloration. The midrange driver is now powered by a new motor system with lower distortion, and is capable of higher excursion than in previous iterations of the Uni-Q. Borrowed directly from KEF's Reference speakers comes a technology called Shadow Flare, which extends the waveguide effect of the Uni-Q driver in order to reduce edge diffraction. The Shadow Flare is a transition surface between the driver and the front baffle of the speaker. This carefully profiled surface blocks the tweeter's line of sight of the cabinet edges, creating what KEF calls "a shadow region at the points where the potential for diffraction is highest." By minimizing edge diffraction, the Shadow Flare provides improved transient detail, according to KEF. In addition to the new Uni-Q driver system, the revamped R Series employs new woofers that combine a unique geometry with a two-part structure composed of a paper cone covered by a shallow, concave aluminum skin. KEF claims that these new drivers offer very high stiffness, low mass, and accurate piston-like motion. A redesigned magnet system provides a more even magnetic field, resulting in more impactful bass with impressive punch and speed.
New drivers aren't the only innovations in the new R Series; the cabinet design contributes to better sound via improved structural bracing and constrained-layer damping to help dissipate unwanted vibrations. The cabinets also feature computer-optimized port placement. The ports themselves have flexible walls, which prevent longitudinal resonances that can muddle midrange clarity. This innovative port design was originally developed for the LS50. KEF engineers used computational fluid dynamics to calculate the ideal flare and profile of each port in order to reduce turbulence. The new cabinets also look sleeker than their predecessors, thanks to slimmer front baffles and color-matched drivers, feet, spikes, and logos. The speakers are available in high gloss white, high gloss black, and walnut real wood veneer.
The R3 stand-mounted speaker ($2,000 per pair) is a 3-way, rear-ported design that combines the new 12th-generation Uni-Q with a 6-inch bass driver. The R Series also includes three floor-standing speakers, starting with the R5 ($2,800 per pair). This slim tower uses the same Uni-Q, but replaces the single 6-inch bass driver with a pair of 5.25-inch drivers in a D'Appolito configuration. The larger R7 floor-stander ($3,800 per pair) is similar, but with twin 6-inch woofers. The flagship R11 speaker ($5,000 per pair) contains four 6-inch woofers, two above and two below the central Uni-Q driver. The new R Series offers just one center-channel speaker, the R2c ($1,200 each), which places a Uni-Q between a pair of 5.25-inch woofers. Lastly, the R8a ($1,400 per pair) is designed to play two roles. Mounted to a rear or side wall, the R8a performs rear-channel duties for surround sound. But it can also be placed on top of other R Series speakers, becoming an upward-firing Atmos speaker. Unlike the previous R Series, the new lineup doesn't include a dipole surround speaker, nor is there a new R Series subwoofer. The previous R Series also included a second (larger) center-channel option, and a small two-way bookshelf speaker. Despite these omissions, the new R Series certainly looks appealing, and will almost certainly deliver excellent performance.
Will you be seeking out KEF's newest speakers for an audition? Share your thoughts in the related forum thread below.

Unless otherwise indicated, this is a preview article for the featured product. A formal review may or may not follow in the future.