Bowers & Wilkins 600 Series Loudspeakers Preview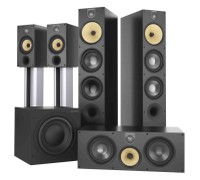 Bowers & Wilkins is at it again with a refresh of their bread and butter 600 series of loudspeakers. The new lineup naturally offers several technical advancements over their predecessors, as well as a slimmed down appearance to improve spousal acceptance. With prices ranging from $1,650/pair to $550/pair, B&W is hoping the improved aesthetics and sonic qualities will draw buyers in a hotly contested market. Keep on reading to see what the new line brings to the table.
Bowers & Wilkins has released the refresh of their entry level 600 series loudspeakers. Priced from $550/pair to $1650/pair, read on to see what the Audioholics think after talking a glance.