Status Acoustics 8T Loudspeaker System Review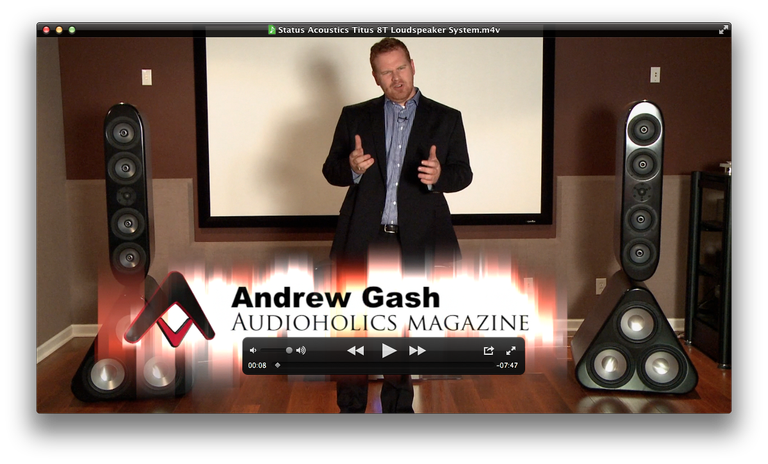 Status Acoustics Titus 8T Loudspeaker System
Summary
Executive Overview
Ever since I saw Back to the Future I've wanted speakers so big and so real they could literally blow me away... These... these come close. This is the Status 8T, and it's custom built to order in Layton, Utah by parent company RBH Sound. There's a lot to say about these speakers, but this is a video so I'm going to try to condense it somewhat. If a speaker is the sum of its parts, then the 8T's are quite a sum.
This video review was shot on location at the Audioholics Showcase Theater Room.  Standing 5-1/2 ft tall, the Status 8T Speaker System looks deceptively small with 6' 5" Andrew Gash towering over them.
The beryllium tweeter is a Denmark-made Scan-Speak D6640 (or D3004/664000) that retails - just on its own - at $500 each. Compared to the equivalent fabric dome from the same company, the Beryllium version offers higher resolution and lower distortion. The Midrange cone is a blend of beryllium and aluminum. It's stiffer and lighter-weight than aluminum with a less pronounced breakup mode that is shifted further beyond the bandwidth of where it plays. This driver blends seamlessly with the tweeter.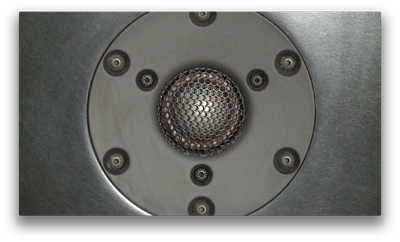 The melting pot of parts doesn't end there, however. The 16 WBT Platinum binding posts are made in Germany while the enclosures, grilles and brackets are made in Utah where the speaker is assembled and tested. The Status 8T Speaker system is internally wired with Kimber Kable 4TC. If you add up just the wire and binding posts, that's over $2,600 for the speaker system!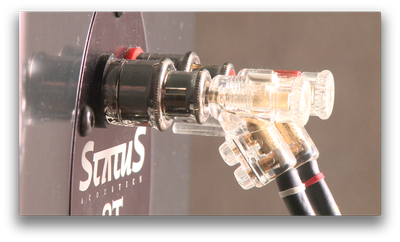 Before we talk any more about the build quality and components, it's good to know what the design goals of this speaker are. The Status 8T speaker system is made to produce true-to-life natural sound with realistic imaging characteristics and absolutely unrestricted dynamic range. The unique curved modular enclosure was made to deliver all of this performance in a relatively small, yet attractive visual profile - a tough order, given that the Status 8T's weigh 345 lbs. Each. The bass module weighs 175 lbs. and the satellites add 135 lbs. For those of you good at math, that leaves 35 lbs. unaccounted for. See that steel bracket that floats the mids and tweeter above the bass module? There you go...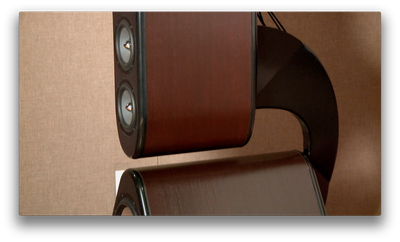 The inside of these speakers are even more impressive than the outside - if that's possible. Status Acoustics decided to use a vertical MTM pattern for the drivers  - and the two extra mid-woofers lower distortion, increase dynamic range, and produce a more palatable sense of realism. And each of the midrange drivers... they're isolated to eliminate standing waves in the chambers - a factor that is made even more possible by the absence of parallel walls inside the cavities.  The bass module sports three (3) 10" high excursion aluminum cone subwoofers with 3" voice coils and 12lb motor structures in a rear vented enclosure with dual 4" diameter dimpled ports.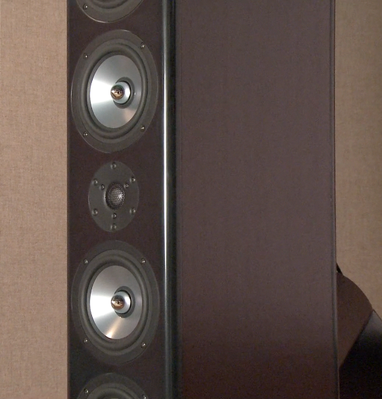 So inside - what you find is a cabinet construction process that bonds multiple layers of material together which is almost a completely backwards method of construction from what's typically done. It's also a lot more expensive - but it offers some advantages, like being able to vary the cabinet wall thickness at will and deliver additional bracing. And these cabinets are completely inert. Even the front and back cabinet baffles are unique - they are made of an acrylic polymer that, when combined with the HDF, has a higher acoustical dampening factor than wood.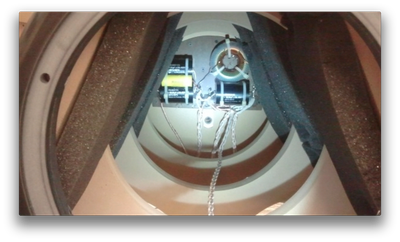 Also inside is the Status 8T crossover network which employs ultra high quality Jensen foil inductors, high voltage, tight tolerance Kimber and Solen polypropylene capacitors and a subwoofer inductor that is larger than the transformers found in most flagship A/V receivers. The Status 8T speaker system can be single, bi- and even tri-amplified. There are two connectors for the bass module and four connectors for the satellite module.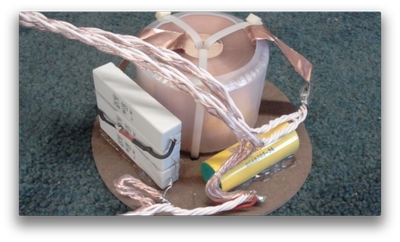 Outside of the cabinet we couldn't help but love the grilles of the 8T, which are constructed of HDF tightly covered with low loss grille material. Status used 24 high strength neodymium magnets which they integrated into the front baffles and grilles for each speaker. The grilles make a very firm and immediate connection that starts even when you're still a few inches away from the front baffle.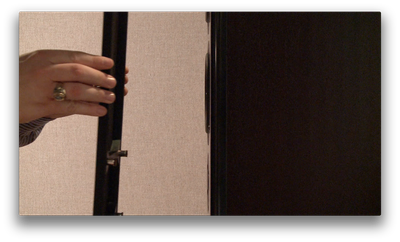 If the Status 8T speakers are anything, they're revealing and dynamic. They portray an endless dynamic range - and, like an Italian sports car, they know they can't be overdriven. Since they are quite a demanding load, they require the very best amplification.  We reviewed them using a Marantz Reference series PM-11S2 as a pre-amp and Pass Labs' X350.5 two-channel power amp. A Marantz TT-15S1 Turntable and Oppo BDP-95 Universal Blu-ray player served as our source devices. To keep things consistent, all connections were made with Kimber 8TC speaker cables and interconnects.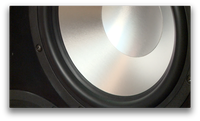 To start off our listening tests we queued up a CD from Anne Bisson called Blue Mind.  Track #3 "Hoping Love Will Last" began with piano, which we found to sound wide and live. To our ears, it was like the walls of the room moved back about 20 feet in all directions and we were listening in a private hall to our own personal concert. Then the vocals poured in and we could hear every single nuance of Anne's voice. Sibilance had depth that simply didn't sound like it was being played back from a CD. When the bass dropped in we were sucked in completely. Lunch, dinner, nothing mattered anymore except listening to "one more track". The "liveness" of these tracks was astounding. It was like being there - but it was better than that because it was far more intimate. Live music is great, but you also have the ambient noise of those around you. Here, it was just pristine music - uncorrupted. The realism was stunning. Next up we spun some vinyl with an oldie but goodie from the Crusaders called Chain Reaction.  Our Goal was to just sample a song but we were drawn so into the experience that we listened to the entire first side of the album.  The bass was tight and impactful.  You could hear and feel Stix Hooper's bass pedal hit the drum.  The saxes sounded so lifelike and real it was sitting in on a live performance from Wilton Felder.
I would have to say that I was completely blown away by this reference quality product. I didn't realize speakers could sound this good - or if I did, I had forgotten. The Status Acoustics 8T speaker system isn't for the faint of wallet, but even at $50,000/pair it seems fair. For those who can afford it, I find it difficult to imagine there being any speaker system that can rival the Status Acoustics 8T at any price.
Home theater aficionados will be pleased that Status Acoustics will be offering a matching center channel.  The Status 8C has a similar driver compliment as the Titus 8T mid/tweeter portion but with a nested array for improved horizontal dispersion.  Pricing will be between $12-15k depending on finish.
For a more detailed look at this amazing speaker system, check out our written Status 8T Loudspeaker Review.

Confused about what AV Gear to buy or how to set it up? Join our Exclusive Audioholics E-Book Membership Program!
Recent Forum Posts:
gene posts on September 07, 2012 13:22
agarwalro, post: 905563
Since my wife's and my car combined cost less than a pair of these, IMHHHHO, having the modular design but imposing the physical binding between the upper and lower boxes is a compromise when trying to achieve best placement.

Does RBH have any plans to offer the top section as a stand alone speaker and the lower section as a passive sub?
No this is a fullrange speaker. If you think about it, placing a pair of tower speakers at the front of the room about 1/4 L of the front wall left/right gives you pretty damn good bass response already. Eventually they may do a separate sub but for now you could always get their new SX-1212/R
agarwalro posts on September 07, 2012 11:59
Since my wife's and my car combined cost less than a pair of these, IMHHHHO, having the modular design but imposing the physical binding between the upper and lower boxes is a compromise when trying to achieve best placement.

Does RBH have any plans to offer the top section as a stand alone speaker and the lower section as a passive sub?
cpp posts on September 07, 2012 00:02
So Gene so when do you have to haul those unreal speakers back down the stairs ?
Wayde Robson posts on September 06, 2012 14:02
Wow… just, wow.
cpp posts on September 06, 2012 08:35
Gene so when do you have to send the speakers back or did you actually take ownership ?
Post Reply