Status Acoustics Titus 8T Loudspeaker System Q&A Interview
Status Acoustics Titus 8T Loudspeaker System Q&A Interview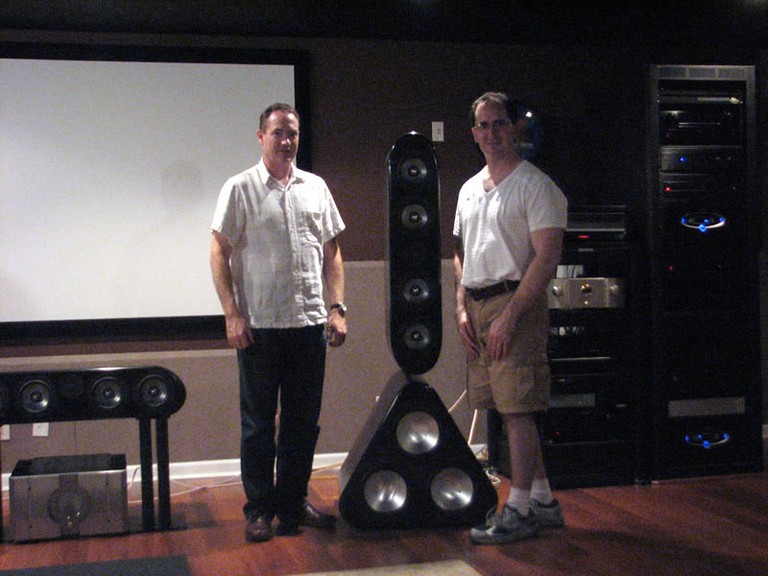 Status 8T w Shane Rich & Gene DellaSala
We were fortunate enough to have Shane Rich (Chief Engineer for RBH Sound / Status Acoustics) on site to help install their new Titus 8T Flagship speaker system in our Premier Audioholics Showcase Theater Room. After a long day of hauling these 345 pound behemoths up two flights of steps, and endless tweaking to find the ideal positioning, we sat down for a little Q&A session with the man responsible for the creation of these super speakers. It was 2am in the morning mind you, but Shane was up for the task of answering some of the questions on my mind to help gain a better understanding of this system. Shane is the fellow on the left of the 8T tower and I am on the right side. This photo was taken in the Audioholics Showcase Theater Room.
Q: Where is the Status Titus 8T Speaker made?
A: The Status 8T speaker system is custom built to order in Layton, Utah. Components for the speakers are manufactured at a variety of locations. For example, the tweeter is made in Denmark, binding posts in Germany, the enclosures, grilles and brackets are made in Utah. Final assembly of the speaker system is done at our facility in Layton.
Q:  What were the primary design goals of the Status Acoustics 8T Speaker System?
A:  To design a speaker system capable of producing true-to-life natural sound with realistic imaging characteristics and unrestricted dynamic range, packaged in an enclosure allowing the speaker to have a relatively small visual profile that is also aesthetically pleasing.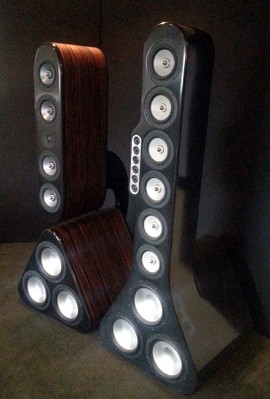 Status Acoustics Titus 8T (left speaker) & Titus 2 (right speaker)

Q: How did the design of the Status Acoustics 8T Speaker System evolve?
A: The design for the 8T started with a concept speaker system we introduced at CES in 2006. This concept speaker superseded the original flagship Status Acoustics speaker system called the Titus. This concept speaker was a large floorstanding design similar to the 8T, but was housed in a single enclosure and used a larger array of drivers. Because of the sheer size and complexity of building a speaker with such a large cabinet, we decided to refine the design and make changes which would simplify production and, at the same time, improve performance.  The above image shows the current 8T design (left speaker) and the one piece Titus 2 concept (right speaker).
Scan Speak D6640 Beryllium Tweeter (left pic);  Status Acoustics 6.5" Beryllium Midrange (right pic)

Q: How much do the Status Acoustics 8T Speakers weigh?
A: Fully assembled, the 8T weighs 345 lbs. The bass module weighs 175 lbs. and the satellite portion another 135 lbs. The bracket that holds them together weighs 35 lbs.       
Q: Why did you design the Status 8T as a modular system?
A: Allen Lewis (Project Manager at Status Acoustics) and I spent many hours over the last few years bouncing ideas off each other, and discussed how we could design a modular system which would improve on the one-piece design concept we originally had. A new modular design would help address production issues and, at the same time, make the speaker easier to ship (Gene also commented that he needed a speaker which could be taken up his flight of stairs to his sound room). The end result is what you see now. Probably the most important and time consuming aspect of the design which allows the 8T to work successfully as a modular system is the bracket. The bracket allows the top satellite module housing the midrange and tweeter to be suspended above the bass module in a manner that isolates them from each other acoustically, yet creates a striking visual appearance where the top section appears to "float" above the bass module when viewed from the front. This was no small feat, given the 135 lbs. being suspended.
Status Acoustics Titus 8T Tower Aeriel View

Q: Why did you choose an MTM topology over a conventional driver array?
A: Because, in my opinion, a vertical MTM sounds more natural, dynamic and lifelike than a conventional MT driver alignment. This allows for more control over floor and ceiling room reflections and provides a higher ratio of direct vs reflected sound at the listening position.
Q: Why the extra two mid-woofers?
A: Adding the extra two mid-woofers produced a more palatable sense of realism. It also lowers system distortion while increasing dynamic range, and improves control of vertical dispersion.
Q: Were the top and bottom mid woofers bandwidth limited, and if not, why?
A: No, there was no need to further bandwidth limit the top and bottom mid-woofers as we found the sound to be superior running all four mid-woofers with identical bandwidth. This essentially increases the size of the midrange driver alignment from a conventional MTM. We found the satellite portion of this system sounds more cohesive with a high quality two-way crossover as opposed to a 2.5 way network, given a 2-way crossover does not have the additional phase shift between drivers you would get with a comparable 2.5 way network.
Q: Why use Beryllium Alloy over Aluminum cone in the midrange?
A: Employing Beryllium in the cone improves on aluminum by offering a stiffer, lighter-weight cone with a less pronounced breakup mode that is shifted further beyond the bandwidth the driver is being used in. Energy storage retention is reduced. Youngs modulus (a measure of stiffness) is higher with Beryllium, meaning the cone will flex less under stress. The Beryllium alloy cone also produces a more linear transition in the stopband for smoother integration between the drivers.
Q: What is special about the Beryllium tweeter?
A: The tweeter used in the Status 8T is the Scan Speak Model 6640, and is arguably the finest sounding tweeter on the market. It has excellent power handling, frequency response and distortion. Compared to the equivalent fabric dome from Scan Speak, the Beryllium version offers higher resolution, and lower distortion.
Editor's Note: There is a 3rd party write up comparing both tweeters (with measurements) here: http://www.audioexcite.com/?p=1953
Q: Are each of the midwoofers in their own isolated chamber, and why?
A: Yes. Using a proprietary method, each of the midrange drivers is separately isolated to eliminate standing waves in the chambers. This, along with special damping materials, greatly reduces backwave energy which can radiate back through the cone of the driver.  In addition, there are no parallel walls inside the cavities which further reduces standing waves.
Status Acoustics Titus 8T Bass Module Internal View of Bracing

Q: Can you tell us about the subwoofer enclosure?
A: The subwoofer drivers share a common enclosure and the enclosure also has non-parallel walls to reduce standing waves. A special damping compound amply fills the enclosure to absorb acoustic backwave energy. This unique damping compound is superior to conventional polyfill or fiberglass because it has a higher absorption coefficient at bass frequencies, allowing it to act as an acoustical trap, reducing the backwave energy of drivers which radiates through the enclosure.
Another unique aspect of the Status 8T bass (and satellite) enclosure is its method of cabinet construction involving the bonding of multiple layers of material together. This expensive process gives the 8T its unique look while also allowing the cabinet wall thickness to be varied without the limits typically imposed on traditional panel construction, and also grants more extensive internal bracing. The end result of this method is a cabinet that is more acoustically inert for optimum sound quality. Cabinet panel resonances are greatly reduced with this design, resulting in superior bass definition.
This speaker employs many of the methods we discussed in: Identifying Legitimately High Fidelity Loudspeakers - Cabinets Myths & Facts and Detailed Loudspeaker Cabinet Bracing.
Q: Any other unique materials utilized for the enclosure?
A: The front and back cabinet baffles are quite unique. They are made of an acrylic polymer which has superior acoustic damping properties compared to wood baffles. By using the combination of materials (acrylic polymer baffles combined with layered HDF in the cabinets) this virtually eliminates coloration caused by cabinet resonances.
As mentioned, we utilize very specialized damping materials that are superior to more commonly used polyfill and fiberglass but this does come at a cost premium.
The Status 8T Speaker system is also internally wired with Kimber Kable 4TC and a total of 16 WBT Platinum binding posts are used for each pair of speakers. That's over $2,600 worth of cables and terminals for each speaker system!
Q: Please tell us about the grille covers for the Status 8T Speaker System.
A: The Status 8T Grilles are constructed of HDF tightly covered with low loss grille material.  There are a total of 24 high strength neodymium magnets integrated into the front baffles and grilles for each speaker which makes for a very firm and immediate connection if you hold the grille within a few inches from the front baffle. The grilles remain in perfect alignment with the front baffle even if you give them quite a tug.
Q: Can you tell us about the Crossover Networks?
A: The woofers utilize their natural roll-off for several octaves before employing a 2nd order electrical Lowpass filter. This allows for the best possible integration between the bass and satellite modules. The midrange drivers use an asymmetric Bandpass filter to effectively filter bass frequencies for increased dynamic range while also seamlessly integrating with the tweeter. The Tweeter utilizes a 4th order HPF @ 2500Hz. This ensures increased power handling and better integrates the tweeter with the summed response from the midrange drivers.
Status Acoustics 8T Crossovers: Tweeter HPF (Left Pic);   Midrange BPF (Right Pic)

Status Acoustics 8T LPF Bass Module
Q: Are there any special parts in the crossover and why?
A: Yes, the crossover network for the Status 8T system employs some of the finest components available, regardless of price. Ultra high quality Jensen foil inductors are used in the network to minimize losses and ensure uncompressed sound at any power level since the coils will NOT saturate within the output capabilities of the loudspeakers. High voltage, tight tolerance Kimber and Solen polypropylene capacitors are used throughout the network. You won't find any electrolytics.
The subwoofer inductor is a large, 14AWG torrodial core with very high power handling and extremely low DCR (handles 700 Watts continuous at 500Hz where the speaker is already rolled off). This ensures no saturation at all within bandwidth used at any power level.
Because there are no resistors used in the crossovers that are in series with the drivers, there is no chance of compression caused by overheating of resistive elements at high power levels.
The Status 8T speakers are all internally wired with approximately 50ft of Kimber 4TC high performance speaker cable. Given the number of drivers that are driven in parallel in the speaker system, the net harness size is equivalent to a 5AWG conductor.
Q: Why are the crossovers point to point hand soldered as opposed to being mounted on a PCB?
A:  Our goal was to minimize losses by providing the least resistive path with the fewest connection points between components in the crossover. The best way to do this is through point-to-point soldering. All of our crossovers are hand built by our senior techs and special care is taken to ensure components are properly soldered directly together vs. through a PCB.
Q: Ever consider using active crossover network?
A: While active networks can be very good, a fully passive network was the best option for this design as it allowed for more amplifier options for the end user. We found there was no discernible benefit using an active network given the quality of components used in the passive crossover network designed for the Status 8T system.
Q: Please explain the connection scheme for the Status 8T Speaker System?
A: There are two sets of terminals for both the satellite and bass modules.
Status Acoustics 8T Satellite Terminals (left pic) Bass Module Terminals (Right pic)
Bass Module:
Both sets of terminals on the bass module are paralleled together. The recommended configuration is to use the bottom set of terminals as the input from the amplifier and the top set of terminals as the output to the satellite midrange/tweeter module.
Satellite Module:
Top terminals connect to HPF crossover network for the tweeter.
Bottom terminals connect to the BPF crossover network for the midrange drivers.
Editorial Note about Status Acoustics 8T Terminal Connections:

The Audioholics review samples were custom configured with the HP for the midrange section in the bass module so the midrange drivers in the satellite section can be easily connected without the HPF. When bi-amping the system in this configuration, one may choose to use bass management to employ an active high pass filter for the midrange drivers.
The Status Acoustics Titus 8T can be single, bi and tri wired and amplified which opens up a wide diversity of connection options to suit the particular customers needs.
Q: What electronics do you recommend using for the Status 8T System?
A: Because the Status 8T is such a revealing loudspeaker system with virtually limitless dynamic range, while at the same time being a demanding load, we recommend the very best electronics the end user is able to afford. The amplifier chosen to run the Status 8T speakers should be capable of delivering power into a 2-ohm load (the minimum impedance of the speaker system is 2.6-ohms). While the speaker can be powered with amplifiers rated as little as 100 Watts per channel output, in order to take advantage of the full dynamic range of the speakers, we recommend an amplifier capable of delivering at least 300 Watts or more per channel into 8-ohms. The amplifier need not only have high power and high current capabilities, but also have a very low noise floor to reveal all of the subtle nuances this speaker system is capable of reproducing. We've had great success with electronics from ADA, Boulder, Pass Labs, Classe and Sim Audio so far, but there is such a large range of quality electronics out there that we encourage the end user to experiment  to determine what works best for their needs. For cables, we recommend choosing larger gauge cables with low DCR and inductance to minimize losses from the amplifier to the speaker. Given the speakers are internally wired with Kimber Kable, we use Kimber products exclusively for our systems, and are very pleased with the results. Equally important is to be sure to feed these speakers the highest quality recordings from a great source device (ie. CD player, SACD/DVD-A, turntable, etc). 

Update: 9/15/12: Check out our Status Acoustics 8T Video Review

I'd like to thank Shane Rich for taking the time to answer some of my questions. I am looking forward to doing a full detailed review of this impressive speaker system. Stay tuned…
Confused about what AV Gear to buy or how to set it up? Join our Exclusive Audioholics E-Book Membership Program!
Recent Forum Posts:
3db posts on September 26, 2012 07:56
Hi Gene
We've a speaker company up here in Canada called Hansen Audio. Other then the web page, I know nothing about them. I just brushed thru their website again and remembered your review of the Status Acoustic Titus 8T and thought it would be fun (and back breaking) to have shoot out between them and these Hansens…… THE GRAND MASTER 2

Call it the "Clash of the Titans"



ENCLOSURE

GENERAL
- Time Coherent
- Dispersion Coherent
- Frequency Response: 15 Hz to 23,000hz +/-2db
- Sensitivity: 90db
- Nominal Impedance: 8 Ohms
- True Dynamic
- Tonal Accurate

TECHNOLOGY
- Engineered, designed, and manufactured by Hansen Audio
- Sound wave diffraction distortion elimination technology
- Acoustically inert

TERMINAL CONNECTIONS
- High current pole terminal
- Decreased transition resistance

WEIGHT - 780 lbs. (In Crate)

SIZE
- Height: 75 inches
- Width: 25 inches
- Depth: 31 inches
gene posts on September 06, 2012 00:38
Pearl461 posts on September 05, 2012 21:50
I can only guess that BSA was speaking tongue-in-cheek
TheWarrior posts on September 05, 2012 21:20
Ok, I'm riding my motorcycle across the country next week to move back to GA. I can totally make a detour to FL. Please? PLEASE?

Oh and to answer the video question, I was in a demo room with various Vienna Acoustics speakers. There was a higher end model, but I cannot recall the make. *sigh* I have all the ambition but I'm a total amateur…
frostbyte posts on September 05, 2012 14:20
Nice review. I'm salavating!
Post Reply