Audience ClairAudient 16+16 Loudspeaker Preview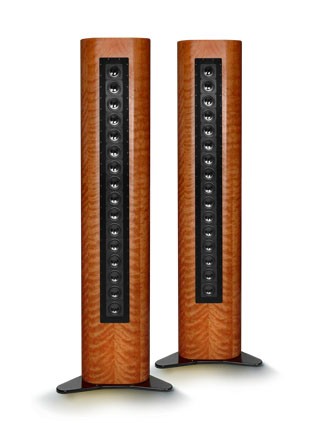 Audience ClairAudient 16+16 Loudspeaker
Summary
Impedance


8 ohms

Efficiency


99 db

Max RMS Continuous
Output Per Pair

126 db

Max RMS Continuous
Power/Speaker

500w

Frequency Response

30Hz - 22kHz
Dimensions
15" x 12" x 6'

Drivers

32 - 3" anodized aluminum-magnesium alloy cone
8 - 6"x9" custom passive radiators

Executive Overview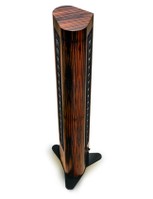 We love to look at high end speakers the way we like to look at Ferrari's and Lamborghini's. We can hope to hit the lottery and maybe buy one some day but we really never expect to get there. It doesn't hurt to dream though. So, when Audience, makers of all sorts of "high end" gear from power conditioners to power cords, announced that they had upgraded their ClairAudient 16+16 speaker, we decided to press our noses against the glass to see what we wouldn't be able to afford.
The new Mark II versions of the ClairAudient 16+16 speakers have added passive radiators to the original line-source design. Line-source speakers are easy to identify by their (usually) tall enclosures and huge rows of smaller drivers. The ClairAudient 16+16 is no different. They sport 32, 3" anodized aluminum-magnesium alloy cone drivers in each speaker. The speaker has a tear-drop shape with 16 of the drivers facing forward and 16 of them on one of the angled back side. This creates a bi-pole design. While not specified (or shown in any pictures), we believe the passive radiators must be on the second angled rear panel. 
While the original ClairAudient 16+16 speakers were spec'd flat down to 80Hz, the passive radiators bring this response down to 30Hz for a true, full-range speaker. The newly upgraded A3-S2 drivers feature a large, patented neodymium-magnet motor structure and a curvilinear shape and concave dust cap designed to control high-frequency cone breakup and provide optimum dispersion. 
One of the advantages of a line-source design is the complete lack of crossover. This is said to eliminate any problems that typically arise from the crossover points between the woofer/midrange/tweeter. This is typically the problem with traditional speaker designs and can compromise linearity if the crossover isn't implemented correctly. By eliminating the crossover, such issues are said to be completely avoided, but its unclear what issues are introduced by employing a crossover-less design such as this.
The line-source design of the Audience ClairAudient 16+16 speakers is intended, according to Audience, to eliminate room interaction problems. From their website:
Large speaker system typically have several room interaction problems. However, the multiple driver array in the 16+16 smooths reflections and other room anomalies to the point where they are no longer an impediment.
This claim is dubious at best.  Regardless of speaker design, the room will always play a dominant role of interacting with the speaker.  A Line source does have advantages such as projecting more direct sound to the listening area with sound falling off at -3dB for every doubling of distance instead of -6dB for conventional designs.  Thus, its ability to project sound may be true of typical line-source designs, but we are curious as to why the rear-facing drivers, typically intended to create and control room interactions and reflections, are being used. Also, from the website:
The resolving power available from the Audience ClairAudient speakers enable component changes within one's system to be easily and readily evaluated. One optimized, your system will be able to take advantage of the most striking feature of the ClairAudient 16+16, its ability to completely disappear in the sound field.
For the uninitiated, this is audiophile speak for, "You'll be able to hear the difference between cables, interconnects, and risers." We're also guessing that and "optimized" system will have quite a few other Audience products.
Conclusion
At $72,000 a pair, the Audience ClairAudient 16+16 Mark II speakers aren't for the weak of wallet. At an impressive six feet tall, 15 inches wide, and 12 inches deep, they are not for the family room or den either. These line-source speakers with response down to 30Hz (though actual output level this is achievable to is NOT specified) demand their own room. Their own, specially designed, room just for listening to two-channel music (preferably vinyl or reel-to-reel) most likely at your summer home in the Hamptons. If you'd like to take a listen to these, head over to T.H.E Show: Newport, June 1-3. As they almost certainly won't be coming to a show-room near you.
For more information, please visit www.audience-av.com.

Unless otherwise indicated, this is a preview article for the featured product. A formal review may or may not follow in the future.