Lansche Model No. 7 $100k Floorstanding Loudspeakers Preview
Lansche Model No. 7 Floorstanding Loudspeaker
Summary
Executive Overview
Aaudio Imports introduced and is demoing the new $100,000 per pair Model No. 7 Tower Speakers at CES. These are 3-Way speakers by Lansche Audio, a German company and they feature the Corona Plasma Tweeter - which looks like the focal point of the HAL 9000 of 2001: A Space Oddyssey fame. In addition to the Corona tweeter, the new No. 7 tower speakers feature a new aluminum front baffle, integrated adjustable footers for perfect leveling, and bi-wiring terminals. Everything is housed in a pair of gigantic hand-crafted cabinets which measure a full 69" high x 17" wide x 24" deep. That's a pair of cabinets that are nearly 7 feet tall!
MIdrange is handled by a pair of 4" cone drivers from Audio Technologies and four 8.7" long-throw coated polyester and fiberglass woofers take care of the bass. The Corona Plasma Tweeter handles the higher frequencies, and two passive bass reflex ports re located in the rear of the cabinet. Lanche Audio configured the system so that the 4" midrange drivers' low mass integrates seamlessly with the plasma tweeter.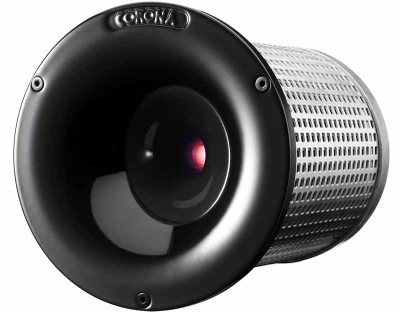 Editor's Note: About the Corona Plasma Tweeter
The Corona Plasma Tweeter features an 8mm electric arc that directly activates the surrounding air as a sound transmission medium. It's designed to come closer than any other tweeter to the goal of a point-shaped sound source with zero mass. The tweeter's arc of resonance-free, voltage-modulated air is very different, obviously, than more conventional tweeters and it is designed to achieve outstanding impulse, phase and amplitude response.
The rear of each speaker includes a connection panel with input terminals that accept banana plugs and spades for midrange and high frequencies, six terminals for making treble and bass adjustments, an IEC AC power jack, and a fuse. Two jumpers and two cable bridges per speaker are included with each pair of No. 7 Speakers. Bass reflex ports and an on/off switch rest in the middle of each back panel, and pairs of cooling vents are on the sides.
One of the neat design features of the No. 7 is that it can be adjusted to fit the acoustic properties of any room in which it is placed by adjusting the two jumpers on the speakers' rear terminal panel. These adjust both the treble and bass responses. To change one, the user can simply pull out a jumper and reinsert it into a more appropriate of the available six terminals.
Lansche's No. 7 Loudspeaker is available now from Aaudio Imports at suggested prices of $100,000/pair in a Satin Veneer finish, and $108,000/pair in a High Gloss Veneer or Piano Black Lacquer finish.
For further technical information, visit Aaudio Imports' website at www.aaudioimports.com.

Unless otherwise indicated, this is a preview article for the featured product. A formal review may or may not follow in the future.
AcuDefTechGuy posts on January 11, 2012 14:10
sholling, post: 856224
So when are yours arriving?
Amazon just shipped them last night, so they are sitting in a UPS truck right now.
gene posts on January 10, 2012 19:04
TheWarrior posts on January 10, 2012 14:47
What we really need is alot of positive hype on here so that they send Gene a sample, and he can open them up and give us a cost vs. benefit analysis of how much they actually cost to produce, and why his Titus 2 is so much better :-)

BTW, where the heck is the preview!?
sholling posts on January 09, 2012 15:37
AcuDefTechGuy, post: 856142
What?

Just bi-amping/bi-wiring connectors?

For $100K I expect at least quad-amping/quad-wiring.

Oh, wait, that's before they go on clearance @ $20K, right?
So when are yours arriving?
3db posts on January 09, 2012 14:44
gene, post: 856184
Aside from the outrageous pricetag, these speakers actually look pretty cool. I'd love to hear them personally.
I'm curious as well. Would probably hate myself afterwards for not being able to afford them.
Post Reply
Confused about what AV Gear to buy or how to set it up? Join our Exclusive Audioholics E-Book Membership Program!