Induction Dynamics dARTS Preview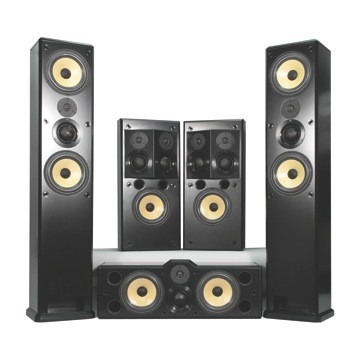 Induction Dynamics dARTS
Summary
The 5.1 (expandable) surround system
Includes S1.8Td tower speaker, C1.8d center channel, and S1.8Sd surrounds

All employ:

8" Kevlar woofers
3" dome midrange
1.125" soft dome tweeter


Patented S4X crossover technology

Switch on the back of each speaker allows it to operate in dARTS mode or in its regular passive mode.

12", 15", or 18" Induction Dynamics subwoofer compatible
Supplied 16 channel SX7000d amplifier has:

Equalization
512x filtering

Up to 250 watts per channel
Audyssey chipset

Digital mic preamp for room calibration

Available as a freestanding system with in-wall and on-wall configurations coming soon
Finishes: rosewood gloss, black gloss, and black satin
Custom finishes available
63 grille colors available
Executive Overview
Home theater aficionados are thinking, "Tom, you totally messed up the title of this preview. Phase Tech does dARTS, not Induction Dynamics." Don't worry, I can hear the implied "dummy" in your tone. Well, joke's on you, they both do dARTS now. Phase Tech and Induction Dynamics are sister companies and now they both have their own versions of the dARTS system. dARTS (Digital Audio Reference Theater System) is a complete home theater system that includes the speakers, amp, room correction, and required installation by a trained custom calibrator. It was a no-holds-barred offering for those that wanted to ultimate in home theater experiences.
It also cost quite a bit.
The Induction Dynamics system is looking to take dARTS to the next level on a number of levels. First, they are bragging a filter resolution of 512x which indicates to us that they've upgraded from the Audyssey MultEQ provided in the Phase Tech dARTS to the newest Audyssey MultEQ XT32. We would have thought this would be a big bullet-point in the press release but it, strangely, wasn't. They have improved upon the amp design so that now the SX7000d amp includes a calibration mic input for a direct connection the amp and the front panel allows you to switch in and out of equalization (more for installation and calibration than end use). Each of the speakers is bi-amped so that each speaker's woofers and their midrange/tweeter gets custom calibration. The amp sports 16 channels with up to 250 watts per channel.
Of course, the big deal is the speakers. Induction Dynamics has their own line of speakers to pair with their version of dARTS and they are quite impressive. Building on existing speakers, the dARTS version (delineated by a 'd' at the end) have a switch at the back to change from normal passive mode to dARTS mode. Currently announced are the S1.8Td towers, C1.8d center, and the S1.8Sd surround. All of the speakers feature 8" Kevlar woven woofers, 3" soft-dome midranges, and 1.125" high power soft-dome tweeters. Induction Dynamics has included their proprietary S4X Super Fourth-Order Crossover. Any of the Inducation Dynamics 12", 15", or 18" subs are compatible with the dARTS solution. Each of the freestanding speakers are available in rosewood gloss, black gloss, or black satin. Custom paint finishes are available (they say they can give you any color you want) and they have 63 (count'em) grille colors available.
The selling point with the dARTS system, of course, is the Audyssey integration and customization. With the amplifier and speakers designed to work in perfect harmony, this allows Audyssey to do everything it can to carefully match each speaker to a room's unique acoustic signature. The goal is to create not just a large sweet spot, but a whole-room sweet spot. Requiring custom installation and calibration helps ensure that the dARTS solutions achieve this lofty goal. Currently, Induction Dynamics has only announced the freestanding solution but they plan in- and on-wall configurations soon.
While we didn't find any specific information on pricing, word from CEDIA indicates that the system could cost as much as $60,000. This is a huge bump over the Phase Tech offerings which topped out somewhere south of 1/4 that price. The quote from the press release is a bit disturbing as well:
"Not only does it sound utterly fantastic," said Duke Ducoff, MSE Audio VP of Sales, "but now we have a high-end dARTS system that can be made in the customer's choice of wood finishes and grille cloths."
And then, from the marketing company's Facebook page:
Now you can get a speaker that combines the signature technology of Phase Tech with the premier, hand-crafted speakers of Induction Dynamics!
Call us crazy, but a 4x's increase in price better have more on the table than just custom finishes and grille cloths. At the very least, we should be hearing about how the technology isn't just the same as Phase Tech combined with ID speakers; we should be reading how it is better. While we think there is a lot more going on, to focus on finishes rather than technology is disconcerting. We're reserving judgement on this one until more details emerge.
Conclusion
When the dARTS system was first introduced back in 2006, it really piqued a lot of interest. Frankly, we know more than one Audioholic that left dARTS demos drooling. This new dARTS system from Induction Dynamics seems to have a lot going for it. While exact specifications haven't been released, we're sure they'll be impressive. Look for more on this new Induction Dynamics dARTS system in the future.
For more information, please contact www.inductiondynamics.com.

Unless otherwise indicated, this is a preview article for the featured product. A formal review may or may not follow in the future.
GranteedEV posts on October 27, 2011 01:21
Post Reply
Confused about what AV Gear to buy or how to set it up? Join our Exclusive Audioholics E-Book Membership Program!