NHT Absolute Tower Loudspeaker Review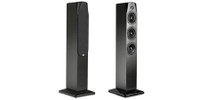 The NHT Absolute Tower loudspeaker is small in stature but capable of playing loud and clear when coupled with a subwoofer. The Absolute Tower is built like a tank but is still slim and sexy with an extravagant piano black finish. Is this absolutely the best loudspeaker on the planet? Well, quite frankly no. Is it absolutely the best loudspeaker in this price range? We will let you decide. One thing is for sure, at $1,100 per pair you should definitely know what you are getting. With NHT, you're getting the real deal. Check out our new Youtube Video Review to get Gene and Hugo's listening impressions.
The NHT Absolute Towers are among the best measuring loudspeakers we have tested. At $1100 per pair, the 3-way acoustic suspension loudspeaker is a great value. Slim footprint, great looks and sound.