Axiom Audio M80 v4 / M100 v4 Tower Speakers Preview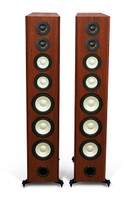 Axiom has updated their M80 v4 tower speakers and added a new flagship called the M100 v4. The two towers both sport dual 1" titanium tweeters, dual 5" aluminum mids and two 6" aluminum woofers for the M80 v4 and three higher excursion 6" aluminum woofers for the M100 v4s. The price of the M80 v4 is almost double of what it was a decade ago despite the fact it still comes in a vinyl wrapped cabinet. The M100 v4 costs almost $1k more than a pair of M80v4's just for an additional 6" bass driver. Can these speakers compete in a fiercely competitive ID marketing place?
Axiom Audio M80 v4 and M100 v4 tower speakers are their two top towers in their line up. But with their recent price hikes, are they still a value product or do their competitors offer better value?