Cambridge Audio Aeromax 6 Floorstanding Speakers Preview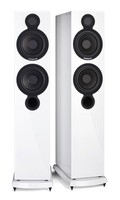 Cambridge Audio's new 4th generation BMR driver (Balanced Mode Radiator) performs both tweeters and midrange duties allowing the woofers to concentrate on what they do best - bass. Cambridge has built two speakers around this BMR driver - the Aeromax 6 floorstanding and Aeromax 2 bookshelf speakers. Claiming low points in the 30-40Hz range, the $1500 a pair price for the Aeromax 6 and half that for the Aeromax 2's, the price to performance ratio seems pretty incredible. We're interested to hear how they sound and see how well they measure.
Preview: Cambridge Audio has built two loudspeakers around their latest BMR driver - the $1500/pair Aeromax 6 floorstanding and $750/pair Aeromax 2 bookshelf speakers. Learn more about them here.