MartinLogan Theos ESL Speakers Review
MartinLogan Theos ESL Speakers Review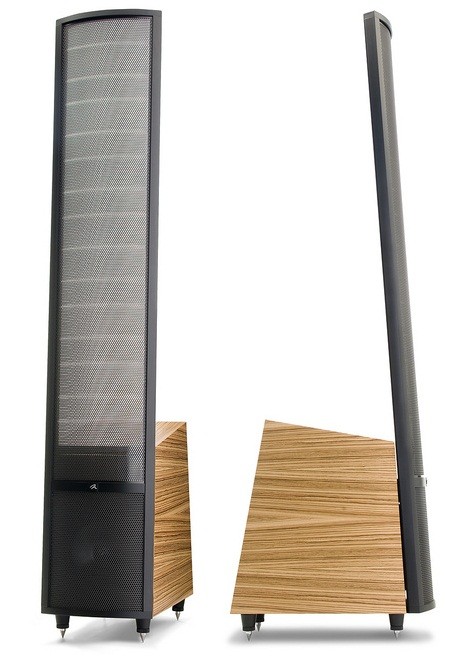 Martin Logan Theos Review
Martin Logan Theos Specs

Frequency Response: (+/- 3dB) 43Hz to 23,000Hz

Horizontal Dispersion: 30°

Vertical Dispersion: 44" (112cm) line source

High Frequency Transducer: XStat™ CLS™ electrostatic transducer

» Panel Dimensions: 44" × 9.2" (111.8 × 23.4cm)

» Radiating Area: 405 in2 (2,616 cm2) (front and back)

Low Frequency Transducer: 8" (20.3cm) cast basket, high excursion, aluminum cone with extended throw drive assembly, non-resonance asymmetrical chamber format, down-firing bass reflex port.

Sensitivity: 90 dB/2.83 volts/meter

Impedance: 4 Ohms, 0.8 at 20kHz.

Recommended Amp Power: 20‒400 watts per channel

Crossover Frequency: 425Hz

Components: Custom-wound E-I core transformer, air core coils, polypropylene capacitors.

Inputs: Custom bi-wire tool-less binding posts, bi-amp compatible

Power Draw: Idle: < 1W/channel
: Max: 2W/channel
Weight: 43 lbs. (19.5 kg)

Dimensions: 59.3" × 10.7" × 18.8"
Pros
Great looks
Amazing detail and natural sound
Controlled dispersion limits room interaction
Cons
Need to be pulled out into the room farther than most speakers
Have to register for full warranty
Exposed panel means it is more easy damaged by stray children
There are few speakers on the market today that say, "Look at me, look at me!" as elegantly as the MartinLogan Theos—and far fewer speakers that are as visually striking and which still sound good. Unfortunately, electrostatic speakers are the not-so-innocent victims of much misinformation in the audio community. This is due, in large part, to the deficiencies of early designs. Here are just a few of these holdover ideas: electrostats only sound good with some music, they have a very narrow soundstage, they are too fragile, they require a really expensive amp, and so on and so on. I set out to test each of these ideas (but you will have to read on to see how the Theos fared). Aren't I just the worst?
How MartinLogan Started: Two Guys in Kansas

Electrostatic loudspeaker technology has been around since the 1920's, but it wasn't something you would want to show off in your living room. The electrostatic membrane was made of pig intestine coated in gold leaf and required an array of expensive and dangerous electronics. My guess is the pig intestine was likely enough to dissuade most shoppers of the day. In 1957 the first commercially successful full-range electrostatic speaker was released (no pig intestine here), the legendary Quad ESL (electrostatic loudspeaker). The speaker had many of the hallmarks of a great ESL and a few disadvantages as well. Namely, early ESL designs could not produce much bass, were highly directional, could wreak havoc on amplifiers, and couldn't reach high output levels. Thankfully, many of those deficiencies were about to be overcome.
In the 1970's Gale Martin Sanders and Ron Logan Sutherland met at a local HiFi shop in Lawrence, Kansas. They decided to try to create an ESL that could compete, and ultimately outperform, typical dynamic loudspeakers. They formed MartinLogan and by 1983 displayed the Monolith, their very first electrostatic hybrid loudspeaker. In fact, we recently did a factory tour at MartinLogan's headquarters in Lawrence, and the original Monolith's are still there, packaged away safely. After the Monolith, things started to pick up and MartinLogan continued to advance and push ESL technology, which brings us to modern day. The Theos is one of the latest additions in their ESL lineup and includes many of the technological advancements they have made over the past three decades.

jeffreynoah posts on December 25, 2012 07:55
Martin Logan Theos Speakers Test Report

My musical taste is classical, primarily Renaissance, Baroque and Impressionist. On my ML Vistas, choirs sound like many individual singers and seem to float in space, across and deep within the sound stage. Previously shrill recordings now sound delightful. Drums, which previously sounded like thunder, now offer individual definition, from synthetic or skin impacts. Triangles sparkle and xylophones shimmer. Applause sounds not like rain, but hands clapping. Singers and soloists seem to perform in the room.

According to a reviewer, "finesse and transparency … unbelievable dynamics, speed, transient attack and force … simply glorious front-to-back depth … clear and uncluttered, never losing their 'space', while blending seamlessly. Probably the most outstanding characteristic is the way the speakers simply disappear – a familiar MartinLogan trait – allied to simply glorious front-to-back depth. With live recordings of a 'known' stage or hall signature, the effect is nothing short of transcendent."

My standard for sound reproduction is accuracy, from years of listening to electrostatic headphones. My entire CD collection now sounds new, and filled with discoveries.

I am also impressed with the protective cardboard shipping cabinet, including two layers of gowns and foam buttresses, which protect M-L speakers in transit.

Bravo, Martin – Logan for an exciting performance, every time.
alenmics posts on December 16, 2012 09:47
nice infroatmon and ai like it
Post Reply
Confused about what AV Gear to buy or how to set it up? Join our Exclusive Audioholics E-Book Membership Program!