Cambridge Audio Aero 6 Loudspeakers Preview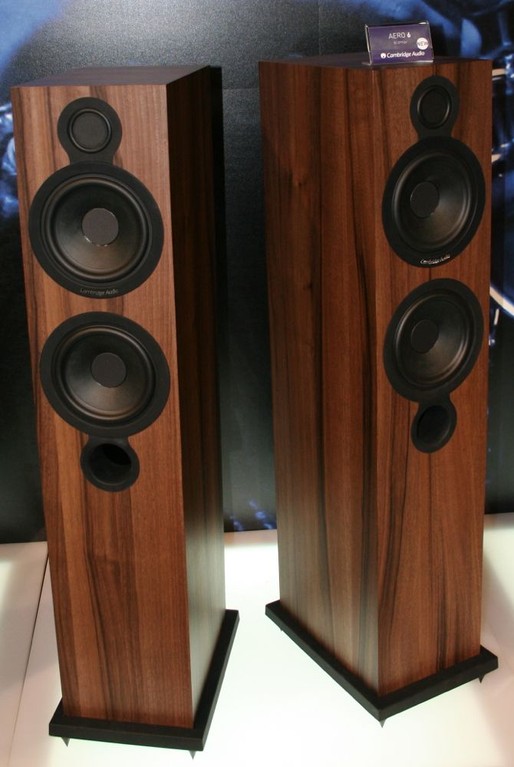 Cambridge Audio Aero 6 Tower speakers
Summary
Aero 6
Sensitivity: 90dB
Frequency response: 30Hz - 22kHz
Impedance: 8 Ohms compatible
Recommended amplifier power: 25-120 Watts
Drivers: 1 x 46mm (2") BMR; 2 x 165mm (6.5") high power subwoofers
Ported: 1 front
Color: Black or Walnut
Dimensions (W x H x D): 240 x 980 x 338mm (9.4 x 38.6 x 13.3")
Weight: 16.9kg (37.3lbs) each
Aero 2
Sensitivity: 90dB
Frequency response: 40Hz - 22kHz
Impedance: 8 Ohms compatible
Recommended amplifier power: 25-120 Watts
Drivers: 1 x 46mm (2") BMR; 1 x 165mm (6.5") high power subwoofer
Ported: 1 front
Color: Black or Walnut
Dimensions (W x H x D): 203 x 370 x 311mm (8.0 x 14.6 x 12.2")
Weight: 6.8kg (15lbs)
Aero 3
Sensitivity: 88dB
Frequency response: 80Hz - 22kHz
Impedance: 8 Ohms compatible
Recommended amplifier power: 25-120 Watts
Drivers: 2 x 85mm (4") BMR drivers
Mounting: Rear wall mount fixings
Color: Black or Walnut
Dimensions (W x H x D): 461 x 180 x 151mm (18.2 x 7.1 x 6.0") including grille
Weight: 4.8kg (10.6lbs)
Aero 5
Sensitivity: 90dB
Frequency response: 50Hz - 22kHz
Impedance: 8 Ohms compatible
Recommended amplifier power: 25-120 Watts
Drivers: 1 x 46mm (2") BMR; 2 x 135mm (5.25") high power subwoofers
Color: Black or Walnut
Dimensions (W x H x D): 430 x 150 x 208mm (16.9 x 5.9 x 8.2") including grille
Weight: 6.1kg (13.4lbs)
Aero 9
Rated output power: 500W
Frequency response: 21Hz - 200Hz
Drivers: 1 x 10" (250mm) front-firing subwoofer; 1 x 10" (250mm) down-firing ABR
Crossover: Active - variable 40Hz - 200Hz
Color: Black
Dimensions (W x H x D): 330 x 340 x 355mm (13.0 x 13.4 x 14.0")
Weight: 11.7kg (25.8lbs) each
We're always excited to see a new line of speakers. When Cambridge Audio announced their new Aero line, we couldn't wait to take a look. We got that chance at CEDIA 2013. Cambridge Audio was thrilled to tell us all about their new Aero line. The big advancement was the 2" BMR (Balanced Mode Radiator) "tweeter". This driver is designed to play from 20kHz down to 250Hz - far farther than a traditional tweeter. We were skeptical of their claims that they were "revolutionizing audio" but their excitement was infectious. We're curious to see how linear the driver is. 
Depending on the speaker, the 2" BMR driver is paired with either 6.5" or 4" woofers (or neither for the Aero 3). The line is rounded out by a 10" subwoofer with a 500 watt amp and a 10" passive radiator (driver is front firing, passive radiator is down-firing). All the speakers come in black or dark walnut veneers over MDF except for the sub which only comes in black. The tower and bookshelf models are front ported while the surrounds are sealed.
The look of the Aero speakers was described as "traditional" though many would describe them as "boxy". They had no rounded edges and a very flat look. Even the binding posts were sticking unceremoniously out of the back without any sort of recessing except on the on-wall surrounds. Cambridge Audio seems to be sending a message to their customers - we care more about sound than looks. Unfortunately, Cambridge didn't have any Aero speaker setup for demo so we'll have to wait until we can get some in for review.
For more information, please visit www.cambridgeaudio.com.

Unless otherwise indicated, this is a preview article for the featured product. A formal review may or may not follow in the future.