Induction Dynamics ID1 Series Tower Speakers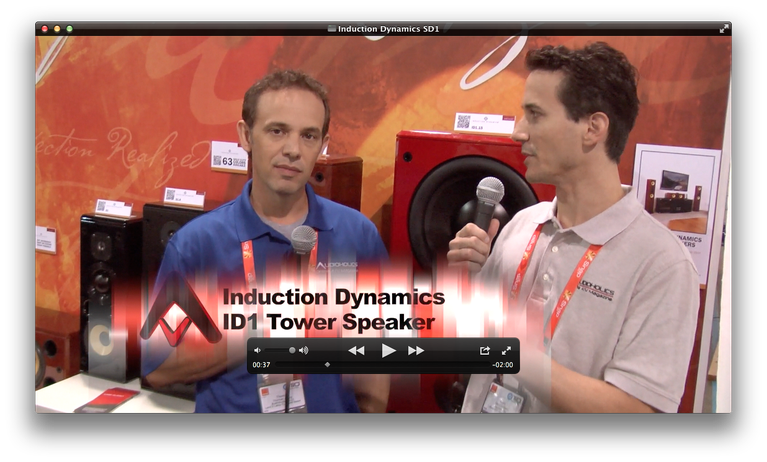 Induction Dynamics ID1 Tower Speaker
Summary
Dimensions: 56"H x 11"W x 10.5"D
Weight: 85 lbs / 41 kg
Crossover Type - S4X 4th Order (upper) S4X 4th Order (lower)
Crossover Frequencies (Hz) - 80, 700, 3,800 Hz (upper) 80 Hz (lower)
Nominal Impedance - 8 Ohms (upper) 4 Ohms (lower)
Frequency Response (Hz) - 60-22,000 Hz (upper) 25-150 Hz (lower)
Sensitivity (2.83V @ 1M) - 89 dB (upper) 89 dB (lower)
SPL (1W/1M) - 89 dB (upper) 86 dB (lower)
Power Handling (Watts) - 200 W (upper) 600 W (lower)
Tweeter - 1.125" Titanium inverted dome with phase control (upper)
Midrange - 3" Soft dome
Woofer - 6.5" Kevlar cone with rubber surround & cast frame
Subwoofer - Dual 10" mica-graphite poly cone with cast frames and rubber surrounds
Binding Posts - Gold-plated; #2 AWG wire
Enclosure - Vented (upper) Sealed (lower)
Optional Accessories - A2 Amplifier
Executive Overview
Induction Dynamics demoed their new ID1 tower speaker. This is a speaker that has been completely revamped from its former iteration. The ID1 was first introduced in the 90s, but the updated version, which was finally released several months ago, has a new front-ported cabinet design. They placed the second woofer on the top and make it a more imposing product. There is a 3" soft dome mid-range driver and a 1-1/8" inverted titanium dome tweeter. The mid-bass is handled by a 6.5" Kevlar woofer, and the two 10" mica-graphite poly cone subs round it out. 
They've also revamped all the drivers, which are sourced from all over. The ID1 is a 4-way design, but you can also use it in a three-way design and power the subwoofers separately.  Induction Dynamics can even include amplification for those sub drivers.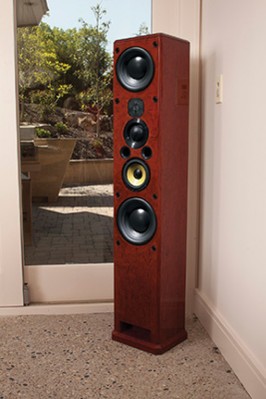 The speakers start at $13,000 for satin black. Gloss Black or Rosewood runs $15,000, and Induction Dynamics can even match anything you need with their own wood shop. There are matching ID1 on-walls, in-walls and even a center channel. Grille fabrics are available in 63 different colors. These speakers really dip down low. They have tons of fidelity and we were able to pick out differences between the cymbals and the percussive elements. These speakers dip down to 25Hz, but the demo we heard didn't take them that low on the show floor—admittedly a difficult place to listen to a new pair of speakers. These have a lot of promise and it will be great to get them in for a closer look. To top it all off, they are manufactured in Kansas, so these are decidedly American speakers.

Unless otherwise indicated, this is a preview article for the featured product. A formal review may or may not follow in the future.