Definitive Technology Mythos ST-L SuperTower Preview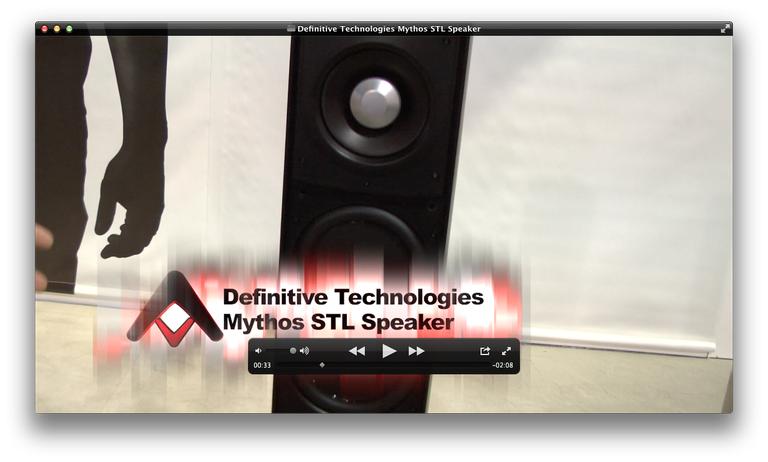 Definitive Technology Mythos ST-L SuperTower Preview
Summary
Dimensions: 53" H x 6-3/4" W x 9-1/2" D (base 15-5/8" D)

Driver Complement (Mid-High Array): Two 5-1/4" 3rd generation BDSS midrange drivers and one 1" Magnesium/Aluminum BMA™ dome tweeter in D'Appolito array

Driver Complement (Subwoofer): One 6" x 10" Carbon active woofer pressure coupled to two 6" x 10" planar low-bass radiators

Amplifier Power: 1200 Watts

Inputs: Bi-wire 5-way binding posts, LFE low level
Executive Overview
Although Definitive Technology rolled out a number of new products at CEDIA 2013 this year, the one we are most interested is the Mythos ST-L SuperTower. Their new flagship SuperTower, with an MSRP of $5k/pr, the Mythos ST-L is a complete redesign of their original Mythos ST SuperTower. The new ST-L keeps the same tall, slim profile of its predecessor but everything else has been redesigned from the ground up, literally.
The granite base of the ST is gone and in is a new milled cast aluminum base where the speaker can be level without having to reach underneath. The four spikes can be hand turned from the top. Continuing up the ST-L, the rear mounted controls and binding posts are now less recessed for easier access. Around front, it still sports a single active subwoofer driver and dual racetrack passive radiators, but the cone material and amp have been changed. The active unit is a 6" x 10" Carbon driver, but we are unsure of the cone material of the two 6" x 10" passive radiators.
Clint and Tom's Perspective: Listening to the Mythos STL speaker from Def Tech was an opportunity to hear something truly unique. This is the brand new flagship speaker from Definitive Technology, and it is a bottom-up redesign with a pair of 5.25-inch drivers flanking a 1-inch aluminum magnesium alloy tweeter. Now this is in its own separate box (or chamber) and then you have a single driver with to passive radiators. This integrated active subwoofer as it were, is powered by a 1200 watt amplifier.

The speaker isn't all that big, at least not as big as you might expect after you hear the bass. It's truly incredible, and the bass is so nice that Definitive Technology didn't even bother to place a sub in their listening room. And it wasn't missed or needed. The Mythos STL speakers were driven by about 30 watts (per channel) from a tube amp and it was plenty. 

What's neat is that this is really a bookshelf speaker that is mounted on a permanent stand that houses an integrated subwoofer. You're going to want stands anyway—Def Tech just built it in. Everything on these speaker is particular and well thought-out, from the convex and concave surrounds on the mid drivers to the unusual pole piece that couples to the magnet for heat dissipation and actually uses a different surround on the inside. It's a far cry from simple bullet plugs.

There's a remote control, there is bass adjustment to compensate for placement...we're pretty excited about this speaker.
To power the subwoofer section of the ST-L, definitive included a 1200 Watt Class HD amplifier with a 56-bit microprocessor preamp stage with DSP. To help tune the bass to your preference they included an IR remote for quick adjustments, like bass level up/down and the ability to turn the subwoofer section of the speaker off altogether.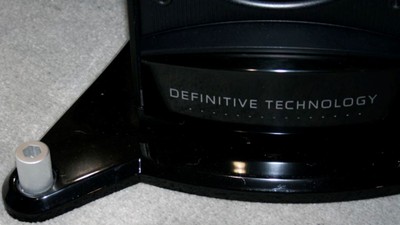 Mythos STL Base
The midrange-high frequency array is completely separated from the subwoofer in its own sealed enclosure. The mids and highs are covered by two two 5-1/4" 3rd generation BDSS midrange drivers and one 1" Magnesium/Aluminum dome tweeter in D'Appolito array. The ST-L's mid-driver features a larger motor, new suspension geometry and an aluminum LRW phase plug that acts as a heat sink to improve power handling and lower distortion. If you look closely at the two midrange drivers, you will see that one of them uses an inverted surround, but the other is convex. We're unclear on the details, but the differing surrounds on the two midrange drivers is part of Definitive's "Ultra Linear Array™ in which two midrange drivers are tuned to cancel out each other's non-linear motion to yield flatter frequency response and vastly lower audible distortion for the most lifelike and detailed sound in Definitive's history." The tweeter is also a first for Definitive, using a Magnesium/Aluminum alloy dome with a rubber surround, an all-new motor structure and new throat geometry.
          

Rear Inputs                        Mid-High Array

On Site Reactions
At a quick glance the ST-L look awesome. The oversized spikes, aluminum enclosure, BDSS midranges, and logo on the top plate all look incredible. But, how does it sound? Well, I couldn't tell you; however, Audioholics President Gene Dellasala sat down and had a quick listen and thought they sounded great. We're definitely looking forward to getting in a review sample as they start to roll out.

Unless otherwise indicated, this is a preview article for the featured product. A formal review may or may not follow in the future.