Legacy Audio Aeris Floorstanding Loudspeaker Preview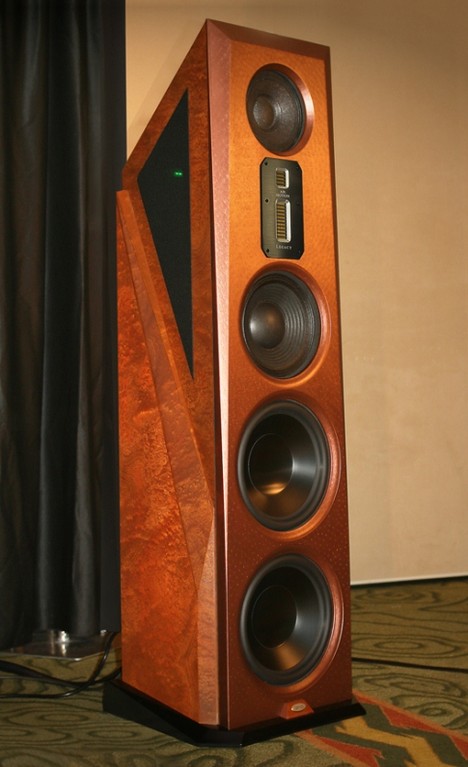 Summary
Frequency Range: 16 Hz-30 kHz

Sensitivity: 95 dB (@2.83 volts/1m)

Upper cabinet dimensions: 58" h x 14.5" w x 16" d

Base dimensions: 1"h x 19" w x 15" d (cabinet sets into base)

Weight: 230lbs


MSRP starting at $15,900

Available in a variety of finishes
There is no better place to reveal a new loudspeaker than a giant audio show, and that is what Legacy Audio did with the release of their new Aeris loudspeaker at the Rocky Mountain Audio Festival. The Aeris incorporates a lot of technology that has not been used in a Legacy loudspeaker before, most notably a new Air Motion tweeter.
The Aeris is a 4-way design that utilizes a new dual Air Motion tweeter (AMT), titanium encrusted 8" midrange driver, 10" midbass driver, and dual 12" subwoofers. We have already talked about how AMT's are showing up in speakers from many different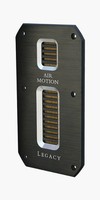 manufacturers, but Legacy has put a new spin on the AMT design. Legacy folded 16 square inches of Kapton into a 4"x1" tweeter and added another 1"x1" super tweeter on top of it, both on the same faceplate. Legacy said that this dual tweeter design provided, "more uniform dispersion," and that the treble, "now had weight instead of tizz." The phrase, "weight instead of tizz" suggests that the tweeter design allows for a lower crossover between the tweeter and 8" midrange driver. "More uniform dispersion" alludes to the difficulty of designing an AMT with good vertical dispersion and power handling, but Legacy's dual AMT shows that they considered this challenge as well.
The dual 12" subwoofers are powered by a 750w ICEpower amp and bring the frequency response of the Aeris down to 16Hz. The 24-bit DSP controlled amp has balanced and unbalanced inputs and outputs, as well as SPDIF coaxial and USB inputs, and level control. At this price point it would be nice to see some built-in EQ options to allow someone to fine-tune bass response. This is especially important because the best spot for front speakers is often not the best spot for even bass response in a room. Whether or not the dual 12" drivers can actually play with any authority at 16Hz the Aeris should definitely be able to pump out some heavy bass.
The upper portion of the cabinet is an open air dipole design. This means that the speakers need to be a little farther away from the back wall than with a typical monopole loudspeaker. Legacy chose this design for a more spacious sound.
The Aeris shouldn't take much power to drive consider the built-in ICE amp for the subwoofers and a sensitivity rating of 95dB. The cabinet appears to be extremely well constructed with a 2.25" thick baffle and 2" thick side walls. There are a number of different finish options including a leather laminated baffle and carbon fiber laminated base.
Conclusion
The Legacy Audio Aeris is a speaker built for individuals who demand ultimate two-channel performance. The driver arrangement, built-in ICEamp, new tweeter, and thick cabinet all point to the Aeris being one heck of a speaker. But at a base price of $15,900 it better be a formidable speaker, then again, we have seen some speakers that cost twice as much and were abominations. Although Legacy labels the Aeris as a 4-way design, it seems to us that a 4.5-way or 5-way designation might make a little more sense if you consider that the tweeter is actually two separate tweeters. Whatever you call it, the Aeris looks like a great option for someone with enough cash to afford it.
For more information visit Legacy Audio

Unless otherwise indicated, this is a preview article for the featured product. A formal review may or may not follow in the future.