Bowers & Wilkins CM10 Floorstanding Loudspeaker Preview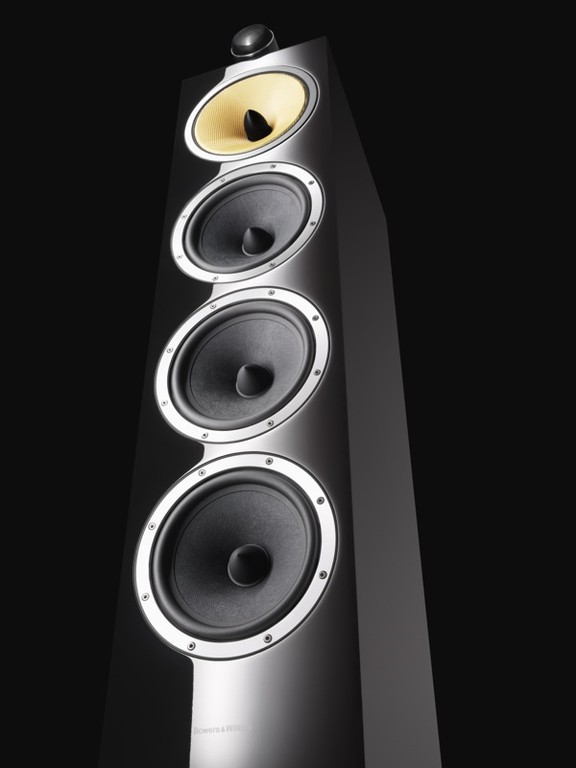 Bowers & Wilkins CM10 Floorstanding Loudspeaker
Summary
General

Description: 3-way vented-box system
Drive units: 1x ø25mm (1 in) dual layer aluminium dome high-frequency; 1x ø150mm (6 in) woven Kevlar® cone FST midrange; 3x ø165mm (6.5 in) paper/Kevlar® cone bass
Frequency range: -6dB at 28Hz and 50kHz
Frequency response: 45Hz - 28kHz ±3dB on reference axis
Sensitivity: 90dB spl (2.83V, 1m)
Impedance: 8Ω (minimum 3.1Ω)
Crossover frequency: 350Hz, 4kHz
Recommended amplifier power: 30W - 300W into 8V on unclipped programme
Cabinet
Height: 990mm (39 in) (cabinet only); 1087mm (42.8 in) (including tweeter and plinth but not feet)
Width: 200mm (7.9 in) (cabinet only); 366mm (14.4 in) (including plinth)
Depth: 337mm (13.3 in) (cabinet only); 364mm (14.3 in) inc. grilles and terminals but not plinth; 414mm (16.3 in) including plinth)
Net weight: 33.5kg (73.7 lb)
Finishes: Real wood veneers (Rosenut, Wengé); Painted finish (Gloss Black, Satin white)
Executive Overview
It's not often that we see a company put out a major upgrade to an existing line of speakers. They may add new speaker types to an existing line to flesh it out (like rear, center, and surround speakers to a popular line of floorstanding/bookshelf speakers), but they don't often just up and say, "You know what? We could totally out flagship our flagship speaker."
Bowers & Wilkins has done just that.
There CM line of speakers looks fairly normal for the popular speaker manufacturer - rectangular cabinets with tweeters on top (still in the main cabinet), midranges under, and woofers at the bottom. Sure, the top of the line 800 Series Diamond from B&W have curved cabinets and top mounted tweeters (not to mention a flagship speaker that looks like it was designed by Neptune and, when the right note was played, would release the KRAKEN!!!), but not the CM line. The CMs are for people that like the B&W sound but don't like all those newfangled shapes and designs. They like their edges straight and their corners sharp, thank you very much (that, of they would rather not part with a giant pile of cash in exchange for B&Ws top of the line speakers.).
Well, B&W couldn't leave well enough alone. While the old flagship of the CM line, the CM9, retails for $3k, the new CM10 will run you $4k a pair. B&W hasn't gone too overboard with the design. The big change is that they've offloaded the tweeter onto the top of the speaker reminiscent of their other, much more expensive, offerings. B&W promises the CM10 tweeter will have better imaging and dispersion for a more natural, spacious sound. The tweeter itself hasn't just been isolated, it has been improved and upgraded. It is a 1", dual-domed aluminum driver. The dual-domed design prevents the voice coil from distorting at higher frequencies staying stable up to 38kHz.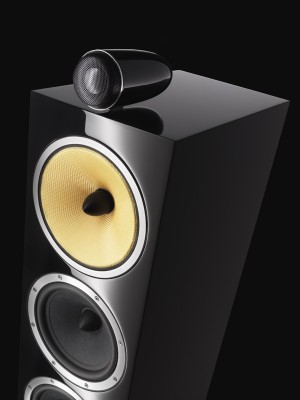 B&W CM10 
The fun thing is that B&W has kept the height of the CM10 cabinet exactly the same as the CM9 giving extra room for an additional woofer (though the CM10 is 1.6" deeper). The CM10 features a 6" woven Kevlar cone FST midrange and three 6.5" paper/Kevlar cone bass drivers (up from two in the CM9). This takes the -3dB point on the CM10 down to 45Hz with the CM9 falling off 11Hz higher. Another upgrade is that the 6" Kevlar FST midrange is completely decoupled from the rest of the speaker by a drawbar mechanism, like what is found in the 800 Series Diamond speakers. 
The CM10 speakers have an 8ohm nominal impedance with a 3.1ohm minimum. They have a 90dB sensitivity which suggests that they should play well with most amplifiers - even those in mid-line receivers. But you aren't pairing your new CM10s with a receiver are you? I'm pretty sure they'll revoke your audiophile card for that. The CM10 speakers come in Rosenut and Wengé real wood veneers or high gloss black or satin white paint. The white model has a grey grille while the rest have black.
Conclusion
B&W could have easily released the CM10 speaker at $5000 a pair. They've upgraded the tweeter and the midrange, offloaded the tweeter to the top of the cabinet, decoupled the midrange, and added a woofer. You're getting more than a 10Hz increase in extension on the bass end and the new tweeter design promises even less distortion and more dispersion than the CM9. All that easily adds up to more than a $1000 price increase over the CM9 in our book. With the $5k speaker category being a very popular one for budding audioholics, the $4K price tag of the CM10 speakers from B&W are sure to attract a lot of attention. We predict a very popular launch when these speakers start shipping in August.
For more information, please visit www.bowers-wilkins.com.

Unless otherwise indicated, this is a preview article for the featured product. A formal review may or may not follow in the future.
Confused about what AV Gear to buy or how to set it up? Join our Exclusive Audioholics E-Book Membership Program!
Recent Forum Posts:
Chrisx posts on March 23, 2014 14:27
Using the CM10s with an LX85 purchased a couple of years ago. Having heard what the Pioneer did for my old CDM1SEs, i.e. better in EVERY way c/w midrange 70wpc Rotel had no hesitation giving it a chance with the CM10s even though tempted to get the Superuniti I auditioned them with.
While the LX85 theoretically not in the same league as the Naim its doing a fine job driving the CM10s and comes close set up as follows.
1. Bi-amping using 4 of the LX85 channels improved the sound significantly.
2. Being a cinema amp it has room correction which I used to leave off for music but with the CM10s in a 15' square room works a treat (in direct mode). Happy!
riker1384 posts on December 24, 2013 00:06
Will the next model go to eleven?
English210 posts on December 23, 2013 16:06
The CM10's are a significant step up IMHO. The 9's left me cold, but the 10's seemed a lot more involving to me. In fact, the difference between a well set up pair of CM10's and a not-well-set-up pair of 804's could be enlightening from the standpoint of demonstrating the importance of proper setup. I've heard the 804's in bad setups, and the CM10's I heard were way better sounding.
haraldo posts on December 20, 2013 14:36
AcuDefTechGuy, post: 1005450
Bass from subs are still 100% BETTER.
probably 200%
No, seriously I have a preference for smaller speakers…..
When I audtitioned Dynaudio contour the smaller S 3.4 was in my ears, significantly better performing than the bigger S 5.4
In general it's just what works for me, but then you need subs
Maybe some of the smaller B&W like these ones could fit the bill
AcuDefTechGuy posts on December 20, 2013 12:29
haraldo, post: 977582
Somehow I'm getting more and more wish to checkout some of the B&W products, I never had any great pleasure from their products previously…. Somehow I believe or hope that may be in for a change…

First of all, my criticism to older B&W products was about a bass that was just not good enough… Poor quality, bloated, no real attack, nothing good… The Danish brands: Audiovector, Dali, System Audio and Dynaudio was easily running in circles around any B&W speakers.

Well I really hope they learned some lessons now
Bass from subs are still 100% BETTER.
Post Reply