Monitor Audio Radical 'Concept 50' Loudspeaker, Premium 'Cinergy' Home Theater Line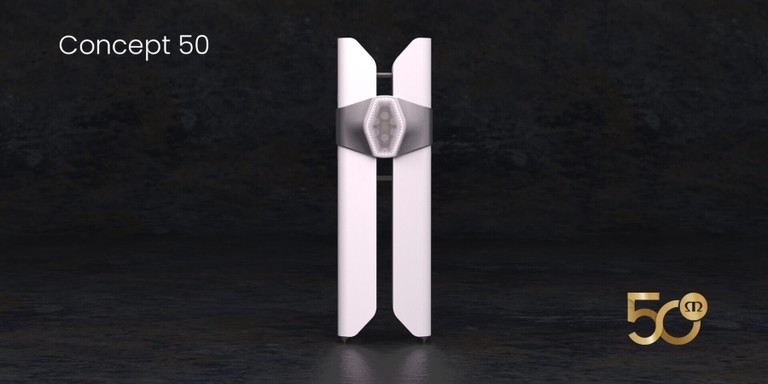 Monitor Audio Concept 50
Summary
Product Name:

Concept 50 Tower Speaker, Cinergy 100, Cinergy 200, Cinergy 300, Cinergy Sub15

Manufacturer:

Monitor Audio

Review Date:

September 28, 2022 00:05

MSRP: $3,500 - Cinergy 100/each, $5,500/each - Cinergy 200, $6,500/each - Cinergy 300, $3,100/each - Cinergy Sub15, TBA - Concept 50
First Impression:

Pretty Cool
Executive Overview
I'm a longtime fan of Monitor Audio speakers because they sound good and offer impressive value at a variety of price points. And to be honest, I just like the way they look. Over the years, the company has mostly stuck to fairly traditional designs, with pleasing proportions and high-quality wood and paint finishes that appeal to lots of people and fit in with many styles of decor. The 7th-generation Silver Series loudspeakers are a perfect example. When I heard that Monitor Audio was cooking up something new for its 50th anniversary, I expected a wood-clad, retro-chic speaker — something like PSB's 50th-anniversary Passif 50, perhaps. Nostalgia-fueled throwback designs have been successful for other brands like JBL and Wharfedale, and they make sense as anniversary products. Monitor Audio did introduce a limited anniversary edition of its Silver 100 stand-mount speaker in a stylish green finish that has a sort of timeless appeal. But the real 50th-anniversary celebration came in the form of something totally unexpected: the Concept 50 loudspeaker.
Concept 50


First unveiled at the High End audio show in Munich, the Concept 50 is still in development but will go into production as Monitor Audio's flagship speaker before the end of 2022. The prototype shown in Munich is not expected to change much before launch, though its 212-pound weight will likely increase to 220 pounds, according to the company. Standing 55 inches tall and about 17 inches wide, the Concept 50 would be rather imposing even if it looked like a typical Monitor Audio speaker, but as you can see, there is nothing typical about this radically-new design. It all started a few years ago, when Monitor Audio's Technical Director, Michael Hedges, and Design Director, Charles Minett, were tasked with preparing for the impending anniversary by designing the best product in Monitor Audio's history. Hedges, Minett, and their respective teams were essentially given free rein to push the boundaries of loudspeaker design to the limits, as the company chose to celebrate this milestone not by looking back at its first 50 years, but instead by looking to the future.
No loudspeaker is perfect. Using our experience and understanding of the physics, we've strived to design a real loudspeaker to be as close as possible to perfect. This has been attempted by others many times but with Concept 50 we believe we've got closer than anyone has before. There are two key elements that are often ignored: perceived source size and directivity. For sound stage and imaging to be as accurate as possible the sound must come from a single point and have a consistent directivity. Concept 50 achieves this through the innovative placement and design of each of its drivers, a tightly grouped tweeter and midrange cluster called 'The Array', plus a compact inward facing pair of force cancelled bass assemblies.
— Michael Hedges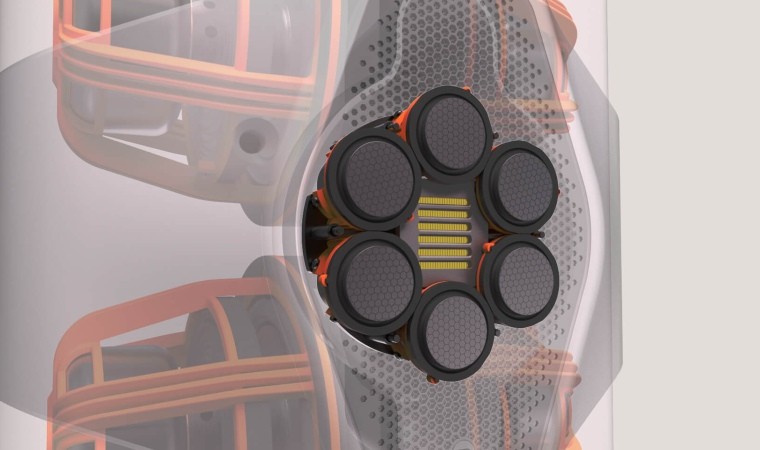 The basic architecture of the three-way Concept 50 reminds me a bit of KEF's Blade, in that it employs a front-firing point-source handling the mids and highs, along with two pairs of side-mounted, force-cancelling woofers. But while the KEF Blade is built around that company's proven Uni-Q concentric driver, the heart of Monitor Audio's Concept 50 is an all-new multi-driver midrange and tweeter assembly called "The Array." This ultra-compact and undeniably eye-catching unit combines six small midrange drivers nestled tightly around a custom-built AMT tweeter. Together, the six 2-inch midrange drivers have a greater surface area than the 4-inch midrange drivers used in Monitor Audio's current flagship Platinum Series speakers, but their unique arrangement surrounding the tweeter creates an acoustic point-source system that promises better soundstage depth, height, and width, along with a more clearly-defined center image. The Array is mounted to a machined-aluminum baffle that sits at the front of a 3D-printed enclosure, custom-designed and tuned to optimize the performance of the midrange drivers. These drivers are said to offer wide enough bandwidth that they could extend high up into the range of a typical tweeter. This reportedly keeps distortion low and ensures the smoothest possible crossover to the tweeter. According to Michael Hedges, the midrange drivers show no signs of breakup until above 10kHz, and extend up to 23kHz. At the bottom of their range, they go down to 150Hz with 2-3 mm of excursion. Why not go with a traditional dual concentric midrange/tweeter assembly, like the ones used by KEF and TAD, for example? Hedges says that the displacement of the mid-range diaphragm, which forms the tweeter's waveguide in such designs, can add intermodulation distortion to the tweeter. This effect can be mitigated (though not completely eliminated) by limiting the low-frequency output of the midrange driver. The Concept 50's tweeter waveguide is fixed in place, and the surrounding midrange drivers create a flat baffle around the tweeter. Therefore, there's no additional intermodulation distortion on the tweeter, and the midrange drivers are free to deliver the best possible performance at the low end of their operating band.
The tweeter in The Array is Monitor Audio's new, third-generation Micro Pleated Diaphragm (MPD) high-frequency transducer. This AMT-style driver offers improved linearity, distortion, directivity, and power handling over previous versions, according to the company. (The first-generation MPD tweeter was used in the company's Platinum II Series. The second-generation MPD tweeter is found in the Cinergy range — more on that later. The new third-generation MPD used in the Concept 50 is also found in the upcoming Platinum 3G Series, which will have been announced by the time this article is published.)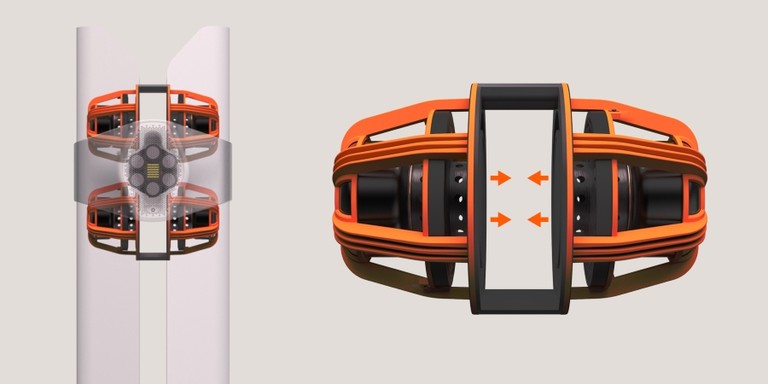 While The Array reproduces most of the frequency spectrum, the bass is handed off to four 7.9-inch woofers per speaker, which are anchored together in pairs by cast aluminum chassis bound together by cast aluminum interlinks. This force-canceling arrangement is slightly different from the one found in KEF's Blade speakers, in that the Concept 50's woofers fire inward, toward each other, rather than outward toward the side walls. It's an unusual configuration, but Monitor Audio claims that it gives the Concept 50 an in-room bass response that reaches all the way down to 21Hz (-6dB). The cast aluminum interlinks that hold each pair of woofers together are the only structural element holding the main cabinet together. The Concept 50's distinctive main cabinet comprises two pieces of 18mm-thick "solid surface material" made primarily of acrylic polymer with high mineral content. Monitor Audio says that this material is both extremely rigid and incredibly dense (hence the speaker's linebacker weight). The material is thermoformed into shape and then precision machined. The internal bracing and even the port tubes are all formed from the two individual pieces of seamless material, and are part of the structure of the cabinet itself. 
A lot of high-tech speakers are obviously very technology-forward. And that's not really where we are as a brand. We're very much a performance audio brand but we want to be human first. We want to make our products look accessible and not too overpowering in a room. Each of these loudspeakers has got 11 drive units in it… and if we made those all forward-facing, and if we made those all visible, it would become a very overpowering loudspeaker. So what we intentionally did with this configuration was work really hard to make those as discreet as possible. Our mission to create a loudspeaker like no other both in performance and looks was no easy challenge. However, by using Concept 50's two unique driver configurations as the backbone of its structure, we have been able to create a unique aesthetic which demands attention but does not overpower a space like many of its contemporaries. This allows us to make a statement which looks forward, not back. Concept 50 is about generating ideas that can form the basis of our loudspeaker development for the next generation of audio enthusiasts.
— Charles Minett, Monitor Audio Design Director
Pricing has not been announced for the production version of the Concept 50, though we shouldn't have long to wait before learning more. At Munich, the potential price of around $50K - $60K was mentioned off the record. If that holds true, it would make these new flagships the most expensive product Monitor Audio has ever made. As of now, that honor belongs to the Platinum PL500 II, which sells for $37,000 per pair, and is more than 6 feet tall. At around 4.5 feet tall, the Concept 50 might be easier to accommodate in a listening room, but I have to wonder what Monitor Audio fans (and audiophiles in general) will make of its unusual, futuristic design. And at those prices, the Concept 50 won't just be competing with the likes of KEF and Bowers & Wilkins, but with Wilson, Magico, YG, and other heavy-hitters of the extreme high end. The fate of this fascinating product remains to be seen, but Monitor Audio has also released a very different set of products in its 50th anniversary year — a premium home theater loudspeaker series called Cinergy.
Cinergy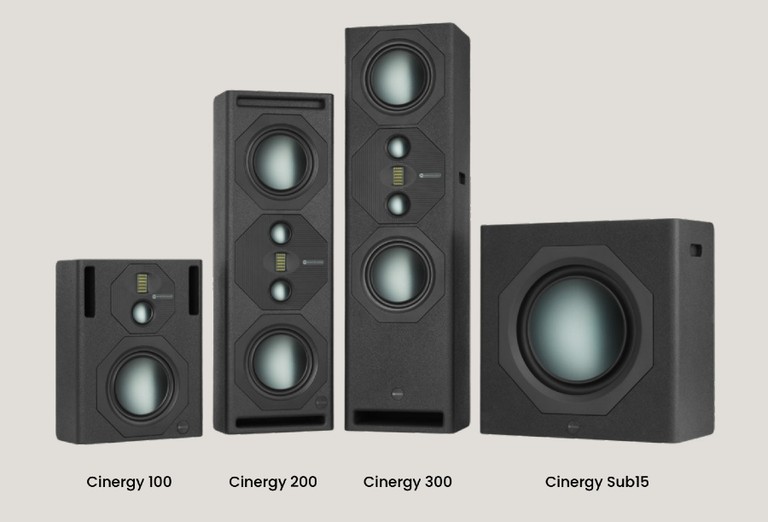 The Cinergy line is designed for professional home theater installers looking for a high-end product with great installation flexibility. The highly adaptable Cinergy products can be integrated into walls, attached onto walls, or secured to the floor for free-standing applications. The speakers all use a mid-tweeter array that can be rotated 90 degrees, allowing each speaker to be used either horizontally or vertically. The speakers also incorporate innovative isolation devices and fixing methods that improve performance and make installations go more smoothly. The lineup includes Cinergy 100 ($3,500 each), Cinergy 200 ($5,500 each), Cinergy 300 ($6,500 each) and Cinergy Sub15 ($3,100 each). All are THX Certified Ultra. The small Cinergy 100 is a three-way ported speaker that employs an 8-inch woofer, a 2.5-inch ceramic-coated aluminum/magnesium midrange driver, and Monitor Audio's second-generation MPD tweeter. The medium-sized Cinergy 200 uses two midrange drivers and two woofers, arranged D'Appolito-style (woofer, midrange, tweeter, midrange, woofer). The large Cinergy 300 uses the same drivers as the Cinergy 200, but in a much larger cabinet. In the Cinergy 300, the mid-tweeter "pod" can swap places with one of the woofers. So if you have the speakers installed in a wall behind an acoustically-transparent screen, the mid-tweeter pod can be placed in the center position, but if the Cinergy 300 is being used as a free-standing floor-stander (on the supplied isolating plinth), the mid-tweeter pod can be moved up to the top spot.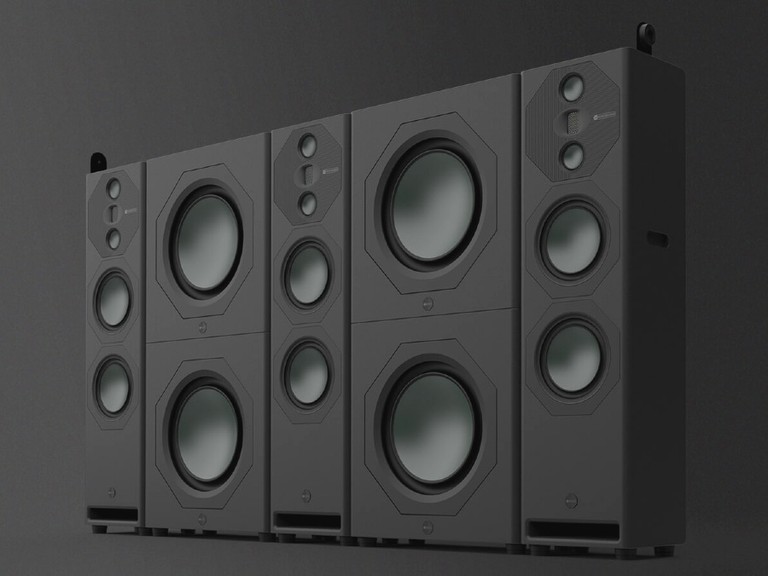 This flexibility allows the tweeter and midrange drivers to be at the ideal height in a variety of installation types. Finally, the Cinergy Sub15 is a passive 15-inch subwoofer designed to be used with Monitor Audio's IA800-2C amplifier ($2,500), which accommodates the use of various downloadable EQ profiles. One IA800-2C amplifier can power a pair of Cinergy Sub15 subwoofers. The units are sized such that two stacked Sub15 subwoofers are the same height as a Cinergy 300 loudspeaker, allowing installers to build a "sound wall" for the front stage of a theater, consisting of three Cinergy 300 speakers and four Cinergy Sub15 subwoofers. The Cinergy products come with a variety of practical accessories that were developed in-house to optimize performance. For example, three-layer silicone isolation feet can be mounted below the speakers, while L-shaped bracket isolators improve performance when the speakers are mounted to studs inside a wall. According to Monitor Audio, these helpful extras can reduce vibrations by up to 18dB.
High-End Custom Install

Of course, Monitor Audio is not the only traditional Hi-Fi loudspeaker manufacturer making high-end home theater speakers for the custom install market. Our friends at Audio Advice offer the impressive KEF Ci5160REF-THX speakers ($10,000 each), as well as the mighty MartinLogan Statement 40XW ($22,500 each), which so impressed Audioholics founder Gene DellaSala at CEDIA 2019. But only the Focal 1000 Series seems to offer as much installation flexibility as Monitor Audio's new Cinergy line. Compared to these expensive competitors, and considering that the Cinergy products offer technology derived from Monitor Audio's premium Platinum Series, the Cinergy speakers appear to have a lot to offer the custom installer looking for a high-performance solution at slightly less astronomical prices.

Unless otherwise indicated, this is a preview article for the featured product. A formal review may or may not follow in the future.
Confused about what AV Gear to buy or how to set it up? Join our Exclusive Audioholics E-Book Membership Program!