MartinLogan 9.4.4 In-Wall Speaker CEDIA Demo was a "Masterpiece"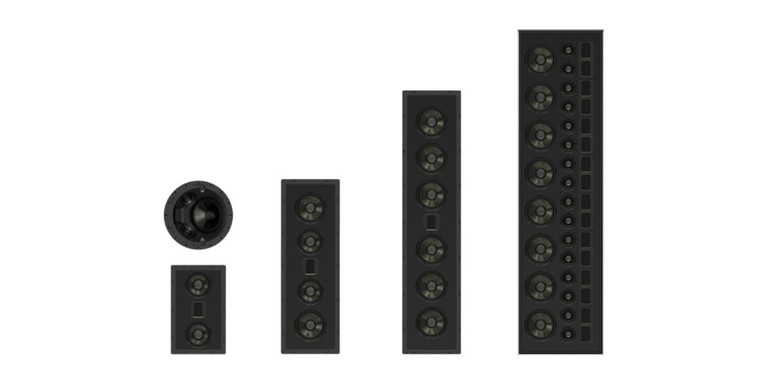 MartinLogan Masterpiece CI Series
Summary
Executive Overview
There was no shortage of dazzling demonstrations at the 2019 CEDIA Expo, where manufacturers from around the world gathered to show off their best high-impact A/V experiences. There were plenty of vivid images to be seen and high SPLs to be endured. But amidst the glitz and the glitter of a bustling trade show, it's rare to encounter a demo that goes beyond delivering something technically impressive, achieving instead something emotionally compelling. But that is precisely what MartinLogan did with the brand's outstanding 9.4.4-channel system composed of the new Masterpiece CI Series in-wall and in-ceiling speakers.
Chief Audioholic Gene DellaSala summed up his experience, saying:
"The realism and lifelike dynamics from the demo of Lady Gaga and Bradley Cooper singing 'Shallow' from A Star is Born almost brought tears to my eyes. I felt like I was in the audience watching this performance for the very first time."
The key player in this demo was the flagship Statement 40XW line-source in-wall speaker, each of which contains 16 air motion transformer (AMT) tweeters, 16 carbon fiber midrange drivers, and eight 6.5-inch woofers, for a total of 40 drivers per speaker. Perhaps coincidentally, a pair of the Statement 40XWs will set you back $40,000. The Masterpiece CI Series also includes four smaller in-wall models, and one in-ceiling speaker.
MartinLogan Masterpiece CI Serries 40XW In-Wall Speakers @ CEDIA 2019 YouTube Video Overview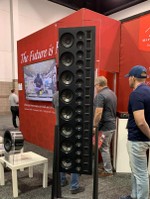 All speakers in the new series use MartinLogan's Folded Motion XT Obsidian tweeters, which are similar to the tweeters found in the company's recently-revamped Motion Series loudspeakers. These AMT tweeters feature low-mass diaphragms, and boast highly controlled dispersion characteristics, as well as vanishingly low distortion. As the "Obsidian" moniker would suggest, the tweeters use black diaphragms that won't stand out behind a speaker grille. The midrange drivers and woofers in the Masterpiece CI Series are new custom-built designs, featuring multi-section cones made from unidirectional carbon fiber with a Nomex backer. Paired with a high-power magnet structure, these cones "deliver massive excursion and sound output, preserve minute bass details, and maximize power handling capability, all without a hint of distortion," according to MartinLogan. Unidirectional carbon fiber is much thinner and lighter than traditional woven carbon fiber, and the result is a cone that is reportedly twice as strong as steel with a sixth of the density, providing exceptional rigidity without adding excessive weight. MartinLogan chose the multi-section cone design for its smooth response — the result of a reduction in resonant modes within the drivers. In order to prevent deleterious ringing and reduce break-up modes, the drivers feature a Nomex backer that provides crucial damping properties. The midrange drivers feature a specially engineered stiff suspension, which "raises the driver's resonant frequency and optimizes its performance to achieve a natural roll-off and inherently operate within an ideal range for a mid-frequency reproduction (as opposed to a comparably sized woofer)." The cones also utilize an inverted surround design, which allows for greater driver excursion while minimizing the amount of clearance needed behind the grille. All speakers in the Masterpiece CI Series include a built-in, acoustically inert and sealed back box, which "removes the variables of the wall cavity size and construction quality from the acoustic equation," allowing for consistent performance in every installation.
All five models in the new Masterpiece CI Series use the tech described above, but the flagship Statement 40XW is in a class of its own. It can be a challenge to get so many drivers with varying dispersion characteristics to operate in perfect harmony, but the payoff is substantial when you get it right. What are the inherent benefits of a properly-executed line-source design? The 40-driver line array affords the 40XW a truly effortless presentation by reducing the excursion required from each driver. This design allows the speaker to reach an incredible level of output without pushing any given driver hard enough to cause distortion. Also, as Gene discusses in the accompanying Youtube video, sound levels don't drop off as quickly with large line source designs as they do with smaller, less efficient speakers. That means that you can sit farther back from the speaker while still enjoying the unfettered dynamics of a near-field listening experience. This comes in handy when installing a home theater with multiple rows of seating; the Statement 40XW should be able to provide relatively uniform sound pressure throughout a large room without breaking a sweat. (This has certainly been my experience listening to large line-source designs, from the classic Infinity IRS V, to the present-day McIntosh XRT2.1K.)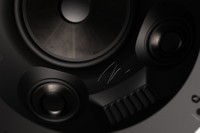 If you don't have a very large listening space, or if you can't spare $20,000 each for the Statement 40XW, the step-down Monument 7XW might be the way to go. At $5,000 each, the three-way Monument 7XW features seven drivers: one Folded Motion XT Obsidian tweeter, one 6.5-inch unidirectional carbon fiber multi-section cone midrange driver with a Nomex backer, two 6.5-inch woofers, and three 6.5-inch passive radiators. The five-driver two-way Tribute 5XW ($3,000 each) uses one tweeter, two 5.5-inch woofers, and two 6.5-inch passive radiators. The smallest in-wall model in the series is the Icon 3XW ($2,000 each), which features one tweeter and two 5.5-inch woofers. All of the in-wall designs, from the Icon 3XW up to the Statement 40XW, feature baffles made from a very dense and highly durable phenolic resin polymer, which is the same material used in the cabinets of MartinLogan's flagship Neolith floor-standing electrostat. According to the company, this material is "an exceptional, acoustically superior substrate," which offers "extraordinary material consistency that naturally minimizes acoustically deleterious resonances and vibrations."
The final member of the Masterpiece CI Series is the Sistine 4XC in-ceiling speaker ($2,000 each), which utilizes one AMT tweeter, dual 3.5-inch midrange drivers, and one 8-inch woofer, all installed in a dense, ejection-molded back box with a sealed design. According to MartinLogan, the Sistine 4XC is "the world's most sophisticated and elegant in-ceiling architectural loudspeaker." 
Demo Results
The 9.4.4-channel demonstration system at CEDIA comprised one pair of the Statement 40XWs, five Monument 7XWs, a pair of Tribute 5XWs, four Sistine 4XCs, and four Dynamo 1600X subwoofers. MartinLogan made the following bold claim about its new Masterpiece CI Series: "By maintaining complete control over driver performance, crossover design, and cabinet construction, Masterpiece CI in-wall and in-ceiling speakers can achieve an emotionally engaging experience on par with the rarified performance of the world's most exceptional floor-standing speakers." In this case, we'd have to agree. The demo reached epic SPL levels with pristine fidelity and was one of the highlights of the CEDIA 2019 show for many reviewers.

Confused about what AV Gear to buy or how to set it up? Join our Exclusive Audioholics E-Book Membership Program!
See also:
Recent Forum Posts:
gene posts on September 27, 2019 02:26
0DL-PSh-He8
CyberAthlete posts on September 22, 2019 13:07
Doesn't sound like (pun intended) that they're any different in drivers than the ones they're replacing. Just an aesthetic over haul but that's about it.
Verdinut posts on September 20, 2019 13:38
lovinthehd, post: 1340853, member: 61636
Hey it least it has a dac. Wouldn't find such a unit useful myself, but it may meet someone's needs at that price point…..
IMO, The Yamaha A-S301 represents a better value with a power rating of 60w/ch both channels driven at 8 ohms with only 0.019% THD from 20-20kHz, for $50 less.
It also has the advantage of featuring Bass-Treble and Loudness controls which is rare on today's Hi-Fi gear:
https://usa.yamaha.com/products/audio_visual/hifi_components/a-s301/specs.html#product-tabs
AcuDefTechGuy posts on September 20, 2019 12:35
The Integra $2,500 11Ch AVP and $2,500 11Ch Amp seem interesting for guys who want 11Ch separates, but without room correction like Dirac.

The Integra MSRP's are a few hundred dollars less than the Yamaha $2,700 11Ch AVP and $2,900 11Ch Amp.

The Monolith $2500 11Ch Amp might be a better deal than both Amps. But the $4,000 Monolith HTP-1 AVP might seem too expensive compared to both, although the HTP-1 does have Dirac which might be a deal-breaker for people who must have Dirac.

The $4,000 Monolith HTP-1 Dirac-AVP seems like a bargain compared to the much more expensive Dirac-AVPs from AudioControl, NAD, and ATI/DataSat, especially when you combine the Monolith AVP with the other Monolith Amps.
lovinthehd posts on September 20, 2019 12:03
Post Reply