Monitor Audio's Silver Series 7G Loudspeakers Refines A Winning Formula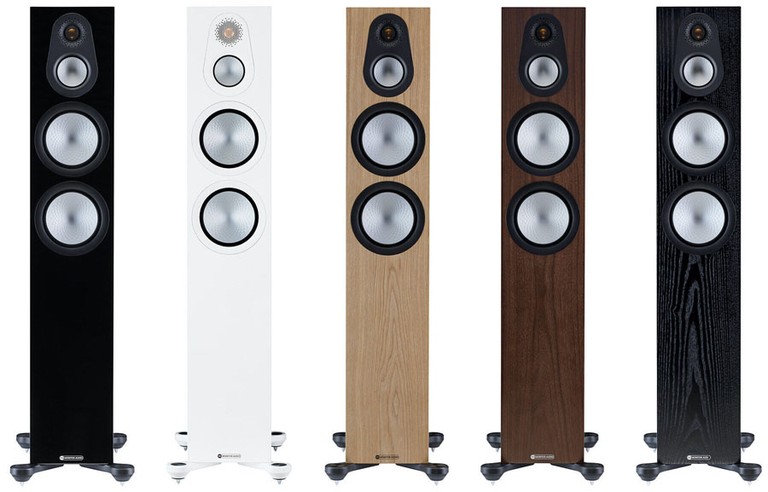 Monitor Audio Silver Series 7G Loudspeakers
Summary
Product Name:

Silver Series 7G

Manufacturer:

Monitor Audio

Review Date:

January 03, 2022 01:00

MSRP: $1,150/pair - Silver 50 7G, $1,495/pair - Silver 100 7G, $2,200/pair - Silver 200 7G, $2,850/pair - Silver 300 7G, $3,400/pair - Silver 500 7G, $1,150 each - Silver C250 7G, $1,250/pair - Silver FX 7G, $1,260/pair - Silver AMS 7G Atmos-enabled speakers
First Impression:

Pretty Cool
Executive Overview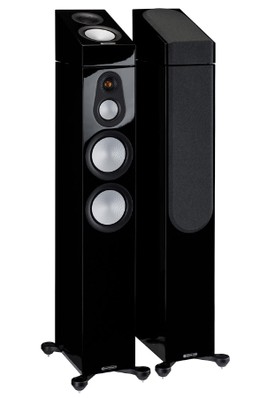 New product announcements happen all the time in the audio industry. Sometimes, they're exciting to write about, but in many instances, they're just part of the job. Rarely do they feel in any way personal. Monitor Audio's new 7th-generation Silver Series loudspeakers have me feeling a real need to see and hear them in person. It all started with my Grandma Krayna, who passed away recently at the age of 94. She was generous to a fault, and loved spending time with her grandkids. When I was in middle school, she took my brother and me on a tour of England, where we — along with a bus full of septuagenarians — soaked in all the touristy sights, from Buckingham Palace to Stonehenge. (We did not, however, go to the Abbey Road crosswalk. Despite my constant begging, Grandma wouldn't pay the Tube fare from our hotel because the concierge told her there was nothing to see there. "It's just a street," she said, to my dismay and disbelief.) Grandma wanted to take us to art museums and places of historical significance, but wherever we went, I would dart into the first audio shop we passed. It was on this trip that I learned about the world of British Hi-Fi, and had my first experiences with storied loudspeaker brands like Bowers & Wilkins, Tannoy, KEF, and Monitor Audio. In particular, Monitor Audio's Studio 20 SE speakers ($4,500/pair in 1995) captured my imagination with their gold-plated tweeters, knockout woodgrain finishes, and super-transparent sound. I came home determined to buy my own pair some day, but it would be nearly ten years before I had saved enough money to buy my first "real" audiophile speakers. The Monitor Audio Silver S8 towers ($1,500/pair in 2004) were everything I had dreamed of and more. I simply loved those speakers. They were from the second generation of the company's Silver range, which originally launched in 1999. My second-gen Silvers were the last to be built in England; Monitor Audio moved all production to China in the mid 2000s. But if your prejudice is telling you that the speakers took a dive in quality when that move took place, think again. In terms of build, finish, and sound-quality, Monitor's current made-in-China speakers are far-and-away superior to their made-in-England predecessors. And that leads us to Monitor Audio's latest Silver Series, now in its seventh generation. Silver 7G is the only new loudspeaker series to come from the company in 2021. The sixth-gen Silver subwoofer has not been replaced, but other than that, the Silver 7G lineup ($1,150 - $3,400/pair) covers all of your loudspeaker needs for music and/or home theater. The 8-strong range includes two bookshelf models, three floor-standers, a center channel, a surround speaker, and — in a first for the Silver Series — a height effects speaker for Dolby Atmos.
The seventh generation of the Silver Series doesn't look radically different from the outgoing sixth generation, but Monitor Audio fans will notice new, more contemporary finishes, a new grill design, and more stylish outrigger feet on the floor-standers, with spun metal trims. The overall design language is crisp and clean, though if you're a fan of curved cabinets, you'll have to look elsewhere. Like the new PSB Synchrony speakers, these Silvers are all about straight lines and right angles. That said, they have a timeless quality to their styling; I don't think these speakers will look dated ten years down the road. Finishes include high-gloss black lacquer, satin white, and three real-wood veneers: ash, natural walnut, and black oak. I'm a sucker for real wood (the natural walnut would be my pick), and it's worth pointing out that most speakers in this price range — Elac's Uni-Fi Reference, and B&W's 600 Series for example — force you to settle for a fake wood-effect vinyl wrap. The fit-n'-finish that Monitor Audio offers at this price level is beyond reproach. (Unfortunately for all you wood-loving home theater fans out there, the surround speakers and height effects speakers are only available in gloss black or satin white.) Inside the Silver 7G's lovely cabinets, Monitor Audio's "performance-led design" promises "original engineering to deliver class-leading sound." In this case, that means all new drivers.
Driver Tech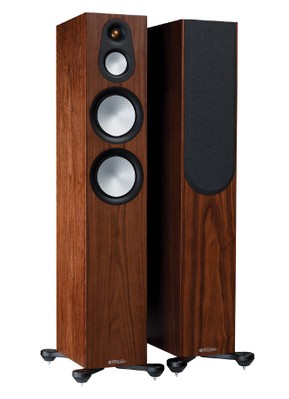 Those gold dome tweeters that first caught my eye in the 1990s are still a signature of the Monitor Audio brand (even if the company now employs AMT tweeters in its pricer Gold and Platinum lines), and the Silver 7G tweeter is reportedly the best dome that the company has ever built. It's made from a revised and updated C-CAM (ceramic-coated aluminum magnesium) material, developed in-house. The new Uniform Dispersion Waveguide II is also proprietary. It provides a small amount of horn-loading, adding a few dB of sensitivity and allowing the tweeter to play low enough to accommodate a lower crossover point. Behind the dome, a totally new magnet structure and rear chamber design represent a significant amount of R&D. Monitor Audio's technical director, Michael Hedges, has noted that the new tweeter has a vented center magnet and venting on the surround as well, which is unusual. Monitor Audio claims this new tweeter can reproduce "the most lifelike, convincing treble" with "thrillingly clean, accurate response."
Silver 7G speakers also sport new midrange and mid/bass drivers featuring Monitor Audio's exclusive Rigid Surface Technology II (RST II) driver design. The cone and geometry structure are all new, with a more rigid profile than ever before. The new, spiffy-looking RST II hexagonal dimpled structure contributes to a smooth, low-distortion sound, according to the company. The cones themselves are made of a new aluminum alloy that reportedly "improves the tensile strength of the cone while retaining all the benefits — low distortion, high power-handling, excellent directivity — of (Monitor Audio's) C-CAM technology. Drivers can go louder for longer without compromise." Monitor Audio says that the crossovers are all new as well, but doesn't go into detail about their design. Michael Hedges did say that the improved performance of the drivers has allowed the use of a simpler crossover.
All the driver units are ground-up new designs. But within that, there are some things where we built on previous drivers. So the 8-inch bass driver looks quite similar to the old 6G 8-inch bass driver, but it's actually a completely new cone profile and shape, and there's a new RST (Rigid Surface Technology) pattern on the cone, and that signifies the use of a new aluminum alloy as well. The surround/cone interaction has been improved. We removed about a third to two-thirds of the energy of the breakup ring by optimizing the surround into the cone and the junction there. Even more significant are the changes we've made to the midrange driver. We've moved from a ferromagnet to a neodymium magnet, and we've shrunk the size of the cone. Mind you, we don't look at individual driver units and say, "Right, how do we make that driver unit better?" We look at the whole loudspeaker and say, "How do we make the whole loudspeaker better?"
— Michael Hedges, Monitor Audio's Technical Director
The Silver 7G Lineup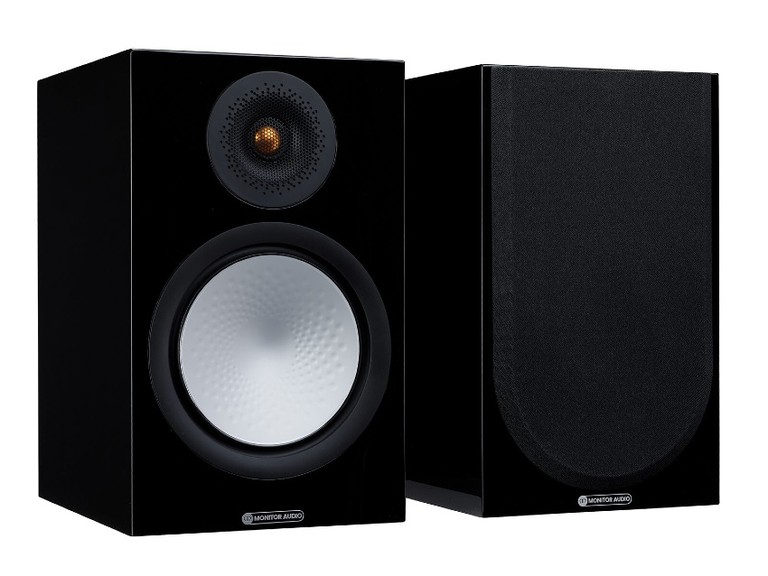 Monitor Audio Silver 300 7G
All speakers in the lineup use a 1-inch C-CAM Gold Dome tweeter. The baby of the range is the Silver 50 7G ($1,150/pair), a 2-way ported bookshelf speaker with a 5.25-inch mid/bass driver. It stands just over 11 inches tall. The larger Silver 100 7G ($1,495/pair) is nearly 15 inches tall, and utilizes an 8-inch mid/bass driver, allowing it to reach down to 35 Hz (in-room, -6dB). The Silver 200 7G ($2,200/pair) is the smallest floor-stander at just under 34 inches in height. It's a 2.5-way design sporting a pair of 5.25-inch mid/bass drivers and dual rear-firing ports. The Silver 300 7G ($2,850/pair) is a 3-way design with a pair of 6-inch woofers and a single 3-inch midrange driver. At just over 41 inches tall, it's the spiritual descendant of my beloved, second-generation Silver S8 towers from the early aughts. The flagship of the new lineup is the Silver 500 7G ($3,400/pair), which features a pair of 8-inch woofers and a 3-inch midrange driver. It's over 43 inches tall, and a substantial 12.5 inches wide. Thanks to its larger cabinet volume and bigger woofers, the 500 7G can dig down to 27 Hz (in-room, -6dB), and it offers a high-ish sensitivity rating of 90.5 dB. The Expert Imaging and Sound Association (EISA) has awarded the Silver 500 7G the "Best Product 2021-2022" in the Floorstanding Loudspeakers category. In the lab, EISA president Paul Miller found that the Silver 500 7G's response was "remarkably flat" when measuring from the average listening height, and said that its pair-matching was "exceptional." All of the above speakers have a nominal impedance of 8 ohms, though they all dip down to the 4-ohm range at certain frequencies.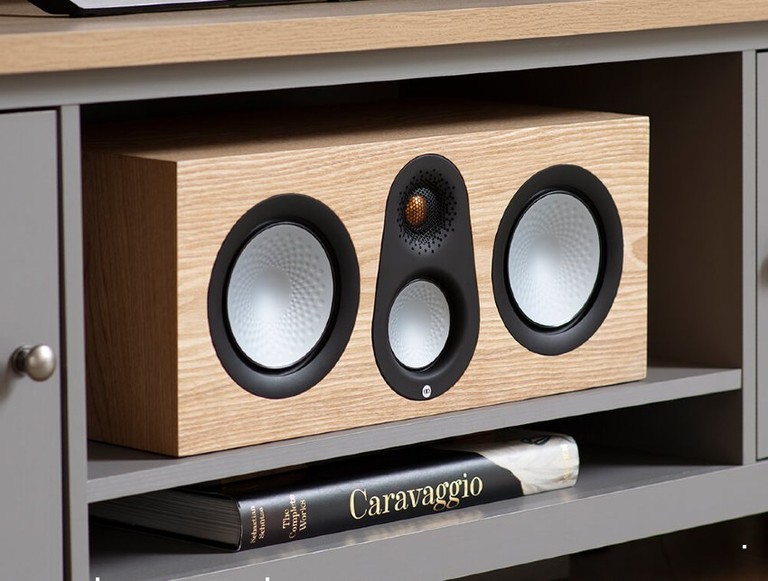 Silver C250 7G
If you're only into 2-channel audio, that's everything you need to know. But for the home theater crowd, the Silver 7G range has three more speakers that will be of interest. The Silver C250 7G ($1,150 each) is a fairly chunky 3-way center-channel speaker that places a pair of 5.25-inch woofers on either side of the vertically-oriented assembly holding the tweeter and midrange driver. Unlike the bookshelf and floor-standing models, the C250 7G has a sealed (rather than ported) cabinet, which measures a little over 8 inches tall, a little over 18 inches wide, and almost 11 inches deep. The Silver FX 7G ($1,250/pair) is a wall-mountable surround-channel speaker that can be used in either dipole or bipole mode. The 6-inch mid/bass driver fires directly out into the room, while the dual tweeters are on angled baffles, firing off to either side. (If you're setting up a full Dolby Atmos home theater, stick to bipole mode, or just use the bookshelf models for your side and rear channels.)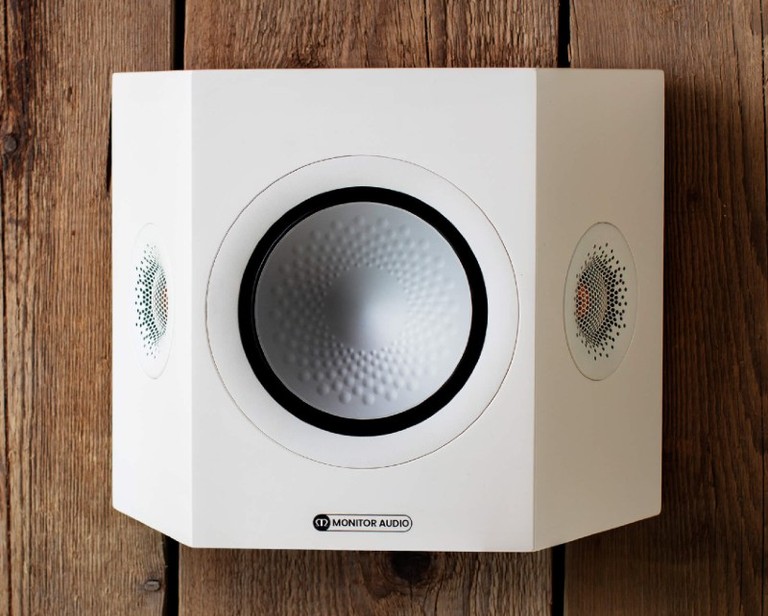 Silver FX 7G
You've Come a Long Way Baby!
Speaking of Atmos, Monitor Audio makes a variety of in-ceiling speakers to handle height effects, and if you can install speakers in your ceiling, that's probably your best bet. But if you can't (or just don't want to) go that route, you can turn to the Silver AMS 7G Atmos-enabled speakers ($1,260/pair). The Silver AMS 7G is a 2-way design featuring a 5.25-inch mid/bass driver and that lovely gold dome tweeter on the top panel of a wedge-shaped cabinet. It can be used as a "bouncy-house" up-firing speaker, if you're into that; when placed atop the Silver 300 7G floor-standers, the Silver AMS 7G aims its sound at the ceiling, which then reflects the height-channel audio toward the listening position. (The new 7G grill design allows the combined speakers to look almost like a single unit. From an aesthetic perspective, it's one of the best executions of the bouncy-house concept that I've seen.) If you want better performance, however, the AMS 7G can be used as a separate height-channel speaker mounted high up on your wall using the built-in keyhole wall-mounts. If you can swing it, I'd expect this type of setup to be worth the additional installation hassle over the bouncy-house approach.
Monitor Audio's Silver Series has come a long way since I bought my second-gen Silvers in 2004. Sadly, I sold those speakers, and the Cambridge Audio amp I used to drive them, to my friend Chris after I moved into a place with a much smaller room that simply couldn't accommodate them. The Silver 7G has my wallet tingling in a way that makes my bank account extremely uncomfortable. I can't think of another speaker series in this price range that looks as good (though Wharfedale's Evo4 comes close.) I fully expect them to sound every bit as good as they look, and I hope to find out soon.  

Unless otherwise indicated, this is a preview article for the featured product. A formal review may or may not follow in the future.
Confused about what AV Gear to buy or how to set it up? Join our Exclusive Audioholics E-Book Membership Program!