Starke Sound VLOT Active Wireless Loudspeaker System Review
Starke Sound VLOT Active Wireless Loudspeaker System Review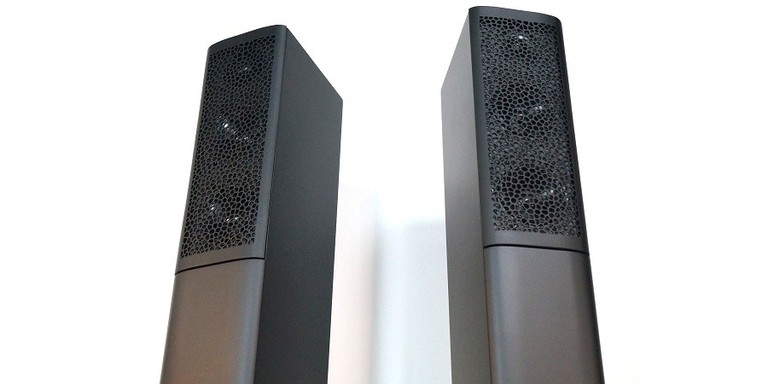 Drivers: 1 inch tweeter, 2 x 4 inches mid-bass
Max SPL output(1m): 108dB
Frequency response (±3dB): 45Hz-25kHz
Bluetooth input
RCA stereo inputs, a pair
Coaxial input
Optical input
Power input (Control speaker)
Binding post inputs, a pair (Companion speaker)
Bluetooth 5.0
SBC/AAC/APT-X/APT-X HD/LDAC
ABS Varnish
Color options: Black Satin / White Satin / Limited edition
Weight: 25.6 lbs/11.6kg (Control speaker), 20.3 lbs/9.2kg (Companion speaker)
Size: H 36.4 x W 6.7 x D 8.1 inches (w/ foot)
Pros
Small footprint
Easy to use
A simple, complete sound system
Lots of bass for a small tower
Cons
Too soft in treble for neutral sound reproduction
Those of us in the hi-fi world might not have noticed it, but the wider world of consumer audio has been changing dramatically over the last several years, and the kind of audio systems that the average person is looking at does not much resemble the traditional setup of an audiophile. That traditional audiophile setup is made up of largish passive speakers, amplifier or integrated amp, preamplifier, and a host of other separate components depending on how intricate the user wants their system to be. That complexity is not appealing to 'normies' thereby giving rise to the market dominance of Bluetooth speakers and soundbars as the systems of choice for the average audio consumer. The problem with these simple user-friendly audio systems is that they just don't sound very good in comparison to serious speakers and audio electronics. They sacrifice a lot of performance for smaller size and convenience.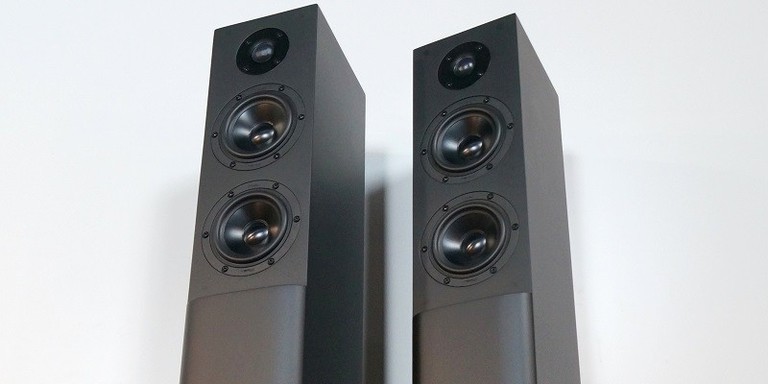 The speaker system that we are reviewing today, the Starke Sound VLOT, attempts to bridge the gap between lifestyle audio systems and performance-centered audio systems. It is a traditional loudspeaker design at a glance but has the convenience and simplicity of regular Bluetooth speakers and soundbars. It is a speaker system that has a built-in amplifier, pre-amp, and Bluetooth receiver. It is not a large speaker which makes it palatable for many buyers, but it bears signs of serious loudspeaker design. So the question that it poses is can we have the best of both worlds: simplicity and convenience as well as a true high-fidelity sound? Let's dig in to find out…
Packing and Appearance
The VLOT speakers arrived double-boxed and packed with polyethylene foam pieces that protected all of the edges. The speakers were covered in cotton sacks to protect them from moisture and scuffing. The packing was above average for loudspeakers of this size and should be well-protected against the rigors of typical shipping practices.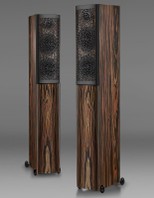 Once unpacked, I was presented with two fairly normal-looking satin black speakers. Without grilles, they are rather undistinguished in appearance: not bad but not particularly distinctive. They are on the smaller side of floor-standing speakers with a rounded lower front-baffle and two smaller woofers below a dome tweeter. The grilles are the visual elements that separates them from other loudspeakers; they have an irregular mosaic pattern that I have not seen on any other speaker. It's not especially conspicuous in the black finish since it is black-on-black, but it looks to be more prominent as a visual feature in the other finishes. I can appreciate it as something that gives the VLOT speakers some style, and I think that most people would be fine with it in the black finish since it is a bit more subdued there, but it would be a bolder element in the other finishes. The unique grille pattern is probably better for them on the whole since it aesthetically sets them apart from so many other speakers. The VLOTs can also be had in satin white as well as a special edition finish that uses a Macassar wood veneer that has a $300 surcharge. What will make the speaker more acceptable for other household members is not the styling but the size; these are narrow speakers that do not have a large footprint.
Design Analysis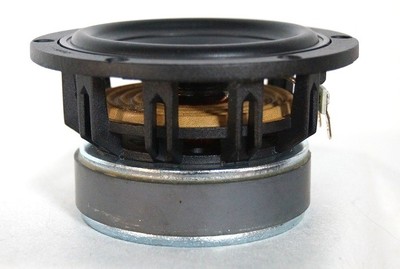 The Starke Sound VLOT speakers are a swiss army knife solution to audio systems. For small tower speakers, they can do an awful lot. To get into the design of them, let's start with the actual speaker part of these speakers, in other words, the transducers. They use two 4" mid-range drivers along with a 1" fabric dome tweeter. The woofers have a fairly beefy motor considering the 4" cone size. They cross over at 3,900Hz using a passive crossover circuit, so the onboard electronics are not used in the crossover. That seems like a missed opportunity, but Starke Sounds say it was done to keep a lower noise floor and to ensure a higher quality system by not having the acoustic components rely on the electronics for a good sound. I can attest to the low noise; there is a soft hiss if you put your ear right up to the tweeter, but the speakers are silent at any reasonable listening distance.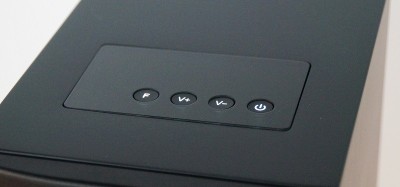 The front baffle of the MDF enclosure uses a ⅞" thick mount for the drivers and has multiple braces throughout the cabinet as well as some acoustic stuffing. The side panels are ½" thick and don't need to be very massive since it is a small speaker that uses internal bracing. It is a rear-ported enclosure with a 2" diameter flared port with a 4 ¼" length. The feet are some plastic rounded cones mounted on some outriggers. The outriggers don't let the speakers tumble over easily from brushing up against them, however, a rambunctious child, zooming dog, or inebriated adult would topple over one if bumped into with some force. It would be a good idea to keep the VLOTs away from heavily traveled paths in your home. 
Each channel is driven by a 150 watt RMS Class-D amplifier, a lot of power considering the transducers used. Only one speaker unit has the amplifiers built-in, and it connects to and powers the other speaker by way of an included 8' speaker cable that is flat so as not to cause a bulge under any rug that it might be run under. Of course, as a full sound system, the VLOT also has a DAC and uses a 32-bit ESS Sabre DAC chip. Connectivity is very good, and the VLOT supports a wireless Bluetooth connection, RCA left and right inputs, and digital coaxial as well as optical inputs. Streaming is easy from any device that supports Bluetooth connectivity, and the VLOT supports a range of Bluetooth codec including aptX HD and Sony's ultra-high-resolution LDAC. I had no trouble establishing the Bluetooth connection even with my ancient LG smartphone. Digital optical and coaxial connectivity makes it easy to hook up to most available televisions as well. The input channel can be selected by a top-mounted control panel on one of the speakers. The control panel also has a volume control.
The VLOT has a subwoofer output that essentially sends out a full-range summed signal with no low-pass filtering, so the user will need to rely on the sub's low-pass filter. There isn't any method of high-pass filtering the VLOT for use with subs, so while there is a subwoofer output, there isn't any kind of bass management that comes with it. 
Listening Sessions
In my 24' by 13' (approximately) listening room, I set up the speakers with a few feet of stand-off distances between the back wall and sidewall, and equal distance between speakers and listening position. I angled the speakers to have a slight toe-in toward the listening position. The listening distance from the speakers was about 6 feet. The VLOT speakers were connected directly to my source which was an HTPC. No room correction equalization was used. No subwoofers were used.
Music Listening
These speakers made the room sound bigger than it was.
Icelandic composer Johann Johannson didn't live long enough to establish a body of work as vast as many of his contemporaries, but what he did leave behind left no doubt as to his brilliance. While known for his film scores, one of his last projects saw him at the director's helm as well as doing the film score. "Last and First Men" is a visual and musical essay that features disconnected narration over shots of abstract Yugoslavian monuments that is all set to Johannsson's contemplative neoclassical music. This lush orchestral score is often abetted by field recordings as well as electronic atmospherics in creating an environment of desolation. I found the score in a hi-resolution format on Qobuz and thought that the breadth and dynamism would make for a great demonstration of the abilities of the VLOT speakers. A good sound system should get out of the way and allow the listener to get lost in such a meditative soundscape; would the VLOT allow that?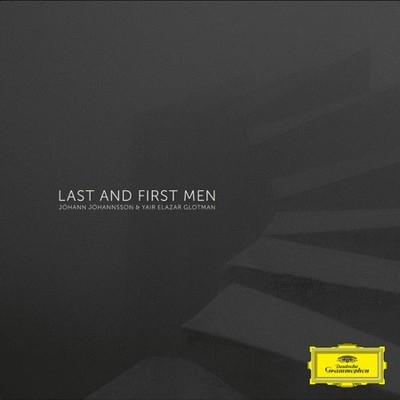 The first thing I noticed is the width of the soundstage that the VLOT speakers could produce. Perhaps it shouldn't be so surprising since narrow speakers tend to have a wide dispersion, but it is always uncanny how small things can make a big sound. These speakers made the room sound bigger than it was. The bass was reasonably authoritative as well. The fifth track has some low-tuned bass drums that sound utterly cavernous. The bass violin had an emphasized low-end which I would attribute to somewhat hot bass voicing. That isn't surprising, and we have seen other manufacturers give a low-frequency bump to smaller speakers to generate a sound that belies their size. It wasn't a massive boost that badly deformed the sound, but it was detectable. Instruments sounded fairly natural otherwise. Instrumental solos had good center imaging, and individual elements of the soundstage were kept separate and distinct. The speakers could disappear into the soundstage, and it did not sound like sound was being emitted from two points in space. At higher loudness levels, the VLOT speakers seemed to handle themselves well and did not run into any obvious problems, although this isn't the kind of music that would be especially distressing for them. Nonetheless, they could get surprisingly loud for their size. I enjoyed "Last and First Men" on the VLOT speakers, and they gave this recording a spacious sound that I think many orchestral music aficionados would delight in.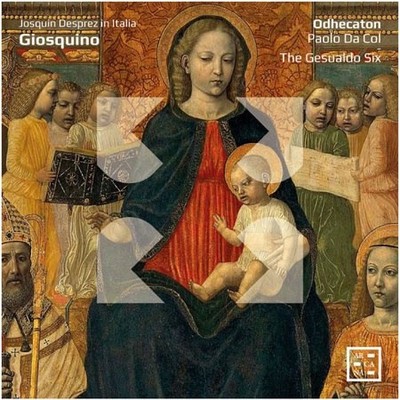 For an acoustic recording with human voices, I found a superb new album called "Giosquino: Josquin Desprez in Italia," a choral album of renaissance music that was performed in a similar manner and in a similar setting to the original men's choir that first sang these compositions in the early 1500s. The title refers to an influential composer from this era, Josquin Desprez, and is performed by the Odhecaton, a highly regarded choral collective who specializes in period music. This 2021 release on the Arcana label can be heard on Qobuz streaming in a high-resolution format that is befitting of such an exquisite production. Would the VLOT speakers be good enough to take advantage of the quality of the recording and production techniques?
The acoustics from the recording location, the Abbey of Santa Maria, Follina, came through nicely on the VLOT speakers. The sound was expansive and enveloping. Although there was some amount of reverberation from the acoustics of the recording location, the singers sounded natural. Imaging was good, even though this was recorded in a chapel; individual singers still had well-defined positioning within the soundstage. The elevated bass heard on previous recordings was not evident here since this recording didn't have much in the way of deep bass. Every part of the Odhecaton ensemble sounded lovely, from countertenor to baritone. The sonorous acoustics gave each voice a full-bodied sound without washing out other singing, and the VLOT adeptly reproduced this attribute. They managed to convey the beauty of the music without becoming a part of the performance that I could discern.  
For something with a more singular focus on a human voice, I found a delightful album titled "Wary + Strange" by Amythyst Kiah. This music hovers somewhere between bluegrass, alt-rock, and folk music; It has the personal subject matter of blues but the harder sound and swing of rock music and vacillates between softer and harder style from track to track. In this production, Amythyst's voice is the central figure and is recorded in a pure and unprocessed manner for a more intimate sound. It is a studio album but sounds like a live recording sans audience noise. Again, I listened to this in a high-resolution stream from Qobuz; would the VLOT retain the naturalness of Amythyst's voice in this recording?
The first thing I noticed from the start was the imaging; Amethyst is strongly centered in the soundstage. Guitars flanking her voice to the left and right are also locked in a firm placement. Through the VLOT speakers, it was easy to tell that the drum kit used near-field recording since the percussion elements spanned so widely from left to right. On the more rowdy tracks, Amythyst's voice did sound a bit more recessed than on the previous occasion that I listened to this album where I remember her voice having more presence. The sound was a bit softer than I remembered, except that the kick drums also had a bit more weight than I remembered. The tonality had notably changed, but the album still sounded good. Amethyst's voice simply did not sound as loud as when I had listened to this album previously, but that was on my desktop PC system which used the PreSonus Eris E8 XT speakers. Again, the bass was surprisingly weighty for such slightly-sized speakers. The VLOT gave a pleasant accounting of "Wary + Strange," although I think the original recording called for a slightly more 'in-your-face' presentation. Some people may enjoy the more laid-back sound of these speakers, but some people may want some more sizzle in their rock music.
For something far more into the realm of studio-produced pop music, I put on Kelly Lee Owens' "Inner Song," a largely electronic album overlaid with Owens' ethereal vocals. This is a very clubby album that was unfortunately released in the late summer of 2020 which was just about the worst time to release an album of dance music on account of the COVID-19 lockdown. Happily, this music is eminently listenable on its own and not simply as a vehicle to get people to hit the dance floor. "Inner Song" features a healthy amount of bass and the type of spectral balance we normally find in pop music, and so I thought it would be a good demonstration of what the VLOT speakers could do on the type of musical content that they will likely be asked to play far more than not. I will also just take any excuse to relisten to this album again since I quite enjoy it!
The VLOT speakers gave this recording and Kelly's voice in particular an intoxicatingly smooth and expansive sound. The processing in the recording doesn't often give her a centered image but rather a sweeping choral effect, so she sounds as if she is singing over a broad area, and this effect is nicely conveyed by the VLOT speakers. Indeed, many stereophonic tricks are employed in "Inner Song," and they are all fun to hear on these speakers. Some of this kind of processing was likely intended for headphone listeners, but in a well set up stereo pair of speakers, these studio tricks make for an engaging effect, and the VLOT speakers managed to pull it off splendidly. As far as bass performance goes, I was again impressed that such small tower speakers could produce such a healthy amount of bass. Kick drums and bass lines were nicely rendered at medium-high volumes, although the bass drivers did complain somewhat when I pushed the speakers toward the higher end of their gain. This happened at a relatively loud level though, and I wouldn't think buyers would normally attempt to run these speakers that loudly. They can get a bit louder than what one would expect from their size and specifications, but they do have their limits and are not house party speakers.
Movie Watching
To hear how the VLOT speakers could handle a typical major motion picture sound mix, I watched "King Arthur," Guy Ritchie's 2017 action-packed historical epic. I had not previously seen this overlooked movie, but I have always enjoyed Ritchie's past films and figured this would be a good opportunity to watch it as well as a good demonstration of the VLOT's abilities with this type of content. "King Arthur" had many major action set-pieces and a lot more large-scale CGI-laden action scenes than I was expecting. The VLOT handled the many action scenes fine, however, their sound wouldn't really be mistaken for a heavy-duty speaker system replete with subwoofers. Their bass did bring a fair amount of thump to the action scenes, although the extra bass also tilted the lower-pitched voices to sound a bit boomier than they would otherwise have been. For example, Djimon Hounsou's voice sounded particularly bass-heavy and resonant, although the dialogue was still intelligible. The bass boost again reminded me that it seemed to be a way to compensate for the perceived headroom in low frequencies. Imaging was good, and the sound appeared to emanate from the angle relative to its source, whether that be dialogue or effects noises. Daniel Pemberton's thunderous score was adequately expressed by VLOT speakers, although such a mammoth score did see the dynamic range limits of the speakers I played this movie at a high volume, and the speakers handled it pretty well, although the levels I listened to hovered at the top of their dynamic range. Their unhappiness was made known when the woofers began to audibly distort, but that was at a level no one would reasonably expect from a loudspeaker of their size. Overall, the VLOT speakers had enough oomph to make "King Arthur" an enjoyable experience and well beyond all but the highest-end soundbars would have managed.
For a film sound mix of a much smaller scale, I watched the 2015 thriller "Cop Car" starring Kevin Bacon. In "Cop Car," two bored kids find a seemingly abandoned police car and decide to take it out for a joy ride, however, they don't know about the hostage in the trunk or the psychotic sheriff who is using the car for a criminal scheme. Thus begins a cat-and-mouse chase where the boys must outwit the sheriff to stay alive. I figured the smaller scale of the movie would place more emphasis on dialogue which would give me a better chance to gauge the VLOT's ability at dialogue intelligibility. The movie turned out to be more about silent, tense moments, so it wasn't overflowing with dialogue, but everything spoken was clearly communicated. The most notable sonic quality of "Cop Car" was the jazzy score by Phl Mossman. The music was playful as well as atmospherically noirish, and the VLOT speakers gave it a full, vivid reproduction. The overall sound mix was rich in detail but restrained, and it was a welcome break from so many contemporary movies which can be wall-to-wall loudness. There were few loud moments in "Cop Car," but what few there were was lively on the VLOT speakers which again delivered more bass than one would have expected. The VLOT speakers did not just do a serviceable job on "Cop Car" but a good job and the movie was a great, tense little thriller made better by a competent sound system.

Confused about what AV Gear to buy or how to set it up? Join our Exclusive Audioholics E-Book Membership Program!
Recent Forum Posts:
Kvn_Walker posts on February 22, 2022 04:41
lovinthehd, post: 1541282, member: 61636
Did the amp actually measure 150w?

Not everybody is gonna get that, but I do.
TLS Guy posts on February 21, 2022 17:39
It is a pity this was not a better design. It is interesting that they chose a passive crossover because of noise issue.

I have now have quite a bit of experience with active speakers now.

There is an S/N issue that I have mentioned before. The best amps produce some noise. Most bass/mids have cone break up at some point and the aim is to cross before cone break up and the resulting peaks. So at the break up point the driver has an increase in sensitivity. This can and often does make amp noise audible, that would otherwise be filtered out by the passive crossover. So if you direct connect and amp to a driver with significant cone break up peaks, you will hear noise that you would not have heard with a passive design. So my practice is to place a notch filter between amp and driver, tuned to the break up peak. I can assure that does the trick perfectly and filters out noise that is easily audible without the notch filter.

I find it really hard that people fail to understand that this is often an essential part of active speaker design.

Quad 909s are very quiet amps. However direct connected to bass drivers, the hiss reproduced by the break up peaks is audible at the listening position. After installing notch filters between the amps and their connected drivers, there is absolute silence.

This should not be difficult to understand, nor its solution.
lovinthehd posts on February 21, 2022 16:57
Did the amp actually measure 150w?
Pogre posts on February 21, 2022 12:11
ryanosaur, post: 1541208, member: 86393
Thank you, Shady!
I agree with your insights into what are drawbacks in this design. It seems they are so close to getting it across the line yet willfully made some questionable choices in bringing it to market.
Cheers!

Well put man. I agree. I like the direction they're going but using passive crossovers instead of active dsp and lack of bass management is definitely a missed opportunity. I personally would be willing to pay a little bit more for those features. Lots of potential for a design like this tho, just needs to be executed a little bit better.
ryanosaur posts on February 21, 2022 11:45
Thank you, Shady!
I agree with your insights into what are drawbacks in this design. It seems they are so close to getting it across the line yet willfully made some questionable choices in bringing it to market.
Cheers!
Post Reply