PreSonus Eris E8 XT Active Studio Monitors Review
PreSonus Eris E8 XT Active Studio Monitors Review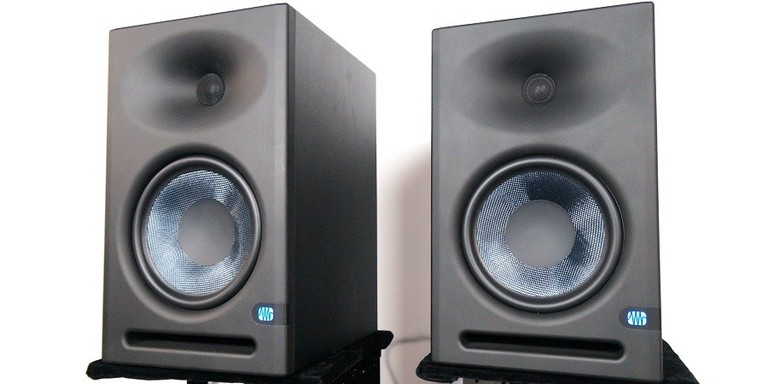 PreSonus Eris E8 XT Monitors
Product Name: Eris E8 XT Monitor Speakers
Manufacturer: PreSonus
Performance Rating:
Value Rating:
Review Date: September 07, 2020 08:00
MSRP: $ 520/pair
Type: Front-Ported Active Studio Monitor
Amp: Class A/B
LF Power: 75 W
HF Power: 65 W
Total Power: 140 W
LF Driver: 8" Reinforced Woofer
HF Driver: 1.25" Silk Dome Tweeter
Frequency Response: 35Hz - 20kHz
Crossover: 2.2kHz
SPL Peak @ 1m: 105 dB
Unbalanced Inputs: 1 x RCA
Balanced Inputs: 1 x TRS, 1 x XLR
Input Impedance: 10 kΩ
Dimensions (HxWxD): 16"x9.75"x11.5"
Weight: 23 lbs.
Pros
Neutral, accurate response
Good dynamic range
Nice look for a studio monitor
40 Hz extension
Useful tone control knobs
Includes high-pass filter for easy subwoofer integration
Cons
Crossover null occurs close under on-axis angle
Eris E8 XT Active Studio Monitors

Continuing our serie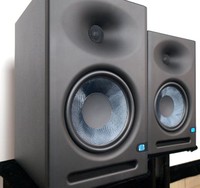 s of reviews of studio monitors, we have the PreSonus Eris E8 XT. Like many of the other monitors in its class, it is a self-amplified design using an 8" woofer and a tweeter loaded into a waveguide. It has a lot in common with the Kali Audio LP-8 including similar size and weight, a slot port under an 8" woofer, an elliptical waveguide around a dome tweeter, and a host of response-shaping options on the amp. It is among the more popular monitors for online retailers of pro-audio gear so we thought it would make for a good inclusion for our look at monitors. PreSonus has been around since 1995 where they started manufacturing studio gear such as compressors, limiters, audio interfaces, and mic preamps. They started producing loudspeakers in 2014, and the Eris line was one of their first series. In the short time since their launch, the Eris series has become one of the best-selling studio monitors on the market. This brings us to the question of what the Eris series has done to garner that level of success in such a short time frame? What is so special about these speakers? Let's dig in to find out….
Appearance
Among monitors, t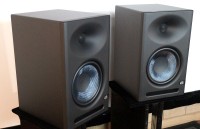 he Eris E8 XT monitors look pretty darn good. Looks shouldn't normally be a high priority for selecting a studio monitor, but in reality, appearance does affect the purchase, and as monitors go, the E8 XT is pretty slick looking. It has a smooth front baffle with no screw holes and gently sculpted curves for the waveguide and woofer mount. A blue woven-fiber woofer cone adds a cool and distinctive touch. A small PreSonus logo below the woofer glows when the speaker is powered. I think this speaker looks as good as many home audio speakers I've seen. It is so minimalist there is not much more that I can say about its looks. If PreSonus made a white version of this speaker, that would actually have a very high 'spouse approval factor' for a studio monitor. What is holding it back from having a place in a living room is the dark grey color.
Design Analysis
The Eris E8 XT occupies the 8" woofer range of studio monitors that have a bit more dynamic r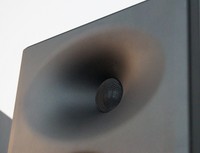 ange and extension than their 5" or 6.5" counterparts, so it is a somewhat large speaker and a bit hefty at 23 lbs. The cabinet is made from ⅝" MDF with a vinyl laminate and a molded plastic front baffle mounted on an MDF face. There is a thick layer of polyfill lining the interior. It has a 1.25" silk dome tweeter with a rear-mounted heatsink set in a waveguide that PreSonus calls the EBM waveguide (where EBM stands for Elliptical Boundary Modeled). This waveguide is designed for a 100°x60° coverage which provides broad horizontal dispersion and narrow vertical dispersion. PreSonus doesn't mention directivity control in any discussion about the waveguide, but the shape of the waveguide looks as though that could have been a guiding principle in the design. The measurements will tell us what PreSonus' priorities were in the waveguide design when we look at the test results.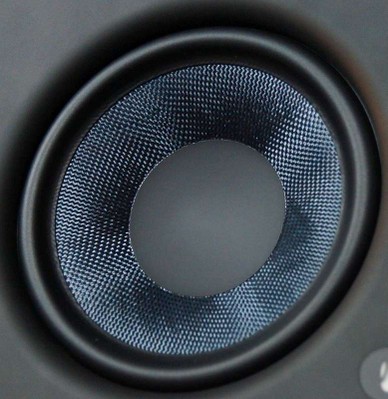 PreSonus Eris E8 XT 8" Woofer

The 8" woofer uses a woven composite cone that has a beefy-looking surround. It uses a ¾" thick, 4" diameter magnet on the motor that is vented through the pole piece. Underneath the woofer is a slot port. PreSonus claims a 35Hz low-frequency extension but doesn't give a window for that figure. That extension spec needs more context to be meaningful, but we will get a look at the extension in the measurements. The woofer is driven by a 75-watt amplifier and the tweeter is driven by a 65-watt amplifier for a combined total of 140 watts of amplification using a class A/B amplifier (although none of that is specified as peak, RMS, or continuous). The crossover frequency between woofer and tweeter is listed as 2.2kHz. The specs also list a 105dB maximum peak SPL at 1 meter, and that should be adequate loudness for pretty much anyone.
Internal look at the Amplifier of the ERIS E8 XT

Connectivity is comprised of balanced XLR and TRS inputs and an unbalanced RCA input. There are a host of controls that can alter the frequency response to compensate for different acoustic conditions. A boundary gain level switch can cut the low-frequencies by 2 or 4 dB which can come in handy where the E8 XT has to be placed near surface boundaries which can disproportionately boost bass. There is a high-pass filter that can come in useful if the E8 XT is paired with a subwoofer in a system with no bass management. It can set the filter frequency at 100Hz, 80Hz, or let the speaker go as low as possible. That high-pass is a really good idea since most 'prosumer' audio systems don't have an easy way to blend a sub in with the speakers; this allows the speaker to cross over to the sub in a much more controlled manner, especially since most subs have adjustable low-pass filters. The E8 XT also has knobs that can boost or cut the midrange frequencies or treble by 6 dB. Along with these response shaping controls, there is a gain knob. 
The overall design suggests a high performing monitor, but let's set theory aside for now and see how it all adds up in practice by giving the Eris E8 XTs a listen…
Listening Sessions
I used the PreSonus Monitors in two different rooms with different conditions to see how they could cope with different environments. I set them up on my PC desk which is essentially a quarter space, or a space enclosed by two boundaries. This desktop environment puts the listening distance at about 2.5 feet. I also set them up in my home theater room which gave them lots of breathing room and a nearly free-space environment. This is a far more acoustically friendly environment for sound quality. The processor used was a MOTU 828x and MOTU M2 on PCs with Qobuz as the source for music. No subwoofers were used. I used these monitors to listen to completed recordings rather than content creation since this is a home audio publication, and we are more interested in seeing how these fare in a home audio application.
Music Listening
As always, I like to start off my evalu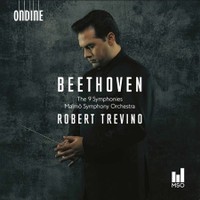 ation of a loudspeaker's sound with orchestral music. If something is off or wrong with the speaker, it is easier to catch in orchestral music on account of our familiarity with the sound of these instruments as well as the breadth of frequencies that can be used simultaneously. If there is an over-emphasis on some frequency range, it can be readily discerned on a good orchestral recording. For this purpose, I selected an epic new collection of recordings of all of Beethoven's symphonies released on the Ondine label in high definition that I streamed on Qobuz in all of its 96kHz sampling rate/24 bit depth glory. This collection is entitled 'Beethoven Symphonies Nos 1-9 (Live),' and the performances were conducted by Robert Travino and played by the Malmo Symphony Orchestra. Needless to say, the production and recording quality are first-rate.
I managed to listen to the entirety of this nearly six-hour collection of recordings over the course of several days. Every symphony here was a pleasure to listen to, and part of that enjoyment was due to how well the sound system reproduced these performances. The Eris E8 XT monitors gave these lively performances the vivacious presentation that they demanded. These monitors were able to transform my living room into a concert hall, and the scale of the performance venue was immediately recognizable. This recording put the listener at relatively close proximity to the performance, and I would guess that it was recorded with microphones hanging above the orchestra, which is the case with many other concert hall classical recordings. This could be heard in the vivid soundstage that the E8 XT monitors presented. It was as if I had the best seat in the house. Instrumental sections were clearly placed, and the occasional solo instrument had a well-defined position. Tonal balance was very good, and nothing stood out as sounding abnormal. The bass was good for speakers of this size, and if I didn't know better, I probably would have assumed these were modestly-sized tower speakers if I had only heard the sound without seeing the speakers. The E8 XT's were not hindered by louder levels on moments when I cranked the volume in this recording, and everything sounded as unperturbed as they did at more reasonable levels. The E8 XTs gave these Beethoven Symphonies an appropriately high-fidelity presentation that was commensurate with the quality of the recording.
The Eris E8 XT monitors made me feel as if I had the best seat in the house.
For something that is focused on a human voice and which should have more precise imag
ing, I gave a listen to Norah Jones' latest album, 'Pick Me Up Off the Floor.' Norah Jones' albums always have top-shelf recording quality, and this 24bit/96kHz album promised to continue that tradition. This recent release is still very jazzy but it is a lot more pop-oriented and a lot less bluesy than I expected (excepting the fourth track 'Heartbroken, Day After,' which is very bluesy).
Spinning this album up on the Eris E8 XT monitors, the first thing that leapt out is how meticulous Mrs. Jones' voice was rendered. It was a lifelike reproduction, and it imaged at a dead center position in the soundstage. She was accompanied by percussion, piano, bass guitar, and a host of other instruments, and each was given their own precise locations within the soundstage. Norah's singing along with the instrumental playing all sounded very natural and well balanced. 'Pick Me Up Off the Floor' is a beautifully detailed recording, and the E8 XTs were able to convey the richness of Jones' voice and the nuances of the instruments- and they did so without any obvious boost to the midrange frequencies or high frequencies that some home audio speaker manufacturers do in order to artificially convey detail. And detail is not the most important attribute a speaker should have, in my opinion. Tonal balance is much more important, and here is where the E8 XTs shined. Nothing sounded disproportionate, and the album sounded natural. That is what one would expect in a studio monitor, of course, but in home audio, getting a balanced sound can be a bit more of a hit-or-miss proposition, since home audio speakers aim merely to sound 'good' instead of accurate, and 'good' can mean different things to different people whereas 'accurate' has a stricter definition, i.e., a neutral frequency response. If you ask me, 'accurate' sounds good, and research into sound quality indicates that 'accurate' sounds good to most people, both trained and untrained listeners. For this reason, speakers like the Eris E8 XTs should appeal not just to those doing content creation, but to anyone simply interested in good sound.
One album that has been a favorite of mine for some years now is 'Parikrama' by D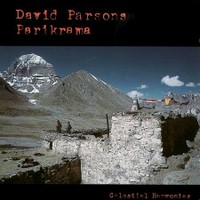 avid Parsons, which was released in 2000. 'Parikrama' is the name of a journey taken by some Buddhists around a sacred mountain in western Tibet. The sound of this album is meant to reflect this spiritual journey; it is meditative and introspective yet also rather cryptic. It is an instrumental album made with the lasting ringing of large bells, the sustained shimmering of a sitar, and underlined with the plunderphonics of synthesizer drones. It is too abstract to be classified under the label of 'World Music' but too dark to be blithely written off as new age music. It is very gradual and deliberate music that develops a long-form composition so it is more than mere mood music for meditation. The soundscape presented is vast, encompassing, and multi-layered, and I thought it would be interesting to see how the E8 XT's would image this sonic voyage. 
Listening to 'Parikrama' in my theater room with the E8 XTs, I realized how positively cinematic this album sounded. It was like the score to some Buddhist IMAX movie, and it was a striking difference from the headphone experience that I bet is how this album is ordinarily heard by most people. Headphones can transport a listener to another place, but a good pair of speakers can transform the listener's environment into another place, and these speakers do that. The E8 XTs projected a big sound. Drones and ringing bells had an enveloping effect that projected an endless forward space, while sitars and lead synth sounds swept across the soundstage like slow-motion waves. This continuous sound extended beyond the width of the speakers' positions. On moments where low-frequencies became more pronounced, the E8 XTs were able to supply a solid foundation of bass which negated any need for subwoofer assistance. Instances that called for precise imaging within this expanse of sound were given clear placement. 'Parikrama' isn't an album for everyone, but for those who do take the plunge, I would recommend a good speaker set like the Eris E8 XTs over a headphone experience for this journey if possible.
Switching gears, I decided to listen to something that was a lot more energetic and which also taxes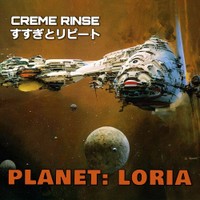 low frequencies significantly more. I was in the mood for something different, really different, and an album that had caught my attention recently which comes from way out of left-field is 'Planet: Loria' from CREME RINSE すすぎとリピート (yes, that is the artist's proper name). I am a sucker for far-out science fiction, so I couldn't resist giving this album a try after catching a glimpse of the album cover a little while ago, knowing nothing about the band or music. I don't know anything about CREME RINSE すすぎとリピート, except that this artist or artists hail from Japan and have a handful of releases on the Seikomart label. 'Planet: Loria' is a highly experimental album that is like a prog-rock concept album but with a very idiosyncratic kind of vaporwave music instead of prog-rock. The music is like an '80s sci-fi soundtrack layered with vaporwave irony and threaded with fictional media snippets from the plot of a cyberpunk novel. There is nothing else quite like this. If that sounds appealing to you, give it try on bandcamp, and if you end up enjoying it, consider making a donation to the artist to encourage future madness along these lines. 
Listening to 'Planet: Loria' is a lot like listening to a movie. It is mostly music but has much of the soundstage that you would expect from a movie sound mix, and the Eris E8 XT speakers were able to adeptly convey this experience. Precise effects noises imaged from all across the soundstage with the intent of painting an image of an environment, and there was no mistaking what was intended with such a capable sound system. Some passages of this album are quite bass heavy, but the E8 XTs managed to reproduce that bass with authority. I suspect that the addition of a subwoofer might have added a bit more meat in deep bass, but the E8 XTs surely caught the vast majority of the low-frequency content in 'Planet: Loria.' I listened to this album at a louder level and didn't sense any strain in the form of compression or distortion from the speakers. The music was largely electronic, and the E8 XTs were able to throw a punch even in my theater room with an 8-foot listening distance. The E8 XT's helped to make 'Planet: Loria' a blast to listen to once again and made a solid case for those looking for a set of speakers for electronic music.
Movie Watching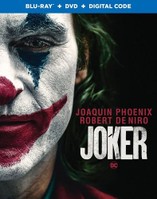 While it made a splash at the box office, I hadn't yet seen the new movie 'Joker.' I didn't really have a strong interest in seeing it, because it looked rather humorless for a movie named 'Joker' and I am rarely in the mood for anything that dour and angry. Nonetheless, I decided to watch it to see how the Eris E8 XT handles movies that are heavily dialogue-based since I had easy access to a copy of it and knew that the movie would be more dialogue-driven than action-driven. On the count of dialogue intelligibility, the E8 XT monitors had no trouble, and all of the dialogue was clear. One thing I was surprised about was the number of golden oldies from crooners such as Frank Sinatra, Nat King Cole, and Fred Astaire, among others. On the occasions where this music wasn't played diegetically, it was a refreshing respite from all the gloom, even if that wasn't its intention, and those classic recordings were a delight to hear on the E8 XTs. Hildur Guddnadottir's original score was bass-heavy, moody, and made extensive use of the cello, and the E8 XT speakers reproduced it marvelously. That unsteady cello main theme was sharply realized, and the heavy bass drums provided gravity and tension to the main character's situation. I don't think subwoofers would have made a great contribution beyond the capabilities of the E8 XT speakers for this sound mix. 
The bleak atmosphere of Gotham City was brilliantly portrayed by both visual set design and also sound design, and the sound mix was rich in cues that imparted this character of the environment. Passing sirens, muted shouting matches behind doors, sickly coughing, barking, overheard car radios and TV broadcasts; these ambient noises suffused the sound of 'Joker,' and the imaging and detail abilities of the E8 XT speakers put all of this sound together to make a convincing world that could breed a character like Arthur Fleck. These surroundings were genuinely unsettling, as they were intended to be, and, while I admire the technical and artistic skill in creating such a vivid setting, I was sure glad to be out of it once the movie had ended.        
For something with a more fantastical and effects-driven sound mix,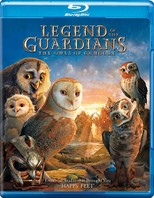 I decided to watch a movie I had long been curious about but had not yet taken the time to see, a movie entitled, 'Legend of the Guardians: The Owls of Ga'Hoole,' released in 2010. I didn't know a whole lot about it except that it was a fantasy movie where the characters were owls instead of people. It was such an odd premise that I wanted to see what that was like, but I wasn't so strongly interested as to make the time and effort to purchase and watch it. I had the opportunity to borrow a Blu-ray copy recently, and I thought it would make for a good demonstration of how the Eris E8 XT monitors would handle something that would have a lot more effects sounds with a lot more grandiose sound mix in general.
With a lot of battles between talking owls with an epic orchestral score, there was plenty for the speakers to do, and I can report that the sound mix was reproduced well. Effects noises such as swooping sounds and clashing talons were given impact by the E8 XT monitors, and the music score shined. The E8 XTs had real bass ability that belied their size, and there was a storm sequence in particular in which they impressed me from the nearly subwoofer-like ability. The dialogue was clearly rendered, and the only moments that I had trouble understanding dialogue is when I caught myself laughing at the absurdity of the premise; 'Legend of the Guardians' is really just a standard fantasy story but with owls instead of people. How did this get made? Whose idea was it to make a movie but with owls instead of people? Not that it was a bad movie; 'Legend of the Guardians' was fine, but the idea is bizarre. In any case, the Eric E8 XT speakers did a commendable job for home theater in my viewing of 'Legend of the Guardians: The Owls of Ga'Hoole.'
See also:
Confused about what AV Gear to buy or how to set it up? Join our Exclusive Audioholics E-Book Membership Program!
Recent Forum Posts:
slipperybidness posts on November 06, 2020 07:46
panteragstk, post: 1431045, member: 61217
DOWN WITH GRILLS!!!

Also, if your speakers don't have grills, you can't do an @Pogre and put them on upside down.

I may or may not like/want grills. Just depends on how the drivers look, and where they speakers are placed. My DCM with the yellow woofers and in the living room–keep those grills on! My DIY BMR in my man cave–we don't need no stinking grills.
panteragstk posts on November 05, 2020 12:16
slipperybidness, post: 1431038, member: 56559
Argument #3–No grills.

Doesn't matter to many of us, could matter to some.

DOWN WITH GRILLS!!!
Also, if your speakers don't have grills, you can't do an @Pogre and put them on upside down.
slipperybidness posts on November 05, 2020 12:00
KEW, post: 1416754, member: 41838
Good to see you are now reviewing pro audio speakers.

I believe they represent significant value over the normal street prices (that does not include thr 50%+ discounts we have seen on DCM, JBL, Infinity, etc) for most name-brand home audio speakers … at least off-setting the cost of the included amplification, which (among competent companies) is sure to be optimized specifically for each driver!

Two arguments I have heard against pro-audio monitors are:
1) They are designed for near-field and will not sound good in a normal HT.
2) They sound too "clinical".

Either I don't understand what they are really saying, or it is BS; but please emphasize it if you come across deficiencies that reveal either of these issues! Aside from something like a mini-monitor with 4" speakers that falls short at volume from 12' away, I have not seen a monitor that falls short as mid or far-field.

Argument #3–No grills.
Doesn't matter to many of us, could matter to some.
shadyJ posts on November 04, 2020 17:09
bounce, post: 1430801, member: 92963
If you test studio monitors you should test them at midfield distances 10-13 feet.I posted on Kali Audio monitor about being told by a recording engineer not to buy studio monitors because they are designed for nearfield use. I do not do nearfield listening. Test these at 10-13 feet & SEE HOW THEY PERFORM. i have READ REVIEWS OF hOME tHEATER SPEAKERS & THEY ARE TEST IN A 2 CHANNEL STEREO mode.People will buy these for stereo 2 channel. I do not listen to music from computers. What passive bookshelf speakers do these compare to? Are they better than similar priced bookshelf?

The response isn't going to change if tested at greater distances, there is no need to test at that distance. These monitors work just as well for near-field use as mid-field. No home theater speaker is tested in two-channel mode by any objective standard, although they may be subjectively listened for two-channel mode evaluation.
As for comparisons to passive speakers, not many have performance as good as these for the same price. I honestly can't even think of any. Maybe someone else can?
bounce posts on November 04, 2020 14:27
If you test studio monitors you should test them at midfield distances 10-13 feet.I posted on Kali Audio monitor about being told by a recording engineer not to buy studio monitors because they are designed for nearfield use. I do not do nearfield listening. Test these at 10-13 feet & SEE HOW THEY PERFORM. i have READ REVIEWS OF hOME tHEATER SPEAKERS & THEY ARE TEST IN A 2 CHANNEL STEREO mode.People will buy these for stereo 2 channel. I do not listen to music from computers. What passive bookshelf speakers do these compare to? Are they better than similar priced bookshelf?
Post Reply