RBH Sound PM-8 Active Monitor Loudspeaker Review
RBH Sound PM-8 Active Monitor Loudspeaker Review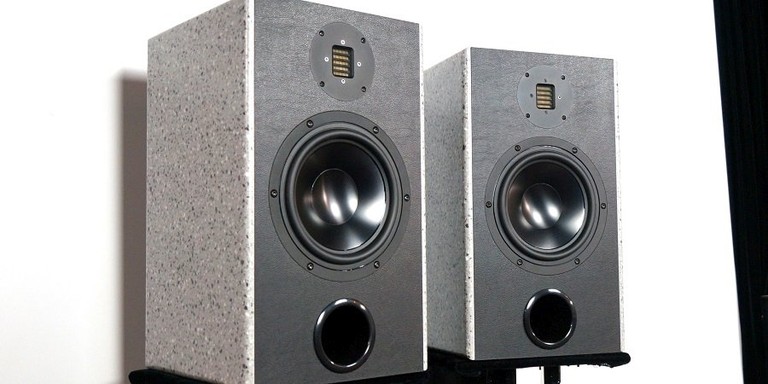 RBH Sound PM-8 Monitor Speaker
System type: Active (Powered) 2-way Monitor Speaker
Amplifier type: Bi-amplified Class D
Frequency Response: 32Hz-20kHz (±3dB)
Woofer: (1) 8" (203mm) Reference Aluminum Cone
Tweeter: (1) 1.38" x 1" (35mm x 25mm) AMT
Woofer amplifier: 250-watts RMS
Tweeter amplifier: 150-watts RMS
Voltage: 110V-240V Auto Adjusting
Crossover Frequency: 2,500 Hz
Crossover Slope: 48dB/Octave
Line Level Input: Yes (XLR/Adapter)
Cabinet/Color: Medium Density Fiberboard (MDF)/Black
Grille: Black Fabric
Dimensions: 11-3/8" W x 19-1/4" H x 13-5/16" D
Weight: 43.35 lbs. (19.7 kg)
Warranty: 5 years cabinet & woofers/3 years amplifier
Pros
Flat on-axis response
Extraordinarily good vertical dispersion
Tremendous bass ability for its form factor
Wide dynamic range
Superb imaging abilities
Accent panels add a classy look
Cons
Accent panels have a substantial surcharge
Background hiss audible in near-field distance
RBH Sound PM-8 Introduction
RBH Sound raised a few eyebrows at the 2019 CEDIA show when they unveiled the PM-8 studio monitor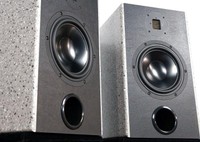 which is a product for a very different market than RBH's traditional focus of home audio. Perhaps it shouldn't have been as much of a surprise since the requirements of studio monitors and home audio loudspeakers have a multitude of similarities. The only significant differences are that monitors need to have the appropriate connectivity to work in a studio environment, and that monitors, more than home audio loudspeakers, should strive to have an accurate sound that is faithful to the source signal. One would hope that typical home audio speakers would have some accuracy, but often they can be designed to sound 'good' rather than accurate. That isn't necessarily a bad thing, but it can complicate things especially when accuracy has been shown to sound 'good' in tests of human listening preferences. Seeing as how accurate sound also happens to sound good, it stands to reason then that studio monitors with ostensibly accurate sound should also be very good for recreational listening. That is what we will be looking at today since we have a pair of the PM-8s in for review…
Packing and Appearance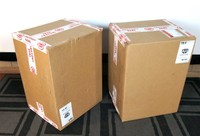 The PM-8s arrived well packed, but they had better be, given the weight and their cost of $2,000 each. These are very heavy for studio monitors, weighing twice as much as most of the monitors I have dealt with to date. They came double boxed with thick polyethylene blocks sandwiching the speakers along with edge protectors to reinforce the box edges. Once out of the packing, they PM-8s are revealed in their full majestic glory. These are large studio monitors, and, as if to emphasize their stately size, there are ½" slabs of polished engineered stone attached to the side panels. That is an unusual design decision by RBH Sound, to say the least. Most studio monitors don't really make too much of a concession to aesthetics, and they are a product more often driven by function than form. Perhaps it is because RBH is a newcomer to the studio monitor market that they thought a monitor should look so fancy. Or perhaps they are trying to separate themselves from other manufacturers who tend toward a utilitarian appearance in their monitors. To be fair, the PM-8s do come in a version that does not have these engineered stone accent panels, and that version carries a significant $400/ea or $800/pr savings. However, they have a lot less visual charm, and, of course, the panels do have a functional purpose as well, which we will discuss in the 'Design Analysis' section below.
Outside of the accent panels, the PM-8s are finished in a flexible laminate that almost resembles leather. It is more durable than conventional vinyl veneers, and you don't have to worry about fingerprint smudges marring the finish. It looks nice and 'leathery' without being leather. The majority of the front baffle is occupied by a beefy 8" black aluminum cone with a 1.4" AMT tweeter hovering above it. The PM-8 can also be ordered with a silver metallic aluminum cone, but I think I like the look of the black cone just a tad more. There is a large port mounted on the lower end of the front baffle. One oddity about the PM-8s is that they are a studio monitor with a grille. Home audio speakers use grilles for aesthetic purposes (to hide the drivers) and for practical reasons (to protect the drivers), but studio gear isn't normally very concerned about aesthetics and so very few monitors have grilles. Since they are workplace tools mostly just used around professionals, they aren't as subject to physical abuse and so don't really need grille protection. The grille itself is a formidable piece made with a ⅝" thick frame wrapped with a black, acoustically transparent fabric. It uses magnetic adhesion so there are no grille guides on the front baffle. Its inclusion among other design cues leads me to believe that RBH Sound expects the PM-8 to be used as a home audio speaker as well as a studio monitor. It looks higher-end than a studio monitor needs to, and I think that RBH wanted a speaker that will see use both in studios and in homes.
Design Analysis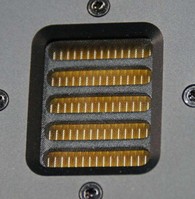 The PM-8 is a big monitor. RBH's product page states it is intended for either near-field and far-field use, so the large size is a consequence of the wider dynamic range it must have in order to accommodate far-field use. You can't get serious bass extension as well as serious dynamic range in bass from a small cabinet, as that is prohibited by physics. As for near-field use, a requirement for that is the design can not have the drivers separated too far apart because the further apart that the drivers are, the greater the distance needed for their respective sound fields to integrate. This is why we don't recommend that most tower speakers be used at proximity closer than two meters, especially a three-way tower. The center-to-center spacing of the drivers on the PM-8 seems close enough that it could easily work for near-field duty, so while the speaker may be somewhat large, the sound should integrate at a close distance.
The PM-8 looks to be using some high-quality components.At the top, it uses a 1"x1.39" AMT that was the best performing AMT tweeter that RBH Sound could source. AMTs normally have a dynamic range advantage over dome tweeters, especially in higher frequencies, so even though the AMT in the PM-8 is not especially large, it should still be able to pack a punch even in non-near-field listening distances. AMT tweeters can vary in quality by quite a wide range, and we have seen very problematic AMTs in inexpensive speakers that would have been better off simply using domes, and we have seen very well-behaved AMTs, but usually in more expensive speakers. To date, some of the best we have seen were manufactured by Aurum Cantus (used in RBH Sound SVTR System), so that bodes well for the tweeter in the PM-8.
The woofer uses an 8" aluminum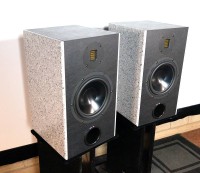 cone and is the same bass driver seen in RBH's flagship SVTR speakers. It has a sizable ½" surround and looks to be very capable. Aluminum is a very good material for a woofer diaphragm on account of its light weight combined with high stiffness. Its only drawback is that the stiffness can make for some fierce breakup behavior in upper frequencies if it is not low-passed sufficiently, but that is not at all a problem for the PM-8 since it uses an active DSP crossover network. In fact, the crossover uses a 48dB/octave slope, which would not at all be practical with a passive design. That should be more than sufficient to keep the woofer out of trouble. RBH also dopes the aluminum cone and uses a propriety butyl rubber surround to dampen cone resonances. The digital signal processing abilities of the amplifier gives the speaker engineers far more freedom to control the performance of the speaker than traditional passive methods.
The DSP on the PM-8 is special and is quite a bit more powerful than what is normally seen on active monitors. The reason for that is it uses finite impulse response filters or 'FIR' filters to handle crossover duties and equalization. FIR filters are much more resource-intensive than the standard IIR (infinite impulse response) filters seen on most active speakers but offer much greater control over the speaker's acoustic performance. FIR filters can control time-domain performance as well as frequency domain behavior, unlike IIR filters. This means that the phase can be controlled, and the entire speaker can be made to be phase linear even at crossover frequency bands. This isn't possible with IIR filters or in standard passive crossovers. In normal speakers, there must always be phase rotation around the crossover point, and many designs have gone to great lengths in order to minimize this, often at the expense of frequency response linearity. It is much more computationally intensive to use FIR filters and thus needs a much beefier processor, but it solves the problem of shifting phase at crossover points. The audibility of phase distortion has long been a subject of debate within auditory science with prominent figures such as Dr. Floyd Toole taking the position that human hearing is very insensitive to it. However, some new research suggests that phase distortion can have a deleterious effect on speech intelligibility. Audioholics does cover some of this new science in speech intelligibility in this thorough Livestream discussion on our Youtube channel. RBH leverages FIR filters to maintain phase linearity in the PM-8.
FIR Filters & Active Speakers YouTube Discussion with RBH Sound

The PM-8 has built-in Class-D amplification with separate amplifiers for the tweeter and woofer. The tweeter is given 150 watts of power and the woofer is given 250 watts, for a total of 400 watts per speaker, with a 2,500Hz crossover frequency. That is a tremendous amount of power, especially when considering that in typical passive speakers, there is quite a bit of loss occurring in the crossover network. The Class-D topology grants further efficiency by converting a lot more electrical current into power for drivers compared to more common Class-AB amplifiers that lose substantially more electricity as heat.
Speaking of efficiency, what is majorly beneficial for the efficiency of the PM-8 is the sheer size of it. Smaller loudspeakers can produce bass, but the power demands for low-frequency reproduction skyrockets as the enclosure size shrinks. This is a speaker with a large enclosure and a tremendously powerful amp, so it almost maxes out what can be done to increase low-frequency dynamics. In order to get the most from the cabinet, the PM-8 uses a very large front-mounted port that has a 2 ¾" diameter with a 9 ¾" depth. That is the kind of port that wouldn't be out of place in a subwoofer, and it should provide the PM-8s with prodigious low-frequency capability.
Regarding connectivity, the amp only has an XLR input, but RBH provi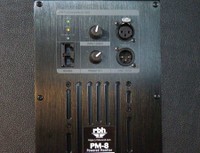 des RCA to XLR adapters so that those who only have consumer-grade preamplification will not have to purchase additional components to get the speakers working. Nonetheless, I would encourage buyers to get a pre-amp with balanced XLR outputs to ensure the cleanest signal path. After all, if you are buying $3,000+ monitors, it is worth spending a few hundred extra for a decent preamp (I can highly recommend the MOTU M2 for an inexpensive but high-performance pre-amp with balanced outputs). The PM-8 also has a balanced output in case the user wants to daisy chain another device on the same signal such as a subwoofer. RBH tells me that they hope to add an AES digital connection in the near future. 
The amp has only two controls: a gain knob and a preset selector knob. The preset selector knob has eight settings that optimize the PM-8 for near-field or far-field use, implements an 80Hz high-pass filter for use with a subwoofer, trims the tweeter output by 3dB, and also changes the low-frequency extension. There are also three LEDs: one that indicates power, one indicating when the limiter is engaged, and an input signal indicator. 
The cabinet is a stout affair that uses ¾" thick MDF paneling with two window braces to reduce panel resonance. The optional engineered stone side panels would also be extremely effective at eliminating panel resonance, although it does so at a very hefty surcharge. The internal sidewalls are lined with polyurethane foam and much of the interior space is filled with polyfill type stuffing. Those measures should be very effective at damping inner pressure waves. This build quality is very solid, as one would expect of a speaker at this price point.
Listening Sessions
...details were crystal clear on the PM-8s, and I don't know how much more transparent this recording could be presented on any sound system.
I used the PM-8 monitors in two different rooms with different conditions to see how they could cope with different environments. I set them up on my PC desk which is essentially a quarter space, or a space enclosed by two boundaries. This desktop environment puts the listening distance at about 2.5 feet. I also set them up in my home theater room, which gave them lots of breathing room and a nearly free-space environment. This is a far more acoustically friendly environment for sound quality. The processor used was a MOTU 828x and MOTU M2 on PCs with Qobuz as the source for music. No subwoofers were used. I used these monitors to listen to completed recordings rather than content creation since this is a home audio publication, and we are more interested in seeing how these fare in a home audio application. I listened to the PM-8s in the preset '8' which should yield the flattest response and deepest extension.
Music Listening
With all the calamity that has occurred in 2020 (so far), Ennio Morricone's passing may well be what future scholars and culture literati will find most noteworthy about this tumultuous year as time erodes our present fleeting concerns, and art with merit transcends the moment to endure for future generations. With so much output, not every composition by Morricone was solid gold, but with roughly 500 scores to his credit, even a hit-to-miss ratio of ten to one would still grant him dozens of masterpieces, and Morricone certainly batted better than 0.1. To give the RBH Sound PM-8s a spin on something orchestral, I decided to seek out orchestral works by Morricone with a good recording quality by modern standards (i.e., no vintage scores), and a perfect fit for this purpose is 'Morricone 60.' This 2018 album has Morricone conducting the Czech National Symphony Orchestra, with whom Morricone has collaborated on a number of works, and the performed pieces are all classic Morricone compositions from films such as 'Cinema Paradiso,' 'The Untouchables,' 'The Hateful Eight,' and, of course, all of Sergio Leone's major films. The production quality was as good as Morricone pieces have ever sounded, so I queued up the album to hear what the PM-8s could do.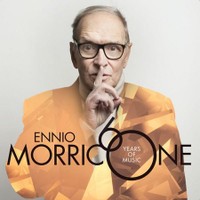 On the PM-8s, the lead instruments had such fine definition that I had to think this was a recording made on a soundstage rather than a concert hall. However, the liner notes say it was recorded in seven different cities, which I assume would be concert hall performances during a tour. It must have been a consequence of whatever microphone techniques they used to record this album, but it did have more precise imaging than typical classical music albums. On tracks such as 'Stage Coach to Red Rock,' individual instruments had very clear positioning. Tonal balance was good, although lead instruments certainly had a greater presence than typical orchestral recordings, but that is certainly due to recording techniques and mixing rather than anything this sound system would affect. The dynamic range of the speaker seemed quite good on the instances that I cranked the system. The bass sounded strong without being inordinate or excessive. The last four tracks on the album were not concert recordings but pulled from the original soundtracks, and it was immediately obvious. This is not to say they sounded bad but 'vintage' rather and did not have the instrumental separation and detail that modern recordings can achieve. In the end, it was fun to relive these themes from so many classic movies, especially when the recording and the sound system, the PM-8s, are of such high quality.
I am not a fan of country music, however, years ago I inherited a vinyl album collection that had a number of country records from the '70s, including a few from Willie Nelson. I gave them a spin and found myself unexpectedly enjoying Nelson's leisurely pace, modest instrumental accompaniment, and soulful lyrics. I have always intended to explore Nelson's work further but that ambition just didn't seem to reach fruition. I noticed that Nelson released a new album, and with access to Qobuz, I thought it would be a good time to dig through his body of work. One album that I found particularly enjoyable is 'Spirit,' recorded in 1995, which is one of the more minimalist among Nelson's works since the only instruments used are two guitars, a piano, and a fiddle. This gives the album an intimate quality, and such sparse use of instruments allows one to focus more on the sound of individual instruments. However, first and foremost Nelson's weatherbeaten voice as he sings about emotional ups and downs in life, but mostly downs.
 The PM-8s have tower speaker dynamics packed into a large monitor size form factor.

The first thing that leapt out from the first track onward is the dead center imaging of Nelson's voice and lead guitar. The piano gets a wider spread over the soundstage, indicating that it was recorded with the microphone at close proximity. It was easy to distinguish the two guitars being used here: the fuzzy sound of a nylon string guitar and the sharper sound of a steel-string guitar. The fiddle is relegated to mostly a backing support of the main melody, so it is somewhat recessed compared to the other instruments. All these details were crystal clear on the PM-8s, and I don't know how much more transparent this recording could be presented on any sound system. The PM-8s transported Nelson and his band to my living room, and the imaging had a nearly tangible quality, as if I could tell exactly where the players were in my room. The instruments and Nelson's voice sounded richly textured and natural; I have to wonder how far this sound is from the intended sound of the mixing engineer, and I would guess not far at all. I enjoyed listening to Nelson's 'Spirit' on these speakers, and I think that the PM-8s expressed the full extent of the fidelity of this album.
Meryem Aboulouafa has been rapidly gaining international recognition for her debut album 'Meryem' that draws inspiration from divergent sources, which cohere into a natural whole as well as her distinctive voice that is both soothing yet heavy-hearted. The music here lay somewhere between R&B, classical, and folk music and is not easy to pigeonhole. The classical training of Aboulouafa gives the album a nearly cinematic quality, but bursts of pop music as well as accents of traditional music from her Moroccan roots add up to a unique and engaging sound. This unique mixture is pulled off with enormous success, and the talented Aboulouafa most certainly has a bright future ahead. The production quality is impeccable, and I decided to give it a spin and listen to this album in its entirety on the PM-8 speakers since I had only heard bits and pieces before.
From the first moments of this album, the PM-8s anchors Meryem's voice squarely in the center of the soundstage. She is backed up by a simple sine wave synth bassline along with some traditional orchestral instruments, and everything is nicely balanced with the PM-8s never pushing the potent bass over to being dominant in the mix as other speakers with elevated bass might have done. Aboulouafa's melodic mezzo-soprano voice was rendered with utmost detail, and one could hear every minor contortion of her vocal cord that she used to control her singing. Some moments on this album can turn positively operatic, and the PM-8s could easily scale to the wider soundstage and dynamic range on these big moments. Meryem's backup instruments are well rendered but the only instrumentation that is given lead attention are the orchestral elements, and that surprised me since I had the impression that this was more of a pop music album. To be sure there is a strong pop vibe on many tracks, but the album as a whole is too diverse to categorize as pop music. It is very much a studio production and sometimes uses effects processors like wildly over-the-top chorus effects to create an unusual singing tonality such as on the track 'Ya Qalbi', and these were fun and interesting moments, especially on the kind of wide soundstage that the PM-8 could project. At the album's conclusion, I again felt that the PM-8s delivered a balanced execution where all the components have distinction but add up to a harmonious whole.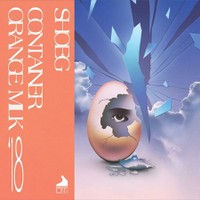 For something on the wilder and more experimental side, I found an album with a sound unlike any other in 'Container' by Shoeg. 'Container' can best be described as a long-form industrial soundscape if that makes any sense. Its 33-minute runtime is composed of two tracks and has elements of 'Glitch' type music with lots of distorted noise with deep bass drones underscoring much of the music. For those who are seeking out new sounds and have the patience for longer tracks, this is a fun ride, but I think that many listeners would be turned off by the harshness of some of the sounds and its overall strangeness. I decided that it would be a good demonstration of the PM-8's capabilities due to many of its spectrally dense passages along with extensive use of deep bass. The PM-8's design suggests high capability in low frequencies, and this album might be a good test of that.
I decided to play this album loud, and let me tell you that the dynamic range of the PM-8s is no joke. The louder treble sounds could be absolutely piercing, and the bass reproduction had the presence of a subwoofer. I could feel air movement from the ports even though I was seated eight feet away. These two 8" woofers could rumble my room like a subwoofer would. The PM-8s are not as large as tower speakers, but they have tower speaker dynamics packed into a large monitor size. If you want tower speaker range but don't want floor-standing speakers, these are definitely a viable solution. As purely electronic music, the soundstage is quite unnatural, and the PM-8s were able to realize 'Container's' fantastical realm of sound to dizzying effect. It was like sliding down an avalanche while being chased by a metallic swarm of wasps in a panoramic setting like the Alpine mountains. This is what an ancient intelligent cybernetic insect species would regard as classical music. This album really benefits from a good sound system, and I don't know how listenable it would be without one. It was a bizarre yet epic sound, and I think that the RBH Sound PM-8s nailed the otherworldliness of the artist's intent.
Movie Listening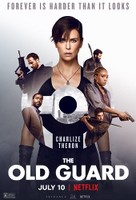 A solid action movie is normally a good way to show off a soundtrack's dynamics, and to this end, I watched 'The Old Guard,' Netflix's latest action vehicle for Charlize Theron. This movie concerns the conflict of a group of nearly immortal warriors against a pharmaceutical company that is trying to harness their gift of invulnerability. The action scenes are mainly gunfights and hand-to-hand fights and so are not large scale action scenes. However, the movie does a fair amount of globe-trotting, from Morocco and Afghanistan, but it takes place mostly around Paris, so there is a nice variety of locations and scenery. The music score had traditional orchestral pieces along with a slew of hip-hop tunes. The PM-8 speakers handled all the elements of the sound mix with aplomb. Dialogue intelligibility was never a problem, even though most of the cast spoke with accents. Action scenes were superbly reproduced, and the PM-8 speakers had more than enough dynamic range for the loud levels at which I listened. As for bass, I didn't miss subwoofers at all. While I don't imagine these speakers are tuned to an extremely deep frequency, any bass within their range was accomplished with subwoofer-esque dynamics. A movie with heavy use of extremely deep bass might have asked for a bit more than what the PM-8s are able to deliver, but I think they are able to capture most bass in film sound mixes, and more importantly, it does so with the proper dynamics. With the ever-escalating number of discrete speakers, I did not feel the performance of this simple two-channel setup left much on the table. 'The Old Guard' was a fine action movie, and it sounded terrific on a pair of RBH Sound PM-8 speakers. I have heard many different sound systems, and I would much rather watch a movie on two good speakers than a dozen middling ones.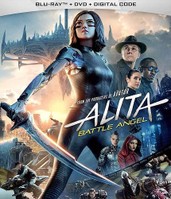 I decided to watch a movie with a very extravagant sound mix to see how the PM-8s would handle sounds on a much larger scale, and the movie I selected for this was 2019's 'Alita: Battle Angel.' This movie is about a cyborg that is reborn in the distant future and has to play a dangerous rollerball-type game and fight bad cyborgs while trying to remember her past (there was a lot going on). Any movie set in the year 2563 is bound to have some wild sound effects, especially with a $170 million dollar budget, so I thought it would make for a good demonstration of the PM-8s dynamic range and bass extension. My expectations were set high from hearing what the PM-8s could do on other material, and they did not disappoint. There were a lot of cyborg fights in this movie that used all kinds of imaginative futuristic weapons, and they all had weight thanks to the PM-8's visceral low-end. The Centurion robots, in particular, had a presence of danger due, in part, to their menacing sounds: the deep mechanical voice and the subterranean thud of their footsteps. They are like ED-209 on steroids. The rollerball-esque game called 'Motorball' had some crashes and wipeouts that looked and sounded spectacular. The 'Iron City' of the movie's setting was saturated with aural detail: a vast and crowded place drenched in the din of day-to-day life, and the PM-8s helped to make it a tangible reality. Tom Holkenborg's music score was primarily orchestral with a lot of synthesizer elements, and the PM-8s gave it enough verve to stand out amongst all the components of the sound mix. This is a movie to watch loud on a good sound system, and that is precisely what I did with the PM-8s.

Confused about what AV Gear to buy or how to set it up? Join our Exclusive Audioholics E-Book Membership Program!
Recent Forum Posts:
ryanosaur posts on November 12, 2020 05:46
Another cool review. Thanks Shady!
shadyJ posts on November 12, 2020 00:57
41576
RBH Sound raised a few eyebrows at the 2019 CEDIA show when they unveiled the PM-8 studio monitor which is a product for a very different market than RBH's traditional focus of home audio. Perhaps it shouldn't have been as much of a surprise since the requirements of studio monitors and home audio loudspeakers have a multitude of similarities. The only significant differences are that monitors need to have the appropriate connectivity to work in a studio environment, and that monitors more than home audio loudspeakers should strive to have an accurate sound that is faithful to the source signal. One would hope that typical home audio speakers would have some accuracy, but often they can be designed to sound 'good' rather than accurate. That isn't necessarily a bad thing, but it can complicate things especially when accuracy has been shown to sound 'good' in tests of human listening preferences. Seeing as how accurate sound also happens to sound good, it stands to reason then that studio monitors with ostensibly accurate sound should also be very good for recreational listening. That is what we will be looking at today since we have a pair of the PM-8s in for review…
READ:
RBH Sound PM-8 Studio Monitor Review
Post Reply