Paradigm Concept 4F Speakers Preview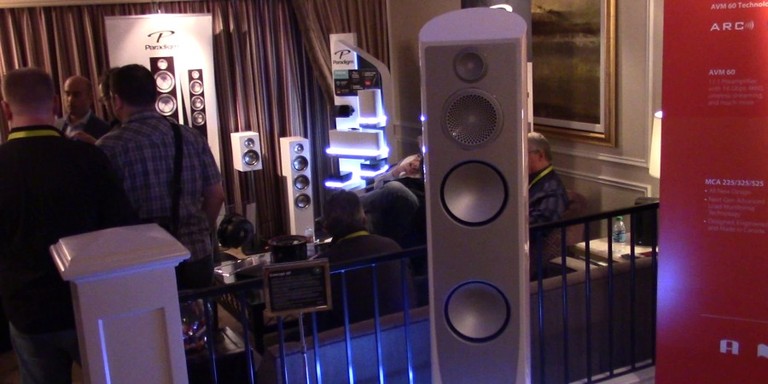 The Paradigm Concept 4F at CES 2016
Summary
Paradigm Concept 4F Tower Speakers
Tweeter: 1" Pure Beryllium
Midrange: 7" Pure Beryllium
Woofers: Four 8.5" powered by a total of 1400 watts RMS built-in amplification
Built-In ARC room correction for the woofers
Additional Tower, Center, and Bookshelf models will also be available.
Executive Overview
The engineers at Paradigm and Anthem went to work one day and heard what every engineer wants to hear at some point in their life: "We want you to build the best product you can, regardless of what it costs."  What came from that experiment is what's being called the Paradigm Concept 4F speaker, and we got eyes and ears on at CES 2016 with the pre-production prototype.
 Paradigm Concept 4F Speakers Prototype Design Interview & Listening at CES 2016

The Paradigm Concept 4F speakers are crafted in Canada and feature TruExtent Beryllium 1" tweeters and 7" midrange drivers.  The Perforated Phase-Aligned Tweeter Lens serve a phase plug function to stop destructive tweeter interference and enables more high-frequency output.  A similar technique is used with the midrange, and, of course, these coverings also serve to protect your fancy beryllium drivers.
Paradigm Concept 4F at CES 2016
Rounding out the driver compliment is a total of four 8.5" Ultra High-Excursion Differential Drive woofers (two-front firing and two rear-firing) powered by two 700 watt RMS amplifiers for a total of 1400 watts (2,800 W Peak) for each speaker.  The built-in electronics also include Anthem Room Correction (ARC) for the woofers so that, with a simple mic sweep, the speakers can be placed for best imaging in the mid and high-frequencies, while still addressing low-frequency interaction in the room to give the smoothest response possible.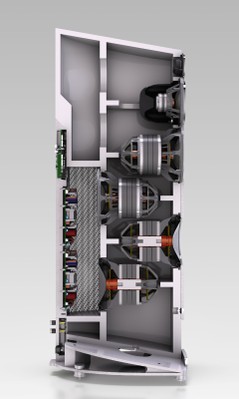 Paradigm Concept 4F Cutaway
The speaker enclosure features curved sides, a high-gloss white finish, and a light-up Paradigm Logo that can be dimmed or extinguished completely.  While the standard finish colors haven't been announced, custom colors will be available with a 6-8 week lead time.  Rob Sample, the Western Regional Manager for Paradigm, noted that the Concept 4F enclosure is physically compact compared to competing speakers with similar performance that are typically much larger and more expensive.  In the CES Demo room, we were told the Concept 4F speakers were producing response down to 16Hz at meaningful output levels.
Keeping in mind that details aren't final, the plans are that the complete line will feature three floor-standing models, one or two bookshelf models, and a center channel.  Price points are yet to be set, but estimated to range from under $10,000/Pair for the bookshelves to under $40,000/pair for the tower speakers.  The release date is targeted for the end of 2016, with hopes to have products on the market sooner.
In our listening at the CES 2016 Demo Room, the Concept 4F were most notable for the extremely large image they cast.  We were able to listen to two tracks, a Russian choral piece comprised of male voices and a track from Beck's Morning Phase (The track was "Morning" if memory serves).  Neither track featured deep bass, so I could neither confirm nor deny the 16Hz claims. but everything sounded clean, powerfully fullrange including good high-frequency details in the decay on Beck's voice and the high-hats, and the size of the stereo image was, again, large enough to fill the entire front wall of the room.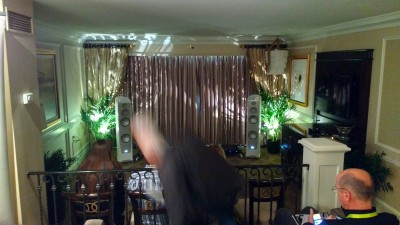 The Paradigm Listening Room at CES 2016
Overall, it's a good time be an audiophile with many manufacturers redefining what is possible at the sub-$1,000 level.  The same is true at the other end of the price spectrum with Paradigm's Concept 4F.  While the price tag may still put it beyond the reach of many audiophiles, those exploring a high-end system may find themselves dropping a zero off their purchase price by taking a look at Paradigms new flagship Concept 4F and the other models in the series as they are released.

Confused about what AV Gear to buy or how to set it up? Join our Exclusive Audioholics E-Book Membership Program!
See also:
Recent Forum Posts:
Rickster71 posts on February 05, 2016 14:10
Rickster71 posts on February 05, 2016 13:55
j_garcia, post: 1115174, member: 10856
The cutaway shows the x-over/amps etc… on the rear wall, so it is not open, unless they radiate out to either side. Those sides are the curved rear of the cabinet, so I am guessing what looks like the screen is damping material.

The engineer in the video says, The two rear woofers are vented out through the rear mesh screen.
shadyJ posts on January 26, 2016 17:32
While not my idea of a money-no-object speaker, I definitely would not mind owning a pair. They look terrific too. Looks like they will be bringing a pair to Axpona, I am looking forward to giving these things a listen.
j_garcia posts on January 26, 2016 16:07
Steve81, post: 1115240, member: 61173
Not seeing anything resembling a port on the front (or rear). IMHO, sealed would make the most sense with what we know, i.e. the relatively compact cabinet for a claimed extension of 16Hz. With the built in DSP, it's not overly complicated to boost the low end assuming a sealed alignment. Given that a pair possesses 8x8" drivers (roughly equivalent to a 21" driver in Sd) and 2.8kW of amplification, one would imagine they'd be able to put out a fair amount of low end.

17489
So it has no grille? Something is attached to the front, so what looks like a port in the cutaway in the closer view it looks like an attachment for that baffle only. And yes, on the bottom it does look like the open hole is not connected to the chambers, so probably sealed.
3db posts on January 26, 2016 15:07
TLS Guy, post: 1115083, member: 29650
At first glance I'm not over impressed.

The speaker appears to be a coupled cavity isobarik with the sealed cavity at the rear and the front ported cavity at the front, with the port at the bottom.

So right away you have sacrificed half the amp power in the bass.

You said that too about the Paradigm Seismic subs and it turns out you were incorrect about that sub's prodigious bass output. Just sayin.
Post Reply