Polk Signature Series Speakers Preview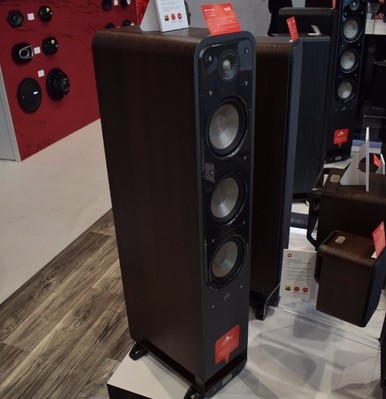 Summary
S20 Bookshelf
Height: 14.8" (37.59 cm)
Width: 8.5" (21.59 cm)
Depth: 13.8" (35.05 cm)
Weight: 17 lbs (7.71 kg)
Frequency Response: 39 Hz to 40 kHz
Sensitivity (1 watt @ 1 meter): 88 dB
(1) 1" Terylene dome tweeter
(1) 6.5" mica reinforced polypropylene woofer
S35 Slim Center Channel
(1) 1" Terylene dome tweeter
(6) 3" low distortion mica-reinforced polypropylene cone woofers
S60 Tower Speaker
Height with Base: 44.5" (113.03 cm)
Width with Base: 8.5" (21.59 cm)
Depth with Base: 15.7" (39.88 cm)
Weight: 52 lbs (23.59 kg)
(3) 6.5" (16.51 cm) d (Round) Midrange - Dynamic Balance Mica Reinforced Polypropylene
(1) 1" (2.54 cm) d (Round) Tweeter - Terylene High-Res Dome
Frequency Response 26 Hz to 40 kHz
Sensitivity (1 watt @ 1 meter): 90 dB
Executive Overview
Polk Audio released some amazing new products at the CEDIA show at the end of 2016 including their Magnify Mini soundbar system and Signature Series Speakers. We got a chance to get a better look at their Signature Series at the 2017 Consumer Electronics Show in Las Vegas, Nevada and were further impressed by what we saw last year at CEDIA. We looked more closely at three of the eight new models that are included in the Signature series. The S20 bookshelf speakers, the S35 center channel, and the S60 tower speakers. The entire series features Hi-Res certification and includes a newly designed Terylene dome tweeter, new Dynamic Balance designed acoustic array, precision cross-overs, an anti-diffraction grille, modern cabinet styling and exclusive Power Port bass enhancing technology.
S20 Bookshelf Speaker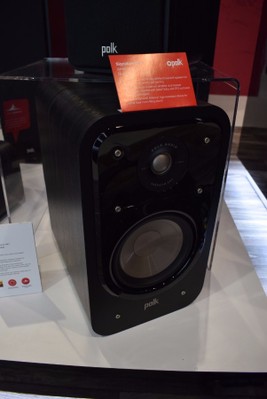 As with all the Signature series line from Polk Audio, it's the details that count.  The high quality materials used in the manufacture of the S20's is evident throughout the speaker build process.  The S20 comes with their new 1" Terylene dome tweeter, a mica reinforced polypropylene 6 1/2" woofer, a Powerport bass vent to increase low end sound and anti-diffraction magnetic grilles. These $300/pair bookshelf speakers would be great for a two-channel home office, or add them as rears for your home theater system.
S35 Slim Center Channel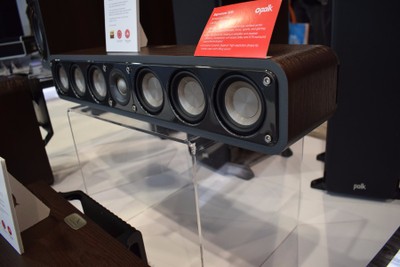 Center channels can be one of the most important and much overlooked components of your home theater system. For $300, the S35 comes with six 3" low distortion mica-reinforced polypropylene cones, a 1" high-resolution Terylene tweeter, and the great construction and design components of the other Signature Series speakers. The S35 also features a slim 4" tall profile that should easily fits spaces other center channels might not.  We really liked that these can also be used as a left or right channel when wall mounted vertically. For this price and the Polk name, the Polk Audio S30 seem like a great addition to your system to help with dialogue and create better dynamics and soundstage.
S60 Tower Speaker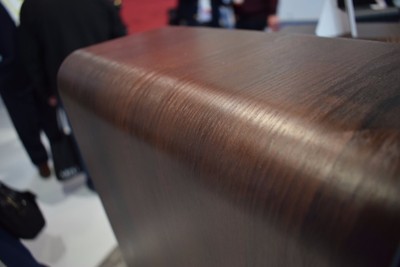 "Look at the curves on THAT!" might earn you some looks at CES, but not when you're talking about the S60 Signature Tower Speakers from Polk Audio. These vivacious 48 ½" towers feature three 6.5" dynamic balanced mica reinforced polypropylene mids and one 1" high-resolution Terylene tweeter. For $900 per pair ($450 each) you get a pair of tower speakers designed to play from 26Hz to 40kHz making a subwoofer optional for music listening.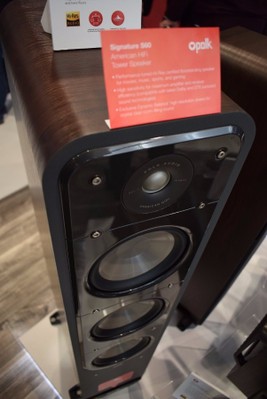 Conclusion
The whole line of Signature Speakers from Polk Audio looks like it will make a fantastic setup for any audiophiles listening needs from two-channel to full DTS:X immersive sound home theater room. The lineup also comes with Polk's 5 year warranty and the Signature Series is currently shipping so check them out today.  They look great, have a nice slim-line look for high WAF and they carry the Polk name that is revered by many audiophiles.  These are worth a closer look for budget minded audioholics that are especially tight on space.
Confused about what AV Gear to buy or how to set it up? Join our Exclusive Audioholics E-Book Membership Program!
Recent Forum Posts:
olds97_lss posts on January 22, 2017 23:01
lovinthehd, post: 1168147, member: 61636
Boomy sub not so good, what do you have?
Not "boomy" per say, but loud. Louder than I'd want to listen too if it was a neighbor above me with it. It's a polk PSW450 12" front firing. I have my sub trim on my receiver turned down so low that it never kicks on. If I want to hear it, I just push the trim up to 0 or +1 for a movie just to add a bit of depth/punch, then turn it back to -6 when done. On my old receiver… 2 receivers ago, I was able to just toggle it on/off using a single button on the remote. My current receiver has the speaker setup 3 or 4 menus deep, so I just use the app on my phone to turn the trim down.
lovinthehd posts on January 22, 2017 17:46
olds97_lss, post: 1167030, member: 44155
Being in an apartment, having a boomy sub running all the time
Boomy sub not so good, what do you have?
Andytoo posts on January 22, 2017 16:06
These are very similar looking to speakers made by Q Acoustics, part of Armour Home Electronics,
a British outfit established in 2006.
olds97_lss posts on January 16, 2017 15:39
I have a full set of polks from the 90's I think… got them off craigslist a few years ago. rt##i series. It included a not so stellar center speaker. Then I found a CS400i that had the same drivers as the front speakers (rt35i's) and couldn't be happier. It's a pretty big center, but I doubt I'd ever go to a sub-6" driver center again, regardless of the name on it. I have an CSiA4 in storage that I don't even use. Was just too thin sounding.

Being in an apartment, having a boomy sub running all the time is somewhat inconsiderate, and having small drivers in the center just doesn't give the depth/richness I really look for when watching movies. It's a shame a lot of what you find these days are small centers, so much of your movie audio comes out of that speaker that you really need a decent range speaker in that spot.
lovinthehd posts on January 14, 2017 19:32
Just what Polk speakers were lacking, another series of speaker price points.
Post Reply