GoldenEar Triton Seven Tower Speakers Review
GoldenEar Triton Seven Tower Speakers Review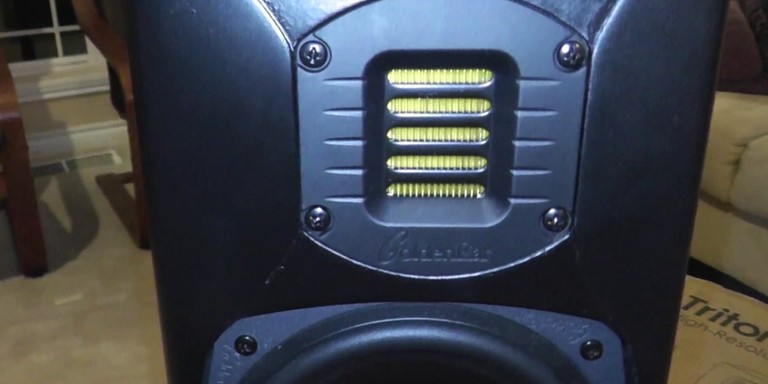 GoldenEar Triton Seven HVFR Tweeter
Tweeter: One - HVFR™ High-Velocity Folded Ribbon Tweeter
Mid/Bass: Two - 5-1/4˝ High-Definition Cast-Basket Drivers
Passive Radiator: Two - 8˝ Planar
Width: 5-3/4˝ (front), 7-1/4˝ W (rear), 10-1/2" (base)
Depth:11˝ (tower), 14-1/2" (base)
Height: 39-3/4˝
Weight: 32 lbs (product) / 42 lbs (shipping)
Frequency Response: 29 Hz - 35 kHz (manufacturer ratd)
Efficiency: 89 dB
Nominal Impedance: Compatible with 8 ohms
Pros
Spacious sound that casts a huge image and makes them easy to place
Smooth, non-fatiguing response across the frequency range
Cons
Looks can be love it or hate it depending on who you talk to.
GoldenEar Triton Seven Introduction
The GoldenEar Triton Seven speakers are the least expensive tower they offer at about $700 each ($1,400 for a pair).  GoldenEar has gained a lot of buzz in audiophile circles for offering audio quality that rivals many much more expensive speakers.  Additionally, they produce truly flagship speakers like the large Triton One which features a large powered bass section.  Because we have a soft spot for the audiophile "gateway drugs", we wanted to see what GoldenEar could offer folks on a tight budget, and how much of that Triton One tech might have trickled down to the Triton Seven.
 GoldenEar Triton Seven Tower Speakers Review

One thing that the Triton Seven have in common with the other GoldenEar models is the tweeter which is a folded ribbon tweeter that GoldenEar calls the HVFR or High Velocity Folded Ribbon.  This is the exact same tweeter featured in all of their tower models, all the way up to the flagship Triton One.  The tweeter is flanked on the top and bottom by a 5.25" cast basket woofer.  Cast baskets are usually a sign of great build quality as they are more rigid, and thus, can handle high dynamic drivers better than most stamped baskets.  There are no powered drivers in the Triton Seven, but on either side of the speaker enclosure is an 8" Planar Sub-Bass Radiator and no other ports, which make the tower a quasi-ported design.  The full driver compliment is rated by GoldenEar to reproduce a range from 29 Hz - 35 kHz (no tolerance given).
These drivers are hidden behind a sock of speaker cloth that wraps the entire enclosure and is gathers with a drawstring below the glossy black, plastic top cap and anchored at the bottom by a non-removable glossy black, wooden base emblazoned with the GoldenEar logo.  The base is threaded on the bottom for use with the included spikes or rubber feet.  The speaker cloth can be removed with some effort, but it's not designed to be used that way.  The enclosure under the cloth is not finished in a way that is aesthetically perfect, so you'll just want to leave the cloth on.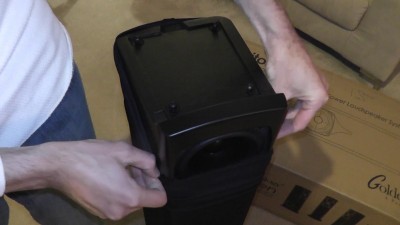 The Triton Seven Grill Cloth
Beauty in the Eye of the Beholder?
The appearance and aesthetics of the Triton 7 is a divisive conversation.  The shape of the speaker is a 40" tall, narrow column that is slightly wider at the back than the front with slightly curved edges.  The design is decidedly minimalist, which some folks like and others don't.  Personally, I like the fact that they disappear into a dark room with few reflective surfaces, which makes them perfect for home theater.
Looking for second opinions, I showed them off to some visitors.  I was told they look like "skyscrapers", which is a good thing if you have a modern decorating scheme, but a bad thing if your home is finished in something more traditional.  One thing is for sure, all GoldenEar speakers have an appearance that is uniquely their own and won't be mistaken as anything other than GoldenEar Speakers.  From a functionality standpoint, the finish choices are polished, yet economical, no doubt allowing GoldenEar to deliver sound that punches above their price point by focusing investment in the sound-producing materials.