Elac Uni-Fi Series Speaker Preview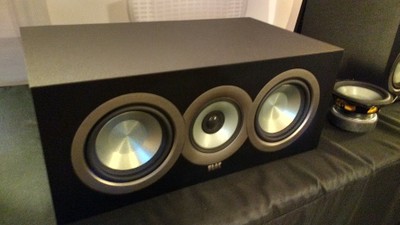 Summary
| | | | |
| --- | --- | --- | --- |
| Marketing Model Number | UB5 | UF5 | UC5 |
| Trade Model Number | UB51-BK | UF51-BK | UC51-BK |
| Short Description | 5-1/4" Concentric Bookshelf Speaker | 5-1/4" Concentric Tower Speaker | 5-1/4" Concentric Center Speaker |
| MSRP | $499.00 Pair | $499.00 Each | $349.00 Each |
| Enclosure Type | 3-Way Bass Reflex | 3-Way Bass Reflex | 3-Way Bass Reflex |
| Frequency Response | 46 to 30,000Hz | 42 to 30,000Hz | 48 to 30,000Hz |
| Nominal Impedance | 4 Ohms | 4 Ohms | 4 Ohms |
| Sensitivity | 85db @ 2.83v/1m | 85db @ 2.83v/1m | 85db @ 2.83v/1m |
| Crossover Frequency | 300 / 2500Hz | 300 / 2500Hz | 300 / 2500HZ |
| Max Power Input | 140 Watts | 140 Watts | 140 Watts |
| Tweeter | 1" Soft Dome | 1" Soft Dome | 1" Soft Dome |
| Mid-Range | 4" Aluminum | 4" Aluminum | 4" Aluminum |
| Woofer | 5-1/4" Aluminum | 3 x 5-1/4" Aluminum | 2 x 5-1/4" Aluminum |
| Cabinet | Carb2 Rated MDF | Carb2 Rated MDF | Carb2 Rated MDF |
| Cabinet Finish | Black Brushed Vinyl | Black Brushed Vinyl | Black Brushed Vinyl |
| Port | Dual Flared | 3 x Dual Flared | Dual Flared |
| Binding Posts | 5-Way Custom Metal | 5-Way Custom Metal | 5-Way Custom Metal |
| Dimensions (WxHxD) | 7.87" x 12.75" x 10.75" | 7.87" x 38" x 10.75" | 18.75" x 7.87" x 10.75" |
Executive Overview
Speaker designer extraordinaire Andrew Jones was at CES this week unveiling his new line of speakers from Elac.  Their new Uni-Fi speaker line was the talk of the show, and with a designer with 40 years of experience headlining the demo room to personally talk about his products, I definitely took time out of a busy show schedule to listen.
Andrew was kind enough to take a few minutes for an interview to help us get a better understanding of the behind the scenes design goals of their new Uni-Fi Speaker line.
Elac Uni-Fi Speaker Line Interview with Andrew Jones

"My goal with the Uni-Fi series was to create a line of speakers with technology and performance normally reserved for speakers costing significantly more," Jones said. "By going with a 3-way design and employing a new in-house developed concentric driver I've achieved a sound that is more true to the music than similar priced products."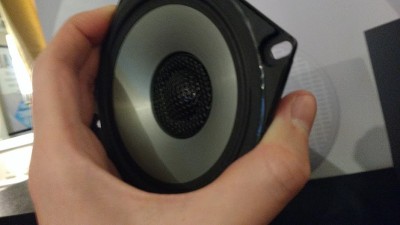 Elac 4" aluminum concentric driver - the heart of the Uni-Fi speaker line
The Uni-Fi series consists of a bookshelf (UB5), a Floorstanding (UF5) and a center channel speaker (UC5). Each model has incredible performance for speakers at their price points. The Uni-Fi Series is based on their Debut Line of speakers. The most significant changes being the addition of a newly designed 4" concentric driver consisting of a 4" aluminum midrange and 1" soft dome tweeter. Elac claims that by mounting the tweeter at the center of the midrange driver the audio reproduced is perceived as coming from the same point in space. This results in improved directivity throughout the crossover region and better off-axis frequency response. Bass is handled by a newly developed 5 ¼" aluminum woofer. 
Elac UB5 Bookshelf (left pic); UF5 Tower (right pic)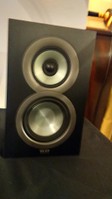 In the demo room, we found a single pair of Elac Uni-Fi UB5 bookshelf speakers in a 2.0 configuration. Many designers would have shown the bookshelf speakers with an accompanying subwoofer to fill out the bottom end, perhaps the Elac S10EQ ($500), or at the least, gone with a pair of the bigger UF5 towers.  It takes a lot of confidence to try to impress half-a-dozen critical listeners in a 500 square foot room with a $500 pair of bookshelf speakers. 
The demo began with a little introduction from Andrew Jones describing why he designed these speakers.  You can hear something similar to that, and much, much more in our extended video review with Andrew embedded above and available on our YouTube channel.  The first track was dominated by a female vocal and guitar played in a percussive style.  The track presented a clear midrange, detailed high frequencies, and broad image in the room which had a little absorption at the sidewall first reflection points.  That said, we couldn't get a sense of the low-frequency impact of the speakers because the thumped guitar, while it sound quite weighty, also utilized much of the UB5's sufficient midrange.
The second track came up, almost identically instrumented with the same percussive guitar, but with a male voice.  Again, clean, detailed, and spacious reproduction, but no way to accurately judge the low-end of these speakers.  We started getting suspicious; was Andrew avoiding demo tracks with any real low-end to hide a deficiency in the speaker design.  We shouldn't have worried.  The next track was by Canadian EDM star deadmau5, and featured copious amount of low bass.  As soon as the first low synth swelled out, and the low percussion kicked in, the room went giddy.  These modest bookshelves were filling the room with clean, musical, plentiful bass in a way that was expected in a set of full-sized towers, but very uncommon in $500 bookshelves.  People started giggling, taking turns offering up the single sweet-spot in the front of the room, and asking how they could get a pair.
 With a pricepoint of just $499/pr for the UB5 bookshelf, $499/ea for the UF5 floorstanding, and $349 for the UC5 center channel it won't be a issue of "IF" we do a full review on these, but "When". 
The Uni-Fi Series of speakers will be available in Q2 of 2016
ABOUT ELAC
For 90 years, ELAC has built innovative products that deliver superior performance and value, driven by a commitment to making the best sound in the world. Today, LAC offers a wide range of speaker and electronics products. ELAC has earned its reputation –from the beginning –with advanced technology, uncompromised build quality and modern European style.
Confused about what AV Gear to buy or how to set it up? Join our Exclusive Audioholics E-Book Membership Program!
Recent Forum Posts:
noaudiophile posts on July 06, 2016 00:40
Finished some measurements of the UB5's over here. Turned out to have pretty good off axis response, but a little light on the bass considering the hype.
http://noaudiophile.com/ELAC_UB5/
TLS Guy posts on April 22, 2016 07:11
gene, post: 1113121, member: 4348
A line of speakers sporting concentric driver designed with the technology and performance of speakers costing significantly more? Sounds like every audiophiles dream come true, right?

The Elac Un-Fi series from Andrew Jones was unveiled last week at CES Las Vegas and the whole show was abuzz with how great they sounded regardless of the price. With bookshelf, center channel and floor standing models available, the Elac Uni-Fi's might just have the right combination of speakers for you.




Read: Elac Uni-Fi Series Speaker Preview
That is a very interesting coaxial driver.
To it looks like the first modern resurrection of the Jordan Watts Mk III module. It has a 4" aluminum cone that looks to have the similar if not identical tractrix shape.
Here is a closer look at one of my MK III cones.
Coming from the UK Andrew Jones is bound to be aware of these drivers. The MK I appeared in 1959! In my view they are the most remarkable driver ever to see the light of day. They have been waiting patiently for modern manufacture to really get them consistent.
Unlike other full rangers these do not peak and have a rising response. They have a slight roll off stating around 6 KHz. So when you do add a tweeter to these driver, the crossover is 1 cap and two resistors. So if that mid cone behaves like the JW then the crossover may well be three elements and no inductor.
The other interesting angle is that Ted Jordan was a consultant to Elac for a while some years ago.
I would love to get my hands on a couple of those drivers.
Snausy posts on April 21, 2016 23:29
After trying out the Debut B5 in my bedroom HT I sent them back and am patiently waiting for the Uni-Fi series to come out.

I have two questions before my purchase. I plan on trying to use three UC5(center MTM) on end across the front. Do you see any problems with this? Concentric drivers seem perfect for this application to me. The soundstage should be very large. Is there any reason why you wouldn't want centers on end as your R/L making three matching across the front instead of the bookshelves?

Also, I wonder how they would stack up vs. the Dana 630i LCR that are currently available at a pretty nice discount.

Thoughts? …will the sound quality difference be huge? Am I asking the impossible?
KEW posts on April 17, 2016 10:44
Anybody heard specifics on when these are available?
Seems like April or May?

Update - Amazon says April 30th.

The UF5 Floorstander ($1000/pr) has the same date.
bommai posts on March 09, 2016 12:54
I noticed they are up for pre-order.
Post Reply