GoldenEar Triton Reference Series Tower Speaker Preview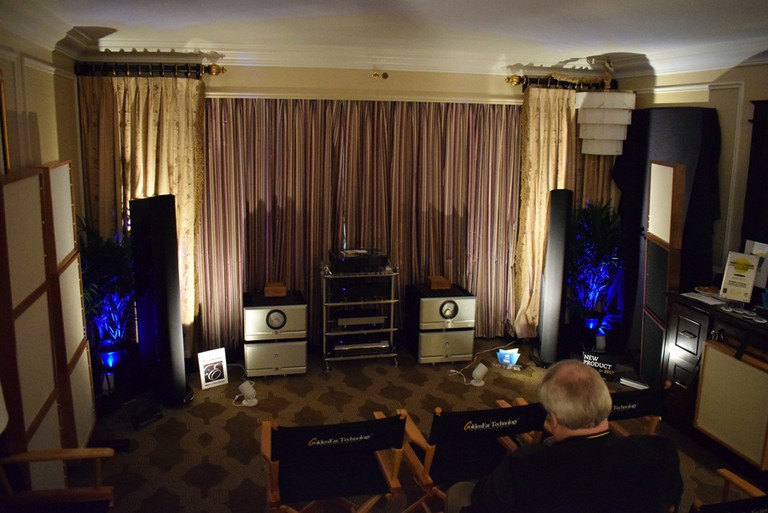 Goldnear Triton Reference Demo Room
Summary
Base: 13-1/2" W x 22-1/4" D.
Frequency Response: 12 Hz – 35 kHz.
Efficiency: 93.25 dB; Rec. Amp: 20 – 750 Watts/channel.
Nominal Impedance: Compatible with 8 ohms.
Built-In Subwoofer Power Amplifier: 1800-Watt ForceField digital/DSP amplifier

Three 6" x 10" long-throw quadratic sub-bass drivers coupled to

Four Inertially-Balanced 10-1/4" x 9-1/2" planar infrasonic radiators
Two 6" high-definition cast-basket MVPP mid/bass drivers
One High-Gauss Neodymium High-Velocity Folded Ribbon (HFVR) Tweeter
Dimensions: Speaker: 6-3/4" W (front) x 9-1/4" W (rear) x 18-3/4" D x 58" H (with base)
Executive Overview
With a slogan of "We make high end affordable" and some great engineers, speaker company Goldenear hit the market three years ago with their acclaimed Triton One Tower speaker.  Over the last three years they have come out with different albeit smaller versions of the Triton One. All extraordinarily well built speakers designed for great sound at a great price.  This week Goldenear won the prestigious and coveted CES Innovations Design and Engineering Award when they introduced their Triton Reference edition speaker at CES in Las Vegas, Nevada. A bigger, badder, redesigned Triton tower speaker to give you even more bang for your buck.
GoldenEar Triton Reference Speakers Interview


Not resting on their laurels, Goldenear decided to redesign all the components in the new Triton Reference - the active sub-bass drivers, upper-bass/midrange drivers, and high-velocity folded ribbon tweeter - are new, and have been specifically developed for use in the Reference edition speaker. The fully balanced crossover is specially engineered for the Reference, and the powerful subwoofer amplifier and 56-bit DSP control unit are a step up from those used in the Triton One and the Goldenear SuperSubs.
The new 6" upper/bass/midrange drivers are cast-basket units that incorporate a low-mass voice coil and a newly developed cone with unique low-mass bonding to the butyl rubber surround. In addition, they have a large "Focused Field™" magnet structure designed to direct the magnet flux to the voicecoil gap. The newly engineered 6"x10" active low-frequency drivers for the built-in powered subwoofers have 40% more surface area than the active drivers used in the Triton One, along with a larger diameter voicecoil and an even more massive magnet structure which also utilizes their "Focused Field" technology. The new Reference High-Velocity Folded-Ribbon tweeter incorporates 50% more rare-earth neodymium magnet material than do their other HVFR tweeters, that should give improved transient response and higher efficiency. The four inertially balanced 10.5"x 9.5" side-mounted (two on each side), planar, infrasonic radiators are similar to those used in the SuperSub X, but have been retooled to allow for even greater excursion.
There are a myriad of other significant upgrades and refinements, including: new internal wiring with a specially developed twist, further development of Goldenear's signature balanced crossover including film capacitors bridged across the high-pass section on the upper-bass/midrange drivers, a unique mix of long-fiber lamb's wool and Dacron for more effective internal damping, intensive work with a high-resolution accelerometer to determine the most effective implementation of complex internal bracing, a 3/32"-thick steel plate built into the medite base to further stiffen it for increased stability, which results in higher resolution of subtle details, new stainless steel floor spikes and cups….and the list goes on and on.
Here's a side by side comparison chart to see the improvements Goldenear made from their Triton 1 Series to their Triton Reference Series


 Subwoofer
Bass radiators

Mid drivers

Tweeter

 Price  

Triton 1

Three 5" x 9" front-mounted quadratic subwoofer bass drivers

Four

7" x 10" planar infrasonic bass radiators

Two 5-1/4" cast-basket midrange/upper bass drivers,

One High-Velocity Folded Ribbon (HVFR™) tweeter

$2,499ea

 Triton Reference

Three 6" x 10" long-throw quadratic sub-bass drivers
Four 10-1/4" x 9-1/2" planar infrasonic radiators
Two 6" cast-basket MVPP mid/bass drivers
One High-Gauss Neodymium High-Velocity Folded Ribbon (HFVR) Tweeter
$4,249ea


The Triton Reference will come in a piano gloss-black lacquer finish one-piece cabinet. Measurements from Goldenear put low frequencies listed at below 20Hz and high ends extending to 35kHz with 93.25 dB sensitivity. The retail U.S. price will be $4,249 which is very affordable for a speaker of this quality. Goldenear expects the Triton Reference speakers to begin shipping in Spring 2017 so if you're in the market for a great pair of tower speakers for under $10k, the Goldenear Triton Reference Edition might be right for you.
Initial Impressions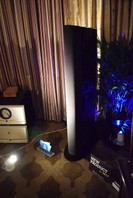 We heard the Triton Reference at CES 2017 with GoldenEar founder Sandy Gross playing DJ/Ringmaster. With back to back Brian Wilson tracks, an older, Beach Boys-era preceded a more recent solo track, the Triton Reference were articulate in revealing the slightly more feeble presentation of Wilson's modern voice, spacious in their stereo presentation (with the speakers positioned in a standard equilateral triangle configuration from the sweet spot). They looked great in gloss black without giving up their modern, understated GoldenEar trademark look.
We will have an interview with Sandy Gross describing the goals and process in designing the Triton Reference speakers coming soon on our YouTube channel, so make sure you're subscribed.
Unless otherwise indicated, this is a preview article for the featured product. A formal review may or may not follow in the future.