Yamaha Soavo NS-F901 Floorstanding Speaker Preview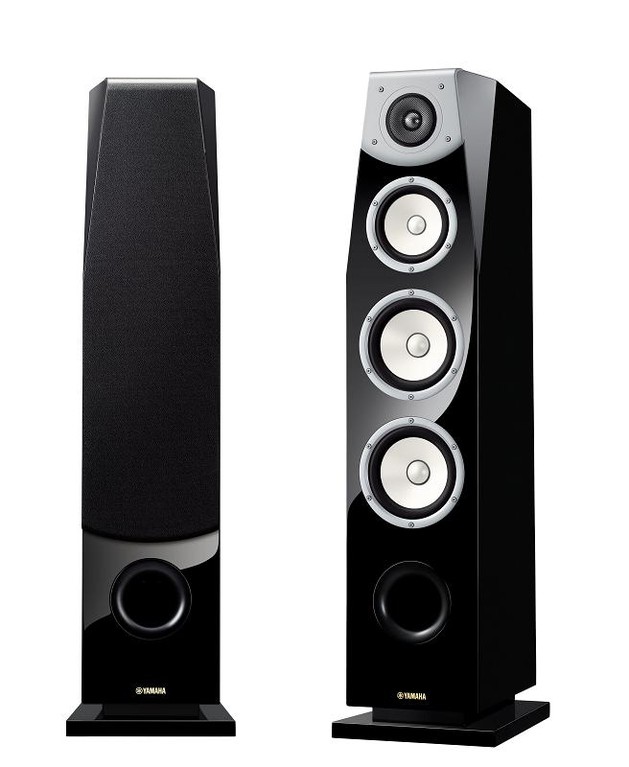 Shake hands with Yamaha's latest and greatest loudspeaker, the NS-F901.
Summary
Type: 3-way bass reflex floorstanding speaker system
Woofers: Dual 6-1/2" A-PMD cone
MidRange Driver: 5" A-PMD cone
Tweeter: 1" aluminium dome
Frequency Response: 32 Hz-50 kHz
Nominal Input Power: 50 W
Maximum Input Power: 200 W
Sensitivity: 89 dB / 2.83 V / 1 m
Crossover Frequencies: 450 Hz / 3.5 kHz
Impedance: 6 ohms
Dimensions (W x H x D): 10-5/8" x 41-3/4" x 16-3/4"
Weight: 67 lbs. / unit
A force to be reckoned with in the musical instrument and electronics markets, Yamaha sometimes gets overlooked as a player in the loudspeaker market. With the introduction of their new flagship, the Soavo NS-F901, they are poised to garner a bit more attention for their speaker offerings. Priced at $2,500 apiece, and boasting a three way design with dual 6.5" woofers, the NS-F901 at a minimum look the part thanks to an attractive piano black finish. So what do the Audioholics think of Yamaha's latest and greatest? Keep reading to find out!
Tall, Dark, And Handsome
At first glance, the NS-F901 certainly looks the part of a high end speaker. With a well braced enclosure featuring non-parallel surfaces and 3-way mitered construction, issues related to cabinet resonance and standing waves should be minimal. The front baffle of the NS-F901 also sports a cast aluminum mounting plate for the tweeter, giving a little visual distinction as well as providing a solid, non-resonant attachment for the tweeter. Speaking of visuals, the NS-F901 does come in an attractive piano black finish, which in Yamaha's case means the same finishing process that they use on actual grand pianos.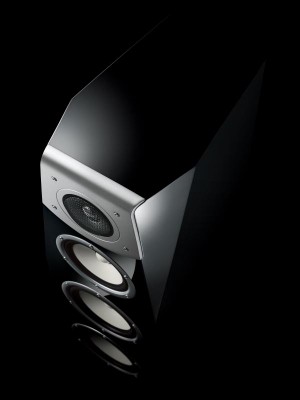 Top view of the Yamaha NS-F901.

Specified Performance
As noted earlier, the Yamaha Soavo NS-F901 is a three way tower with a 1" aluminum dome tweeter, a 5" advanced polymer injected mica diaphragm (A-PMD) midrange, and dual 6.5" A-PMD woofers in a vented enclosure. Top quality parts are used for the crossover networks including Solen metalized polypropylene capacitors and large iron-core coil inductors. Crossover points are 450Hz from the woofers to the midrange, and 3.5kHz from the midrange to the tweeter. On paper, it's worth noting that the 3.5kHz crossover to the tweeter is a bit higher than we usually see in three-way systems. At a higher crossover frequency, the 5" midrange driver can potentially produce more beaming (i.e. it's dispersion will not be as wide as at a lower frequency such as 2.5kHz). It will also require a steeper crossover to mitigate issues related to driver breakup.

In terms of basic specifications, Yamaha rates the NS-F901 as a 6 ohm nominal speaker with a voltage sensitivity of 89dB with 2.83V at 1 meter. Taken together, these specifications imply that the Yamaha shouldn't need monster amplification to achieve reasonably high levels, and in fact should be competently driven by a mid-level A/V receiver. The NS-F901 is also rated for a frequency response of 32Hz-50kHz, which on the face of it would mean extended treble response beyond our threshold of hearing, as well as sufficiently deep bass response for most music. Unfortunately, the tolerance provided is -10dB, which significantly limits the real world utility of the rating.


Summary
At $5,000/pair, the Soavo NS-F901 isn't an average offering from Yamaha. There's a lot to recommend this beauty, including what appears to be top tier construction and finishing quality. However, if we had one wish, we'd like to see Yamaha rate these speakers more in accordance with industry standards, including a frequency response with a +/-3dB tolerance, instead of -10dB (not to mention the 100kHz @ -30dB rating that also appears in the specs). Nonetheless, the NS-F901 certainly appears to be capable of delivering the goods, and we'd wager it would make an interesting specimen for our speaker tester, Joel Foust.



Unless otherwise indicated, this is a preview article for the featured product. A formal review may or may not follow in the future.