Focal's Kanta N°2 Speakers Get Fresh New Finishes For 2020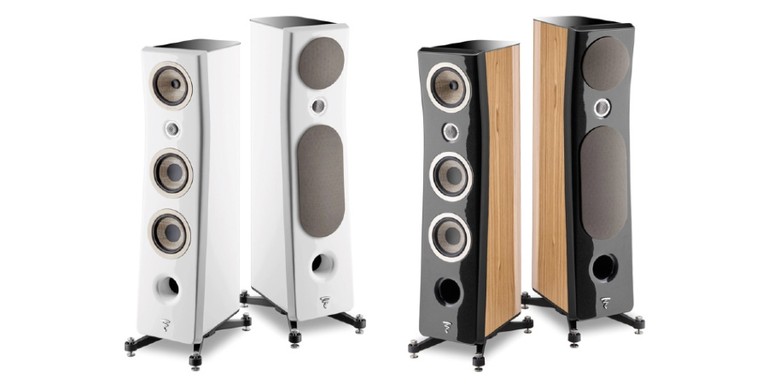 Focal Kanta No2
Summary
Nominal Impedance: 8 Ohms
Sensitivity: 91dB
Frequency Response (+/-3dB): 35Hz - 40kHz
Dimensions (H x W x D): 44 x 12.6 x 18.8 inches
Weight: 77.2 lbs
Executive Overview
Focal has updated its popular Kanta N°2 floor-standing loudspeakers ($10,000/pair) with two new finishes: Carrara White and Black Lacquer/Walnut. The new finishes will become available on the larger Kanta N°3 floor-standers ($14,000/pair), the Kanta N°1 bookshelf speakers ($6,600/pair), and the Kanta Center ($3,500 each) in 2021. Focal says that the new Carrara White finish is "ideal for contemporary, design-led interiors," and will replace the existing white baffle/black cabinet option. The other new finish combines a black lacquer front baffle with a high-gloss walnut veneer that wraps around the sides and back of the cabinet, creating what Focal calls "a stylish, sophisticated design that promises to suit both contemporary and traditional interiors."
Aside from these fresh new looks, the Kanta N°2 remains unchanged since its 2017 launch, when it was the first model in the range to make its debut. The result of a three-year research and development effort, the Kanta series features new materials and what Focal describes as an "effectiveness-focused design," combining unimpeachable acoustic performance with a design aesthetic that the company calls "resolutely bewitching." The Kanta N°2 is a three-way design, and the first to combine Focal's famous inverted beryllium dome tweeter with the brand's unique flax sandwich cones for the midrange and bass drivers. (Not only are these patented flax cones made by Focal in France, but the flax itself is actually grown locally as well. France is Europe's main cultivator of fiber flax.) Focal claims that the combination of beryllium and flax drivers results in a "precise, detailed sound brimming with warmth and musicality."
Standing 44 inches tall, the relatively compact Kanta N°2 should work well in smaller spaces, but can still pack a punch in larger rooms (up to about 645 square feet, according to Focal). In order to reduce the size of the cabinet without compromising bass performance, Focal's engineers incorporated two ports, one on the front and one on the rear of the speaker, utilizing a technology called Power Flow to limit dynamic compression in the bass. The team also developed a new high-density polymer (HDP) material for the molded, one-piece front baffle. This highly inert polymer helps to improve definition, while the baffle's smooth edges are designed to minimize diffraction. The HDP material is reportedly 70% denser and 15% stiffer than MDF, and provides 25% more damping. Focal says that the baffle's angled profile, inspired by the brand's high-end Utopia and Sopra ranges, corrects for time alignment across the drivers. The sides and rear of the cabinet are made from a single piece of molded multi-ply wood, lending "great neutrality" to the speaker's sound, according to Focal. The cabinet rests on an x-shaped base made from a zinc aluminum alloy called Zamac. The rounded magnetic grilles look cooler than typical rectangular ones, but many owners will choose to leave them off in order to flaunt the eye-catching flax cone drivers.
About Those Flax Cones…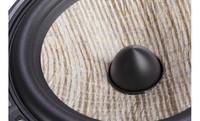 Focal's unique flax cones comprise a core of flax fibers sandwiched between two thin layers of glass fiber. The resultant material is light yet rigid. Since flax fiber is hollow, it weighs about half as much as fiberglass, yet it has very low elasticity, so it adds flexural rigidity to the sandwich structure while reducing overall mass. And unlike composite materials, flax fiber has excellent internal damping (on par with that of Kevlar fibers) to help control vibrations. The Kanta N°2 features a 6.5-inch flax midrange driver with TMD (Tuned Mass Damping) suspension, and a pair of 6.5-inch flax woofers. An NIC (Neutral Inductance Circuit) motor "stabilizes the magnetic field for perfectly defined sound and better controlled bass," according to Focal. As mentioned above, the Kanta N°2 was the first speaker to combine Focal's flax cones with one of the company's celebrated pure beryllium tweeters. In this case, it's a new 27-millimeter tweeter design called the IAL3. The tweeter utilizes both Infinite Acoustic Loading (IAL) and Infinte Horn Loading (IHL) to "help with the absorption of waves, thus lowering the tweeter frequency."
The Kanta N°2 is an impressive package, but there's no shortage of competition at the $10,000/pair price point. That's a significant investment for most of us, and anyone planning to spend five figures on loudspeakers is probably dedicated enough to spend some time scoping out the alternatives. For example, that same ten grand could buy you a pair of Revel's superbly engineered Performa F228Be speakers. Or if your heart is set on a colorful finish, and you need a speaker about the same size as the Kanta N°2, you could go with Paradigm's small but mighty Persona 3F (also $10,000/pair). If you have a bigger space, GoldenEar Technology's towering Triton Reference speakers could be yours for $10,000, though you'd have to be ok with a black-on-black monolith that's 58 inches tall. Given the ongoing popularity of the Kanta N°2, and Focal's choice to spend the time and resources updating its cosmetics three years after its launch, it seems likely that the Kanta can go head-to-head against these excellent performers.

Confused about what AV Gear to buy or how to set it up? Join our Exclusive Audioholics E-Book Membership Program!