RBH Sound SVTRS Limited Edition Speaker System Rocks 2020 Florida Expo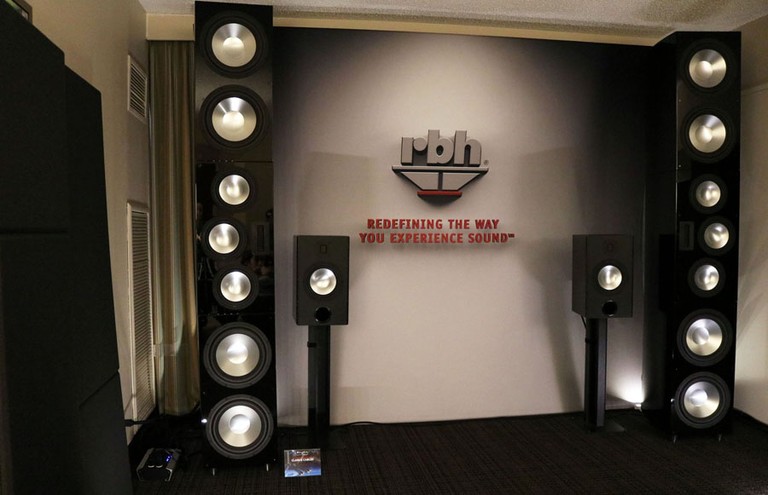 RBH Sound SVTRS Active Speakers
Summary
Modular, fully-active system
Bass Drivers: 4x12" high-excursion aluminum cone per speaker
Midrange Drivers: 3x8" aluminum cone
Tweeter: Aurum Cantus 4.72" X 1" (120mm x 25mm) Air Motion Transformer
6-channel amplifier sending 2,250 continuous watts to each speaker
State-of-the-art Class-D Pascal amplifier modules
1,500 continuous watts per subwoofer channel
500 continuous watts per midrange channel
250 continuous watts per tweeter channel
DSP Engine: 3 x MARANI® DSP
DSP Resolution: 24 bit (data) x 96 bit (coeff.), 54bit accumulation registers, 96 bit precision on intermediate processing data
Frequency Response: 17Hz-35kHz (±3dB)
Weight: 310 lbs.
Dimensions: 15-3/16" W x 92" H x 22-3/16" D
Sensitivity: 94dB (2.83V @ 1M)
Cabinet/Color: Medium Density Fiberboard (MDF)/Standard High-gloss Black and High-gloss South American Rosewood (SAR)
Executive Overview
One of the highlights of the 2020 Florida Audio Expo was undoubtedly RBH Sound's unveiling of their new no-expense-spared SVTRS Active Speaker System. The SVTRS is RBH Sound's new flagship that is supplanting their legendary Status 8T speakers. Any way you look at it the SVTRS is a lot more speaker than the Status 8T- at least on paper. The SVTRS has heavier-duty drivers, it's a lot bigger, and it comes with its own amplification and active crossover. If all of that weren't enough, it's even  less expensive: $45k vs the Status 8T's $50k. That's still a lot of dough for a speaker set, but you get one of the most formidable home audio speaker systems that money can buy. Let's take a closer look at what is going on in the SVTRS to see what a cool forty-five grand can get you from RBH Sound.
As was mentioned, th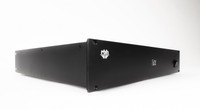 e SVTRS set comes with its own amplification, and what an amplifier it has: the 6α from RBH, which is a 6-channel amp that tri-amplifies the SVTRS speakers with 1,500 continuous watts/ch going to the subwoofer section, 500 continuous watts/ch going to the midrange drivers, and 250 continuous watts/ch going to the tweeter. That adds up to 2,250 continuous watts going to each speaker, and what's more, they are being powered by Pascal amp module, which is an extremely low noise, low distortion, and highly efficient class-D amplifier technology that ensures most of the current being pulled from your outlet is being fed to the speaker, rather than lost as electronics heat output. Further increasing efficiency is the use of an active crossover which avoids the losses of a passive crossover so that much more power is converted into sound. The crossover is being handled by Marani's top-of-the-line LPP-480F processor with an advanced FIR filter system that keeps all drivers in phase at crossover points so there is no phase rotation as is seen in passive crossovers. This allows for time-alignment and crossover slopes between drivers that isn't possible with passive crossovers.

RBH Sound Unveils SVTRS Active Speaker System @ 2020 Florida Expo

The top-shelf amplification and processing of the SVTRS are matched by the firepower of its driver array. The SVTRS is a modular

speaker meaning that it has three sections per speaker that are assembled on site. Two sections are for the subwoofers and the other section is for the midrange drivers and tweeter. The midrange/tweeter section is sandwiched between the subwoofer section for a kind of gigantic MTM array. The sub sections are both ported with a giant 6" flared port and have two high-excursion aluminum 12"s; they are essentially a version of the SX-1212P/R subwoofer that we ran a review of some years ago, and that sub managed to achieve our 'extreme' bassaholic room rating, meaning that we felt it was able to handle rooms sizes of 5,000 cubic feet or more.  The SVTRS come with four subs that each on their own would garner our highest dynamic range rating. That is an enormous amount of low-frequency potential that digs solidly below 20 Hz. In fact, Gene recently measured an in-room response down to 10Hz (-3dB). These are true full-range speakers, but that is expected at this price point.
The massive dynamic range of the subwoofer sections is matched by the midrange/tweeter section. For the mids, the SVTRS uses three 8" aluminum midrange drivers (nearly combined surface area of a 15" driver) which should supply near-unlimited headroom in this critical frequency band. By comparison, most tower speakers use one or two 5" midrange drivers for this frequency range. We see three of them stacked vertically for reduced off-axis lobing on the vertical plane and a wider vertical listening axis. RBH refers to this driver arrangement as a dispersion averaging array. The tweeter is a large 4.7"x1" Aurum Cantus AMT which should have a major dynamic range advantage itself. As opposed to conventional dome tweeters that oscillate pistonically, AMT tweeters contract and expand the folds of a pleated membrane to produce sound. A major advantage of AMT tweeters is that the folds of the diaphragm are much deeper than they are wide. With this design, the air is ejected out at a much faster speed than the vibration of the diaphragm itself- as much as five times faster. This means that small oscillations in surface area translate in big sound. A 4.7" AMT should be able to stay very clean and distortion-free even at extraordinarily loud levels.
Initial Listening Impressions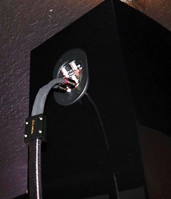 Audioholic's owner and senior Florida Audio Expo correspondent Gene DellaSala reports that exhibitors three rooms down were complaining that the bass from the SVTRS speakers was rumbling their rooms so badly they thought it might cause damage. They were quite literally rocking the place. Gene reports that the SVTRS speakers boasted effortless dynamics, clean deep bass down to infrasonic frequencies, and a huge soundstage. Audioholics will be doing a shoot out between the SVTRS speakers and RBH's previous flagship Status 8T speakers, and RBH Sound is convinced that the new SVTRS speakers will come out on top. Stay tuned to Audioholics to see the results of our super-speaker showdown, as the winner will become our new reference system. The SVTRS active speaker system can be purchased through RBH's dealer and distributor network and will soon be also available for order from RBH's website. Do make haste in auditioning a pair of these speakers if you're on the market. RBH Sound will only be producing a 21 pairs to commemorate 45 years of being in the speaker business. Gene having the first set means there are only 20 more select pairs available to the public. If you become a proud owner of the SVTRS system, RBH will fly down to your place to personally tune them to your room at no additional cost.

Confused about what AV Gear to buy or how to set it up? Join our Exclusive Audioholics E-Book Membership Program!
See also:
Recent Forum Posts:
AcuDefTechGuy posts on February 20, 2020 05:55
CoryW, post: 1370879, member: 89865
Want to see something also new and sexy?? They come in black.

Oh, so it is new.
CoryW posts on February 19, 2020 23:00
AcuDefTechGuy, post: 1370631, member: 26997
@Gmoney, I absolutely love Active systems with External Amps, instead of built-in internal amps.

My regular RBH SVT towers already rock my 5,500 SF house. I cannot imagine what this overkill monster would do, although I'm sure they would look so much better in my room with a 14FT ceiling. Haha.

That showroom in the picture is way too small for those monsters.

Want to see something also new and sexy?? They come in black.
AcuDefTechGuy posts on February 19, 2020 11:08
Talk about Tower of Power!

A pair of these monsters = Four Large SV-1212 Reference Subs.

Yeah, I want 2 pairs of these monsters - one tower for each corner of my 26' x 22' x 14' room = EIGHT (8) Large SV-1212 Reference Subs!
Verdinut posts on February 19, 2020 09:40
They look amazing and you want to purchase them. The financial outlay is just starting! You have to move into another house with a bigger listening room or studio.
Pogre posts on February 19, 2020 09:05
Is that like the originals with 2 more subs on top?! Good lord.
Post Reply