SVS Prime Pinnacle Tower Speaker System Preview
Summary
Rated bandwidth: 29 Hz-25 kHz (±3 dB)
Sensitivity: 88 dB (2.83V @ 1 meter full-space, 300-3kHz)
Nominal impedance: 8 ohms
Recommended amplifier power: 20-300 watts
5-way binding posts
Triple 2" wide-flared rear-firing ports
Cloth grille with pin/cup retention system
Cabinet Dimensions: 40.5" (H) X 8" (W) X 13.4" (D)
Overall Dimensions: 41.1" (H) X 8" (W) X 13.9" (D) (includes grille, feet and binding posts)
Weight Unboxed: 57.1 lbs (25.9 kg)
1" Aluminum Dome Tweeter
5.25" Midrange Driver
Triple 6.5" Woofers
3-way crossover with premium-grade capacitors, air-core inductors and heavy-trace printed circuit boards
Tweeter-to-Midrange crossover: 2.1kHz (12 dB/octave slopes)
Midrange-to-Woofer crossover frequency: 300Hz (12 dB/octave slopes)
Executive Overview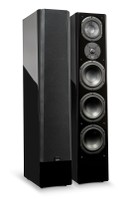 SVS has recently released a new entry into their popular 'Prime' speaker line, and their new loudspeaker takes the Prime speakers to new heights (literally, since it is taller than any of the others). It is the new top dog of the Prime series, and SVS has rightfully named it the 'Prime Pinnacle.' The Prime Pinnacle is a three-way, five driver tower speaker, much like the regular Prime Tower, and one might be forgiven for thinking it is just a bigger and beefier version of the Prime Tower since that is what it looks like on the outside, but there is considerably more to it than that. In many respects, it is a very different design than the other Prime speakers. The Prime Pinnacle uses the same tweeter and same bass drivers as the other Prime speakers, but that is about it. And, unlike the other Prime speakers, the Prime Pinnacle uses three bass drivers, so it should be capable of a bit more low-end punch than the rest of the series. That is about it for similarities, except for the aesthetics of the speaker.
As for the differences, let's start with the brand new midrange driver. Unlike the midrange in the Prime Tower and Prime Center speakers, the Prime Pinnacle midrange brings in some of the features found in the midrange of the higher-end 'Ultra' series since it uses a glass fiber cone as opposed to the polypropylene cones found in the other Prime midrange drivers. This lighter, stiffer cone material may allow the midrange to behave better over a larger range of frequencies. It's a larger cone too, at 5.25", and that should increase its dynamic range. The larger cone diameter may also help for a more controlled directivity as well.
Tuning Your Bass Response?
While the Prime Pinnacle uses the same bass drivers as is found in the other Prime speakers, it arranges them in an interesting new way with respect to how tower speakers are traditionally designed. Each bass driver is housed in its own separate ported compartment, and that, of course, means that each driver has its own port. It's not unusual for tower speakers to seal off the midranges and tweeters in order to prevent backwave pressure from interfering with their diaphragm motion, but SVS is using a totally different design strategy in keeping the bass drivers separate. By isolating each of the bass drivers in its own compartment, there is a lot more flexibility in how the low-end response can be shaped by the designer. Each compartment can have a different resonant frequency, and that can add up in a variety of ways to achieve any kind of low-end target curve by the designers. What's more, if the bass seems too thick, the end user could also just seal a number of the ports which will temper the low-end response. While SVS does not intend for the Prime Pinnacle to have its ports sealed and did not design it to be operated that way, anytime less bass is desired from nearly any speaker, making an airtight seal in a port is always an option. Unlike other multi-ported speakers, it looks like that would work well with the Prime Pinnacle since sealing one of its ports would not increase airflow in other ports which can result in port turbulence at lower levels. Also, in making all of these internal compartments for the bass drivers, that has the additional benefit of reinforcing the cabinet side-walls for a very rigid and well-braced enclosure.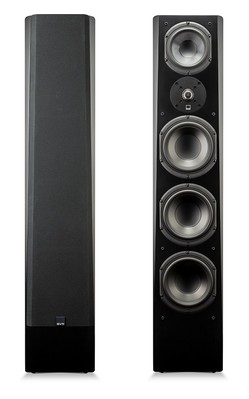 SVS Prime Pinnacle Towers (front view)

SVS claims the reason for bringing this speaker to market is because they felt a demand for something more formidable than the Prime Towers but not as picky in placement as the Ultra towers. The Ultra Towers are a very powerful speaker pair but need space around them in order to get a balanced bass sound. Placing them near walls would give too much boost to the bass, so SVS decided to look at bringing to market a speaker that has the placement flexibility of the Prime Towers but the dynamic range of the Ultra Towers. I suspect another reason for their creation is that someone over at SVS really liked the idea for the unique design of the bass driver enclosures and wanted to see how well it could do. Apparently, it worked well, because SVS was confident enough in the design to mass produce this product, and bringing a whole new speaker to this competitive market is not a decision to be made lightly.
Identity Crisis? We Hope Not!

While the name 'Prime Pinnacle' is appropriate for the speaker considering their place in the Prime lineup, one thing that might be a point of confusion is that is also the name of a once popular but now-defunct loudspeaker company. Pinnacle Speakers was the name of an American speaker manufacturer that hasn't shown any life since 2016 but is still a well-known brand among speaker enthusiasts. Naming a speaker the 'Pinnacle' when there is already Pinnacle speakers out there is bound to be the source of confusion in a search engine query, but for the record, we can say here that there is no relationship between SVS and Pinnacle Speakers.
Conclusion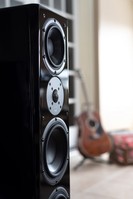 We at Audioholics quite liked the Prime speakers when we had them in for review, so we are looking forward to seeing how far SVS can push the Prime line-up. With a full review forthcoming, stay tuned to Audioholics to read our take when we get to know these speakers in depth. For those on the market for speakers in this class and whose interest is piqued, the good news is that SVS offers a 45-day risk-free trial, so you can order a set, and if you don't wish to keep them for any reason, you can send them back with SVS arranging shipping both ways, so there is nothing to lose for the end user except for a little bit of time. Such a generous return policy means that SVS cannot afford to offer subpar products, and in our experience, they never have, so we expect the Prime Pinnacle speakers to be another home run for SVS which maintains their outstanding batting average. 
Are you thinking about making these speakers your new mains? Share your comments in the related forum thread.
Confused about what AV Gear to buy or how to set it up? Join our Exclusive Audioholics E-Book Membership Program!
See also:
Recent Forum Posts:
shadyJ posts on April 06, 2019 03:17
Danzilla31, post: 1309545, member: 85700
Hmmmmm so your going to be reviewing these. Sweet really looking forward to the review.

So same tweeter and I'm assuming same crossovers stuff like that?

I was hoping they'd go with the ultra tweeter I've always heard a lot of good things about the highs on that line
The crossover will not be the same. The Prime tower is basically a 3.5-way speaker. The Pinnacle is a 3-way that uses a different midrange driver, different high-pass frequency from bass driver to midrange, and different bass driver enclosure. Plus it has three bass drivers which may necessitate measures in the crossover to modify the impedance more.
Danzilla31 posts on April 06, 2019 01:29
Hmmmmm so your going to be reviewing these. Sweet really looking forward to the review.

So same tweeter and I'm assuming same crossovers stuff like that?

I was hoping they'd go with the ultra tweeter I've always heard a lot of good things about the highs on that line
shadyJ posts on April 06, 2019 00:23
SVS has recently released a new entry into their popular 'Prime' speaker line, and their new loudspeaker takes the Prime speakers to new heights (literally, since it is taller than any of the others). It is the new top dog of the Prime series, and SVS has rightfully named it the 'Prime Pinnacle.' The Prime Pinnacle is a three-way, five driver tower speaker, much like the regular Prime Tower, and one might be forgiven for thinking it is just a bigger and beefier version of the Prime Tower since that is what it looks like on the outside, but there is considerably more to it than that. In many respects, it is a very different design than the other Prime speakers. The Prime Pinnacle uses the same tweeter and same bass drivers as the other Prime speakers, but that is about it. And, unlike the other Prime speakers, the Prime Pinnacle uses three bass drivers, so it should be capable of a bit more low-end punch than the rest of the series. That is about it for similarities, except for the aesthetics of the speaker. But what departures does the Prime Pinnacle take from the other Prime series? Read our preview of SVS's Prime Pinnacle speakers to find out!

READ: SVS Prime Pinnacle Tower Speaker Preview
Post Reply