SVS Prime Elevation Surround Speakers Preview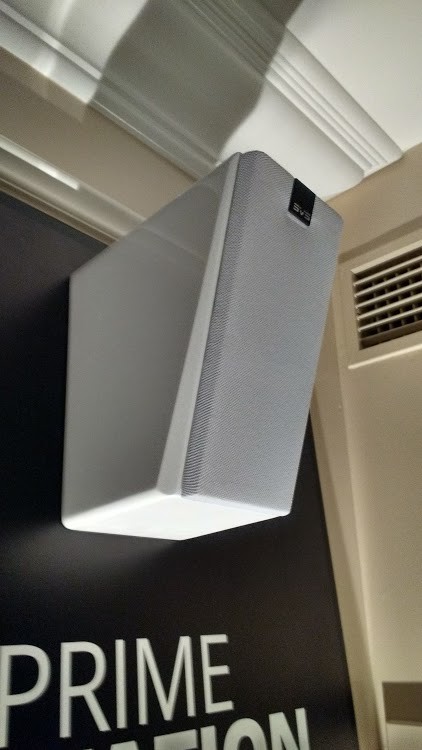 SVS Prime Elevation Speaker
Summary
Just when you thought SVS forgot about immersive surround sound, they've come up with an innovate elevation speaker to not only do it better but be more versatile too.  SVS announced their new Prime Elevation speaker at CES 2016 which is based off their award wining Prime series speakers.
This compact, trapezoidal speaker is primed for ceiling, on-wall, speaker stand or shelf mounting in several arrays, and is said to sonically punch well above its class for a speaker of its size and price. Performance and flexibility come together in this multi-purpose home theater speaker, which is highly adaptable for many surround sound formats.
There is no sideways or upside down with the SVS Prime Elevation. It is acoustically engineered to offer the same detailed response and dynamics no matter what role it's playing. The speaker answers placement and set-up challenges for owners who want the fidelity of an expertly designed center, surround, front or height effects speaker, from a single, affordable solution.
 SVS Prime Elevation YouTube Video Interview with Gary Yacoubian

SVS Prime Elevation can be used in the following ways:
As a down-firing height channel speaker, easily mounted high on a side wall
As an up-firing height channel speaker for the same formats, placed on stands or atop tower speakers
 As an up-firing or down-firing front or center channel speaker with projector screens or where level placement at ear height is not possible
As a side or rear-firing surround speaker, when placement on a side or rear wall is not optimal for the most convincing side or back surround effects
A pair of Elevation speakers can be wall-mounted and wired to become a bipole or dipole surround speaker.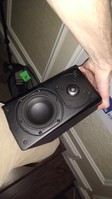 "Adaptability has become a major factor in loudspeaker design, especially with the rise of more immersive audio formats," said Gary Yacoubian, president, SVS. "The SVS Prime Elevation adapts to almost any home theater set-up and plays a variety of roles exceptionally well. Audio enthusiasts will love all the possibilities this powerful, multi-purpose speaker affords."
Included with the SVS Prime Elevation is a secure wall bracket kit that allows the speaker to be conveniently mounted in any of four positions and easily positioned for the best possible performance depending on the application. It also features a universal mounting option with a ¼" 20TPI brass insert that works with many other kits. The SVS Prime Elevation comes in three handsome finishes Gloss Black, Gloss White, and Black Ash with a hand-painted satin baffle.  
Featuring a rated bandwidth of 69 Hz – 25 kHz (+/- 3dB), the SVS Prime Elevation performance compares to that of high end bookshelf speakers, but offers many more possibilities. Outstanding crossover design and lower midrange and upper bass output allow it to blend seamlessly with subwoofers and speakers from SVS and other brands. When used in a multi-channel set-up, the speakers can deliver crystal clear dialogue and vocals, an enveloping soundstage and seamless sonic transitions from front to back, side to side and overhead that the rest of the Prime series is known for.
As with its predecessors in the SVS Prime speaker line, Elevation includes a precision machined front baffle designed with chamfers to reduce tweeter diffraction, an FEA-optimized tweeter diffuser to deliver unveiled highs on or off-axis, a cast composite ABS and Glass Fiber woofer basket, and a sophisticated crossover design for excellent frequency response across the audio spectrum. The 1" aluminum dome tweeter and 4.5" polypropylene cone woofer blend seamlessly together within the acoustically inert enclosure to provide a balanced speaker that works great for dialogue, action movie dynamics, dance music, vocals, sound effects and all other audio experiences.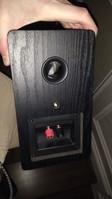 Yacoubian continued, "The flexibility of the SVS Prime Elevation makes it a great home theater investment because it can be used exclusively or moved around to suit different needs over time as a system grows."
The SVS Prime Elevation is sonically voiced to match with any of the company's existing speakers and subwoofers. SVS currently manufacturers two full speaker lines, the Prime and Ultra Series, as well as a range of sealed, ported and cylinder subwoofers, and a line of SoundPath Audio Accessories.              
Our Impression
We like what SVS has done here.  As a company that stands behind real science in audio, it's not surprising to us that they've come up with an elevation speaker that relies on sending the direct sound to the listener rather than the compromised bounce popularized by Dolby Elevation Speakers.  As we've always maintained, if you want sound in a specific  location, put that speaker in that location!  SVS agrees as evident with their Prime Elevation speaker system.  In our opinion, this is the perfect height speaker solution to unify all three competing Immersive Surround formats (ie. Auro 3D, Dolby Atmos, and DTS:X).
The SVS Prime Elevation will ship in April 2016 and have a target price of $349 per pair. For more information, please visit www.svsound.com  or follow SVS on Facebook, Instagram, Pinterest or Twitter.
About SVS
Headquartered in Youngstown, Ohio, SVS builds high performance subwoofers, speakers and audio accessories for people who are passionate about music, home theater, gaming, and powerfully immersive listening experiences. SVS engages customers worldwide through direct and retail sales channels and offers Sound Experts technical support via phone, web, social media, chat, email, in forums and wherever people want to connect. Often considered the best high-end audio gear for the money, SVS is redefining performance and value for people who care about great sound.

Unless otherwise indicated, this is a preview article for the featured product. A formal review may or may not follow in the future.