Ultra High-End Loudspeakers of AXPONA 2019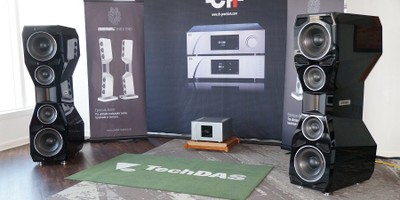 Summary
Product Name:

800 D3, Audio Cinema LTM, Audio Counterpoint, High End Divin Noblesse, Muon,

Manufacturer:

B&W, Credo Audio, BAYZ Audio, Göbel

Review Date:

April 23, 2019 07:00

MSRP: $30k/pr - 800 D3, $170k/pr - Audio Cinema LTM, $97k/pr - Audio Counterpoint, $220k/pr - High End Divin Noblesse, $225k/pr - Muon
First Impression:

Pretty Cool
Executive Overview
Each year AXPONA grows bigger and more exciting, and this year was no exception. As usual, Audioholics was there to see many of the spread of products that manufacturers brought to the show. In this segment of our coverage, we look at some of the highest of high-end loudspeakers. The manufacturers here brought out their showpieces to impress. Some of these speakers go well beyond mere audio transducers and veer into art and statements in industrial design. They may sound very good, but sound reproduction is almost beside the point in some of these fantastical designs. Let's take a look at a few of the major showpieces from AXPONA 2019...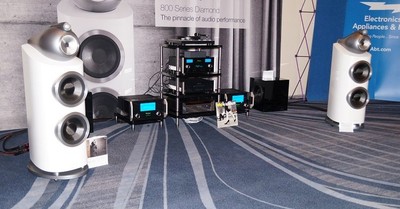 In the world of ultra high-end loudspeakers, the B&W 800 D3s would be akin to an Aston Martin in the sports car realm: out of reach for the common man and a real head-turner, but not so rare that they are never seen out in the wild. The 800 D3s are not the most exotic and expensive design by B&W (that honor belongs to the Nautilus), but they are nonetheless a dream speaker for many and the pinnacle of B&W's modern design philosophy. The cabinet construction is second to none, and the driver designs utilize a lengthy list of cutting-edge technologies, but at $30,000 a pair, buyers have a right to expect the latest and greatest in loudspeaker design. The pair we saw at AXPONA was finished in a gorgeous satin white with a silver midrange and tweeter housing, which looks much more regal than the traditional gloss black. They sounded as good as they looked: powerful, articulate, and cohesive. However, while these speakers may be eye-popping, they are relatively restrained compared to the other speakers we are about to discuss- in price as well as aesthetics.
MSRP: $170k/pair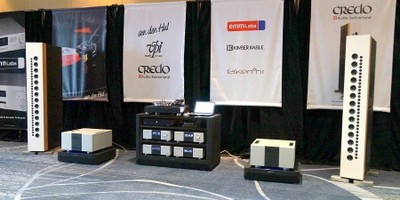 The Cinema LTMs resemble t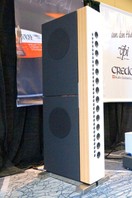 heir namesake in that, like the movies, these are larger than life. And at $170k per pair, so is their price tag. These behemoths are meant for providing high-fidelity for a large room, and a cue toward that end is their line-array design. Line-arrays have a host of advantages that make them especially suited for a large room. One advantage is that, above a certain frequency, the loss of amplitude over distance is half of that over traditional point-source speaker designs (almost all ordinary speakers are point-source, meaning that the sound behaves as if it were emanating from a single point in space), so listeners who are further away from the speaker are getting twice the SPL that they would with most other speakers. Also, with so many drivers, their output potential is enormous, which is needed because their dispersion is so wide compared to other speakers intended for large areas that use horns to focus their acoustic energy in a narrow pattern. These have the kind of power that horn-loaded speakers have but can radiate it over a much wider area. This capability is given to the Cinema LTMs by four 12" subwoofers, fourteen 4" midrange drivers, and thirty-two dome tweeters, -per speaker- and all of that is packed into a hardwood cabinet totaling in at 342 lbs. These Swiss-made monoliths seem like a great choice to fill the ballroom of your mansion with music from the finest waltz recordings when your personal orchestra has the night off.
MSRP: $97k/pair
One ultra high-end speaker that debuted at the 2019 AXPONA show was the BAYZ Audio Counterpoint. This is an omnidirectional speaker that uses a tweeter that is an ultra-light, proprietary membrane in a cylinder shape that rapidly contracts and expands to produce pressure waves. It is sandwiched between two woofers that fire into a heavily damped tube, so the rear side of the cone is what contacts the air to produce sound. The enclosure is made from carbon fiber. I have seen omnidirectional speakers before but none quite like this. While its appearance may look strange, the sound during my short stay in the exhibit room was quite nice. Sometimes bizarre speaker designs produce bizarre sound, but that wasn't the case here. This speaker was interesting but it is inaccessible to the average person at a $97k pricing per pair. My hope is that BAYZ can bring this technology to a product that has pricing within reach of us mere mortals, because, at nearly $100k for a pair, this could never be anything more than a curiosity for science museums or very wealthy individuals.
MSRP: $220k/pair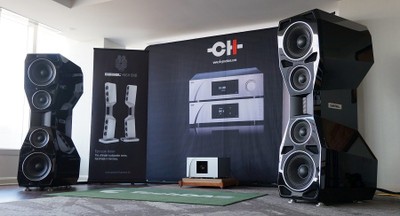 Göbel's Divin Noblesse is distinctly German-looking loudspeaker that is bound to divide opinion as to its aesthetic: some will find it attractive but others will think it to be scary looking. I would say if Darth Vader had a speaker set, this would be it. These 573 lbs. brutes use two 12" subwoofers, two 8" midranges, and a large AMT tweeter in an WMTMW configuration that promises enormous power as well as a refined sound. Indeed, in my time in the Göbel room, I found them to produce a very pleasant and smooth sound, contrary to their intimidating appearance. The name 'Divin Noblesse' is quite haughty, but if I was going to spend this kind of money on a pair of speakers, I would want a fittingly highfalutin name to match the price point; 'Divin Noblesse' is French for 'Divine Nobility,' and that is an apt name for a speaker set that costs $220,000. What beggars belief is that these are the smaller brother to a much more grandiose model that uses 18" subwoofers and costs twice as much. The Divin Noblesse were among the more memorable designs at AXPONA this year. They were certainly a cool design, but I still get a sense of unease to think back on them; there is something vaguely sinister about them...
MSRP: $225k/pair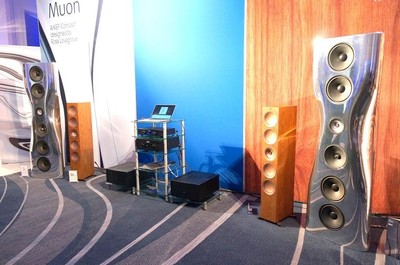 The KEF Muon serves as an aesthetic opposite of the Göbel Divin Noblesse. Instead o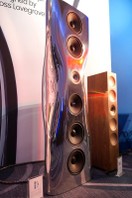 f being dark and sharp-angled, the Muons are bright and organic. They are glimmering towers of chrome one might expect to see in a utopian future. The Muons are not new speakers but they are still a rare sight to see, so I was quite excited to have this opportunity to experience them in person. KEF has only made 100 pairs, and they have a cost of $225k per pair. KEF's literature for the Muon suggests that they are more of a feat of industrial design rather than sound reproduction. In fact, I wouldn't at all be surprised to find out that lower-tiered KEF models were actually more accurate as loudspeakers. This is not to say the Muons do not have a great sound, because, in my time in the KEF room, I thought they sounded outstanding. But they seem to be one of those speakers that are so over-the-top that they only exist as a product to bring prestige to the brand rather than to advance the state-of-the-art in terms of sound reproduction. I would say they succeed in this mission because I can easily imagine someone seeing these speakers and then doing a search on the KEF brand. The Muons are loudspeakers as art exhibits and are priced accordingly.
Conclusion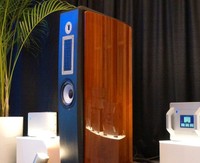 The speakers covered here are just a handful of some of the impressive show-stoppers that were seen at AXPONA this year. Some people might complain that focusing on super luxury items can be alienating to those who are looking for a decent sound system at a sane price point, but a show like AXPONA is a chance for manufacturers to show what they can do when not inhibited by normal constraints of loudspeaker design. Those who want to see normal speakers can drive to the nearest big-box store to see their selection. Regarding the actual sound quality, the point of diminishing returns has set in long before these prices were attained, but again, that is beside the point of many of these designs where form follows function with wild abandon. The aesthetic of these products revels in the fact that they are loudspeakers as opposed to many lower cost designs that try to hide that fact with very reserved styling where the mere appearance of a woofer or tweeter is forbidden.
Be sure to check out our most affordable speakers seen at AXPONA for products at more down to Earth prices and bassaholics should stay tuned to see the subwoofers of AXPONA coming next!
Confused about what AV Gear to buy or how to set it up? Join our Exclusive Audioholics E-Book Membership Program!
See also:
Recent Forum Posts:
CB22 posts on May 02, 2019 20:49
shadyJ, post: 1314463, member: 20472
Look at that dead sexy finish. I could so easily live with a set of these. This is a speaker that Dennis Murphy worked on, btw.
Indeed. Wow! those do look great! Ya, I heard on AH Dennis did crossover work for him. If I do a dedicated 2 channel system in a couple of years I will absolutely consider these. A pair of 9.5s would be considered an "ultra high end" speaker for me lol. Hopefully one of these days I'll make it out to an audio show and listen to some of this stuff.
ryanosaur posts on May 02, 2019 18:10
That shaped Baffle with the Chamfering is so cool!!! I'm hoping he decides to come to CA in a couple months and bring those. After my interactions with Jim, I am very eager to meet the man! And hear his new flagship speaker!
shadyJ posts on May 02, 2019 18:01
CB22, post: 1314449, member: 84062
@shadyJ were you able to hear the Salk Sound 9.5s while you were here? If so would love to hear your thoughts.
I did hear them actually. I enjoyed them. Nice, neutral, detailed sound, as always from Salk. They didn't quite fit the classes of speakers I was covering, so I didn't do a write-up on them, but here is a pic I took:
29282
Look at that dead sexy finish. I could so easily live with a set of these. This is a speaker that Dennis Murphy worked on, btw.
CB22 posts on May 02, 2019 17:10
@shadyJ were you able to hear the Salk Sound 9.5s while you were here? If so would love to hear your thoughts.
lewdogg posts on April 27, 2019 18:09
CRAZY!!! I can't imagine dropping that kind of coin on speakers! Thanks, shady!
Post Reply