Yamaha NS-5000 Loudspeaker: Retro Look, Futuristic Technology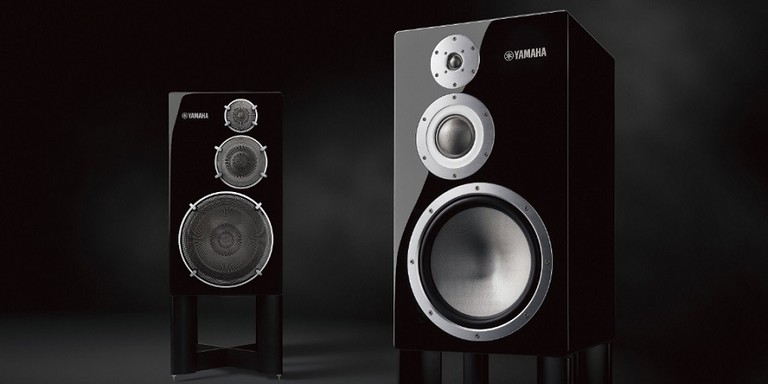 Yamaha NS5000
Summary
Type: 3-way bookshelf bass-reflex type
Woofers: 12" cone type
MidRange Driver: 3-1/4" dome type
Tweeter: 1-1/4" dome type
Frequency Response: 26 Hz-40 kHz (-10dB), -100 kHz (-30dB)
Nominal Input Power: 200 W
Maximum Input Power: 600 W
Sensitivity: 88 dB / 2.83 V/1 m
Crossover Frequencies: 750 Hz / 4.5 kHz
Impedance: 6 ohms (minimum 3.5 ohms)
Dimensions (W x H x D): 15-1/2" x 27-1/8" x 15" (with speaker terminals)
Weight: 77.2 lbs. / unit
Executive Overview
Retro-designed loudspeakers seem to be in fashion at the moment; not long ago, Yamaha launched a loudspeaker that is a new twist on a classic design with their NS-5000. The NS-5000 is a spiritual successor to their vaunted NS-1000M which was one of the first, if not the first, speaker to use Beryllium as a diaphragm material. The NS-1000 speaker series was a very successful platform for Yamaha that was introduced in the mid-'70s and lasted to the mid-'90s over a 20-year production run.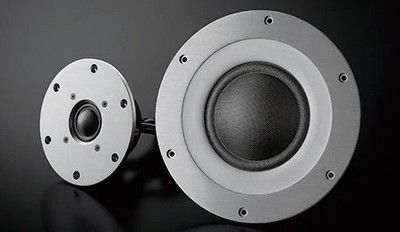 The NS-5000M keeps elements of the NS-1000M such as cabinet shape and driver layout while introducing a similarly new innovation in diaphragm composition by using Zylon, a synthetic fiber that was claimed to be the world's strongest. Zylon has extremely high tensile strength and stiffness. Its elasticity properties rival that of Beryllium, so the 'break-up' modes that occur in driver cones will be similarly pushed into higher frequencies than typical cone materials. This allows the drivers to play over a much wider frequency band without cone resonances creeping into the reproduction thereby distorting the intended sound. Indeed, the mid-range driver in the three-way NS-5000 is given a very wide 750 Hz to 4.5 kHz range. An advantage to this is that there will be no interference from potential crossover circuit issues over this wide range which covers nearly the entire midrange band of frequencies, so the sound should be very unified and cohesive within this all-important range.

The NS-5000 is a three-way design using a 12" woofer, 3 ¼" dome midrange, and 1 ¼" dome tweeter, and the diaphragms of all drivers are made from Zylon. The rear of the tweeter and midrange domes are enclosed by something that Yamaha calls a 'Resonance Suppression Chamber.' This redirects the backwave pressure of the domes in a manner that reduces model resonances on the domes of the midrange and tweeter. This is similar to what transmission lines can do but uses a smaller but more complex arrangement instead of the long tapered tubes of transmission lines. Instead of simply absorbing backwave pressure from the diaphragm by damping the pressure waves through lots of soft acoustic absorption material, the Resonance Suppression Chamber redirects the backwaves through different paths that rejoin and ends up canceling out resonances. This is a clever way to deal with backwave radiation but must have involved some enormously sophisticated computational modeling.

Another cancellation trick that the NS-5000 uses are a pair of pipes inside the cabinet that Yamaha calls "Acoustic Absorbers' which produces resonant frequencies that cancel out internal cabinet mode resonances. Normally, loudspeakers will use a lot of internal stuffing for this, but Yamaha has come up with a more elegant solution that targets the most significant modes specifically. That trick addresses standing waves in the cabinet, but what about panel resonances? Yamaha addresses that too with an internal bracing system that uses sophisticated computational modeling that greatly damps panel resonance without using a massive network of bracing thereby adding a substantial amount of unnecessary weight. The cabinet's internal reinforcement only uses seven crossbars that are intelligently placed for maximum damping of the panels. Furthering Yamaha's efforts to reduce unwanted sound reproduction is the employment of their signature twisted flare port. The twisted flare steers airflow around the port into a vortice pattern which should help to reduce wind noise from turbulence.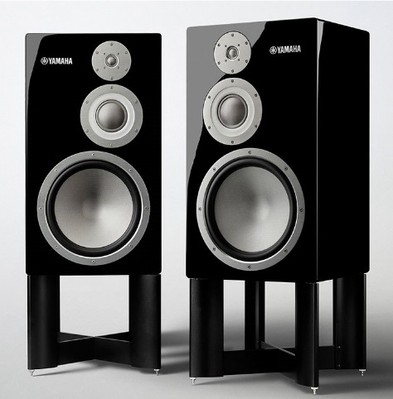 Although it is a stand mount design, it is not an insubstantial one at 77 lbs. per speaker. The bulk of that weight comes from the heavy-duty paneling made from Japanese White Birch. It is used in a high-quality plywood form that is inspected so that there is no knots or holes in the layers. The front baffle is 1 ⅛" thick and the side panels are ¾" thick not including the layer of paint primer and paint finish. The finish itself is a glossy piano black that Yamaha also uses for their grand pianos which could potentially make these speakers into similarly long-lasting heirloom items.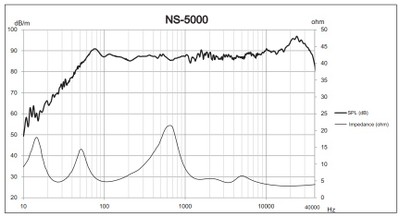 Yamaha provides the above frequency response and impedance graph, and it boasts a very neutral and accurate response. For those who might think these speakers bright from the rise at the top end, keep in mind that the graph goes all the way out to 40 kHz, so very few people (if any) would be able to hear anything of that high-frequency spike. In the audible range, the NS-5000 is very neutral and well within a +/-3dB window. We also see that the NS-5000 is a solidly 4-ohm speaker but with no dips below that, so we know it is not the easiest speaker to drive but it is electrically consistent and doesn't have any particularly worrying dips in the impedance response. 
Retro Audiophile Designs Reborn?
The NS-5000 brings to mind several other manufacturers' revival of vintage designs but improved with modern design tools, such as JBL's L100, Klipsch's Forte III, and Wharefedale's Heritage series. One difference between those efforts and the NS-5000 is Yamaha's no-expense-spared redesign with extreme attention to detail such as using high-end Mundorf capacitors in the crossover circuit. That design philosophy, of course, comes at a price for the buyer, and the NS-5000 is substantially more expensive than many other companies' retro designs with a $15,000/pair price tag. It's expensive, but considering this is an all-out effort to make the highest-fidelity speaker possible from a company with tremendous resources such as Yamaha, it should be a pretty phenomenal speaker.
Confused about what AV Gear to buy or how to set it up? Join our Exclusive Audioholics E-Book Membership Program!