Wharfedale Delivers New Flagship Elysian Speaker Range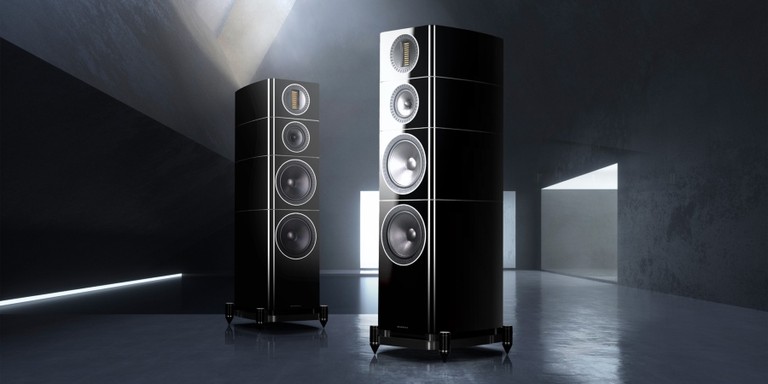 Wharfedale Elysium
Summary
Wharfedale Elysian 2 stand-mount speaker
Frequency Response (+/-3dB): 35Hz - 22kHz
Impedance: 4Ω
Sensitivity: 89dB
Dimensions (H x W x D): 27.6" x 13.2" x 17"
Weight: 67 lbs
Wharfedale Elysian 4 floor-standing speaker
Frequency Response (+/-3dB): 30Hz - 22kHz
Impedance: 4Ω
Sensitivity: 92dB
Dimensions (H x W x D): 46.8" x 15.8" x 17"
Weight: 109 lbs
Executive Overview
Wharfedale is now shipping a new flagship loudspeaker series that "pushes the boundaries of capability and performance from a speaker at this price-point."  The Elysian series, named for Greek mythology's Elysian Fields (a paradise where godlike heroes and righteous mortals enjoyed an eternal afterlife), is the result of a three-year research and development project that also yielded Wharfedale's less expensive EVO4 Series, which launched last year. While the EVO4 series maxes out at $2,000 per pair and comprises seven different models — including center channel speakers and surround speakers for home theater use — the high-end Elysian series takes a more puristic approach with just two models: the Elysian 2 stand-mount speaker ($7,000/pair) and the floor-standing Elysian 4 ($10,000/pair). Both are three-way designs that combine a folded ribbon Air Motion Transformer (AMT) tweeter with proprietary woven fiberglass midrange and bass drivers.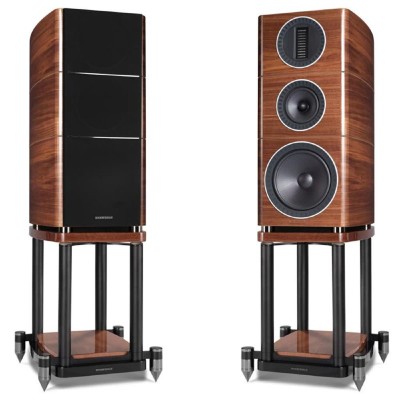 Standing 27.5 inches tall, the beefy Elysian 2 may be too small to sit directly on the floor, but it's certainly too large to be mistaken for a "bookshelf" speaker. Realistically, Wharfedale's custom-designed stands ($500/pair) should be considered a necessary part of the package, rather than an optional extra. The speaker/stand combo looks so great together that it's unlikely any potential buyer would forgo the stands, and very few third-party stands would accommodate the Elysian 2's unusual dimensions (they're just over 13 inches wide, and 17 inches deep).

The Elysian 4 floor-stander is equally chunky, and at nearly four feet tall, might be considered imposing if not for the Elysian range's stunning high-gloss finishes and beautifully curved cabinets. According to Wharfedale, every aspect of the range was designed without cost constraint, starting with…

The Tweeter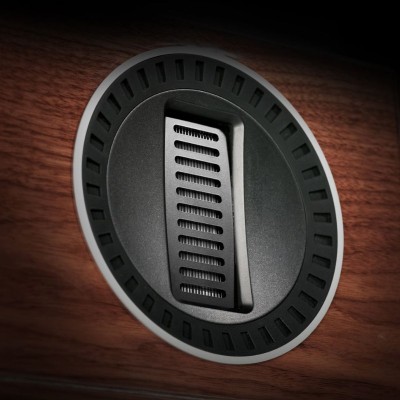 The Elysian range, alongside the more budget-friendly EVO4, represents a departure for Wharfedale's approach to high-frequency information. After many decades of sticking with dome tweeters, Wharfedale has designed a 27x90mm AMT tweeter for the Elysian range (the EVO4 uses a similar but less costly unit). AMT tweeters have been used by a handful of manufacturers for years — Legacy Audio and Elac come to mind — but have been increasingly popular for the last decade or so, and can now be found in great-sounding products from RBH Sound, Monitor Audio, GoldenEar Technology, and many other well-respected brands. If you aren't familiar with the technology behind AMT drivers, this is how Wharfedale explains it:
A large, pleated, lightweight diaphragm is driven across its surface by rows of strategically placed metallic strips immersed in a strong magnetic field. Under the influence of the musical drive the pleats in the diaphragm contract and expand, squeezing the air between them to form the desired waveform. Not only is this an efficient way of moving air, but it is also very accurate as the diaphragm is under close control of the motor system at all times. In addition the AMT is a velocity, rather than pressure, transducer, capable of producing scintillatingly fast transients and dynamics. The result is a wide bandwidth device that achieves low distortion naturally and delivers wonderful musical detail.
 --Wharfdale
Mids and Woofers
One potential downside of the "scintillatingly fast transients" that an AMT tweeter can provide is the inconvenient fact that the rest of the drivers sometimes have trouble keeping up. In an attempt to avoid this outcome, Wharfedale developed new midrange and bass cones that use a proprietary woven fiberglass matrix with a high-plasticity coating to control its acoustic behavior. This material is employed in the Elysian 6.5-inch midrange driver (used in both models), which Wharfedale claims is capable of matching the sensitivity and accuracy of the AMT tweeter thanks to a "superb combination of low mass and high strength." A specially shaped central phase plug reportedly linearizes the output across a wide bandwidth, even off-axis. According to Wharfdale, the result is a wider sweet spot and a more natural sound.

The 8-inch bass drivers used in both Elysian models (the Elysian 2 has just one, while the Elysian 4 has two) are driven by a low-distortion motor system and loaded by a new, more advanced version of Wharfedale's slot-style port. The new Slot Loaded Profiled Port (SLPP) takes advantage of the rear output of the bass units, which might otherwise go to waste. Instead, as Wharfedale describes it, "the lowest frequency energy is vented to a slot at the base of the speaker, specially profiled to equalize the high internal pressure to the low pressure in the room." This design helps boost the speakers' overall sensitivity (The Elysian 4 boasts an impressive spec of 92dB) while allowing the woofers to provide truly deep bass. The Elysian 4's in-room frequency response dips into the mid-20Hz range.

The crossover tasked with blending this unique driver complement was designed using advanced computer modeling and hundreds of hours of listening tests, according to Wharfedale. The design team put particular focus on achieving phase consistency across the drive unit output, and the results are claimed to include a bigger sweet spot and a linear power response throughout the listening room, allowing for a wide range of seating options for multiple listeners.
Our aim for the Elysian/EVO4 project was to deliver a new flagship for Wharfedale (Elysian) whilst creating design elements that could be trickled down to a more affordable, mid-range series (EVO4). While we are justly proud of the value for money offered by the EVO4 Series, the two Elysian models represent the pinnacle of our achievements — loudspeakers that deliver an exceptional high-end performance yet still cost much less than many of the models with which they compete. The cabinet design, in combination with the drive units, allows the Elysian speakers to convey the full body of instruments like cello and bass guitar, without constraining the dynamics of the musical recital. Whether you're listening to solo piano, a full orchestra, a jazz trio, or a rock band, these speakers bring the thrill and excitement of the performance to your listening room.
— Peter Comeau, Wharfedale's Director of Acoustic Design
Technology Meets Art

All of this technology would go to waste if it weren't wrapped in a package beautiful enough to earn a place in some very nicely appointed rooms, and Wharfedale has really upped its game in the design department. The curved cabinets and genuine piano lacquers (hand-polished to six levels of depth) wouldn't be out of place in a much more expensive speaker from the likes of Sonus faber or Focal. Underneath your finish of choice (high gloss walnut, black lacquer, or white), Wharfedale employs a Panel Resonance Optimization System (PROS), which uses a sandwich of woods of varying densities to control resonance and stop sound energy from escaping the cabinet. When you look at the whole package, the Wharfedale Elysian models certainly look like expensive, well-engineered flagship speakers.


Confused about what AV Gear to buy or how to set it up? Join our Exclusive Audioholics E-Book Membership Program!