Paradigm Celebrates 41 - New Founder Series Premium Finishes & Power Amplifier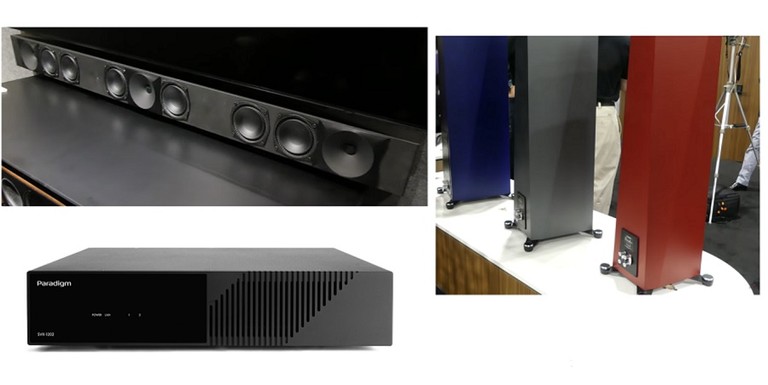 Paradigm at CEDIA 2023
Summary
Product Name:

Founder Forty-One Collection Custom Colors, SVX-1202 Power Amplifier, Decor Series v2 Soundbars

Manufacturer:

Paradigm

Review Date:

October 13, 2023 00:05

MSRP: $$1,800 - SVX-1202 Power Amplifier, $2,000 - 65-inch Decor Soundbar, $2,500 - 75-inch Decor Soundbar, $3,000 - 85-inch Decor Soundbar, $125 - $500 added to Founder Forty-One Collection for Custom Colors
First Impression:

Pretty Cool
Paradigm SVX-1202 1200 Watt Multi-Purpose DSP Amplifier!
It's been roughly two years since Paradigm launched the Founder Series, a meticulously-designed collection of loudspeakers intended to cement the brand's position in the marketplace after it was purchased, along with Anthem Electronics and MartinLogan Loudspeakers, by Scott Bagby and John Bagby in 2019. (Scott Bagby was one of the original founders of Paradigm back in 1982.) Our seasoned speaker reviewer, James Larson, was impressed by the Paradigm Founder 100F floorstanders, calling them "terrific loudspeakers from top to bottom." James applauded the speakers for their neutral response, gorgeous looks, wide dynamic range, and high-quality build. 
Paradigm Founder Forty-One Collection
Now Paradigm is launching the Founder Forty-One Collection, celebrating 41 years in the industry. This is not a new range of speakers, but a new collection of premium finishes for the Founder Series. According to Paradigm, the "Ruby Frostbite" finish "ignites the imagination with its rich crimson hue, embodying passion and vibrancy." The "Azure Ice" finish is meant to "envelop the senses in a tranquil embrace, evoking the calmness of a clear winter sky," according to the company's imaginative marketing team. Finally, the "Frozen Charcoal" finish "captivates with its alluring depth, showcasing shades of grey that mirror the complexity of sound itself." (As a fellow writer, I have to tip my hat to these folks.)
The Founder Forty-One Collection is not just a celebration of our rich history, but a glimpse into our commitment to shaping the future of audio. We've taken inspiration from the past, channeled our innovation, and merged it into these exceptional finishes that adorn our Founder Series. This collection symbolizes our dedication to pushing boundaries and delivering audio experiences that resonate on emotional, aesthetic, and technical levels.
— John Bagby, Managing Director
Pricing for the Founder Forty-One Collection is TBD, but Paradigm has warned us to expect "subtle pricing adjustments" to the existing Founder Series range to reflect the premium nature of the finishes. The speakers will be available through authorized Paradigm dealers starting this November 2023.
Paradigm SVX-1202 Power Amplifier
Also new for CEDIA 2023 is Paradigm's SVX-1202 Power Amplifier ($1,799.99). This versatile 2-channel amplifier is designed to cater to custom installers, and will likely become a popular partner to Paradigm's Garden Oasis Series Outdoor landscape speaker systems. It has the capacity to handle 70V, 4-ohm, and 8-ohm loads, according to Paradigm. The SVX-1202 boasts 600 watt x 2 amplifier can be configured for 1CH as 70V and power up to 100 of Paradigms Garden Oasis speakers and use CH2 to power two 8 ohm outdoor subwoofers. The design of the SVX-1202 is "anchored in simplicity, reliability, and seamless integration into the Paradigm ecosystem," according to the company. It boasts a compact design, advanced cooling system, and network connectivity to streamline the installation process.
The SVX-1202 Power Amplifier underscores our ongoing commitment to empowering installers. It's a pragmatic tool that enhances the capabilities of our ecosystem, allowing custom integrators to achieve superior outcomes with utmost ease.
— John Bagby

Key features of the SVX-1202 include built-in Anthem Room Correction (ARC) technology, pre-set DSP settings, and compatibility with modern streaming platforms such as Spotify Connect, Apple AirPlay, and Chromecast built-in. When used with Paradigm's various outdoor loudspeaker products, the SVX-1202 promises to bring the conveniences that customers are used to enjoying indoors out into nature. Paradigm says that the amplifier's robust integration, integrated streaming capabilities, and Anthem Room Correction technology "transform outdoor spaces into breathtaking soundscapes."
We empathize with the requirements of the custom integration channel. The SVX-1202 stands as a valuable addition, ensuring optimal performance while seamlessly integrating with our product range.
— David Baker, Director of Sales, North America
The SVX-1202 will be available to order in mid-to-late fall, 2023.
Paradigm Decor Series v2
Paradigm launched its original Decor Series at CEDIA back in 2017. These customizable, wall-mountable speakers offered both designer aesthetics and high-quality sound, while seamlessly matching the dimensions of practically any TV. Now the company is introducing the Decor Series v2, boasting improved performance while maintaining the sleek, custom styling. Paradigm says that the new speakers feature "rigid, resonance-free enclosures made of anodized extruded aluminum, ensuring robustness and durability." A new "optimized extrusion profile" has increased volume by over 40% compared to the first-generation models. The result is said to be enhanced power and exceptional sound quality.
As we introduce the Decor Series v2, we're reshaping the very fabric of audiovisual integration. Our team's unwavering commitment to excellence and innovation has yielded a speaker solution that not only delivers superior sound but also merges flawlessly with diverse living spaces. This innovation holds substantial implications for the customer integration channel, empowering them with a transformative tool to curate truly immersive entertainment spaces.
— John Bagby
The customization options in the Decor Series v2 aren't just about choosing the perfect dimensions to match the size of your TV. The range includes five models, and the customer or integrator can choose from up to 16 distinct driver configurations. According to Paradigm, "This unparalleled flexibility extends to multiple driver formats, and up to three audio channels within a single enclosure." To ensure a smooth installation, the speakers include wall brackets for maximum mounting flexibility, along with TV brackets to facilitate seamless integration with a TV. New for the second generation is an integrated cable management channel, accommodating up to 10-gauge wire. Users can choose a hand-stretched, acoustically transparent cloth grille, or a perforated aluminum grille that gives the Decor Series v2 speakers an IP56 rating, meaning they are protected from harmful deposits of dust and even strong jets of water. This durability makes the Decor Series v2 a perfect choice for outdoor entertainment spaces, regardless of weather conditions.
The Decor Series v2 comes with notable enhancements prioritizing user convenience and performance. We're thrilled to introduce a selection of standard 'in-stock' choices tailored for frequently used television sizes, such as 65-inch, 75-inch, and 85-inch. This strategy not only simplifies the order placement for our channel partners but also ensures a smoother delivery process, as these models will consistently be available across our regional warehouse locations. Furthermore, the series showcases performance advancements in addition to a completely reimagined mounting system. These improvements not only elevate the overall audiovisual experience, but also contribute to a more efficient installation process.
— David Baker
The Decor Series v2 products will launch in October, with custom solutions starting at $1,499. You can get started configuring your perfect setup using Paradigm's newly-revamped Custom Configuration tool, or choose from standard "In-Stock" models. Prices for those options are as follows:
65-inch: $1,999.99
75-inch: $2,499.99
85-inch: $2,999.99
More information: paradigm.com
Unless otherwise indicated, this is a preview article for the featured product. A formal review may or may not follow in the future.