Anthem Debuts 5.1CH MRX SLM AV Receiver That Fits Behind Your Television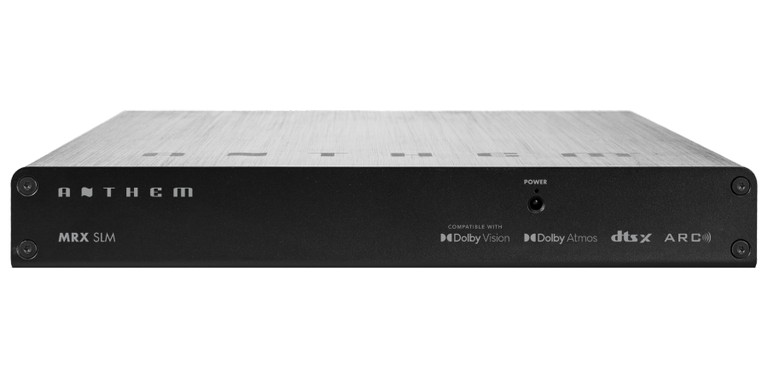 Anthem MRX SLM 5.1CH Receiver
Summary
Product Name:

MRX SLM

Manufacturer:

Anthem

Review Date:

October 11, 2023 09:40

MSRP: $1,300
First Impression:

Pretty Cool
Anthem MRX SLM 5.1 AV Receiver
Number of channels: 5.1
Power: 50 watts per channel into 8ohms
Immersive sound formats: Dolby Atmos, DTS:X
Room correction: ARC Genesis
While my Audioholics colleagues are taking in the sights and sounds of the latest gear on display at CEDIA Expo 2023 in Denver, I'm currently at my girlfriend's place in Seattle, working out the logistics of my eventual move here. We love her current setup; it's one side of a duplex in the beautiful Madison Park neighborhood. On the other side of the wall, Hannah's brother occupies the larger side of the duplex with his wife and two kids. It's a great, family-centric environment and we want to stay here, but it's undeniably tiny compared to the homes we grew up in back in North Carolina, where real estate was an order of magnitude more affordable than it is now on the west coast. The small living room here can't accommodate the kind of high-performance audio gear that I crave, and the layout is dictated by the location of doors, the staircase, and the open kitchen. I'm still trying to decide whether I can squeeze in a compact Dolby Atmos system, or whether it would make more sense to focus on a quality 2-channel system, given the size and layout restrictions. (Luckily, Hannah enjoys music and movies as much as I do, and is on board for either option.) Of course, we're hardly alone in our conundrum. Space constraints affect many audiophiles who would love to have a dedicated home theater or a pair of 7-foot-tall tower speakers, but whose homes simply can't accommodate those aspirational systems.
At CEDIA, Anthem is doing its part to make high-quality audio more doable in smaller spaces with the introduction of its new MRX SLM ($1,299), a 5.1 Channel AV receiver solution that is half the size of traditional AV receivers. Anthem says that the MRX SLM is an elegant and efficient solution to the age-old question: "Where do I put the receiver?" Its shockingly compact form-factor makes the MRX SLM easy to hide away in multi-use spaces, and it makes even other "slim" AV receivers look positively chonky by comparison. According to Anthem, the MRX SLM "seamlessly integrates into any entertainment system, offering integrators the freedom to create clean and clutter-free designs without compromising audio performance." Anthem has long catered to some of the most demanding custom integration clients, who require not only sleek design, but also exceptional sound quality and unwavering reliability. That's a tall order under any circumstances, but when you also need a space-saving solution without giving up any of the above performance criteria, there aren't many options out there. That's why Anthem says that the MRX SLM sets a new standard for audio devices in the industry. Key features include 50 watts per channel, HDMI connectivity with Dolby Vision compatibility and support for Dolby Atmos and DTS:X, enhanced integration features with robust IP control capabilities (including control drivers for major automation systems), and Anthem's user-friendly ARC Genesis room correction system, which offers advanced features and target curve adjustment options for both deep bass and high frequencies. But the most important feature of the MRX SLM has to be its small size, and the resulting flexibility when it comes to placement options.
Expanding from the success of our MRX x40 and AVM models, the MRX SLM presents an outstanding solution for our channel partners. It effectively addresses a key challenge by offering custom integrators a great way to save space without sacrificing audio quality. The SLM enables our partners to deliver excellent audio experiences while enhancing the visual appeal of their setups.
— David Baker, Director of Sales at Anthem
The demand for efficient and space-saving solutions in the custom integrator market has never been higher. With the MRX SLM, Anthem is meeting this need head-on by delivering a product that offers unmatched performance, flexibility, and ease of integration. This device is a must-have for integrators who strive to provide their customers with the best audio experiences while maintaining a sleek and visually appealing environment.
— John Bagby, Anthem's Managing Director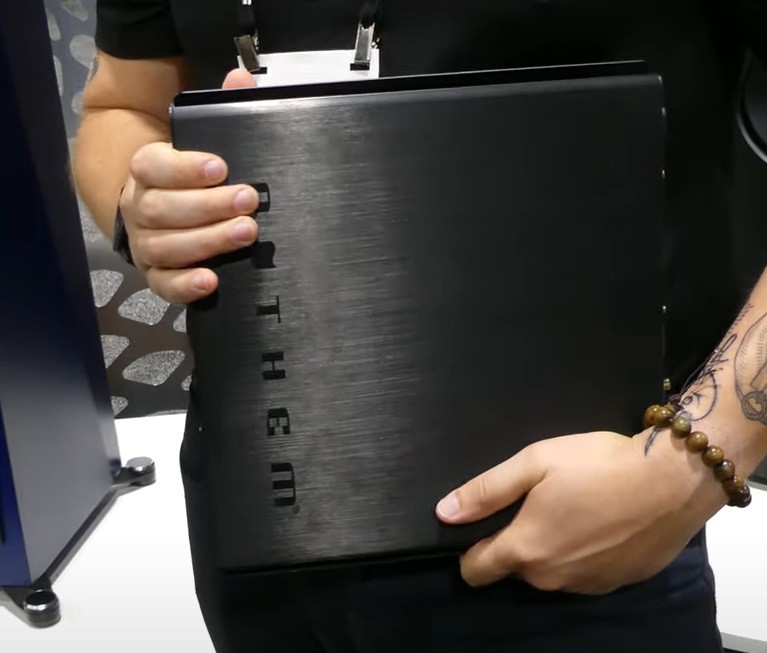 Details on the MRX SLM are still emerging as I write this, but this article should be accompanied by video coverage live from the CEDIA show floor. Audioholics founder Gene DellaSala is on the case, sniffing out the specs and particulars as they become available. As of now, I can tell you that Anthem says the company's commitment to uncompromising audio quality shines through in the MRX SLM, which promises to be "a powerhouse of a receiver," offering outstanding performance despite its slim profile. It reportedly delivers "elevated surround sound and high-fidelity audio… (ensuring) an unparalleled audio experience with incredible clarity." The MRX SLM doesn't skimp on features, despite its small stature. Popular streaming features like Spotify Connect, Apple AirPlay, and Chromecast compatibility are all present and correct, along with Bluetooth connectivity. All digital sources are routed to the MRX SLM's "premium DACs," which should ensure that your music sounds "clean, detailed, and dynamic," according to Anthem. (As of the time of writing, Anthem has not specified which DAC chips are used, but the company has a solid track record for making good-sounding gear. In fact, our friends at Audio Advice named Anthem's $3,100 MRX 740 8K receiver as the best-sounding AVR at its price level for 2023.)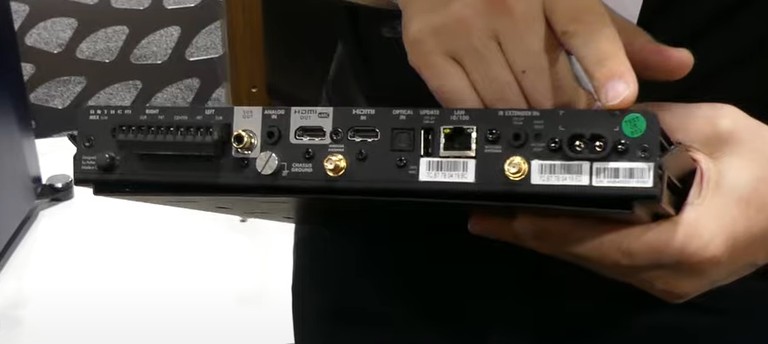 Anthem's effective ARC Genesis room correction solution would be a welcome feature in any AVR, but in a product as compact and as reasonably-priced as the MRX SLM, it's a big deal. In its current version, ARC Genesis may not be quite as tweak-friendly as the latest offerings from Dirac and Trinnov, but it delivers solid sonic results, and is arguably easier to use. And the difference in adjustability between these solutions is not as great as it once was, now that ARC Genesis offers new target curve adjustment options for deep bass and high frequencies. With support for both Mac and Windows, ARC Genesis offers a range of advanced features that would have been unthinkable in a $1,299 receiver just a few years ago. Anthem says you can now "fine-tune your system to your preferences with ease" and "transform your listening experience like never before."
According to Anthem, the new MRX SLM "represents a significant leap forward in the audio industry, providing integrators with a transformative solution to their most pressing challenge." It certainly seems to offer an appealing combination of compact size and advanced features, though I'll need to wait for our live video coverage to learn whether it might be a good solution to my own space limitation issues and audio needs. The MRX SLM will almost certainly become a new favorite among custom integrators seeking to deliver superior audio experiences, while maximizing space utilization in the sometimes tight corners of real-world homes. Here in the United States, the Anthem MRX SLM will be exclusively offered through authorized dealers, including our friends at Audio Advice, and should be available for order in mid-to-late fall of 2023.
Unless otherwise indicated, this is a preview article for the featured product. A formal review may or may not follow in the future.