The Marantz Stereo 70s: A 2CH HiFi AV Receiver?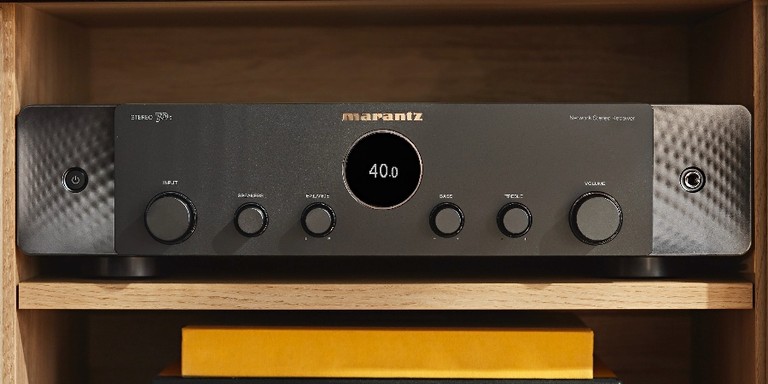 Marantz Stereo 70s Stereo Receiver
Summary
Marantz Stereo 70s vs Cinema 70s - Which One is Right for Your Hifi Needs?
Marantz Stereo 70s vs their Model Series

The $3,000 Model 30 integrated amplifier introduced a new design language for Marantz when it arrived on the scene in 2020. Though its symmetrical front panel and classic porthole hearken back to some Marantz products of yesteryear, the Model 30 is decidedly not cashing in on the popularity of retro aesthetics. It looks nothing like the original Model 30 integrated amplifier from 1970. Instead, it's an unabashedly modern design. On either side of the new amp's raised central panel, a curved and textured backplate is subtly illuminated, allowing its futuristic pattern to be seen from across the room. These bold design choices might not please everybody, but the new look has been a hit for Marantz. The company has now incorporated these styling elements into a whole new generation of products, including larger AV pieces like the AV 10 processor and AMP 10 sixteen-channel amplifier. But in my opinion, the new Marantz livery looks best on slimmer devices — of which there are now several. And when a company has a product catalog as diverse as Marantz's, it can be hard to keep track of what's what. The subject of this article is the new Stereo 70S ($1,000), which can best be thought of as a slim, two-channel AVR. But how does it fit into Marantz's ever-growing lineup of similar-looking components? Here's a quick rundown before we dive deeper into the Stereo 70S.
Marantz Model 30 ($3,000)

It all started with the Model 30, an all-analog purist piece for more old-school audiophiles. If you want the Model 30, you're either spinning vinyl, or you have a separate CD player, streamer, and/or DAC. The only built-in feature you'll find on the Model 30 is a phono stage; there's no built-in streaming, no DAC, and no control app. But the amp isn't a total throwback piece. The Model 30 shows Marantz's commitment to using Class D amplification in its higher-end gear. (The rest of the amps we'll discuss are less expensive, and use Class AB.) Inside the Model 30, you'll find Hypex NCORE modules that allow the amp to deliver 100 watts per channel into 8 ohms, and 200 watts per channel into 4 ohms. Thanks in large part to the high-current double-shielded toroidal power transformer, the Model 30 feels heavy for its size, weighing in at 32.6 pounds.
Marantz Model 40n ($2,500)

For slightly less money, you can get the all-in-one Model 40n, which includes features like a DAC, an HDMI input, wireless connectivity, and built-in streaming via HEOS. The Model 40n replaced the less expensive PM7000n, but sounds substantially better thanks to an amplifier section based on Marantz's all-analog PM8006 (which remains one of my favorite integrated amps at its price point of $1,500). The Model 40n took the Class AB amp from the PM8006 and beefed up the power supply, doubled the number of output transistors per channel, and effectively increased its current capability. The Model 40n is rated to deliver 70 watts per channel into 8 ohms, and 100 watts per channel into 4 ohms.
Marantz Cinema 70s ($1,200)
Next comes the Cinema 70s, the smallest member of Marantz's new Cinema Series of AV receivers. The Cinema 70s is everything you'd expect from a typical AVR, except it's about half the size and looks a hell of a lot nicer sitting on a credenza underneath a wall-mounted TV. Besides its slim form-factor, the Cinema70s is a fairly standard 7.2-channel receiver, delivering 50 watts per channel, and offering six HDMI inputs (three are 8K-capable), Dolby Atmos, HDMI video upscaling, HEOS streaming, and Audyssey MultEQ room correction.
Marantz Stereo 70s ($1,000)
And that leads us to the newest member of Marantz's slimline receiver family, the Stereo 70s. As its name suggests, the Stereo 70s is a two-channel device with no surround-sound aspirations. But in some ways, it's more like an AVR than a traditional integrated amp. This "stereo AVR" product category started with Marantz's now-discontinued NR1200, which came about to serve a particular kind of customer. Folks who are likely to choose a stereo AVR like the NR1200 or Stereo 70s listen to music in the same room where they watch TV and movies. They aren't attracted to the complications of surround sound, but they do want better audio from TV, movies, and gaming. They have several HDMI sources, like a PlayStation and/or Xbox, an Apple TV and/or Roku, and a Blu-ray player. While many people in this situation would go with a soundbar, music-lovers who want a wider soundstage and true stereo imaging would not be satisfied by a one-speaker solution — especially if they're adding a turntable or CD player to the mix. For them, the Stereo 70s is the perfect solution. It combines Marantz's ability to make great-sounding yet affordable two-channel components with the company's extensive experience delivering feature-packed home theater receivers.

Marantz Stereo 70s Simple, But Feature Rich

As a stereo receiver, the Stereo 70s foregoes any attempt to deal with surround sound. Users will simply connect a pair of speakers, and perhaps a subwoofer or two. (The Stereo 70s has two subwoofer outputs, but they are wired in parallel and so are not independent.) But like a typical multichannel AVR, the Stereo 70s offers multiple HDMI inputs, with HDMI-ARC, HDMI video upscaling, and many of the latest gaming features. It also offers the user-interface benefits of an on-screen display. It has Spotify Connect, AirPlay2, TuneIn internet radio, and of course HEOS, the multi-room streaming platform used in many Marantz (and Denon) products. Through HEOS, the user can access a variety of streaming services, including Amazon Music HD, Tidal, iHeart Radio, Soundcloud, and more. Thanks to two-way bluetooth, the Stereo 70s can receive bluetooth audio from a phone or tablet, and also re-transmit audio to Bluetooth headphones.
The Stereo 70s is about 4 ½ inches tall, about 15 inch deep, and 17 inches wide. Inside the svelte case you'll find a ClassAB amp rated to deliver 75 watts per channel into 8 ohms, and 100 watts per channel into 6 ohms. Note that no 4-ohm rating is given. This suggests that the power supply is likely not as beefy as the one in the (substantially more expensive) Model 40n, which uses a double-shielded toroidal transformer. That amp tips the scales at almost 37 pounds, while the Stereo 70s weighs just 18.5 pounds. In fairness, the Stereo 70s is still heavier than many cheap 5-channel and 7-channel home theater receivers on the market. The power amp in the Stereo 70s is a fully discrete Class AB design, and the receiver benefits from the use of Marantz's proprietary High Dynamic Amplifier Modules (HDAM) — tiny preamplifier modules located between the volume control and power amplifier. These consist of fully discrete circuitry with hand-selected components, and they take the place of traditional operational amplifiers that can emit background noise. According to Marantz, the use of HDAM allows for a quieter signal path, resulting in a quieter background from which music can come alive. It's worth noting that this is the first time a Marantz slimline stereo receiver has included HDAM. (Marantz has been using HDAM in its high-end products since the early 1990s.) For those keeping score at home, the more expensive Model 40n has HDAM included in its architecture, but the multichannel Cinema 70s AVR does not. On the other hand, the Stereo 70s lacks the built-in room correction found on the Cinema 70s.
HDAM is one thing, but HDMI is another. While the Model 40n has just one HDMI input, the Stereo 70s has a generous six HDMI inputs, three of which are capable of 8K. For those lucky few with 8K TVs, the Stereo 70s can upscale any 1080p or 4K signal to 8K. All of these inputs support HDR, HLG, Dolby Vision, HDR10+, and Dynamic HDR. Gamers will appreciate the inclusion of ALLM (Auto Low Latency Mode) and VRR (Variable Refresh Rate) support. Audio inputs include three analog inputs, one coax, one toslink, and a USB A input for playing files from a storage drive. A moving-magnet phono input is included for vinyl fans. Preamp outputs allow the use of a separate power amp, and the Stereo 70s even has Marantz's preamp mode, which disconnects the loudspeaker outputs, decreasing distortion and increasing the max voltage out from preamp. The amp's "Direct" mode bypasses tone controls, while "Pure Direct" tuns off the display circuitry for critical music listening. When your digital sources are less than pristine, the M-DAX feature can be used to improve the sound of low-res audio from certain streaming services (looking at you, Pandora). On the other end of the digital audio quality spectrum, the internal DAC can handle Hi-Res Audio up to 24/192 and DSD up to 5.6 megahertz.
Conclusion of Marantz Stereo 70s

While newcomers to Marantz might be understandably overwhelmed by choice, it doesn't take long to parse out the differences between the new Stereo 70s and its similar-looking stablemates. The Model 30 stands alone as an all-analog affair, for systems in which sound quality and power output are paramount, and the convenience of an all-in-one device is not required. The Model 40n is for audiophiles who appreciate the build-quality and power of high-end gear — and are willing to pay a premium to get those things — but who also want the convenience of built-in streaming and the ability to connect a single HDMI device, such as a TV. The Cinema 70s is a relatively affordable and unusually good-looking 7-channel AVR. Finally, the Stereo 70s is for folks who value the ability to have both good-sounding music and the HDMI connectivity to hook up a variety of sources — without cable spaghetti coming out from behind the TV — all in the context of a clean and simple two-channel home theater. Which one most appeals to you? Share your thoughts in the related forum thread below.
| | | | | | | | |
| --- | --- | --- | --- | --- | --- | --- | --- |
| | MSRP | Channel Count | Power Output | HDMI Inputs | Amplifier Topology | HDAM | Room Correction |
| Model 40n | $2,500 | 2 | 70W @ 8 ohms 100W @ 4 ohms | 1 (with ARC) | Class AB | Yes | N/A |
| Cinema 70s | $1,200 | 7 | 50W @ 8 ohms 70W @ 6 ohms | 6 (3 8K) | Class AB | No | Audyssey MultEQ |
| Stereo 70s | $1,000 | 2 | 75W @ 8 ohms 100W @ 6 ohms | 6 (3 8K) | Class AB | Yes | N/A |
| Model 30 | $3,000 | 2 | 100W @ 8 ohms 200W @ 4 ohms | N/A | Class D | Yes | N/A |
Unless otherwise indicated, this is a preview article for the featured product. A formal review may or may not follow in the future.