Marantz AV 10 15.4CH 8K AV Processor Bench Test Results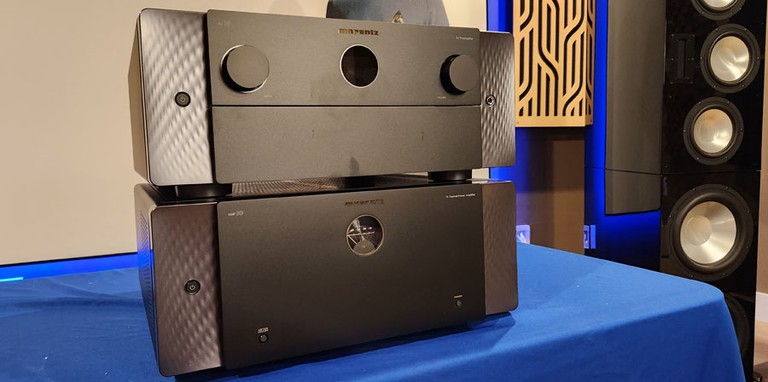 Marantz AV 10
Summary
Executive Overview
The Marantz AV 10 is a 15.4 CH 8K AV Processor that supports all 3 immersive surround formats (Dolby Atmos, DTS:X and  Auro 3D). It has 4 independent subwoofer outputs and some new bass management features such as bass redirection and LFE bass routing. These two features are a first for Marantz and we will include test results in this comprehensive measurement report.
Marantz AV 10 15.4CH 8K AV Processor Bench Test Results
All measurements were conducted using our Audio Precision APx585 8 Channel HDMI Audio Analyzer. Unless otherwise stated, all testing was conducted using Blu-ray HDMI input with a 0dBFs signal and Fs = 192kHz.
Note: I updated some of the distortion measurements in this bench test since original publication, please follow the related forum thread for a history.
HDMI Input, Multi-CH Preouts
The Marantz AV 10 is capable of > 12Vrms unclipped from the XLR multi-ch preamp outputs and 6Vrms from unbalanced. This is a very strong output capable of driving any amplifier into clipping long before the preamp itself is the source of distortion.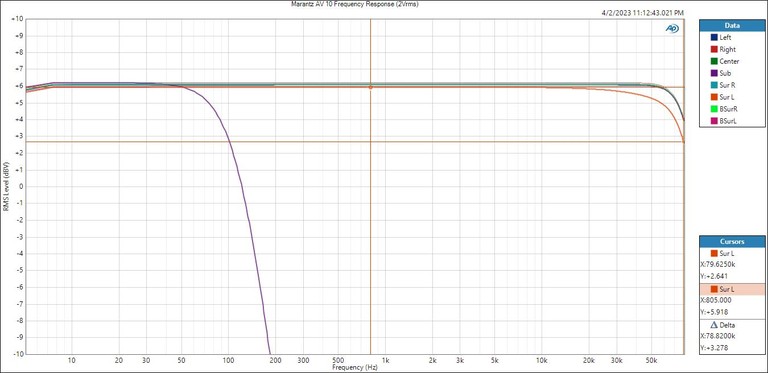 Marantz AV 10 Preamp Frequency Response
With a 192kHz input signal, the Marantz AV 10 exhibited ruler flat frequency response within the audio band with a -3dB point of about 80 kHz from all of the bed channels I tested with the exception of the Sur L. The Sur L channel was down about -0.1dB at 20kHz and exhibited slightly more roll off with a -3dB point of 78 kHz. This is not audible and I mentioned it solely for academic curiosity. I engaged the subwoofer channel by selecting "LFE + Main" which allows the AV 10 to copy the bass from the Main channels set to "Large".  Make no mistake, the AV 10 will be transparent for ALL of your high-res audio needs.
Marantz AV 10 Measurement Supplemental - Better Than I Thought?!?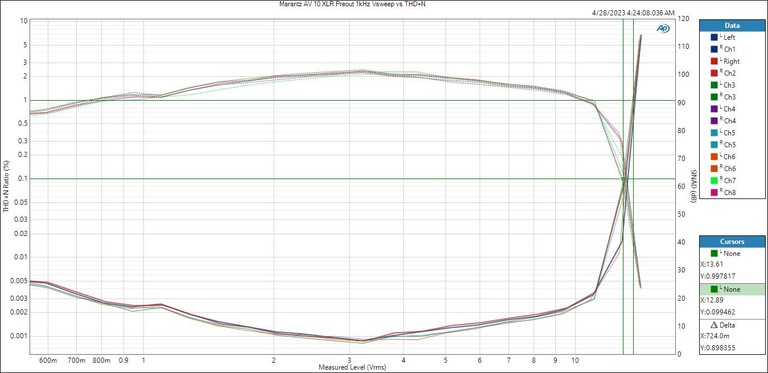 Marantz AV 10 Preamp Output Voltage vs Distortion (XLR)
The distortion is very low from the XLR outputs at <0.0008% THD+N or 101dB SINAD. With 7CH driven, the preamp produced 12.9Vrms at 0.1% THD+N and 13.6Vrms at 1& THD+N.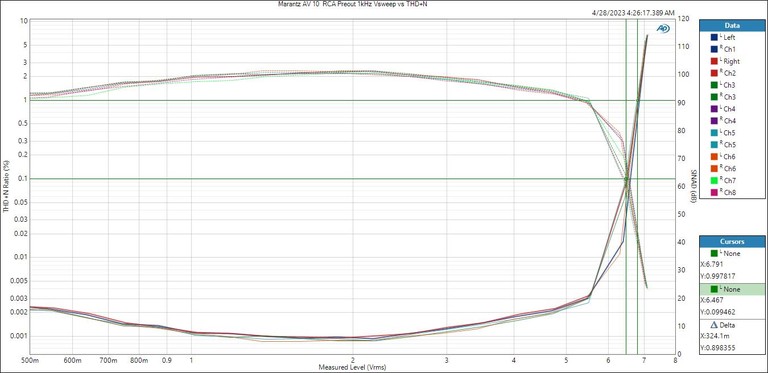 Marantz AV 10 Preamp Output Voltage vs Distortion (RCA)
The distortion from the unbalanced RCA outs was only slightly worse at full drive measuring .0009% THD+N or 100dB SINAD. With 7CH driven, the preamp produced 6.5Vrms at 0.1% THD+N and 6.8Vrms at 1% THD+N which is about half the output drive compared to the XLR (as expected).
The AV 10 has gobs out output voltage to spare whether you use the XLR or RCA outputs. This processor can work very well with any power amplifier you choose.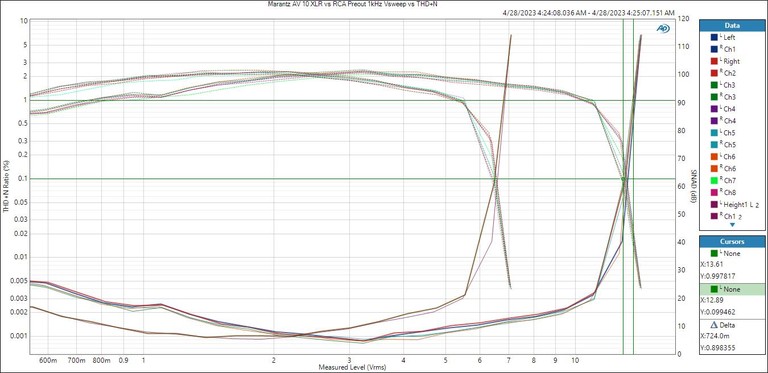 Marantz AV 10 Preamp Output Voltage vs Distortion (XLR vs RCA)
At low drive level ( below 2Vrms), the unbalanced outputs exhibit slightly less distortion than the XLRs. I believe this is related to the increased noise of the XLR phase splitter circuit to convert the signal to balanced since this isn't a true differential design. These distortion levels are far below audibility. I consider a SINAD of > 80dB sufficient for high-fidelity and the AV 10 comfortably exceeds this threshold by +21dB (XLR) and + 20dB (RCA).
SINAD Distortion Measurements to Confirm Marantz Testing

I wanted to replicate Marantz test results as they reported 106dB SINAD or 0.0005% THD +N. To do this, I limited the bandwidth to 22kHz, adjusted the Master Volume to 82.5dB which yields a 4Vrms output with a 0dBFS input signal from HDMI.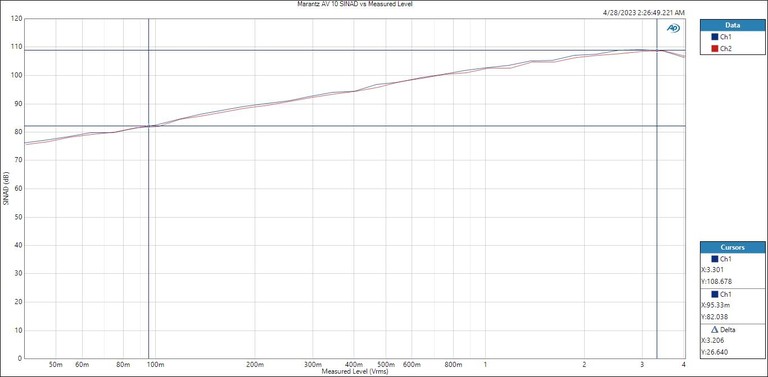 Marantz AV 10 SINAD vs Level (Marantz Test Conditions)
In this test scenario, I was able to measure 108dB SINAD which is +2dB better than Marantz achieved! Running full bandwidth (Fs = 192Khz) this number dropped slightly to 106dB which matches Marantz's spec. This is crazy low distortion that few home theater products could achieve at any price point!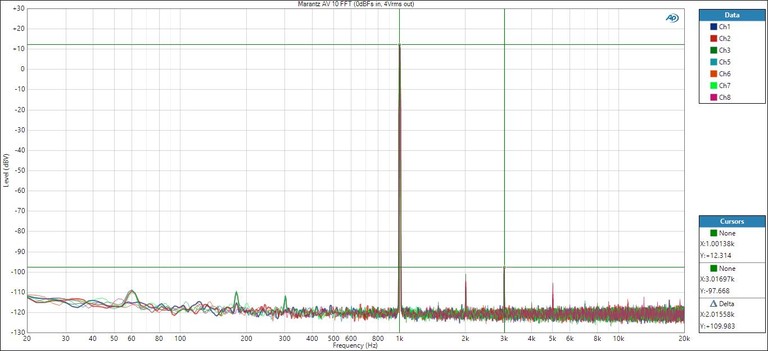 Marantz AV 10 Preamp Out (XLR) FFT Distortion Analysis @ 4Vrms
The Marantz AV 10 has a very clean distortion spectra as can be seen in the 1kHz FFT distortion plot. The 3rd order harmonic is 110dB below the fundamental which is excellent. There is virtually no measurable power supply hum and the high frequency spectra is very clean.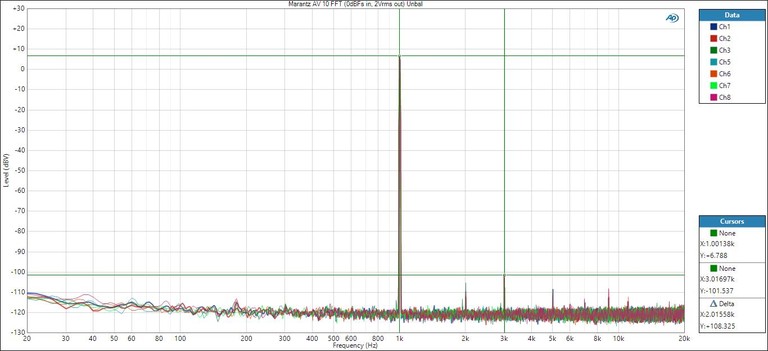 Marantz AV 10 Preamp Out (RCA) FFT Distortion Analysis @ 2Vrms
The unbalanced outputs of the Marantz AV 10 produced similarly good results with the 3rd harmonic being 108dB below the fundamental when output drive is 4Vrms (balanced) and 2Vrms (unbalanced). Lowering the volume control shifted the harmonic spectra to dominating 2nd order distortion as you can see in the graph below.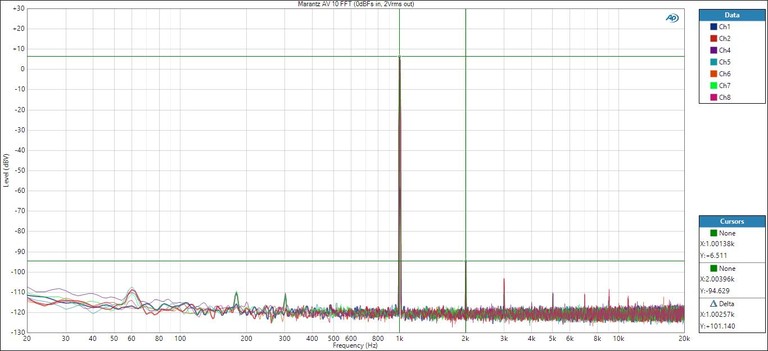 Marantz AV 10 Preamp Out (XLR) FFT Distortion Analysis @ 2Vrms
I suspect I'm measuring non-linear behavior from the volume control circuity which is academic curiosity and not audible.
Whether you use balanced or unbalanced outputs, the AV 10 will provide very low distortion with more drive than you will ever use to reach full power from your amplifiers.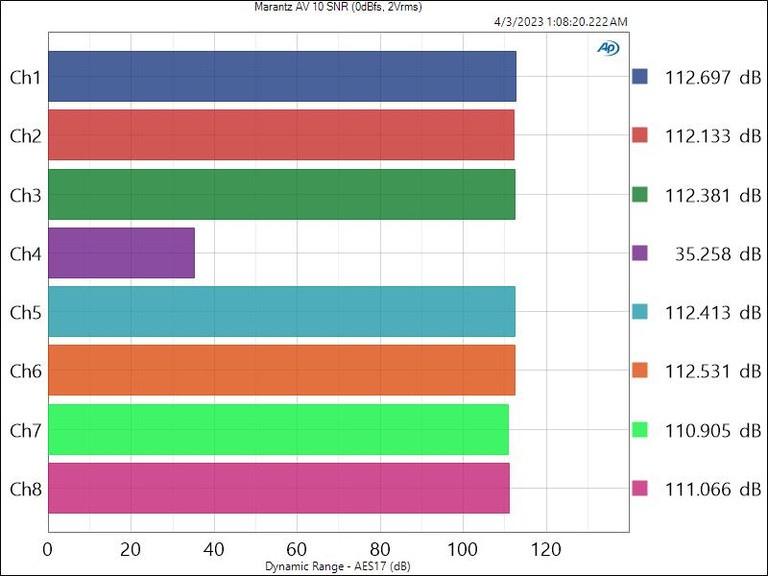 Marantz AV 10 (2Vrms) – Signal to Noise  Test (1kHz, A-wt)
112dB SNR @ 2Vrms with a 0dBFs input signal is excellent and among the best I've measured from AV processors. I remeasured at 1Vrms via the unbalanced outputs and the AV 10 achieved similar results. Ignore CH4 which is the subwoofer channel. When I tested in the exact same test conditions of Marantz (0dBFS input, 4Vrms output), I confirmed their 116dB SNR measurement!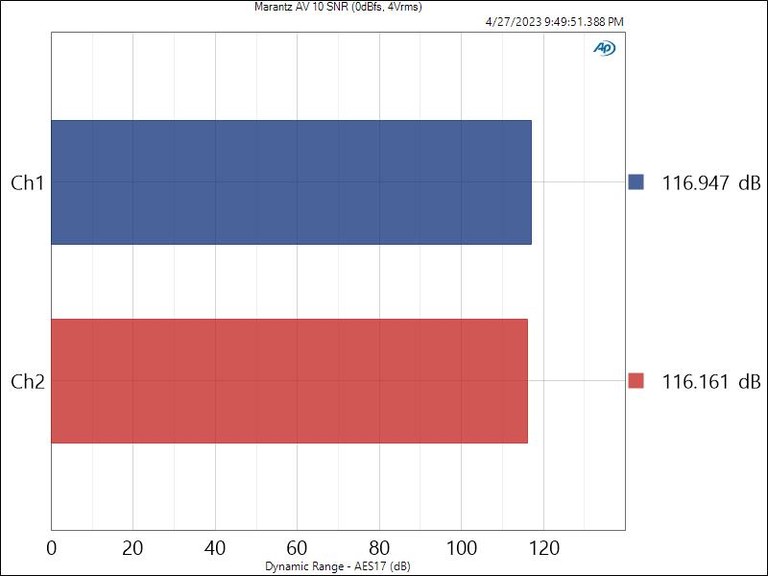 Marantz AV 10 (4Vrms) – Signal to Noise  Test (1kHz, A-wt)
When I tested in the exact same test conditions of Marantz (0dBFS input, 4Vrms output), I confirmed their 116dB SNR measurement! I was able to get the same measurement with and without Pure Direct engaged.
This is a very quiet, noise free processor and you shouldn't hear much hiss even if you're using high-sensitive speakers in close proximity to the listening area.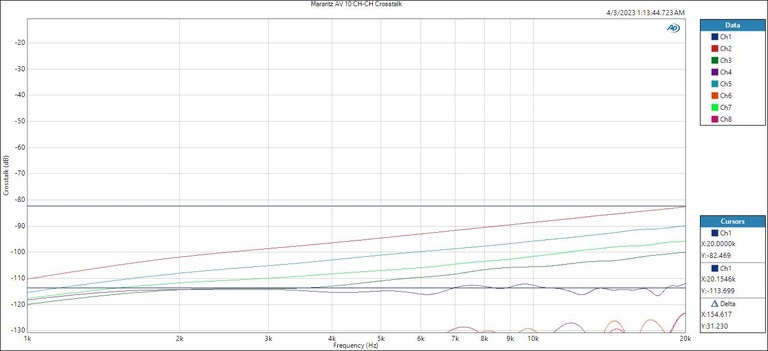 Marantz AV 10 CH to CH Crosstalk Preamp Outputs
With one channel undriven and the other channels driven, channel to channel crosstalk was stellar at 110dB CH-CH isolation at 1kHz and >80dB isolation at 20kHz. Anything > 60dB at 20kHz is what I consider to be sufficient for excellent stereo separation and minimal audible channel leakage.
Filter 1 vs Filter 2 DAC Settings
I've been getting numerous requests to test the Filter 1 vs 2 settings for Fs = 44.1kHz (CD sampling). As a result, I set up the test to compare.
Note: the Filter DAC setting mostly affects audio signals with a sampling rate of 48Khz or lower. 192Khz sampling rate for high resolution audio are virtually identical for both filter settings.

Filter 1 - Marantz "audiophile" sound tuning recommended for music listening
Filter 2 - Bench Test mode, designed to look better on the test bench for those that listen with their meters, LOL.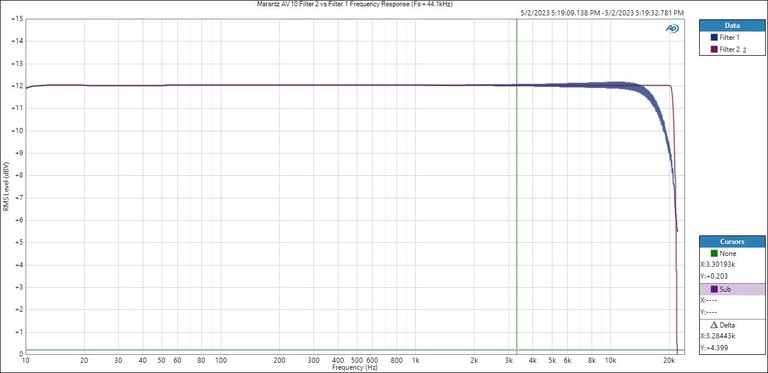 Marantz AV 10 Filter DAC Setting Frequency Response Comparison
You can see Filter 1 has a -3dB roll off at 20kHz while the Filter 2 setting is flat to 20kHz. Filter 2 is a much sharper rolloff after Nyquist. If you want to pass the full 20kHz bandwidth of CDs without attenuation, use the Filter 2 setting.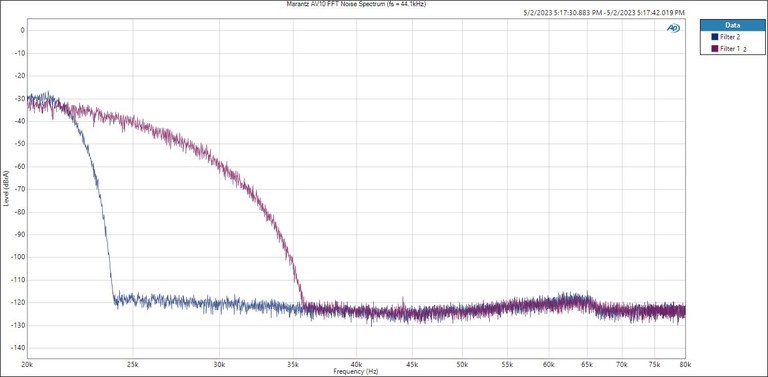 Marantz AV 10 FFT Noise Spectrum Comparison of Filter DAC Settings
Interestingly both Filter 1 and Filter 2 have very good stop band attenuation with Filter 1 allowing more out of band noise up until 35kHz.This is beyond the limits of human hearing but shows good housekeeping by Marantz to keep out unwanted noise from being amplified down the signal path.
Analog Input, Multi-CH Outputs
With a 1Vrms test signal on the XLR inputs, I adjusted the output to 2Vrms and measured ruler flat frequency response to beyond the bandwidth of my APx585.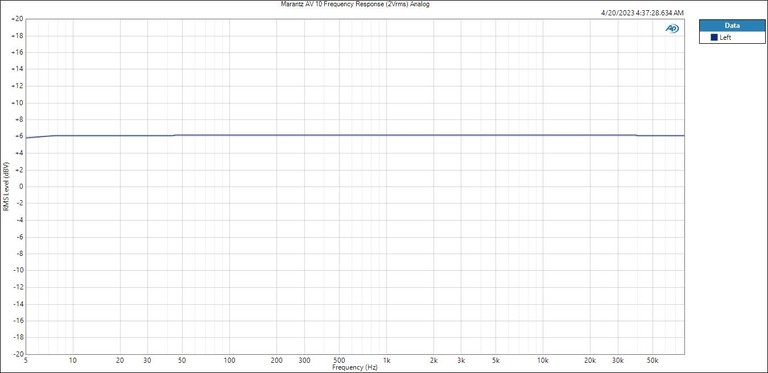 Marantz AV 10 Analog Frequency Response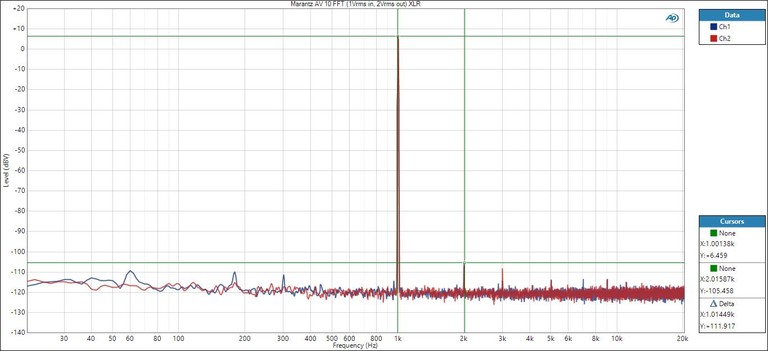 Marantz AV 10 Preamp Analog FFT Distortion Analysis @ 2Vrms

No surprise, we see a squeaky clean FFT distortion plot when measuring the entire analog audio path of the Marantz AV 10.
Phono Output
The AV 10 has a Moving Magnet (MM) phono preamp. Using the original 3-time constant RIAA curve, I EQ'ed the APx585 source to get the expected flat response of the phono preamp. The source was driven at 10mVrms and the gain was adjusted to 2Vrms output.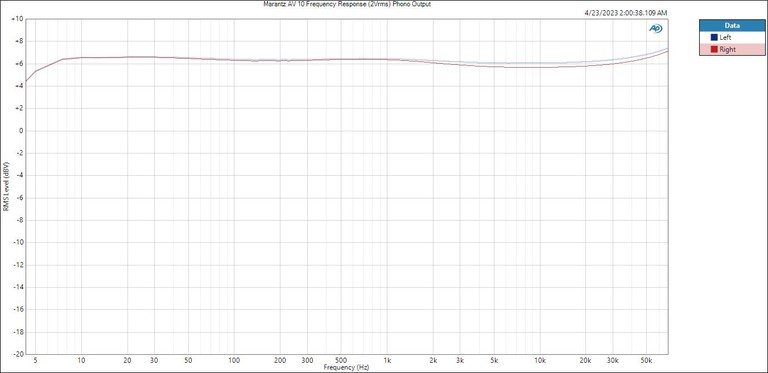 Marantz AV 10 Phono Frequency Response (10mVrms in, 2Vrms out)
We see a fairly flat frequency response in the audio pass band with a slight rise in response above 20kHz.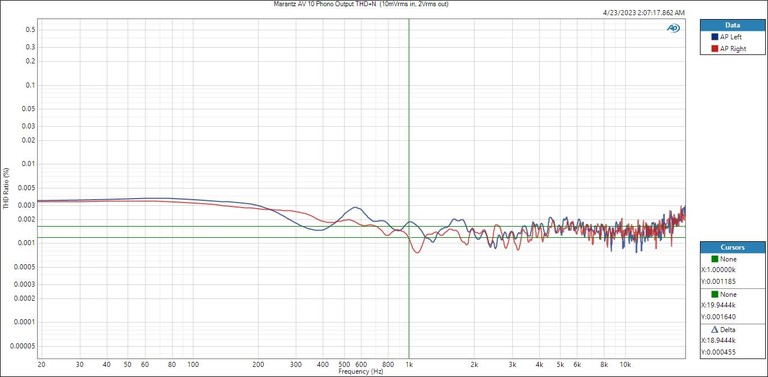 Marantz AV 10 Phono THD+N vs Frequency (10mVrms in, 2Vrms out)
The phono preamp output has exceedingly low distortion as can be seen in the above graph with measured 0.001% THD+N. This is about what I measured out of the Multi-CH preouts, impressive! I measured 92dB SNR (A-wt) at 2Vrms which is very low noise performance for a phono preout. 
The Marantz AV 10 has a serious phono preamp section that anyone with a MM turntable and a good vinyl collection would greatly appreciate.
Bass Management
Back to using HDMI as the source, I measured the preouts with bass management engaged.
Marantz AV 10 Bass Management Frequency Response
The Marantz AV 10 bass management engaged with a crossover point of 80Hz resulted in textbook THX slopes of 12dB/oct HPF response for bass managed speakers and 24dB/oct LPF. The variable crossover feature also works as expected and is a useful tool for calibrators that can potentially get better integration between the speakers and subs if 80Hz is not the ideal setting for every channel grouping.
Caution on Advanced Bass Management Features: The following two new features tested; LFE Bass Routing and Directional Bass, should ONLY be used by experienced installers and calibrators. I caution the end user before diving into these configurations to avoid potential bass overloading your speakers or poor calibration results.
LFE Bass Routing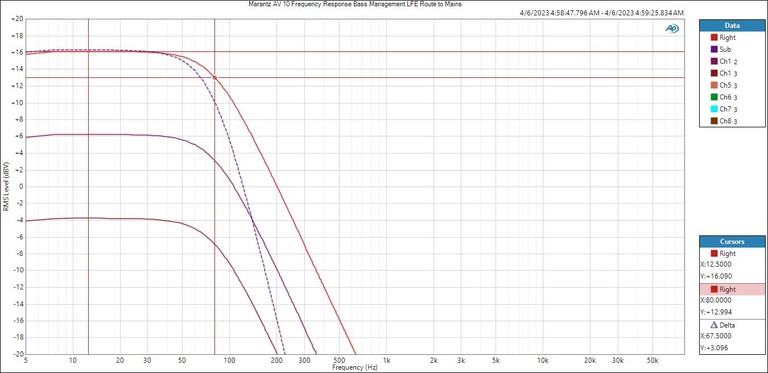 Marantz AV 10 LFE Routing Bass Management
After begging and pleading for over 15 years, Marantz complied with my request to offer LFE routing to speakers set to "large". This is an extremely useful tool when integrating truly full range speakers in your system if you wish to use them as additional bass sources to supplement your powered subwoofers. Marantz took it to a level I never expected by allowing advanced users to route LFE to ANY bed level speaker groups set to "large". They even offer level adjustments from 0 to -20dB as you can see in the level shifting in the above graph.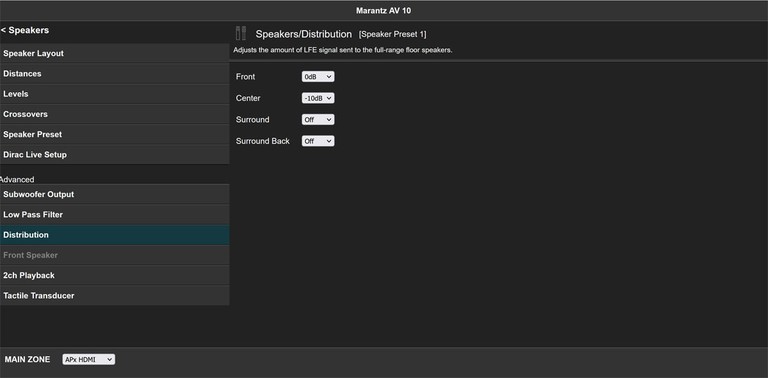 Marantz AV 10 LFE Bass Distribution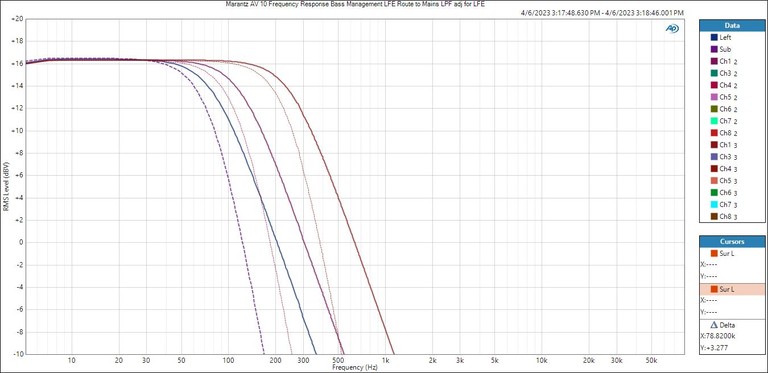 Marantz AV 10 LFE Routing Bass Management LFE Crossover Adjustment
The LFE crossover setting is based on the LPF for LFE setting but it recombines to any speaker groups set to "Large" at 12dB/oct instead of 24dB/oct like the LPF for the subwoofer channel. This can lead to a bit more than expected bass recombination into channels using LFE routing and I recommend scaling back the level a bit to compensate depending on your speaker capability and summation in your system.
Caution About LFE Bass Routing: This is a first for any Japanese based AVPs or receivers and I am so ecstatic about this. This feature is typically reserved for the very high-end processors from the likes of Trinnov and Storm Audio. I do caution users to use this feature with great caution and ONLY if your un-bass managed speakers are capable of handling deep LFE bass effects (most tower speakers are NOT). I would also suggest starting at -6dB to -10dB and NOT leave it at the default 0dB.
Directional Bass
As mentioned earlier, Marantz added a new directional bass feature on the AV 10 that allows the user to set up bass zones (ie. 2 subs for Left/Right sides; 4 subs for Left / Right Fronts and Left/Right Backs). I tested a 4 sub configuration to see how the AV 10 would route bass from bass managed speakers to the four individual sub zones.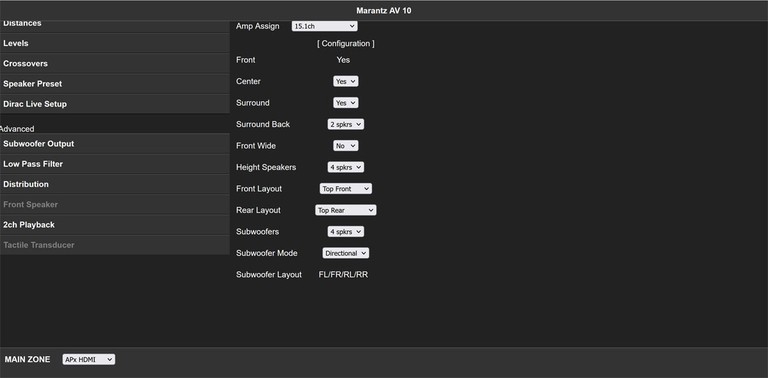 Marantz AV 10 Directional Bass Subwoofer Mode

The question came up from fellow Youtuber Shane Lee as to what happens to the center channel bass in a directional bass set up. In this scenario we see that the Front Left and Front Right subs get the center channel bass at a reduced level of -4.1dB but the back subs do NOT get center channel bass.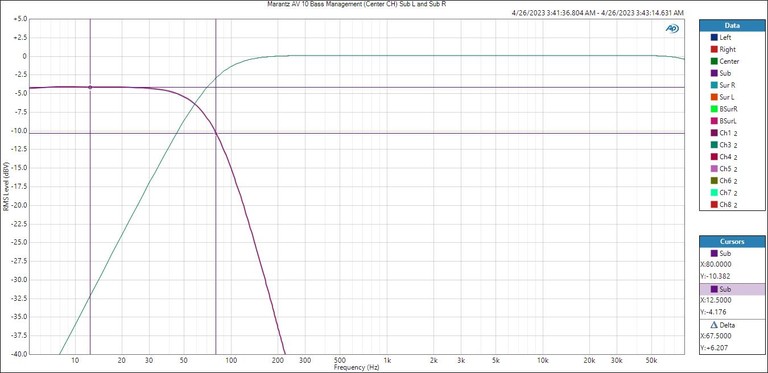 Marantz AV 10 Directional Bass - Center Channel w Front Left/Right Subs
Next we tested what happens to the bass from the Surround and Surround Back channels in a 4 sub directional bass configuration.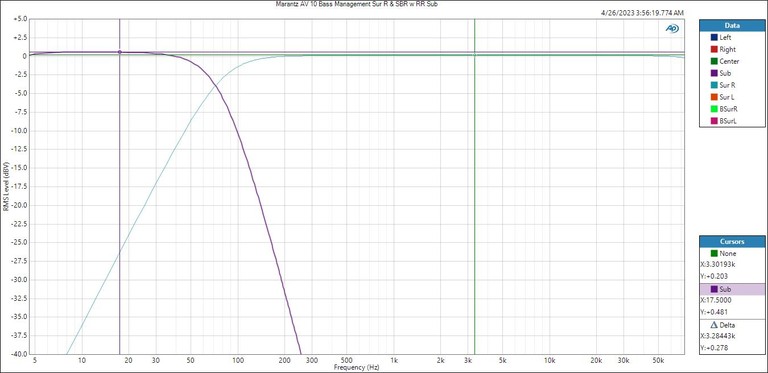 Marantz AV 10 Directional Bass - Sur R & SBR w RR Sub

In the measurement above the Sur R and Back Right channels only go to Right Rear sub  as expected for the directional bass feature. They sum level matched and not at a reduced level like we saw with the center channel routing when there were two subs in common with that channel.

Interestingly when you compare the sub out level with 1 sub configuration vs 4 mono-split, each of the 4 subs gets a -8.7dB reduced output level for the Main Front Left/Right channels. If you do the math and add 3 additional correlated audio sources together it would yield a net +9dB SPL increase. I suspect this is why Marantz did the level reduction of -8.7dB on all 4 sub outputs to avoid excessive output increase when switching from one to four subwoofers.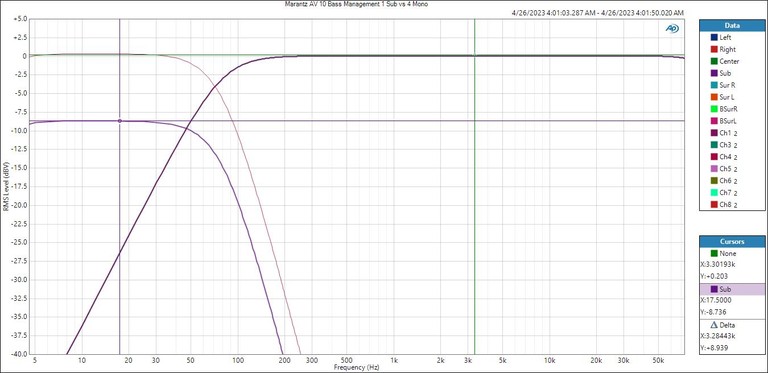 Marantz AV 10 1 Sub vs 4 Mono Split for Main Left/Right Channels

Sub4 can be configured as a tactile transducer output and I confirmed with measurements that when you do this, you can still get LFE routed to the additional sub outputs. This is a much welcomed improvement over how the Denon AVP-A1HDCI handled the tactile transducer output feature which limited LFE to that sub output only.
Conclusion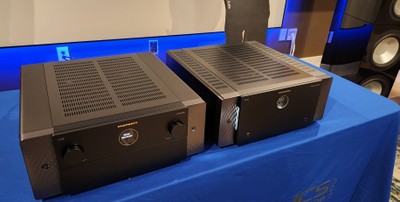 The Marantz AV 10 exhibited crazy low distortion that few home theater products could achieve at any price!
The Marantz AV 10 produced excellent to class leading measurements on our bench test. The AV 10 has oodles of low noise drive to cleanly run any amplifier into clipping without ever being the source of distortion. Some of the bass management features like directional bass and LFE bass routing set the AV 10 in a class by itself at this price point.
Stay tuned for my bench test results of the matching Marantz Amp 10 16CH amplifier next.

Unless otherwise indicated, this is a preview article for the featured product. A formal review may or may not follow in the future.
Confused about what AV Gear to buy or how to set it up? Join our Exclusive Audioholics E-Book Membership Program!