Marantz AV 10 & AMP 10 16CH HDMI 2.1 Separates Details Leaked!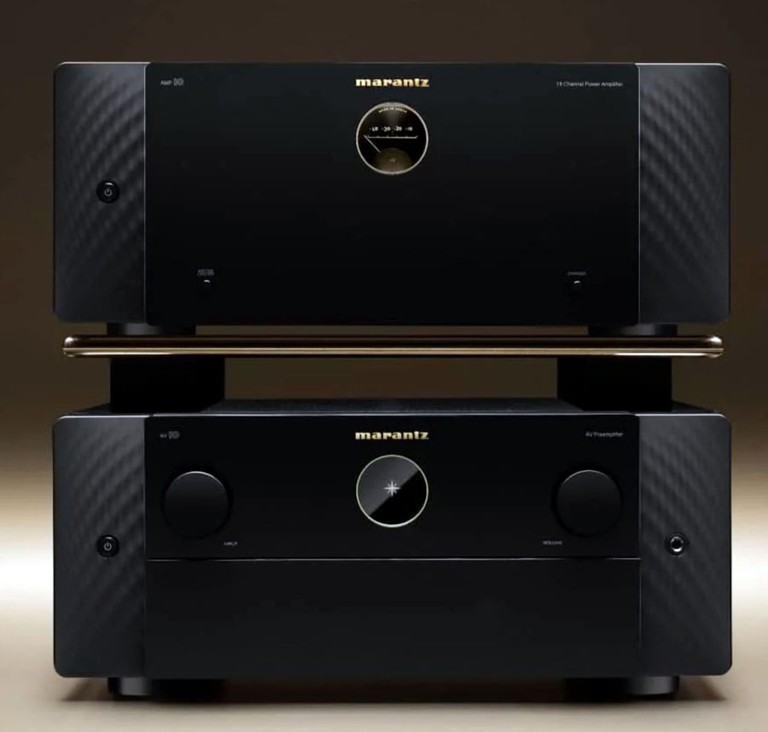 Marantz AV 10 & AMP 10 16CH Separates
Summary
Executive Overview
Information leaked last week (most likely from a Marantz/Denon dealer) on new Denon and Marantz products that will be announced at CEDIA 2022. This article explores the preliminary info currently available on the new Marantz AV 10 flagship 16CH AV Processor and matching AMP 10 16CH amplifier.
Marantz AV 10 & AMP 10 16CH HDMI 2.1 Separates Leaks!
Marantz AV 10 15.4CH AV Processor
MSRP: $7,000
Marantz is touting these products as the most powerful and customizable system to create your ultimate Home Theater. The AV 10 sports ALL immersive surround CODECs including Dolby Atmos, DTS:X Pro, Auro 3D and IMAX Enhanced. The AV 10 includes support for 4 independent subwoofer outputs which allows for independent delay and level trim and EQ. This is a first for any Marantz product as prior models like the AV8805 support up to two independent subwoofer outputs. The only other AV processor in this price range that supports 4 independent subwoofer outputs is the Anthem AVM90. This is an incredibly useful feature for anyone wanting to integrate 4 subwoofers in their system to achieve the very best bass response across all listening seats.
The AV 10 has just upped its room correction game with FULL DIRAC support (upgrade option) in addition to simultaneously supporting Audyssey MultEQx. This is the first time we've seen a product support both room correction systems. It begs the question if this spells the end of Audyssey as we know it IF consumers will prefer DIRAC as their go to room correction system. We've heard rumors that the user could use a combination of both Audyssey and DIRAC in conjunction but it's unclear how that would work. Is it possible a user can DIRAC calibrate their system and then apply Audyssey Dynamic EQ and Volume features? We aren't sure and will leave that topic open for debate until we can confirm with Marantz at CEDIA in a few weeks.
>2022 Denon & Marantz Roadmap for Dirac Updates<
The AV 10 is said to have 7/3 HDMI input/output, with ALL inputs supporting 8K / 60Hz and 4K / 120Hz passthrough. What is more shocking is that Marantz has allegedly redesigned the GUI (Graphical User Interface) for 4K/8K TVs. Most competitors simply don't support GUIs in their products in favor of web interface or app control. It takes a lot of processing power to support a GUI for high resolution applications so this speaks volumes for the tech baked into this product.
Marantz AMP 16 16CH Amplifier
MSRP: $7,000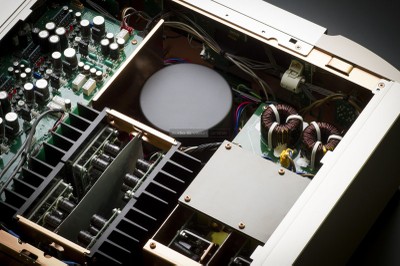 To compliment the AV 10 processor, Marantz will be releasing the AMP 10 16-Channel 200W Power Amplifier. This design appears to be based on the Hypex N-core Class D module found in their PM-10 integrated amplifier. It's rated at 200 watts/ch at 8 ohms (2CH driven) and 400 watts/ch at 8 ohms bridged (Bridge-Tied-Load). It's unclear if the AMP 10 can have all of the channels bridged to produce 400 watts to up to 8 channels but we will confirm this at CEDIA in just a few short weeks. We are pleased to see Marantz making the move towards SOTA Class D amplifier design as there are many advantages including increased efficiency (> 90% compared to 60-70% of Class AB at full load), less heat, and lighter weight. This makes a lot of sense as channel densities increase to support larger speaker configurations. Best of all, we've seen a recent trend of the very best Class D amplifier modules from the likes of Hypex, PuriFi and Pascal that actually exceed the performance of the very best linear counterparts with respect to noise and distortion levels. A good Class D like the Hypex n-core is load invariant meaning the performance remains consistent regardless of the loudspeaker load impedance.
Initial Impressions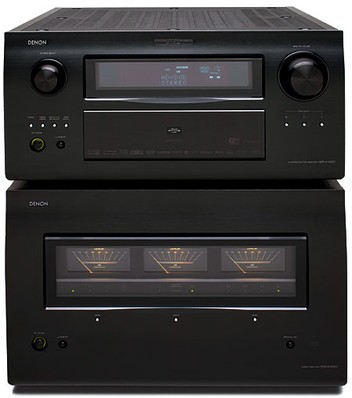 I can't help but to gush over this news anytime Marantz or Denon releases flagship home theater products. This brings me back to the days of the Denon AVP-A1HDCI and POA-A1HDCI 10CH flagship separates. I longed for the day when Sound United would produce separates built of that caliber and here we are today with such products loaded with the very latest processing technologies and amplification. The fact that Marantz is offering so much processing power and custom integration options at this price point should give anyone pause looking at the more expensive alternatives out there from the likes of McIntosh, Trinnov and Storm Audio. The porthole analog level meter is a nice touch as is the luxury industrial design that is carried through the most recent Marantz designs.
Both the Marantz AV 10 and AMP 10 utilize toroidal power transformer linear power supplies and Marantz HDAM designs. There are some advantages to a good linear power supply with respect to reliability, and dynamic power. But the eventual move towards SMPS is inevitable to achieve the very highest level of efficiency and small form factor advantages in Class D amplifier design.
Both products will be made in their prestigious Shirakawa Audio Works factory in Japan where current flagship Denon and Marantz and prior units like the venerable AVR-5805 and AVP Separates were also produced.
We look forward to learning more about these new Marantz products in the coming months and getting them on our bench for evaluation.
Are you in the market for these products? Share your thoughts in the related forum thread below.

Unless otherwise indicated, this is a preview article for the featured product. A formal review may or may not follow in the future.
Confused about what AV Gear to buy or how to set it up? Join our Exclusive Audioholics E-Book Membership Program!