Denon POA-A1HDCI 10 Channel Amplifier
Denon POA-A1HDCI 10 Channel Amplifier
Filed under: Amplifiers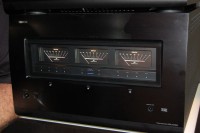 Denon POA-A1HDCI
The POA-A1HDCI is a THX Ultra2 Certified, 10-channel power amplifier boasting 150 watts per channel. When coupled with the AVP-A1HDCI, the POA-A1HDCI allows users to create systems that provide multi-zone functionality and high-performance audio enjoyment. The unit's 10, mono block amplifier construction provides clean, high-output power to all channels. Designed to run 4-ohm loads, the POA-A1HDCI meets all demands required of today's high-performance home theater components. It is ideal for use in two- or three-zone systems, and is cast in a traditional black form factor with an aluminum case, with triple backlit power output meters (dB). A button on the front of the unit can be toggled to enable or disable the meters for applications when ambient light is not desired. The rear of the unit features both XLR connectors for balanced input as well as traditional RCA connectors for each channel with a selector switch determining which connector is used or if a channel is disabled all together. Four gold-plated speaker-binding posts for each channel are also included on the rear of the unit.
The POA-A1HDCI features five selector switches for each pair of channels, giving users the ability to bi-amp, bridge or use each channel separately. This allows power output to increase up to 500 Watts x 5 channels into 4-ohm speaker loads. It also features a pair of dedicated link control ports for matching it with the Denon AVP-A1HDCI controller processor, as well as a separate 12-volt trigger input for use with other devices.
This 120+lbs amplifier even comes with handles on the back should you decide to double it up as a home gym.  If it sounds half as good as it looks, this will be one amplifier to reckon with.  We are looking forward to putting this product through its paces to determine its true flagship status.   

MSRP: $7,000, shipping Fall 2007 For more information, visit: http://www.usa.denon.com/