Marantz New Cinema Series 8K AV Receivers, Dirac Live & 4 Subs!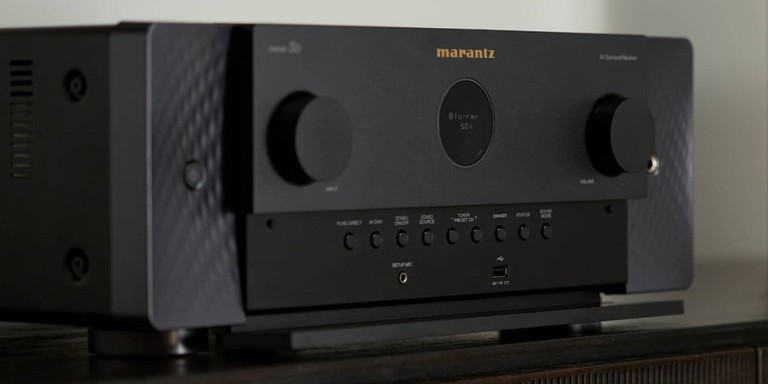 Marantz Cinema Series
Summary
Executive Overview
Marantz released even more information on their new Cinema brand of AV Receivers and amplifiers at the 2022 CEDIA show in Dallas, Texas. Audioholics got an exclusive sneak peak at the AV 10 flagship 16CH AV Processor and matching AMP 10 16CH amplifier a few weeks ago, and now we're seeing the details on their AV receivers. There are four new AV receivers in the Cinema line; the Cinema 40, 50, 60, and 70.  Normally, companies give their higher end products a higher number, but in this case, the Cinema 40 is their flagship receiver. Naming is a difficult thing. People have wildly differing views on the topic, based on their own experiences and their perception of their own expertise and we have an entire article on what goes into naming a consumer product.

Marantz AV 10 & Amp 10 16CH Separates Unboxing Overview
The Marantz home theater receivers have always been priced just a little higher than some competitors that might have similar specs at first glance. But if you take a deeper dive under the hood or even just look at how much they weigh and their build quality, you'll understand why they are so well respected by home theater enthusiasts.


Marantz Cinema 50 Backpanel - note the lack of composite & component video support

The new  receivers are all capable of 8K with HDMI 2.1 and handle the latest in HDR. Dolby Vision is onboard as well. All have eARC HDMI connections for those of you who use your TV apps, making it super easy to get the audio into your system. Another neat advantage this offers is your TV remote will turn on the unit and control its volume for the eARC connection.

Note: Marantz dropped composite and component video support in the all of the NEW Cinema series of AV receivers except for the Cinema 40.

If you want to connect your video game console through the receiver, you'll be happy to know these support low latency with variable refresh rate and auto low latency mode. With that said, we still think it is better to connect your gaming console directly to your TV and use the eARC function to get the sound into your system.
Unlike Denon's new line which opted to have 3D immersive sound only available in their top 5 of 7 models, ALL of the new Marantz receivers can decode Dolby Atmos and DTS:X. Another cool feature shared by all the receivers is their virtual height speaker tech which works in both Dolby Atmos and DTS:X. If you do not have height speakers, the software will simulate the sound you would get from height speakers. This is a nice way to have some simulation of height speakers if you can not add them initially.

The CINEMA Series is the convergence of three unmistakable characteristics of Marantz heritage - exceptionally high performance, meticulous build quality, and elegant timeless design. The most discerning cinephiles and audiophiles will appreciate the CINEMA Series' immersive sound experience, expertly crafted for the dedicated home theater. Those who desire both form and function will equally appreciate the display-worthy artisan craftsmanship that elevates any luxury living space.
-- Joel Sietsema, Marantz and Classé president.
All models come with Audyssey Multi EQ XT which is a great room correction system, but the biggest news is the addition of Dirac Live room correction to the Cinema 40 and 50 models. Denon released their newest receivers last week with their top three models having Dirac Live and we figured that Marantz would follow suit. When Dirac Live hit the market in 2018, we touted it as one of the best room correction systems available.
Dirac Live is considered to be one of the best room corrections systems since it attempts to correct for time-domain problems as well as frequency-domain problems. Many users have achieved remarkable adherence to the target response using Dirac Live, especially in bass frequencies, which is the most difficult area for room correction to deal with.
--James Larson - Contributing writer, Audioholics

For a fee you can upgrade the unit to work with Dirac Live. No word yet on price, but currently Dirac Live sells for $349 for a 2-channel license (stereo) and $499 for the multi-channel (home theater) version. This option is supposed to launch in March 2023. While Audyssey can be good, Dirac Live is an entire different level of room correction that can do a better job than Audyssey, especially when the Spatial version becomes available. We highly recommend if you do this upgrade, you also get a better microphone than the one included. The UMIK1 from MiniDSP makes a good one for under $100 that comes with a calibration file for each microphone. 
Note from Audio Advice.com:
If you purchase your unit from Audio Advice and you are doing Audyssey or Dirac Live, our tech team is here to help you out to get the best performance from your system. We can dial in remotely if needed to help you with Dirac Live — that is an exclusive for people who buy their Marantz CINEMA products from Audio Advice.
Like other Marantz products, the Cinema Series AVRs have HEOS built-in technology to support a multi-room set-up and you'll have full voice control on all units from Apple, Google, or Amazon. But we really have to give Marantz a round of applause on their on-screen setup guide. When you first power on the unit, it asks you a series of questions that help you get everything set up perfectly. They even show you how and where to make every single speaker connection. Marantz has had this concept for a couple of years, but it is even better with the new units. Anyone should be able to get their unit set up and be confident they got things right, as it will even perform audio checks to confirm you have the speakers connected properly.
Top End Models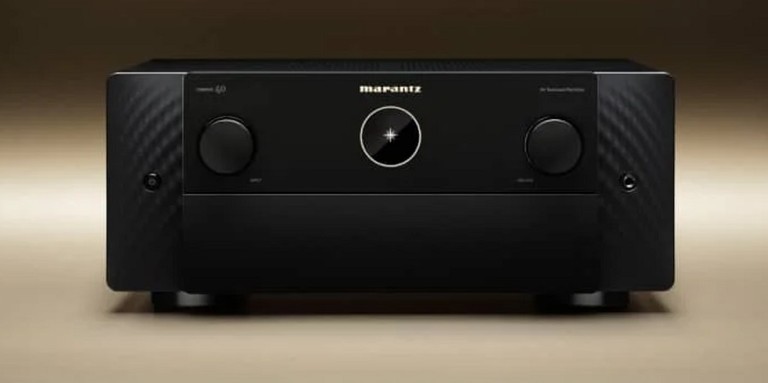 As we stated earlier, Marantz typically costs a bit more than other similar receivers. Both units use the HDAM SA-2 tech which you find in their more expensive units. The amplifiers for all the channels are discrete amps with a large power supply which means you will have a lot of current reserve for those big dynamic swings you get in an action film. They also rate the power across the entire audio spectrum rather than the easy 1khz area, which we are seeing some manufacturers use for their power spec. In fact, Marantz has a guarantee that their receivers will deliver 70% of rated 2CH power with 5CH driven. We've tested this on multiple AVR's from Marantz and found this to hold true for up to 7CH driven. The latest example was our test report of the SR8015 which is rated at 150wpc but delivered 122wpc with 5CH driven and 101wpc with 7CH driven. No chip amps will be found in these and it shows in the way they sound: big, full, rich, and dynamic!
MSRP: $1,700
The Cinema 60 (replaces the SR5015) is rated at 100 watts per channel (2CH driven), and has 7 powered channels built in. You get preamp outs for all of those channels should you wish to add a bigger amp to your mains later. We do wish for this price they had more processing on board for extra surround channels though. You will be able to do a 5.2.2 or a 7.2 system with the Cinema 60, but no higher channel count. 
Of the 3 HDMI inputs, three are 8k and three are 4k, which should cover all the bases for just about any system. You'll get one 8K HDMI out and one 4K HDMI out.
The unit touts two subwoofer outs, and while it does have the connections for two, they are wired in parallel so you do not have independent adjustments for each sub.

MSRP: 3,500  (Cinema 40) /  $2,500 (Cinema 50)
The Cinema 50 (replaces the SR6015) has 9 built-in amp channels but with processing for 11 channels, and the Marantz Cinema 40 (replaces the SR7015) is a 11.4 channel processor, with nine channels of 125-watts per channel amplification. The big news for the top two models is the addition of 4 independent subs. The 4 independent sub outs is fantastic to see at this price point, but Marantz added a really cool feature if you are using 4 subs. In the set up mode, you have a choice of sending all the low frequency information to all the subs or having it route the low frequency from the speakers closest to each subwoofer to just that subwoofer. This is a feature we have only seen on the 16K+ Trinnov processor, which is fantastic to see here. This will normally result in even better blending of your subs to the rest of the speakers in your system.

The seven HDMI inputs are all 8K along with two of the HDMI outs with another 4K 3rd HDMI out. 
In addition to Dolby Atmos and DTS:X you get Auro 3D and IMAX Enhanced on the Cinema 40 and 50.
Note: No word yet on an SR8015 replacement so it seems to still be the flagship in the Marantz AVR category. For an extra $500, you get two more channels of processing (13 channels) and two additional channels of amplification and the power goes up to 150wpc x 11. If you want an AVR with 13CH of processing with the Marantz logo, the SR8015 is still currently the only choice and a damn good one at that.

The Cinema 50 will also let you take advantage of 11 immersive channels by simply adding a two-channel power amp. Its amp routing feature lets you set this up to work with the front left and right, should you wish to add a beefy amp to improve your mains, or it can be added to the rears or one pair of Atmos speakers if you want to just add a small 2 channel power amp. And you have full preamp outs for all of the 11 channels if you want to add say a three channel power amp for the front three. This is super cool the way you can configure the channels. There is even a preamp disconnect mode that physically disconnects the power amplifiers to offer the very best preamp output with respect to noise and distortion. Pre-Amplifier mode now allows you to disconnect amplifier by each speaker pair which is new to the Marantz model lineup. We've tested prior Marantz receivers and they were able to deliver 4Vrms unclipped making them a good fit for virtually any type of external amplification you may choose.

Editorial Note About the $1k Price Difference Between Cinema 40 vs Cinema 50:
Cinema 40 is designed and manufactured at their prestigious factory in Japan, a.k.a. Shirakawa Audio Works, same as the SR8015, while the Cinema 50 is manufactured in Vietnam.

Cinema 40 utilizes higher grade audio components and design. (IE. HDAM-SA2 improve version similar to the SR8015).
Cinema 40 has a more powerful EI core transformer, audio capacitor and higher rated power 125wpc vs 110wpc of Cinema 50.

Cinema 40 utilizes monolithic amplifier construction, meaning each amplifier channel comes with its own amplifier PCB, instead of one single amplifier PCB for all channels providing better performance against crosstalk and vibration.

Cinema 40 incorporates more acoustic treatment for audio tuning, copper screws on the back panel, etc.
Cinema 40 employs 7 HDMI inputs vs. 6 HDMI inputs of Cinema 50 (All inputs support up to 8K40, 4K120 on both models).

Aluminum and a large trap door design (face plate) providing access to A large 2 line FL display and cursor keys under the trap door allowing CINEMA 40 users to configure the receiver using only front panel keys and a large 2 line display. (the CINEMA 50 also support aluminum and trap door design but does not support a large FL display and setup buttons on the front panel)

Cinema 40 has 3 source/3 zones vs 2 source/2 zones of Cinema 50.

Cinema 40 has 3 trigger outputs vs. 2 of Cinema 50.

Cinema 40 has 1 component and 1 composite video input while the Cinema 40 does not.
The CINEMA Series Complete Lineup Will Consist Of:

AV 10 and AMP 10: The CINEMA Series' apex products, the AV 10 and AMP 10 provide the ultimate foundation to your home theater. Built on the Marantz exclusive HDAM technology, the AV 10 and AMP 10 work together create an elite, reference-level entertainment system, with the 16-channel amplification of the AMP 10 perfectly matched by the discrete circuitry and seven HDMI inputs of the AV 10. Seamlessly in sync, the duo brings the best of cinematic sound home to you.
 
CINEMA 40: The Marantz Cinema 40 is a 11.4 channel processor, with nine channels of 125-watts per channel amplification premium AVR, ideal for a fully dedicated and immersive home theater proving to be the ultimate movie experience. The aluminum front panel is pure luxury to the touch and that extends to every aspect of its build. Full Audyssey MultEQ and future software upgrade to Dirac is supported for this model. This model does support 11.4CH preouts in case you later decide to add external amplification.
 
CINEMA 50: The Marantz Cinema 50 is a 11.4 channel processor, with nine channels of 110-watts per channel amplification AVR, perfect for discerning movie and music enthusiasts seeking to create an immersive home theater with rich tonal qualities and lifelike dynamics. Full Audyssey MultEQ and future software upgrade to Dirac is supported for this model. This model does support 11.4CH preouts in case you later decide to add external amplification.
 
CINEMA 60: The Marantz Cinema 60 is a 7.2 channel, with 100-watts per channel amplification 8K AVR that is ideally suited for dedicated home theater applications as well as multi-purpose media rooms of any size. Audyssey MultEQ is on board but No Dirac support for this model. This model does support 7.1CH preouts in case you later decide to add external amplification.
 
CINEMA 70s: The Marantz Cinema 70s (MSRP: $1,199; replaces the NR1711) is a slim 7.2 channel, with 50-watts per channel amplification 8K AVR that is ideally suited for smaller living spaces, compact media consoles or crowded A/V racks. Audyssey MultEQ is on board but No Dirac support for this model. This model does support 7.1CH preouts in case you later decide to add external amplification.
What We Think...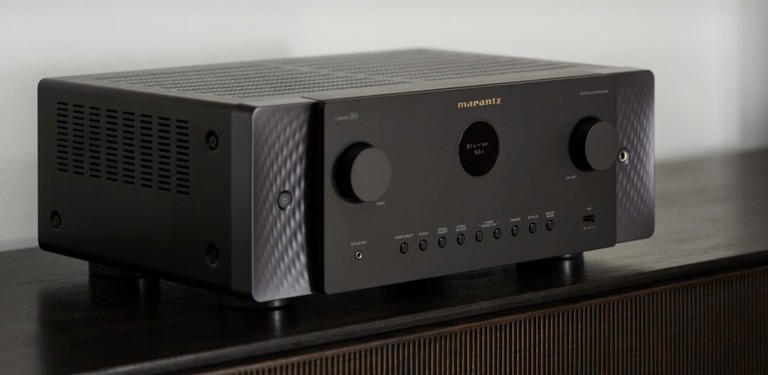 With the audio quality you'll get out of the beefy power amps in the Cinema 40 and 50 and all of its features, these two receivers are going to be very tough to beat. 11 channels will get you a very immersive experience and we just love Dirac Live and the super cool way you can use 4 subwoofers.
The CINEMA Series lineup will become available at the end of October, and will begin with the availability of the CINEMA 50 and 60 AVRs.
 
For more information on the CINEMA Series, visit us.marantz.com.

Unless otherwise indicated, this is a preview article for the featured product. A formal review may or may not follow in the future.