New Yamaha Hi-Fi Network Receivers & Speakers for 2023!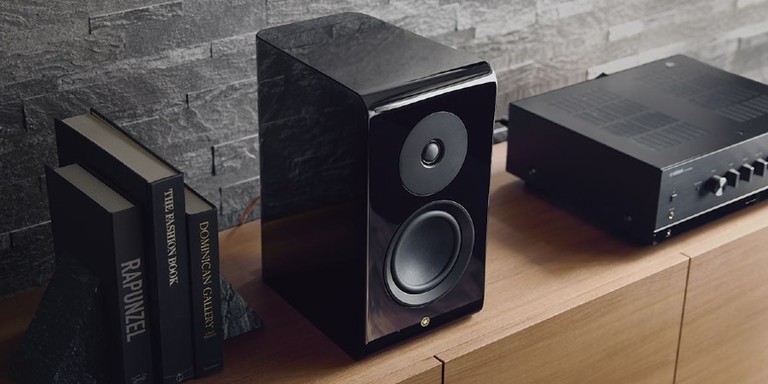 New Yamaha Hi-Fi Gear 2023
Summary
Product Name:

R-N1000A Receiver, R-N800A Receiver, R-N600A Receiver, NS-800A Speaker, NS-600A Speaker, SPS-800A Speaker Stand

Manufacturer:

Yamaha

Review Date:

September 06, 2023 00:00

MSRP: $1,800 - R-N1000A, $1,200 - R-N800A, $900 - R-N600A, $2,400/each - NS-800A, $1,500/each - NS-600A, $700/each - SPS-800A
First Impression:

Pretty Cool
Executive Overview
Yamaha has just announced a cornucopia of new audio gear in the form of three new network receivers and two new loudspeakers, to be rolled out over the next several months. The new network receivers include the R-N600A ($899.95), the R-N800A ($1,199.95), and the R-N1000A ($1,799.95), all of which were "designed and built to use technological learnings and patents from the Flagship 5000 Series, the ultimate expression of Yamaha True Sound," according to the company. All offer Yamaha's MusicCast music streaming technology, which provides access to Spotify Connect, Tidal, Amazon Music, and Qobuz, among other popular services. Apple Music is supported via Airplay 2. The MusicCast smartphone app offers ease of use, and Yamaha says that users can listen to their favorite music services in up to 384kHz/32-bit resolution. The new loudspeakers include the NS-800A, with a 6 ½" mid-woofer ($2,399.95 each) and the NS-600A, with a 5 ⅛" mid-woofer ($1,499.95 each). Both feature a newly-developed "Harmonious Diaphragm" driver material made of a blend including Zylon and spruce.
VPE Event: Yamaha New Hi-Fi Products!
Yamaha is more dedicated to Hi-Fi than ever before. Our latest products are not only grounded on our Hi-Fi and musical heritage but also on extensive research and development to produce innovative products that embody Yamaha True Sound. This new series of receivers and speakers will continue to expand the reach of Yamaha Hi-Fi products and offer true music enjoyment to a broader audience.
— Alex Sadeghian, Director of Consumer Audio at Yamaha Corporation of America
R-N600A Network Receiver

At $899.95, the R-N600A offers a relatively affordable entry point into Yamaha's network receiver experience. According to the specs, the R-N600A delivers 80 watts per channel into 8 ohms, but the specs derate this model to 60 watts per channel into 4 ohms. 
Note: ALL models in this series rate amplifier power at full bandwidth from 20Hz to 20kHz with both channels driven.
The R-N600A boasts short, straight signal paths and a low-vibration chassis and frame, as outlined in Yamaha's ToP-ART (Total Purity Audio Reproduction Technology) mechanical structure and design philosophy. According to Yamaha, ToP-ART "faithfully maintains the integrity of the audio by combining a meticulously symmetrical left/right circuit layout, signal directness, and a chassis equipped with the special resin frame 'Art Base' that absorbs and blocks unnecessary vibration." The receiver also benefits from a DAC section based on the ESS Sabre ES9010K2M chip, which offers a high signal-to-noise ratio and support for 384kHz PCM and DSD 11.2 MHz native playback. The R-N600A's Pure Direct mode reportedly enables the audio signal to "travel the shortest possible circuit route, bypassing the buffer amp and the tone, loudness, and balance controls, to virtually eliminate any signal degradation, for the purest sound quality." The receiver features a built-in phono input, along with coaxial and optical digital inputs. A subwoofer output rounds out the connectivity. Yamaha says that the R-N600A "delivers sophisticated sound and appearance for a total listening experience that's a step above the (competition)."
R-N800A

Moving up to the R-N800A ($1,199.95), you still get all the features found in the R-N600A, but the higher price affords various upgrades and extras and more heft at 25lbs vs 21.5lbs of R-N600A. The power rating goes up to 100 watts per channel into 8 ohms, and 120 watts per channel into 6 ohms (curiously, no rating is given for 4-ohm loads). The R-N800A also gets Yamaha's YPAO automatic room calibration technology with precision EQ, which "performs exceptionally high-precision equalization with accuracy of up to 192kHz / 64-bit audio resolution," according to Yamaha. In addition, YPAO-R.S.C. (Reflected Sound Control) works in tandem to  "actively control the important early reflection sounds, automatically adjusting and optimizing how the sound is heard in your room based on the materials of your walls and your speaker placement." The next extra is a USB-B input on the rear panel, allowing the R-N800A to function as a USB DAC for users who want to connect to a MAC or PC, or to an external streamer or music server with USB output. Those digital signals are treated to an upgraded DAC section using an ESS Sabre ES9080Q chip and an ultra-precise dedicated crystal clock to improve signal accuracy. The amplifier section benefits from Yamaha's Low Impedance Concept, which features thick wires for the ground connection in order to "thoroughly eliminate energy loss and degradation of the audio signal," according to the company. The Low Impedance Concept also includes a screw connection for the output from the power amplifier section, in order to strengthen the ground, which Yamaha says is important for audio quality. The goal of these design choices is increased signal-to-noise performance and the reproduction of "sound with full clarity." Finally, the R-N800A employs anti-resonance feet with thin, curved reinforcing bars on the outer periphery and thick, straight reinforcing bars in the center. This design is said to disperse and diminish vibration energy transmitted from the outside of the leg while maintaining high central rigidity. The result, according to Yamaha, is improved rhythm and dynamics.
R-N1000A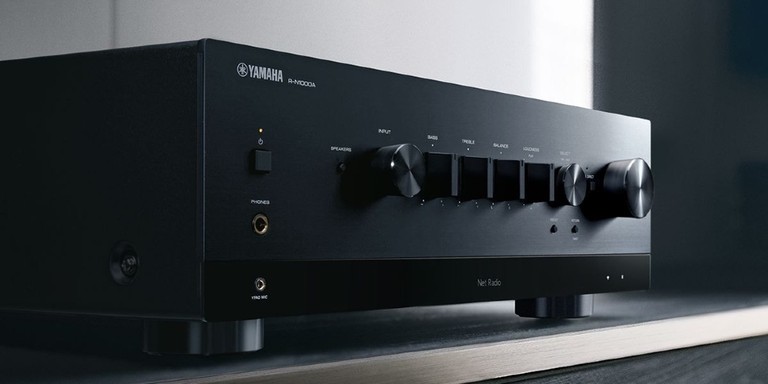 The range-topping R-N1000A  ($1,799.95) offers everything found in the R-N800A, but with even greater functionality thanks to the addition of an HDMI ARC connection for use in a simple but powerful stereo or 2.1-channel home theater setup. The power rating is identical to that of the R-N800A, at 100 watts per channel into 8 ohms, and 120 watts per channel into 6 ohms though this model weighs an extra 2lbs over the R-N800A. But under the hood, the R-N1000A offers upgraded parts quality, including a custom-made power transformer and block capacitors, upgraded resistors, a one-point grounding system, high-quality audio condensers, and other "top-class parts" that allow the amp to "effortlessly handle demanding audio signal conditions." Yamaha believes that the sound quality of any component is determined by the quality of each individual part, as well as how they work together. The company has, therefore, carefully selected and tested the parts used in the R-N1000A, right down to the gold-plated speaker and input terminals, which are unique to this model.
Note: The flagship of the series, the R-N2000A ($3,999) sports gorgeous VU meters and weighs in at almost 50lbs. It is actually rated 90 watts per channel into 8 ohms (10 watts less than the R-N1000A) but boasts 145 watts/ch into 4 ohms. Gene DellaSala has this unit in for review so stay tuned for bench test results....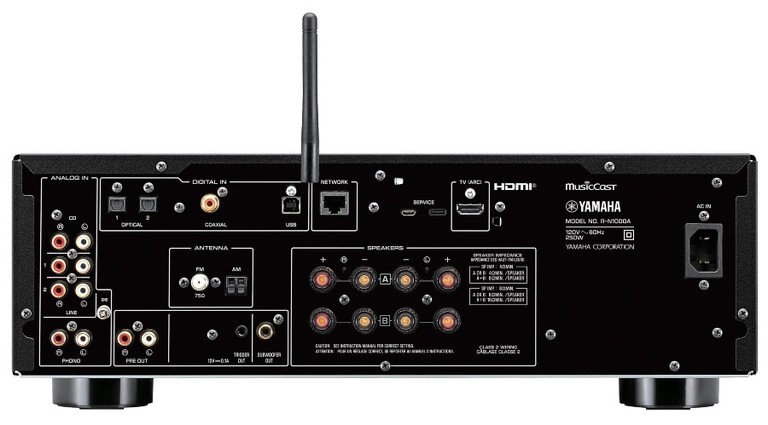 The R-N1000A also features an upgraded enclosure strengthened by a double-bottom chassis and a 1-mm-thick iron damping plate added to the chassis bottom. Yamaha says that this mechanical design "eliminates vibrations that would adversely affect the sound and enhances the expressiveness of the lower frequencies — conveying both the profound power and supple grace of a full orchestra performance."
New Speakers
NS-800A (left) and NS-600A (right)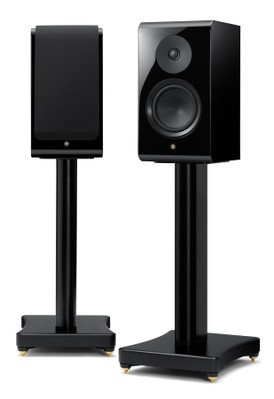 The new NS-800A and NS-600A two-way stand-mount speakers were created to expand Yamaha's loudspeaker selection, catering to customers in search of smaller and/or more affordable options that still deliver sound inspired by the brand's flagship NS-5000 speakers. The NS-800A ($2,399.95 each) uses a 6 ½" mid-woofer, while the smaller NS-600A ($1,499.95 each) has a 5 ⅛" mid-woofer. Both speakers feature a unique diaphragm material called "Harmonious Diaphragm," which is used for both the tweeter and the mid-woofer, and made from a blend of Zylon and spruce. Zylon is a synthetic polymer with a wide variety of uses, from military body armor to the suspension lines on parachutes used by SpaceX on its Crew Dragon spacecraft. Yamaha says that Zylon has "excellent sound velocity and optimal internal dissipation," and is therefore used in the company's $15K NS-5000 speakers. Spruce wood is used on the soundboards of Yamaha's grand pianos. By using the same Zylon/spruce blend for both the tweeter and mid-woofer, Yamaha says the speakers maintain tonal coherency across the frequency spectrum. Both speakers also feature other unique loudspeaker technologies, including resonance suppression chambers and acoustic absorbers. Yamaha's patented resonance suppression chambers are mounted on the back of the tweeter. These specially-shaped tubes are designed to cancel unwanted resonance generated behind the diaphragm, "revitalizing and maintaining the original sound," according to Yamaha. Meanwhile, the company's patented acoustic absorber tubes reportedly "eliminate standing waves, while minimizing the amount of absorbing material (inside the cabinet), so that the original realism of music is reproduced with full energy and dynamism." Both speakers use high-quality parts in the crossover circuit, including Mundorf's MCap Supreme Classic audio capacitors. The speakers also boast what Yamaha describes as "a huge woofer coil." The speaker cabinets were designed with the same vibration analysis technology used in the design of Yamaha's musical instruments, and are finished in the company's signature gloss finish — the same finish found on its finest pianos. Other premium touches include solid brass speaker terminals and Twisted Flare Ports. The former provide a "highly secure connection and luxurious feel," while the latter reportedly reduces air turbulence noise, contributing to clear low frequency reproduction.
The dedicated SPS-800A speaker stands ($699.95 each) have legs made of curved MDF, which reportedly offers rigid support while minimizing the effect of sound reflections and eliminating minute vibrations better than metal stands. The base of the stand is a three-layer structure of 1.7-inch-thick MDF, laminated together to ensure strength and rigidity. Detachable spikes are included, as are screws for attaching the speakers securely to the stands.
Launch Dates:
R-N1000A: Available Now
R-N800A: Available September 2023
R-N600A: Available October 2023
NS-800A: Available Early 2024
NS-600A: Available Early 2024
SPS-800A: Available Early 2024
More information: yamaha.com

Be sure to check out our interviews with Yamaha on the 2000 and 5000 series of products on the Audioholics Youtube channel.


Unless otherwise indicated, this is a preview article for the featured product. A formal review may or may not follow in the future.