The Yamaha R-N2000A Receiver Is Old-School Cool, New-School Easy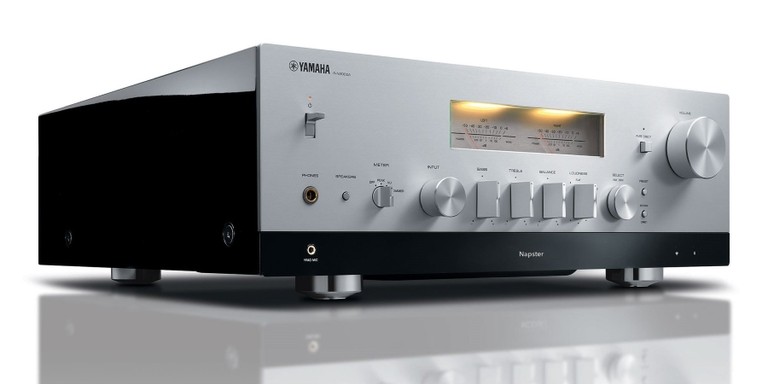 Yamaha R-N2000A
Summary
Yamaha R-N2000A Networking Stereo Receiver Overview
Output Power: 90 watts per channel into 8 ohms (20-20,000 Hz) at 0.07% THD, with 2 channels driven
145 watts per channel into 4 ohms with 2 channels driven
Signal-to-Noise Ratio: 110 dB (Pure Direct ON)

Dimensions: 17 ⅛" W x 6 ⅛" H x 19 1/16" D

Weight: 48.7 lbs
Yamaha's no-expense-spared 5000 Series components made a bold statement about the company's dedication to serious Hi-Fi when they debuted back in 2019. Their fully differential balanced designs go to great lengths to ensure superior noise immunity and low distortion. Plus, they're gorgeous. But most folks aren't prepared to drop $20K on a preamp and power amp stack. Luckily, Yamaha claims to have captured a portion of this flagship goodness in its new R-N2000A "next-generation network Hi-Fi receiver," which sells for a more approachable $4,000. It is compatible with lossless and high-resolution streaming sources, and offers useful room-correction features thanks to built-in YPAO (Yamaha Parametric Room Acoustic Optimizer). Visually, the R-N2000A is nearly as striking as the extravagant 5000 Series. I'm a total sucker for the elegant level meters, which Yamaha says are there to "evoke the nostalgic era of Hi-Fi" as they convey the dynamics and pulse of the music, imbuing "a warm feeling through their softly illuminated LEDs." This is marketing speak, sure, but it also happens to be 100% true. It's not all retro though; at the bottom of the (black or silver) front panel, there's a high-res OLED display to indicate the content being played, adding a modern touch to an otherwise classic aesthetic. These sophisticated touches extend beyond the front panel, too. Around back, the R-N2000A sports speaker terminals cut from pure brass, promising to deliver a highly secure connection — and to look damn good doing it. And inside, the chunky toroidal power transformer and high-quality ESS Sabre DACs are just as appealing as the exterior.
We have a long history and a loyal fan base for our Hi-Fi gear, and the 2000 Series ushers us into a new age. We designed a real, high-performance receiver, supercharged it with cutting-edge technology, and then paired it with a new generation of speakers. We made an impact in the Hi-Fi community three years ago when we introduced the award-winning 5000 series; today, the 2000 Series makes this extraordinary listening experience more accessible.
— Alex Sadeghian, director of Consumer Audio for Yamaha Corporation of America
Yamaha says that the R-N2000A is made for "audiophiles with analog aspirations and digital desires." I have to tip my hat to the marketing writer who came up with that. I interpret it to mean that the receiver bridges the gap between the habits of next-gen audiophiles (i.e., high-res music streaming), and the time-honored sound quality, build quality, and design aesthetic that Yamaha became famous for in the first place. The amp "produces breathtakingly beautiful sound while providing the breadth of content choices and ease of use that today's music enthusiasts crave," according to the company.
Amp Design
In order to produce that breathtakingly beautiful sound, Yamaha says that the R-N2000A borrows heavily from the engineering of the flagship 5000 Series, including the perfectly symmetrical right/left circuitry and a floating, balanced power amplifier that reportedly offers superior channel separation and signal-to-noise performance. In a configuration that Yamaha calls its "original amplifier technology," the power amplifier circuitry, including the power supply, is independent from the ground, thus eliminating the influence of minute voltage fluctuations and external ground noise. Yamaha's circuit design promises a variety of benefits, including the perfect symmetry of pull-pull operation in the output stage. Other claimed advantages are both objective and subjective in nature, from a high signal-to-noise ratio to "an overwhelmingly expressive power that perfectly draws out the sound of any musical instrument." The amp delivers 90 watts per channel into 8 ohms (20-20,000 Hz) at 0.07% THD, with both channels driven, and 145 watts per channel into 4 ohms, also with both channels driven. Gene has the very sample he covered in the Youtube video below and will be doing exhaustive bench testing soon.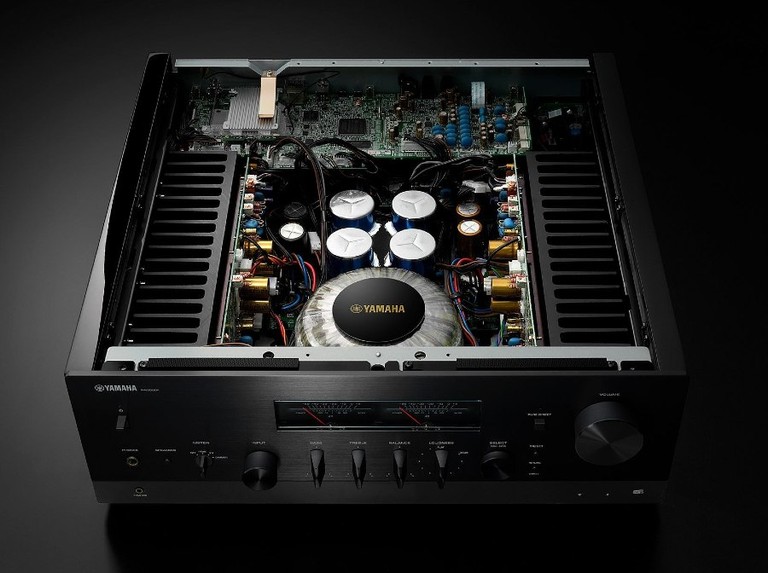 The R-N2000A features a perfectly symmetrical, folding-book construction layout, with a centrally-located power supply flanked on either side by the power amplifier blocks. Yamaha says that this layout gives the unit ideal weight balance and "suppresses adverse effects between channels" for extraordinary channel separation. The result is "remarkably pure reproduction of every part of the sound," according to the company. The power supply is said to use a toroidal transformer the likes of which are "usually reserved for flagship Hi-Fi components," bringing "technical proficiency and absolute musicality" to the table. The toroidal transformer works in tandem with an array of high-end components to ensure that "the musical emotion is conveyed to the listener." A peak under the hood would reveal a 3 mm brass base sandwiched between the bottom of the transformer and the inner chassis, designed to control vibrations in the transformer.
It's one thing for a company like Yamaha to claim "an overwhelmingly spacious sound filled with realism," and it's another to explain how its engineering team has gone about trying to achieve it. Yamaha mentions a number of specific approaches, including its Low Impedance Concept, which involves the use of thick wires for the ground connection in order to "thoroughly eliminate energy loss and degradation of the audio signal." Yamaha considers this a critical feature that helps establish the R-N2000A as being "truly premium Hi-Fi." The ground is further strengthened by a screw connection for the output from the power amplifier section, which Yamaha says is important for an open, natural sound stage. Another engineering approach at work in the R-N2000A is Yamaha's Mechanical Ground Concept, which begins with the bolts of the feet being welded directly to the main chassis. These are heavy-duty, chrome-plated brass feet, which provide the type of solid and rigid foundation necessary to achieve a "rich, foundational low-frequency response," according to Yamaha. Next, the large heat sink, power transformer, and block capacitors are directly bolted to the chassis, just as they are in the company's Hi-Fi flagships. Yamaha claims that this mechanical coupling prevents unwanted vibration, resulting in "powerful, highly expressive low-frequency response, allowing you to feel the deep groove of the music."
Digital Features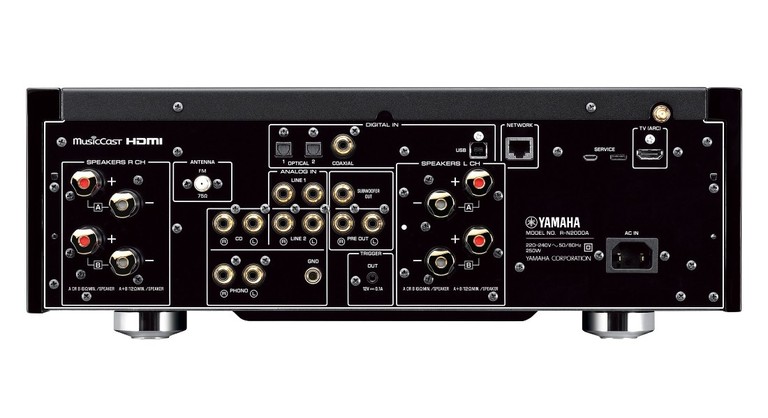 The built-in DACs in many stereo products — even some expensive ones — are often just there for convenience. If you're serious about sound quality, you'll get a separate DAC. But Yamaha says that's not the case with the R-N2000A, which has a DAC section built around the state-of-the-art ES9026PRO digital-to-analog converter from ESS Technologies. This high-performance chip reportedly achieves highly accurate signal conversion and refined current delivery thanks to its four-channel operation and balanced analog audio output. The result is a digital section that reproduces "even the subtle ambience of concert halls and delicate expressive nuances," while serving up "clear, transparent sound field reproduction (with) rich and fully detailed audio." Users can take advantage of this DAC in a number of ways. There are, of course, optical and coaxial inputs for connecting a CD transport, Bluesound Node, or Roon endpoint like the WiiM Mini streamer. There's also a USB input allowing the R-N2000A to connect to a PC or Mac, or to a USB-based audio device such as iFi Audio's affordable Zen Stream ($399) or the high-end music servers available from companies like Innuos, Aurender, and Auralic. The USB input supports PCM playback up to 384kHz, and DSD 11.2MHz native playback as well. This input also benefits from an ultra-precision dedicated crystal clock designed to improve signal accuracy, allowing you to take full advantage of high-res audio sources. Finally, there's an HDMI ARC (Audio Return Channel) input, allowing the R-N2000A to connect directly to a compatible TV to deliver a powerful 2-channel or 2.1-channel home theater experience. In addition to accommodating these digital sources, the built-in DAC can be used to enjoy a suite of Yamaha MusicCast streaming services – including Amazon Music HD, Apple Music (via AirPlay 2), Spotify, Tidal, Qobuz, and many others — via Wi-Fi or ethernet.
For many audiophiles, room-correction has become a must-have feature in a fully-loaded integrated amp like the R-N2000A. While many brands, including NAD, JBL, and Arcam, have turned to Dirac Live, others, such as Anthem and Lyngdorf, prefer to roll their own room correction software. Yamaha has gone the latter route for the R-N2000A, which is equipped with Yamaha Parametric Room Acoustic Optimizer, or YPAO. This proprietary automatic calibration technology corrects for differences in room acoustics to create "the perfect listening environment," according to the company. Refined over many years in Yamaha's home theater receivers, YPAO has been optimized for the R-N2000A and promises to yield professional-quality results without requiring laborious manual adjustments. The system is said to perform exceptionally high-precision equalization with 64-bit /192 kHz audio resolution. The R-N2000A also features YPAO R.S.C. (Reflected Sound Control), which "accurately control(s) the important early reflection sounds, automatically adjusting and optimizing how the sound is heard in your room, depending on the materials of the walls and the speaker placement."
NS-2000A Floor-Standing Speakers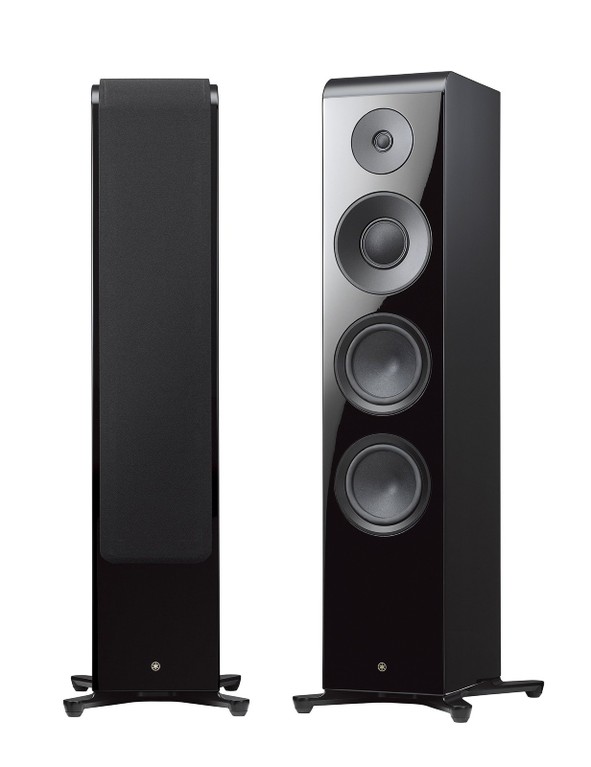 The R-N2000A receiver is available now, and is being launched alongside a new floor-standing speaker called the NS-2000A ($8K/pair), which will be available in late spring. As of now, we know that this 3-way, 4-driver tower promises to bring patented technologies from the company's flagship 5000 Series speakers into a new, more affordable product with a different form-factor. The new speakers will use the same newly-developed Zylon fiber blend for all drivers, with the goal of maintaining consistent tone color over the entire frequency spectrum. Yamaha says the material has "excellent sound velocity and minimal internal dissipation." The cabinets, made from the same wood used in the soundboards of Yamaha's grand pianos, was designed for optimal dynamics using laser vibrometers and sophisticated FEM (Finite Element Method) analysis. Patented Yamaha technologies, including the Acoustic Absorber and Resonance Suppression Chambers, are at work to ensure that "music is vividly reproduced without the detrimental effects of excess sound-absorbing material," according to the company.
Conclusion
It remains to be seen whether the R-N2000A will "transform your life with breathtakingly beautiful sound," as Yamaha claims, but it does appear to offer the perfect blend of old-school cool-factor and new-school features. Gene and Don Dunn seemed extremely impressed with their listening demos as can be seen in our Youtube Overview video.
Those illuminated level meters and high-quality front-panel controls are hard to resist.  Be sure to check out how much of Yamaha's technologies from their $20K 5000 Series trickled down into the R-N2000A in our video. Product Manager of Yamaha Hi-Fi products, Susumu Kumazawa, paid Gene a visit last month at the Audioholics Smart Home to answer questions and give Audioholics fans a glimpse of what's to come from Yamaha!

Unless otherwise indicated, this is a preview article for the featured product. A formal review may or may not follow in the future.