Seymour AV Fixed Frame AT Screen with AT Masking Panels Review
Seymour AV Fixed Frame AT Screen with AT Masking Panels Review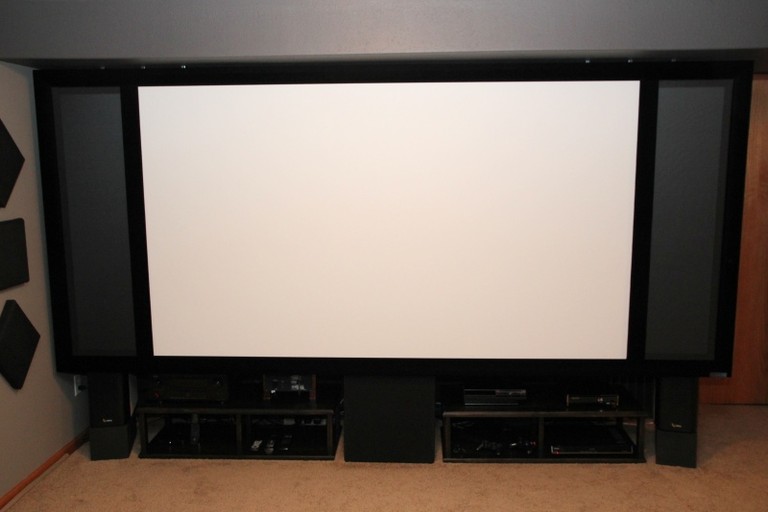 Seymour AV Fixed Frame AT Screen with AT Masking Panels
Center Stage XD acoustically transparent screen with Black Backing
2.40:1 custom aspect ratio (typically 2.35:1, no extra cost for the change)
Image Gain: 1.2
Audio attenuation: 1.5dB above 8K, .5dB for black backing, total 2.0dB
Weave rotated to eliminate moiré
1500 holes per square inch
Fidelio Velvet border: 99.7% light absorbing, 3.3" wide
Screen Dimensions:
Image Dimensions no Panels: 130"w x 54.2"h (140.8" diagonal)
Image Dimension with panels: 96.4"w x 54.2"h (110.6" diagonal)
Pros
Acoustically Transparent
Extremely Neutral White Color
Perfectly Black Borders
Magnetic Removable Side panels
Cons
Visible weave when sitting very closely
Larger screens can be pricy
Introduction
When looking for a home theater screen, the general audioholic makes sure their precious sound quality is not diminished. Of course, there is a trade-off to be made if you are also a videoholic! Or is there? Incredible sound AND video can be had with the Center Stage Fixed Frame Acoustically Transparent (AT) Screen from Seymour AV. Gone are the days of ugly micro perf vinyl with its comb filtered sound, Swiss cheese look and image moiré. Seymour AV has broken the mold and introduced an affordable product that defies common logic and allows one or many speakers behind the beautiful display without affecting audio perception.

Confused about what AV Gear to buy or how to set it up? Join our Exclusive Audioholics E-Book Membership Program!
Recent Forum Posts:
basspig posts on April 17, 2018 21:21
I have had this screen material since 2009. I was very concerned about sound so I took measurements with room EQ wizard before and after installation. I saw no measurable differences below 18 kilohertz but above 18 kilohertz I saw about a 2db of attenuation and some comb filtering effects. I think that was reflection against the baffle boards at the speakers. Otherwise no audible difference to my ears.
moves posts on April 03, 2018 19:34
Is seymourAV and seymour screen excellence the same brand?

NVM I see that they are but each site offers different types of screens.
BMXTRIX posts on November 10, 2012 15:16
I think this is one of those rare situations where I would go with DiY as well if you are a bit handy. I would consider this very much for my basement setup if I end up going with a permanently fixed frame screen location. It may take a while to build properly, but the end result should last for years.

They have received high praise it seems from about every single person who has used one, and I like that they specifically mention that Carada masking systems can be used with their screens. It means that they aren't looking to be better, but to be different and excel in their own area where they are different and they recognize quality in another manufacturer.

Speaks volumes when companies work together to build each other up like that and something I truly appreciate seeing.
GO-NAD! posts on November 10, 2012 06:49
DS-21, post: 921033
Any "screen/no-screen" difference measurements?

"Acoustically transparent" is a claim that should be tested.
Using the trusty old Radio Shack SPL meter and an audio test disk revealed that there wasn't more than about 3db of change to any frequency I tested for the speakers alone, with the screen, or even with the screen, secondary black backing layer AND masking panels.* Of course, the accuracy of my meter has an error of margin and is not as accurate as I wanted, but my ears heard no objections during music listening and movie watching as noted below.
I don't think the phrase "acoustically transparent" is meant to be taken literally. It just indicates that loudspeakers can be be placed behind the screen with little appreciable impact on the loudspeakers' FR. I doubt that there is any fabric on this planet that can make that claim in the literal sense - for screens or speaker grills.
I bought the Seymour XD fabric and Fidelio black velvet for a 104" screen and built my own frame. Even with shipping to Canada, the whole thing cost me $500. Granted, I bought rough wood, planed, routed and cut it to size myself. But, if you have the equipment and some basic skills, it's a great way to save money. When I was planning my setup, I asked my A/V dealer about AT screens and he said that to order a ready-made screen from him would cost about $2500!
I am very pleased with my screen and wouldn't hesitate to recommend Seymour.
DS-21 posts on November 08, 2012 20:48
Any "screen/no-screen" difference measurements?

"Acoustically transparent" is a claim that should be tested.
Post Reply