Elite Screens Raptor Module First Look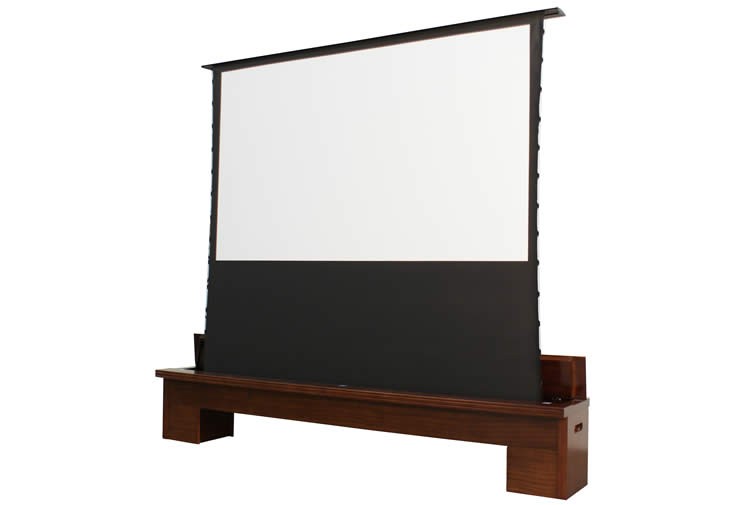 Elite Raptor Module Tensioned Series
Summary
Disappearing motorized front projection screen with CineWhite 1.1 Gain tab-tensioned black backed flat material or MaxWhite FG 1.1 Gain un-tensioned material

Powerful tubular motor drives precision cross spring "scissor-back" lift system
Available in diagonal sizes 78", 80", 84" and 92" in 16:9 aspect ratio in Cherry wood finish
Tubular motor allows swift operation with a superior weight tolerance and operational lifespan
Internal IR/RF receivers allows use of included Radio Frequency or Infrared remote controls
Safety sensors automatically stop screen's drop movement to prevent hands getting caught inside screen's opening front panel
Ideal for custom cabinet projects
Available with or without media stand cabinet housing
Raptor Module Tensioned Series


#

Model

Diagonal Size

Ratio

View Height

View Width

MSRP

Net Weight

Gain

Screen Material

Case Length

Type

1

MFTE92H-C

92"

16:9

45.0

80.2

$ 4799

0.0

1.1

CineWhite

94.5"

Electric

2

MFTE80H-C

80"

16:9

39.0

69.4

$ 3532

0.0

1.1

CineWhite

94.5"

Electric

3

MFTE78H-C

78"

16:9

38.5

68.0

$ 3263

187.0

1.1

CineWhite

94.5"

Electric

4

MFTE84H-C

84"

16:9

41.2

73.2

$ 3839

202.4

1.1

CineWhite

94.5"

Electric

Raptor Module Series

#

Model

Diagonal Size

Ratio

View Height

View Width

MSRP

Net Weight

Gain

Screen Material

Case Length

Type

1

MFE82H-C

82"

16:9

40.0

71.2

$ 3037

0.0

1.1

MaxWhite

90.6"

Electric

2

MFE92H-C

92"

16:9

45.0

80.2

$ 3573

0.0

1.1

MaxWhite

94.5"

Electric
Kestrel Tension Series

#

Model

Diagonal Size

Ratio

View Height

View Width

MSRP

Net Weight

Gain

Screen Material

Case Length

Type

1

FTE84V

84"

4:3

50.4

67.2

$ 2589

0.0

1.1

CineWhite

79.6"

Electric

2

FTE92V

92"

4:3

55.2

73.6

$ 2925

0.0

1.1

CineWhite

85.6"

Electric

3

FTE84H

84"

16:9

41.2

73.2

$ 2677

0.0

1.1

CineWhite

85.6"

Electric

4

FTE92H

92"

16:9

45.1

80.2

$ 3113

0.0

1.1

CineWhite

92.6"

Electric

5

FTE85C

85"

2.35:1

33.0

77.6

$ 2660

0.0

1.1

CineWhite

90.6"

Electric

6

FTE92C

92"

2.35:1

36.0

84.7

$ 2795

0.0

1.1

CineWhite

97.0"

Electric

7

FTE96C

96"

2.35:1

37.5

88.1

$ 2882

0.0

1.1

CineWhite

100.7"

Electric

8

FTE103C

103"

2.35:1

40.5

95.2

$ 3114

0.0

1.1

CineWhite

107.2"

Electric

9

FTE80H

80"

16:9

39.0

69.4

$ 2611

50.5

1.1

CineWhite

82.1"

Electric

10

FTE100H

100"

16:9

49.1

87.2

$ 3410

0.0

1.1

CineWhite

0.0"

Electric

11

FTE115H

115"

16:9

56.4

100.2

$ 3917

0.0

1.1

CineWhite

0.0"

Electric
Executive Overview
One of our pet peeves the the sort of systematic dismissal of front projection systems as either being out of financial reach of the common man or of being impractical. For years, that may have been the case but it isn't any longer. Projector prices have come way down to the point where you can get a 1080p projector for under $1000. Even if you add a moderately priced screen, you're still looking at 80 to 100" of high definitely glory for the price of a 50" flat panel (or less in some cases). While light control may be an issue, you'd be surprised at how good of a picture you can get if you do as little as make sure the windows aren't directly facing the screen. Plus, if you are anything like us, most of your TV viewing is in the evening hours anyhow.
But there are other objections people come up with. Once they've seen a front projection system and how good it can look even during the day. Once they've discovered the price is well within their budget. Once all of the normal arguments are crushed, they've got to come up with something else. "Well," they say, "I've only got one wall for hanging a screen and it faces the windows. Obviously I can't do it in my home." Well, aside from blackout curtains (which can cost as little as $20 each and homemade for less) you can always put the screen in front of the windows. "But I don't want to pay to have a retractable ceiling screen installed," they cry. Now, you don't have to.
Elite has offered a number of different screen solutions that you can use. First, if you are looking for a hideaway solution it the Raptor Module. In the past Elite has offered the Raptor series which is a complete, finished, in-cabinet solution. Basically, if you wanted to have a screen that magically appeared out of a cabinet, you had to buy Elite's solution which may or may not be to your taste and topped $6000 in price. With the announcement of their new Raptor Module, you can now just buy the screen module at a reduced price and have a custom cabinet built around it (hey, this is not exactly a "price is an object" solution). So, instead of paying more than $6000 on a cabinet you may or may not like, you can pay between $3000 and $4800 for just the screen. But of course, it isn't just a screen.
Elite's Raptor Module is an elegant, free-standing projection screen for custom furniture installations when wall or ceiling screen placement is not practical. The unit is fully contained and ready to be integrated with custom media furniture. The Raptor Modules can come in Cherry or unfinished and have a host of options. Because they are designed to come out of the top of a cabinet, there are safety sensors which automatically stop the screen's drop movement to prevent hands getting caught inside screen's opening front panel. The new Raptor Module screens are electric so they will require power but they can be controlled not only by 12 volt triggers, but also RF and IR remotes. This means that if you want to run a wire to the front of the room so that they screen powers up when the projector turns on you can - but you don't have to. The screens range in size from 78 to 92 inches diagonal in the tensioned matte white (CineWhite) material or in either 82 or 92 inches in the un-tensioned MaxWhite material. The Raptor Module screens only come in 16:9 aspect ratio. The Kestrel brags a  160° wide viewing angle and standard 4-side black masking borders.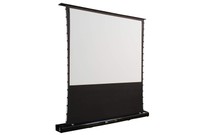 If you are in to something smaller and less noticeable, you'll probably want to look at the Kestrel Tensioned series. We've used Elite floor screens in the past. One of our favorite screens is the portable F80NWH floor screen. It's convenient, it's cheap (~$250), and it is handy in a jam. We've used it from everything from Super Bowl parties to kids birthdays to just filling in when we've been between screens. The problem has always been that it is a stopgap screen. It isn't tensioned, it is manual, and it isn't something you'd like to live with day in and day out. Elite has the answer with their new Kestrel Tension Series electric screens.
Housed in small, floorstanding piano gloss black finished aluminum cases, the new Kestrel screens are perfect for installations where ceiling or wall mounting are impossible or impractical. Honestly, our experience has been that, unless you are absolutely sure you'll never need another screen, getting something that is easily upgradable/replaceable is a pretty good idea. In the case of the Kestrel, it sits on the floor at the front of your room presumably near or right on the wall. It is available in 4:3, 16:9, or 2.35:1 aspect ratios in either fiberglass-backed matte white (MaxWhite FG) or tensioned matte white (CineWhite) material. The "Tensioned" part means that the screen is held taut so that it isn't as affected by wind and will retain it's uniform flatness over time. Motorized precision "scissor-backed" cross spring risers raises and lowers the screen with a swift operation with a tubular motor offering superior weight tolerance and operational lifespan.
Conclusion
When you start getting into screens of this caliber, you have to expect to pay more. The suggested MSRP of the Kestrel Tensioned Series starts at $2589 for an 84" 4:3 model up to $3917 for a 115" 16:9 model. The Raptor Modules may offer a discount over the finished cabinet Raptor series but you'll still be forking out well over $3000. That's a chunk of change for a screen but consider what you are getting. The Raptor Modules can be built into an existing cabinet or installed in a new installation. Elite's screens have always been of the highest quality so that's not an issue. Not to mention that there is the cool-factor of having a screen pop up out of nowhere. On the other hand the Kestrel is a screen that can be moved from room to room without repairing drywall. This is a screen that can be upgraded without having to call a professional installer. This is a screen that could move from your home theater into your bedroom or office later on. If you are looking for that classic, jaw-dropping, "where the heck did that come from" reaction, the Raptor is for you. But if you aren't living in your dream home and think you may want to move at some point, the floorstanding Kestrel Tensioned screen makes a lot of sense.
For more information, please visit www.elitescreens.com.

Unless otherwise indicated, this is a preview article for the featured product. A formal review may or may not follow in the future.
Confused about what AV Gear to buy or how to set it up? Join our Exclusive Audioholics E-Book Membership Program!
Recent Forum Posts: