5 Killer Tower Speakers Under $2K/pair Compared for 2019!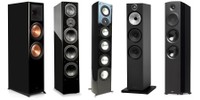 The price range between $1.5k and $2k seems to be a sweet spot for tower speakers from many of the major speaker manufacturers. There are hundreds if not thousands of choices in this range. Recently, Audioholics reviewed five of what we consider to be some of the better speakers in this category. In this article, we take an overview of these five speakers and look at what each one brings to the table. Read our round-up of tower speakers in this range and watch our related YouTube video discussion to see if one of these makes a good fit for you.
Looking for a high quality tower speaker for under $2K/pair? You're in the right place! We compared 5 tower speakers from RBH, Paradigm, B&W, Klipsch and SVS. Read on to see which is best for you.