Rocksteady Stadium Wireless Speaker Review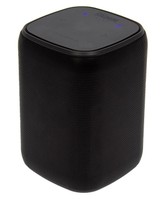 The new Rocksteady Stadium is an affordable Bluetooth 5.0 speaker system with an interesting hook. The idea at the heart of this system is deceptively simple, one speaker all by itself creates a solid rendition of what you'd expect from a small portable Bluetooth speaker. But when you wirelessly connect two or more in a custom wireless sound network and the design really shines as it brings a stereophonic soundstage that exceeds the speaker's diminutive stature. You'll wonder why all Bluetooth speakers aren't designed this way! Stereo imaging from compact speakers that you can place almost anywhere is a hook you won't soon get out of your head.
The new Rocksteady Stadium wireless Bluetooth speaker system is one of a new generation of portable Bluetooth 5.0 speakers that push the boundaries of its category especially when configured as a stereo pair.