Connecting Your Home Office to Your Home Theater
Connecting Your Home Office to Your Home Theater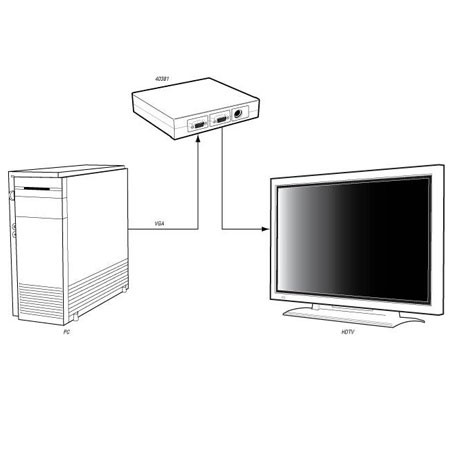 Get those systems connected!
Thousands of words have been written about, and thousands of hours of labor devoted to, marrying our computers with our home theater and audio installations. On the Audioholics site alone there are 81 results from a search for "HTPC" (home theater personal computer). The problem with the concept of the HTPC is that, at its core, it's a dedicated computer for multimedia applications. What happens if your computer is in your home office and your theater is elsewhere? What if you don't want an HTPC? How do you combine your home office with your audio/video installation? It's a question that's seldom discussed in this industry. Considering how many folks have both a home office and a home theater system, and how few have connected the two together, one has to wonder why there's such a big delay.
The personal computer is a powerful tool when it comes to delivering a plethora of entertainment options. There are tens of thousands of Internet radio broadcasts – audio sources that are accessible only through a streaming Internet connection. Add to that tens of thousands of audio and video podcasts – programs which can be easily downloaded and played at the listener's convenience. Most top-rated radio and some television programs offer podcast versions of their shows to facilitate time-shifting. Even such media warhorses as Meet the Press and Face the Nation offer audio-only versions for those who'd rather listen when they want than watch when they must. Finally add to the number of online entertainment resources the hundreds of thousands of songs, performances and spoken-word productions like AV Rant available through Internet outlets such as iTunes, Rhapsody and even Amazon and you begin to see how overwhelmingly immense the online choice can be. The revolution started years ago – did you notice it?
Nice as a dedicated HTPC could be, it's an investment that's beyond many. Nevertheless, you can get much of the flavor of a dedicated computer source-component by simply connecting the products you already own! We're not talking about plugging your iPod into your A/V receiver. Instead let's look at connecting all the Internet has to offer to your home theater rig. Make your investment one that's truly capable of multi-media! It's easy and inexpensive. You only need to think about three connections to fully energize your system: video, audio and control.
Enjoy The View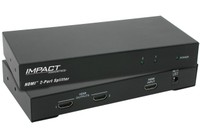 In a perfect world you'll have an HDMI output on your computer that's fully compatible with current CE standards. If you do, you can just run an HDMI link to your A/V control center's HDMI input and you'll have both audio and video connections. This is very easy to do with the new RapidRun Digital system. Runs to 65 feet with full 1080p performance are easy! If you only have a single HDMI output on your computer and need to split it to connect both systems, you can use an HDMI distribution amplifier such as the Impact Acoustics HDMI splitter/extender. Another advantage of an active HDMI distribution amplifier is that it can extend your HDMI effective connection length – run the cable up to 65 feet to the amp and up to an additional 65 feet from the amp to the home theater system for a combined system length of more than 130 feet!
Unfortunately, most of us don't have an HDMI output on our computer video cards. If, like me, you're relegated to working within the analog realm, then you need to run a VGA cable. This is much easier than it sounds. A VGA cable (more properly, an HD15-equipped monitor connection, which is capable of up to 1200 x 1600 UXGA performance) consists of 3 miniature coaxial cables and three twisted pairs that handle control information to establish the correct resolution and sync. Monitor cables come in lengths up to 150 feet or more. Like all other analog video, VGA is robust. You'll experience very little roll-off or degradation of resolution at any length under 100 feet. Use a good quality shielded cable and best installation practices to ensure maximum fidelity.
Once again, a modular cabling solution can be a real timesaver. HD15 connectors are bulky and may be difficult to fish through holes in your walls. The RapidRun PC/Video cable is less than 3/4-inch in diameter and allows easy, tool-less termination with an HD15 connector for direct connection. You also have the choice of an HD15-equipped wall plate for a dressier look. An added advantage is that RapidRun supports a stereo audio feed in the same run as the UXGA signal feed. One wire, complete connection. Simple, eh?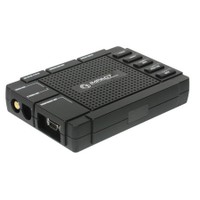 It's important to understand that the computer video standard transports computer images as red, green and blue components plus sync signals. While this looks superficially like the component inputs on most projectors and monitors, it's not. Consumer products use a luma/chroma variation often identified as YPbPr. You cannot output RGB and directly connect to a YPbPr device; a signal translation must be made. Most new plasma and LCD monitors, and DLP projectors, have a true computer interface on HD15. If yours doesn't, you can easily convert the signal using an active device like the Impact Acoustics V-Play.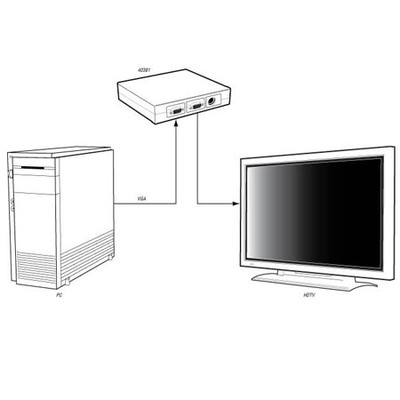 Make A Noise
Once again, we have an ideal connection and we have the connections most of us will have to use. Obviously if you're among the lucky ones with an HDMI output, you don't need to take this step.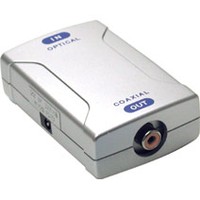 If you don't have HDMI, a close second is S/PDIF coaxial output. This takes the digital signals and allows D/A conversion to happen someplace other than the noisy environment inside your computer. One of the biggest drawbacks to computer sound quality is the compromise made in D/A conversion on the sound card. There is a tremendous amount of noise present in the typical sound card's environment. Getting that conversion step out of the computer and inside the AV receiver with its more controlled environment where RFI (radio frequency interference) and EMI (electromagnetic interference) are several orders of magnitude below that can provide a big improvement in sound quality. Most quality A/V preamp/processors or receivers have the ability to accept a coaxial or TOSLink S/PDIF digital input. S/PDIF on a coaxial output can be run up to 100 feet on the same type of coaxial cable used for video. TOSLink on an optical output can be converted to coaxial S/PDIF using an active device and run as described above.
Another great way to improve the sound of your computer and provide an easy interface with your home theater system is to use the Headroom Total Bithead. This neat little device taps the digital data stream via a USB connection. D/A conversion is completed in the Bithead and is subsequently output as left and right analog audio via a 3.5mm mini-jack.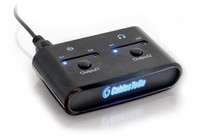 The most likely scenario for connecting the audio output of your home office computer to the inputs of your home theater system is via left-and-right analog audio feeds. Every computer utilizes the ubiquitous 3.5mm stereo plug for connection to powered desktop speakers. That same connection can serve to connect the Internet to your media system. Of course it's impractical to use the theater for all computer sounds, so you might need a way to steer the sound to the system most appropriate for the content. A miniature matrix switch, such as the Audio Crossplay, is ideal. With such a switch system it's easy to route the sound to your home theater, your office desktop speakers, or both!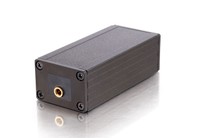 A final issue worth consideration, especially as pertains to audio, is that of ground loops. If your home office is at one end of your home in a converted bedroom or den (as it almost always is), and the home theater is at the other end of the house where you have control over lighting and some isolation from sound (as it almost always is) then the chances are very, very high that both systems are being fed from different branches of your home's A/C power distribution wiring. This is almost always the recipe for ground loops! Using a simple and inexpensive isolation transformer will eliminate destructive ground loops with a minimal impact on sound quality.
Take Control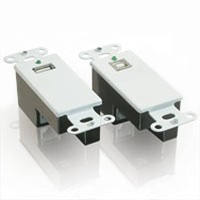 Making it possible to see and hear content from your computer is only half the story. It's impractical, at best, to have to run to the home office every time you want to queue up a new song or streaming performance. To make this marriage of home office and home theater really work you need to have control over the situation. This is the easiest of all solutions because it's an industry standard. A USB wireless keyboard and mouse will allow complete access of your computer's content from your media rig. Simply install a USB booster or repeater system, connect the port to your computer and plug in the keyboard/mouse when you need control from a distance. Quality USB repeater systems use a Cat5e cable, so in addition to a RapidRun or VGA cable you'll need to pull a data cable as well. There is no software or drivers needed, it's truly a plug-and-play solution!
One final connection can make the marriage of your home office and your home theater a happy one. Run cables for S-video or component video and left/right audio from the theater back to your office installation. Now you can connect the second zone output of your A/V receiver to the A/V inputs of your computer monitor (most larger LCD monitors have inputs for secondary sources). This will allow you to watch your DVD player, satellite or cable system, TiVo® or other device on your office monitor.
In short, fully bi-directional communication between your media room and home office is simple, inexpensive and readily available. At most you have to run three wires between the two systems to get everything to work as described. You'll have access to all the streaming and downloadable media the Internet has to offer as well as access to your own photo albums, family videos and presentations. Why wait? This is something that's too easy, and too much fun, to put off any longer. Expand your horizons and enlarge your entertainment opportunities. Connect your home office to your home theater today!
By Joe Cornwall, Business Development Manager
Impact Acoustics by Cables To Go
Confused about what AV Gear to buy or how to set it up? Join our Exclusive Audioholics E-Book Membership Program!
Recent Forum Posts:
holden_stroker posts on March 25, 2008 05:18
to give you all a breif insight into my current situation.. im living in a 2 bed room flat at the moment on my own. one room is the bed room, the other is my home gym. in my lounge things started to get cluttered as i accumulated more and more things when starting off on my own. i was at the point where i had in my living area… 2 X sofas, 1 X couch, 1 X bean bag, 1 X foot rest, 1 X cofee table, my tv and home theatre, a dining table with 4 chairs and my computer in the corner!!

i got rid of the area where my computer was and put the dining table there. this freed up so much room i was quite amazed!

my computer now resides between my tv cabinet and my front speaker and is connected to my tv with the standard vga cable. sit in my bean bag with keyboard and mouse and everythings sweet. people come over for tea or a movie, shift keyboard and mouse and i have plenty of room here

suits me fine and picture in picture comes in handy on the big telly

nice read that article however
TimoHT posts on March 24, 2008 19:38
This article and associated thread has not mentioned another potential method of integrating a Home PC and Home Theater: An ethernet connection, typically 100mbit. Many current receivers, pre/pros, and even the Pioneer Blu Ray players can connect to many/most Home PC media via ethernet. They can play music files & play lists, show pictures, play Internet Radio, etc, via the ethernet connection.
kleinwl posts on March 21, 2008 16:57
A easier solution seems to be slapping a HDMI connection into your computer… ie new video card. Then running the HDMI cable into your reciever and controlling it all via an RF control seems plausable.

All these boxes and switches seems more complex than really necessary.

I can't wait till wireless displayport is available… then we don't even need the cable run.
sengert posts on March 21, 2008 09:58
What about AppleTV or similar?!?

Hey guys!

Great topic, but I'm wondering why not mention AppleTV or any of its competitors? (I'm not sure if there are competitors yet…?)

I know that the actual Apple box is not the best in terms of actual video quality and it is certainly proprietary, but the idea of this convergence device is obviously a BIG thing, and it can't be that far off for others to be making devices like this… wireless internet connectivity (wired if you have too), HDMI out, Hard Drive built in for music/video storage and then minimal software for interfacing with the internet and your online/in-house network.

This device could even shake the entire Cable/Satellite television paradigm by actually allowing, finally!, pay as you go television viewership! No more package purchases for 180 channels just so you can see the Tour de France!

<GRIN> I'd love to hear what others think of AppleTV or if you guys know of other competitive devices…

sengert
corey posts on March 21, 2008 06:15
To date, my favorite connection between my computers & my HT has been an Xbox 360. I don't care much about internet content on my TV, or spreadsheets in my living room. The Xbox 360 does an OK job of displaying photos, and a great job playing music. You can make up on-the-fly playlists, and then display a hi-def light show on your tv.

My son (halo player) recently moved his Xbox from the living room/HT to his room. I'm thinking about buying my own 360, even though I most likely will never play a game on it, and just use it as a media device. If Net Flix offers rentals through it, I'll buy one the next day.
Post Reply