7 Tips to Boost Wireless Speed, Range, and Reliability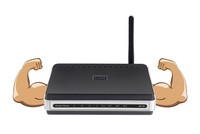 Your wireless router on steroids! Wireless internet is awesome…When it's fast, reliable, and has wide coverage that is. When the signal keeps dropping or the speed is so slow you might as well be on dial-up, it's another story. Frustrating might be a mild description of the emotions a cruddy wireless network can evoke. Thankfully, there are a number of easy, and completely free, tricks to get your WiFi working like a champ. We wrote this guide so even those "technologically challenged" among us can run through it in a few minutes. From simply relocating the router, to installing hacked firmware, we'll get your WiFi signal so strong the entire neighborhood can eat up your bandwidth.
Boosting your wireless speed, range, and reliability is surprisingly simple. These 7 steps will help you set up a rock solid WiFi network and get the most out of a wireless router.