Connecting a CableTV or Satellite System
Connecting a CableTV or Satellite System

Over-the-air (OTA) broadcast television may be making a comeback with major networks now sending HDTV signals capable of being picked up by the humble rooftop antenna. But subscriber TV services from cable and satellite providers are here to stay. No other option will give the viewer so many programming choices and specialty networks than digital cableTV or satellite TV. These digital services can send near-DVD quality audio and video directly to your living room. But to decode these digital signals you'll need a set top box or STB called a satellite receiver, digital cableTV box or digital terminal. Digital cableTV and satellite receivers behave in much the same way; extracting and processing digital and analogue audio and video from a single coaxial cable run and sending it to your home theater system. In this article we'll examine satellite and analogue/digital cableTV systems to demonstrate how they can be easily integrated into your home theater.
Standard (Non-Digital) CableTV Box
The days when a cableTV box offered only a coaxial/RF output to a TV that had to be tuned to channel 3 are long past. But in case some of us still have one of these dinosaurs around, don't despair. These analogue cable boxes are easy to integrate and can provide two-channel audio that your receiver can process any number of ways to give you surround sound. Newer analogue cable boxes offer separate RCA jacks for two-channel stereo output and composite or even s-video outputs to make integration into your home theater system a snap. These audio/video output jacks connect directly to your home theater receiver for video and two-channel audio. You'll need two (2)coaxial/RF cables and a pair of stereo RCA cables with an extra RCA cable for composite video (or an s-video cable if you have those connections available on your receiver and television.)
CableTV/satellite outlet & coaxial/RF cable
Step by Step: Connecting a Cable Box (RF Input/Output Only)
Old fashioned analogue cableTV box use only a coaxial/RF (cable) input and output. This creates a challenge for integration into your home theater system. You must use another piece of equipment such as a stereo TV or VCR to separate audio and video for use with your home theater receiver. You'll need two (2) coaxial/RF cables, a stereo pair of RCA cables, a composite or s-video cable (preferred if s-video is available), and either a stereo TV or VCR.
Using one of the coaxial/RF cables, connect the wall jack to the coaxial/RF input of your cableTV box.
Connect your cableTV box's coaxial/RF output to either the TV or the VCR's coaxial/RF input.
For Home Theater Receivers (audio): Using the RCA cables connect (the TV or VCR's) left and right audio output to one of the home theater receiver's stereo inputs.
For Home Theater Receivers (video): If you have a video output, connect the video cable to the receiver's corresponding video input as in the diagram shown (click to enlarge). Then connect the receiver's video output to your television.
Note: If you desire audio output from your TV when the receiver is powered down, we recommend connecting your cable TV/satellite box's RF output to the RF input of your TV.
Step by Step: Connect a Digital CableTV Box or Satellite Receiver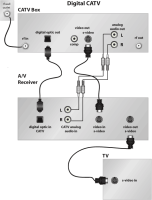 The next-generation cableTV/satellite boxes added the ability to automatically send audio and video signals to a dedicated home theater receiver. Some even added digital audio ouputs (mostly for satellite boxes). This guide deals with composite and s-video conenctions. If you want to use component video connections, skip down to the Digital HD CableTV/satellite box wiring guide below.
Using a coaxial/RF cable, connect the wall jack to the coaxial/RF input of your cableTV or satellite box.
Connect your audio and video (composite or s-video) output jacks directly to available inputs on your home theater receiver.
For VCR Recording: Connect a pair of RCA analog audio cables and one composite/s-video video cable from an unused output of your receiver to the respective inputs of your VCR.
Note: If you desire audio output from your TV when the receiver is powered down, we recommend connecting your cable TV/satellite box's RF output to the RF input of your TV.
Digital Cable and Satellite TV with HDTV
Today's digital satellite and cable TV signals are carried on standard coaxial cable. While the physical cable itself looks no different than analogue cable there is considerable difference in the signal's bandwidth. Digital cableTV and satellite TV can carry many more channels with HDTV resolutions and 5.1 Dolby Digital surround.
The back of the Motorola DCT6200 digital cable box
You'll connect digital cableTV and satellite TV in the same way when it comes from the wall. A coaxial/RF cable line is connected from a jack on your wall to a device similar to the Motorola DCT6200 digital cableTV box shown above. This digital cableTV box has all the same features as an equivalent satellite receiver, complete with video outputs for HDTV and S/PDIF digital audio output for 5.1 channel surround. There should be no difference when hooking up a satellite box vs. a cableTV box.
Let's Take a Look at the Available Connections
Coaxial/RF
Connections on the digital cable box include the input coaxial/RF jacks like you'll find on a standard analogue cable box. Typically, you can also still send the coaxial/RF output from the box to your VCR for recording programs, though the newest models came with on-board Digital Video Recorders (DVRs). You'll want to check the product manual to ensure that you understand the particular features, quirks, or requirements of your brand/model. The rest of the connectors provide audio and video directly to your home theater receiver.
RCA Audio Connections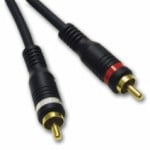 RCA jacks provide a stereo signal to your Home Theater receiver for all analogue channels. On many of these analogue channels (where the digital audio is not active) the receiver can utilize Dolby Pro Logic or Pro Logic II/IIx decoding to give you surround sound.
Remember, even though you may have a "digital" cableTV set top box, it will likely not output digital audio for the analogue channels (typically found on the first 70 or so channels). Because of this you will want to connect a pair of analogue RCA cables form your cable box to your receiver even if you already made a digital S/PDIF connection (more info on S/PDIF below). Most satellite systems output digital audio at all times so this is not a problem for those using satellite-based systems.
S/PDIF Digital Audio Outputs

The S/PDIF (digital) output comes in two flavors: optical (sometimes called Toslink) and coaxial. Either will work and there is no real difference between the two when connecting your digital cableTV box to your home theater receiver.
Using the digital audio output will provide your home theater receiver with full 5.1 Dolby Digital audio when available. Most programming will be broadcast through digital cableTV/satellite in two channel audio formats (stereo or enoded as Dolby Pro Logic), but HDTV channels, premium movie channels and even some cable networks will broadcast certain movies or prime time content in Dolby Digital 5.1.
Video Output Options
An assortment of video output options include composite (a single yellow RCA connection), s-video (a single 4-pin connection) and component (3 RCA connections colored red, green, and blue). Component video provides the best possible analogue video signal and is the only analogue fornat capable of transmitting HDTV resolutions. Connect the cableTV box's component video outputs to your home theater receiver if it can accept component inputs (match up the colors and consult your receiver's manual for any required settings). Connect them directly to your HDTV if your receiver does not support component video connections. Remember that if these outputs aren't being used, you're not getting a high definition signal (HDTV) from the source.
Note on HDTV programming: Even if you make all the right connections, please be aware that HDTV is only in limited quantities at present. Contact your cable or satellite TV provider to see what you need to do to acquire the HDTV channels you want (including local channels). HDTV is now available for all the major networks (ABC, CBS, NBC, Fox) and also to an increasing number of cable stations (TNT, DiscoveryHD, Bravo, etc)
Step by Step: Connecting a High Definition Digital CableTV or Satellite Box to a Home Theater Receiver
An RF/coaxial cable goes from the jack on the wall to the RF input on the digital cable or satellite box.

Video should be connected to your home theater receiver via component video (see below for using DVI or HDMI).

Audio is connected to your home theater receiver using S/PDIF AND stereo analogue RCA connections. Note: The reason for this is that the lower cableTV channels - even on a "digital" cableTV box, are not actually digital and will only output audio via the analogue stereo RCA outputs. Connect both and most receivers will switch automatically to pick up the digital audio when it is present. This is unnecessesary if you are using satellite TV. If S/PDIF (digital audio) is not available then use stereo analogue RCA connections alone.

The home theater receiver is connected to the TV using the same video connection type used to connect the digital cable/satellite box to the home theater receiver. Note: If you have a receiver that has video upconversion and a cable/satellite box that does not support component, you can still connect the component video outputs of your receiver to the television.

A VCR can easily be added to the mix by using the coaxial/RF output on the cableTV/satellite box to the VCR's coaxial/RF input. You can then connect the VCR's stereo RCA outputs and video output to the receiver. Note: Just like above, some receivers won't be capable of converting the composite or s-video inputs to component, so a separate connection to the TV might be necessary.
DVI or HDMI Connections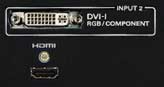 Many of today's cableTV and satellite set top boxes feature DVI or HDMI outputs. For video, connect DVI or HDMI as you would component connections - they're both meant to carry digital HDTV signals. We'll soon start to see more cableTV/satellite boxes with HDMI input/outputs and connecting your home theater system with HDMI will be easier than ever. HDMI is a fully digital multi-channel audio and HD video carrier. When it's fully implemented, the HDMI output on your cableTV/satellite box will go into your home theater receiver and out again into your TV - one cable run for everything! Today HDMI in/out is only found on more expensive receivers (starting at around $1800 and dropping lower at each product cycle) so a majority of us will have to wait until prices come down to take full advantage of this easy to use standard.
Speical Thanks to Home Theater Focus 
Confused about what AV Gear to buy or how to set it up? Join our Exclusive Audioholics E-Book Membership Program!