Tip of The Day: Mixing and Matching Speakers
Tip of The Day: Mixing and Matching Speakers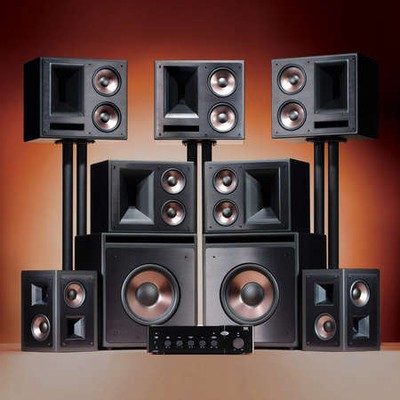 Tip of The Day: Mixing and Matching Speakers
As a general rule, we do not recommend mixing and matching different brands of speakers in a surround sound system. Even mixing different lines within a particular brand can present problems. In order to maintain a reasonably consistent timbre (sonic signature) between different speakers, it's a good idea to have a matched system. Matching your front three speakers is most important, but if the manufacturer of your front speakers doesn't make a suitable surround speaker you can consider going with a different brand for surround speakers. Still, we recommend trying to stay within the same brand and series for all of your speakers.  Choosing speakers with similar output capabilities above the crossover point to preserve dynamic range for the entire system response is a sound idea.
A notable exception to the matching rule is the subwoofer, which fills in the low end. In fact, there is rarely any reason to keep your subwoofer the same brand as your main speakers, perhaps other than cosmetics. There are several companies specializing in subwoofers, such as SVS, Hsu Research, Velodyne, Rythmik, and Epik, whose products have consistently proven to offer better performance/value than many of the alternatives on the market.
Please share with us your mix and match speaker stories in the associated thread for this article tip.
Credit: forum member Steve81

Confused about what AV Gear to buy or how to set it up? Join our Exclusive Audioholics E-Book Membership Program!
Recent Forum Posts:
Rugbyfan posts on March 27, 2016 09:14
Part 2: here is my report on the topic –
I am 36, financially well-off but not rich, and live in India. My most important reason for mixing and matching home theatre speakers is that I have a lot of different speakers and amplifiers that i collected or were gifted to me over the last 12 years (most of them ordinary commercial brands and not 'audiophile components') and a few vintage speakers from my late grandfather who also loved music. I listen to Indian classical and semi-classical music, jazz instrumental and also classical chamber music without orchestral support, mainly featuring cello and/or double bass.
Since I don't trade off components, I have a relatively inexpensive mix'n'match audio system (mainly for 2 channel music but also two for HDTV) in almost every room and each system rather has a unique sound.
I have not really gone by brand names, but much more by the basic principles of audio, with an 'ear open' always for the character and quality of the 'mixed' output sound.
I like to have a subwoofer, a good pair of left and right front speaker combinations, and an experimental but practically effective centre configuration to play the two_channel input in a sonically dynamic manner, giving equal importance to bass and audio clarity, with the aim of reproducing a very realistic audio output.
I prefer to use powerful woofers for bass, good quality full-range speakers for midrange and separate smaller speakers and tweeters to represent the higher frequencies. Since components are from varied sources, it takes a bit of trial to get a good sound.
In my experience, mixing and matching audio components is indeed very experimental, but if you know what sound you want to achieve, you can probably make use of each component in an interesting manner. Of course there is no jury of experts waiting to evaluate the results, but we can learn to assess the sound critically and make appropriate adjustments to get a better outcome.
Above all, mixing is fun and inexpensive. But if we want an accomplished home theatre setup within a reasonable budget, without mixing components, then we can begin to save up for it and, at a considerable (but very worthwhile) expense, purchase as a proper set, or assemble from scratch, a single-origin, pre-matched, pedigreed and excellent audio system.
(Thanks to all for previous inputs to original post, and for reading this reply.)
Rugbyfan posts on March 27, 2016 08:28
Hello all. This is an important topic because mixing and matching audio equipment is almost unavoidable, and I think it is also at the core of the 'spirit of audio enthusiasm'.
Purists may certainly (and rightly) recommend a matched set of equipment from same maker and same line for most appropriate results. But for the amateur audio enthusiast, especially in countries like mine that are somewhat 'young' by audiophile frame of reference, mix and match is often the way to go.
We in India tend to get audio equipment from a wide variety of makers, much of it regular commercial models of varying quality, and the greater part of the creative challenge is to mix'n'match them to produce a technically good and pleasing sound.
The choice of components certainly differs for home theatre and music.
I appreciate the replies to the original post and shall give my own humble input in my next reply.
Bigdog02 posts on December 31, 2015 09:46
Hi, I have a question about mixing speakers. I'm relatively new to this and just want to learn more. Currently I have a 9.2 setup. I will be replacing some klipsh quintet speakers as I can afford a new of axioms. In the front I have the axiom m22 and the klipsh quintet center channel…for side surrounds klipsh quintet….for rear surrounds klipsh quintet..for front height some old pioneer satellite speakers…for subs I have 2 10" klipsh..the marantz sr7010 av receiver…also I have another pair of axioms m22'so on the way but not sure of the best place to put them..I'm working towards the auro 3d 10.1 setup..so should I use the axioms on the lower level and move the klipsh quintet speakers to upper level? Or should I put the axiom speakers that are being delivered directly above my other axiom m22's in the front? In other words axioms for front upper and lower and quintets for rear upper and lower surrounds. or axioms all lower and quintet all upper level?
20Steve posts on December 13, 2015 15:59
I have a question, that I would appreciate feedback on regarding mixing and matching of surround sound speakers. Firstly, I have an old 8-9 year old 5.1 channel "surround sound system in a box" so to speak, however it is a real 5.1 Kenwood receiver model VR-716 with the matching 5 speakers plus the subwoofer.

I'm at a point where I just want an upgraded surround system without spending a fortune. I started by pulling out some old Realistic Minimus 7 speakers I've had since the late 70's and used these for the surround Front Right and Front Left. Incredibly pleasing! Next I thought I would upgrade the center channel speaker. So I started looking for a used center channel speaker on Craig's List. I found many…DCM, several Polk models..CSi25, CS2, CS2 series II, Definitive Technology, JBL, Infinity P-CC, BIC America DV62-CLR.
Next I found Audioholics.com and this forum. This site said it's best NOT to mix surround sound speakers because the "timbre" would be off. The posts however show folks who have mixed and are pleased with their results. This only makes me more confused! ugh!

So what would work with good results on a budget? Suggestions on what brand or models of speakers to definately steer away from? Buy a used matching system? Upgrade the center and forget about timbre? Help!
skipnie posts on February 18, 2013 12:38
HSU, I highly recomend them for subs. I find they present the most accurate (timbraly accurate), natural sound (not bloated) than many subwoofers "out there".
Post Reply