The MonAcoustic PlatiMon Virtual Coaxial One: Megabuck Build Quality for $6.5K?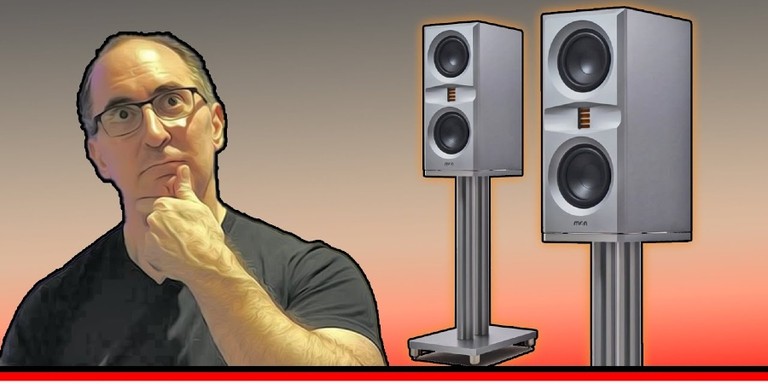 MonAcoustic PlatiMon Virtual Coax One Speaker
Summary
Frequency Range: 45Hz ~ 28,000Hz
Impedance: 4 ohms
Sensitivity: 91dB
Dimensions (H x W x D): 17″ x 7.5" x 10.6"
Weight: 32 lbs each
Executive Overview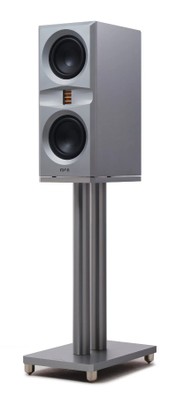 Marty McFly once said, "All the best stuff is made in Japan." That certainly seemed to be the case when I was a kid. I had a Sony Walkman (and later, a Discman). No other brand would do. My friend Alap had an enormous Sony Trinitron TV, and my friend Ben had a Denon boombox that I coveted ardently. When it came to cars, my dream garage included Marty McFly's 1985 Toyota SR5 Xtra Cab pickup truck, which I'd use to tow a 1967 Toyota 2000GT to the racetrack. And when my friend Todd's dad got a Lexus, it was the envy of the neighborhood. It certainly wouldn't have occurred to me that, 30-something years later, I'd be saying that all the best stuff comes from Korea. But here we are. If you're still into portable audio, the digital audio players (DAPs) from South Korea's Astell & Kern are the best of the best. Korean brands Samsung and LG are now the biggest names in a TV business no longer dominated by Japanese companies. When I was a kid, I thought Hyundai was just a knockoff Honda. But in today's electric car market, the Hyundai Ioniq 5 and Ioniq 6 are consistently rated among the most appealing and reliable — streets ahead of the electric offerings from Toyota and Honda. (And if you like the Doc Brown's DeLorean, you'll probably love the Hyundai N Vision 74. It looks so cool!)
PlatiMon Virtual Coaxial One stand-mount loudspeaker
Is home audio the next area in which South Korea will become a dominant force? Recently, the Korean brand HiFi Rose has made a splash with its high-performance, high-style streaming DACs and integrated amplifiers. If you want a more granular approach to network audio, SOtM Audio is a popular Korea-based company offering niche, multi-product solutions with a focus on maximizing every ounce of audio performance. And that leads us to MonAcoustic, a relatively new loudspeaker manufacturer founded in 2020. The name "Mon" refers to "more natural" sound, and that has been the main goal for company founder Jun Hyeog Seo, who also serves as chief engineer. A student of mathematics and topology, Jun became obsessed with audio at a young age, listening to tube amplification in South Korea in the 1970s. Also a musician, he pays special attention to the timbre and tone of instruments.
I want people to find MonAcoustic products for their high-end jazz sound: the thickness of cymbals, the natural brass sound, piano sound, nylon guitar sound — with the right harmonics.
— Jun Hyeog Seo
The first two models from MonAcoustic were the SuperMon Mini ($2,000/pair) and SuperMon Isobaric ($25,000/pair), both introduced at Axpona 2022. Both have received formal reviews here at Audioholics. Today we take a first look at the company's newest offering, the PlatiMon Virtual Coaxial One ($6,500/pair including stands). Chief Audioholic Gene DellaSala got a sneak preview when the speaker was introduced at Florida Audio Expo 2023, and our friend Shane Lee recently did a video review of these new speakers for the Audioholics YouTube channel. Sadly, I was out of town and therefore missed an opportunity to hear them in action when Young Byun, CEO of MonAcoustic US, hosted a listening session demonstrating the PlatiMon VC One and SuperMon Mini speakers at my local dealer back in May 2023. YouTube reviewer Jay Lee of the "Jay's iyagi" channel recently interviewed Jun Hyeog Seo about the PlatiMon Virtual Coaxial One, and I have included some of Jun's translated responses below.
The PlatiMon Virtual Coaxial One
The PlatiMon is a 2-way "virtual coaxial" stand-mount speaker with a vertical MTM design. Two 5-inch mid-woofers sit above and below an AMT (Air Motion Transformer) tweeter in a slender, ported aluminum cabinet measuring 17 inches tall by 7.5 inches wide by 10.6 inches deep. The speakers weigh 32 pounds each, not including the chunky aluminum stands. The enclosure is reinforced with 6061-grade aluminum, promising "transparent and modern, clear sound." The finishing quality is top-notch, thanks in part to a "hyper brushing technique" that ensures a premium appearance.
This might just be the most exquisitely-made speaker I've ever had in my home. The seams line up perfectly, and I'm positive this (aluminum cabinet) could stop a bullet.
— Shane Lee
MonAcoustic calls the PlatiMon Virtual Coaxial One a "true marvel of product design for high-end audio consumers." The goal was to design a speaker larger and more capable than than the fun-size SuperMon Mini, but with a more approachable price than the flagship SuperMon Isobaric. The new speaker would also need to be more efficient so it would be easy to drive and sound natural with nearly any amplifier. Although the PlatiMon has a nominal impedance of 4 Ohms, the speaker's 91dB sensitivity rating is indeed usefully higher than that of its siblings. MonAcoustic recommends 50 watts or more for best results, though in some rooms, 30 watts will be sufficient. The speaker reportedly plays down to 45 Hz, with a top-end extension reaching 28kHz. 
The AMT tweeter handling those high frequencies was designed in-house but is made in the USA to MonAcoustic's specifications. It handles everything above about 3,100 Hz, according to the company. The tweeter is placed inside a wide, chiseled waveguide milled into the meticulous-looking aluminum baffle. The 5-inch mid-woofers are made in Germany, and reportedly use special neodymium magnets. The driver plays flat down to 53 Hz before beginning to roll off, according to MonAcoustic.
The PlatiMons hit a near-perfect spot for having enough resolution so I could still hear the sizzle of cymbals or the close-miked lip smacking in a well-recorded track without it being overly in-your-face or bright or too warm and recessed. And once I got the placement just right, the imaging was pinpoint accurate.
— Shane Lee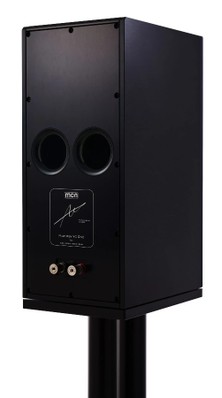 The two rear ports were reportedly subjected to "unique sonic pressure measurements," and this process led to some interesting design choices. Although you can't tell from looking at the PlatiMons, each pair has a dedicated left and right speaker, designated on the rear of the cabinet. The two port tubes are of different lengths, and the internal absorption material is applied in an asymmetrical way as well. 
The aluminum cabinet is lined with both leather and foam to address resonances, particularly in the 1kHz range. I enjoy a leather interior in a car, but this might be the first speaker I've come across to boast that particular luxury. 
The result of all this asymmetry is a "deeper soundstage, and unique sound width," according to Jun Hyeog Seo. "Most speakers can be swapped left and right," he explains. "I experimented with this unique setup to the rear ports and to the internal network, which affects three resonances: port resonance, enclosure resonance, and driver sound." Jun emphasizes in his sonic signature a careful balance of attack time, sustain time, and release time, according to MonAcoustic.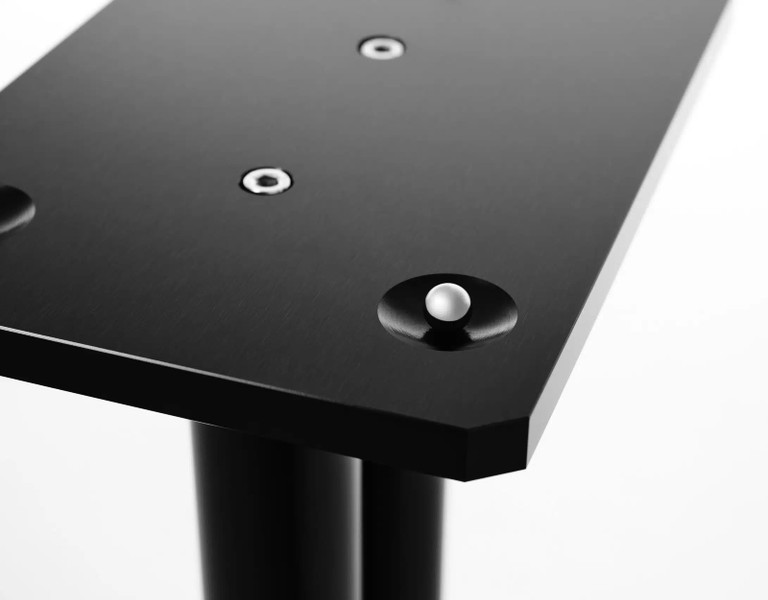 This diligent approach to resonance control extends to the included "resonant decoupling stands," which use ball bearings to decouple the speaker from the stand. The cabling inside the speaker is made by the Korean brand Sanctus, and uses 210 annealed wires that have been stranded 7 times.
Audioholics' ever-observant loudspeaker reviewer, James Larson, had a chance to hear the PlatiMons at Axpona 2023, after reviewing both the $2K SuperMon Mini and the $25K SuperMon Isobarics. Here's what he had to say:
The $6.5K/pair PlatiMons look to fill that (price) gap nicely, being a full-sized bookshelf speaker but without the over-the-top construction of the SuperMon Isobarics. It still uses a gorgeous fully aluminum cabinet, and one of the aspects that helps to keep its pricing down is that it eschews the isobaric dual-woofer bass loading that its other MonAcoustic siblings employ. Instead, it uses a more traditional ported design for bass loading. It uses an MTM design to center the acoustic lobe fully on the tweeter, and one critical design decision they made toward this end was trying to minimize the distance of the woofers. This is a smart move that other manufacturers could learn from since it allows for a wider vertical dispersion. Many MTM designs space the woofers far apart, and that leads to a very narrow optimal listening height where listening just a bit above or below the tweeter will induce nulls that take chunks out of the frequency response in important ranges. The sound that the PlatiMon produced had excellent imaging, and it was detailed without being sibilant or harsh.
— James Larson, Audioholics Loudspeaker Reviewer
When asked about the "Virtual Coaxial" aspect of the PlatiMon speakers, Jun Hyeog Seo had this to say:
I like speakers from KEF, Tannoy, and Fyne Audio. Love them all. These speakers are typical coaxial speakers. Virtual coaxial speakers offer improved staging, which is more suitable to playing orchestral music with more instruments. Also, with a regular coaxial setup, you cannot use an AMT tweeter. I love the clear and transparent fluidity. For more accurate staging, with improved depth, you hear the right sound imaging with correct left and right harmonics.
— Jun Hyeog Seo
When asked about the use of aluminum cabinets and MonAcoustic's unique damping materials, Jun replied:
Aluminum has a specific resonance signature that could be heard as a cool sound. We utilize aluminum's advantages (but) promote more natural… warm sound with aluminum material. …There is a wood from Africa called Mpingo wood. It's a rare and expensive material. I have made a speaker using that Mpingo wood body cabinet in the past. And the way we are making our aluminum speaker has the similar sound signature as the Mpingo cabinet I made in the past. To reduce the resonance in SuperMon Isobaric, I treated the inside with very special and expensive leather material inside of the cabinet. I also used absorbing foams to reduce the negative sound signature of aluminum. Inside PlatiMon, I used a little of that special leather treatment.
— Jun Hyeog Seo
MonAcoustic Future Models to Come?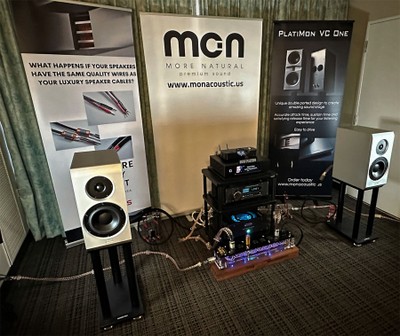 Considering how much Shane Lee enjoyed the performance of the PlatiMon Virtual Coaxial One, I'm looking forward to an opportunity to hear them for myself, and I hope that James Larson will be conducting a formal review as well. Jun Hyeog Seo has indicated that he plans to add bigger speakers in the coming years, including what he calls "tall boy" speakers, which I take to mean floor-standers. Interestingly, Jun has also said that he's planning to build future MonAcoustic models here in the United States. Would you be more interested in a USA-made MonAcoustic speaker? Will South Korea be the next hotbed of audio innovation? Share your thoughts in the related forum thread below.

Unless otherwise indicated, this is a preview article for the featured product. A formal review may or may not follow in the future.